Hottest Boku No Hero Academia Characters
The Top Ten
1
Todoroki Shoto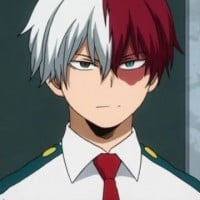 He's literally my favourite out of the entire show. I would like him without the burn on his face but it wouldn't be the same. His scar makes him intimidating and adds to his beauty. My sister said that he's not her favourite because he has zero facial expression and no personality but that's exactly why I love him. Probably because I used to be the same way. I don't think he has no personality. I think he's funny, chill and nice. I'm now realizing how similar we are.
OMG I LOVE HIM! Even when I didn't know anything about MHA when my friends said his name I fell in love with him! Also every time I do the dating door game I almost always get him. He's the best BY FAR.
Cause you're hot then you're cold
You're yes then you're no
You're in then you're out
You're up then you're down
You're wrong when it's right
It's black and it's white
We fight, we break up
We kiss, we make up

+ His poker face most of the time is funny
+ When he shows feelings, man I am BEWILDERD, it means the situation is intense.
This dude is the fricking light of my life I don't know how but I fell for this guy the second he was in a match at the sports festival with midoriya and his shirt got ripped in half I don't know how but this dudes personality is just so amazing and I feel like some people just misunderstand him. He's always getting dragged around by everyone and this poor hot guys body is gonna get messed up like y'all have to respect the pure muscles of this guy.
2
Katsuki Bakugou

He's like the guy you look from afar and would have a cute resting face. Also even when he's angry he's super cute and also very funny. He's also my favorite character too. If he had no like anger problems he would still be hot and cute. The anger just adds to his character and makes him unique, plus he is confirmed to be canonically hot or one of the "pretty boys", his personality just adds to it. No one can tell me otherwise. I don't care if people say he's a "monster". Remember you are born not knowing anything, his personality was adapted in his household, and at a very young age too, so he might have thought that being that way was ok. I'm not saying Mitsuki is abusive or anything, she might be but not intentionally, and she's sometimes physically "abusive" but I think she's more emotionally "abusive" and why I'm putting these " is because I'm not sure I would call it abuse. It might be abuse but it's not intentional, you can see that she cares a lot about him, like any parent ...more
In my opinion, (and should be everyone else's), he is THE most perfect guy in My Hero. He can cook, play the drums, physically strong, attratictive, smart and just the HOTTEST guy ever for me. I can go on and on and on about him for hours if you let me, on how wonderful he is, how smart he can actually plot out a startegy just by looking deeper into someone's quirk or fighting stategies, on how amazing his cooking skills are (wanted to try them but couldn't reach into the scene), and that SMIRK! Oh that smirk is just so- UGH! And not just that! He's brave and pretty much runs into the fight, yet still has the plot planned out clearly before him. AND he has that will to win everything. Honestly if you don't look at it the negative way, it's actually an amazing motivation to become something in life. That's something I need to learn from him. And- okay I need to stop, I could go on forever. Overall, I love him, with almost all of my heart (part of it reserve for my family and friends.) ...more
My sister asked me why I liked him and I didn't know how to respond but now I do. He's just so angry that it makes him funny and cute. He was already cute to begin with but the anger and pride just makes it better.
He is smart, hot, strong, his eyes pull me in, he has a nice amount of muscles, we all know that he has a soft spot somewhere, he would be a protective bf and if you had him you would never let him go. He is perfect. He needs to dial down on deku tho. Also his personality is really enticing cos we all wanna see if we can crack him. I simp for him
3
Shota Aizawa

Like, have you seen him? The hottest BHNA character, hands down! Like sjbhsbjcbhjjnc, I can't stop myself drooling over him! He doesn't even make a effort to look good. Have you seen him in a man bun and shaved , I think I died at the scene. If he ain't hot, I don't know what's hot. Days when being a minor is so urgh! I would pay to let him teach me. If my parents don't have such a hard rein on me, I would have plastered my whole room with his photos. This man right here is ∞/10 husband material. I wouldn't even hate school at that moment. Hottest guy in the bhna universe. Fight me.
At first he looked and sounded like a villain but then through out the seasoon this man is the sexist man alive ecpescailly with his hair up in a pony tail.
Aizawa has always been my favorite. He's hot, and a great example for the heros in training. He is a very interesting character, but in a good way.
That capture scarf could make things so wild in the bedroom and all the focs are just to drool over I need this man in my life. IMMEDIATELY
4
Dabi

When I first saw him, I thought he looked cool. The scars make him seem like such an edgelord. Then when he literally called Shiggaraki ugly, he instantly became one of my favorite characters. The fact that he wasn't afraid at all to say it despite knowing he might've been decayed just made him seem even better. And his VOICE. His voice is just- yes. He's such a savage, too. I'm pretty sure he's insulted each love member at least once. Plus, I can relate to him on motion sickness. And when his backstory revealed, it only made him seem even more interesting. I loved how he revealed it, I was laughing at that part. He has to be one of the best written characters in the series.
I'm one of those simps who're crazier than all others but don't care as much as others at the same time... I really like his look, but like, what I like most about him is his secret identity, his entire backstory. I just really like these types of stories. I also really like his personality. I could go on and on about this, but like, yeah. I quite like guessing at the exact placement of all his scars on his body... even like- omg ok I gotta stop.
OH MY GOD! I don't even care that he's like the most dangerous villain to ever exist in this anime, I ADORE HIM! he is a HOT. EDGELORD. And I like-like I just can't *simp noises*
Also little something for the other hardcore Dabi simps like me out there, we probably love this guy because we love scars. just any type of scars in general and I respect y'all for that!
I just love him! His scars, character, looks, past, secrets.. I love everything, and I'm probaly not the only one who ships dabihawks/hotwings right? I'm a simp for himmm
5
Kirishima Eijiro

This dude is just amazing something about him makes me want to jump through my TV and just talk to him and tell him the he is so FREAKING HOT!
I actually didn't like kirishima at first but then I started liking his attitude then I started liking him, I love it that he cares for he's friends at the same time he can fight really good, I find him very funny, he might look rough on the outside but he is sweet and funny on the inside. I $ you KIRISHIMA
Kirishima is my absolute favorite character is mha. His character was just so fully rounded, he's passionate/driven, loyal, funny ash and he develops so much throughout the show. Not to mention I just thought his quirk was sick and I loved how much visual detail they put into his transformation
Reasons why I love him.1.He's manly.2.He's cute.3.Really Hot and honestly I have other reasons why but I have to do something else but I REALLY LOVE him.
6
Denki Kaminari

Okay, I also really love Kaminari (bc I also love Bakugou, Todoroki and Kirishima). I would also marry this guy even if he fully electrocuted me with his quirk. He is soooo cute, hot and good looking. I hate that the girls reject him and that they don't see what I see. Okay, he's really bad with getting a date but I love awkward guys like him. I feel bad for him because he's so energetic. Kaminari may be an idiot but it makes me feel smarter if I'm being honest. I feel like I could help him.

P.S. He's funny too especially when he roasted Bakugou at the start of the show.
Denki is a flirt. A funny one in fact! I love him so much, he's definitely up there on my top list of waifus and husbandos. He's just so adorably stupid and I absolutely love him to death! I would call him My little pikachu and cuddle him all the time because he definitely deserves more love. So frickin adorable and Ima repeat myself over and over again until it drills into your brain but I LOVE HIM. Also he kinda fine tbh. I mean, have you seen him properly before?
He is so hot, cute, smart, and funny. He is my favorite person in My Hero Academia! I think that he should be everyone's favorite. That's only my opinion.
The chokers and the necklaces and the bracelets just DO IT FOR ME! Like his character is weird and cute and I think I might have to add but he so sexy
7
Hitoshi Shinsou

Shinsou is a cool guy! I want him as a boyfriend because he has a super cool quirk and I love how he wants to be a hero like the others but laso looks like a villain
I just love this guy.
his motivation and drive to become a hero and to prove everyone who thinks he's a villain wrong is so inspiring and just adds to the reason I love him!
He is the son of Eraser-Head & Present Mic. He has a little sister which is the smol & cute bean, Eri. He likes to sleep & has a crush on Denki. :P
I love everything about him. All he wants is to be a hero. And with people calling him a villain just puts him down. If I ever heard someone calling him a villain I would kill them because yes.
8
Shigaraki Tomura

He's in my top, like, three. Psychopathic traits, kind of a serial killer, hates nearly every being that exists, short tempered and angry - but not loudly or dramatically angry like Bakugou. It's a much colder anger, more impersonal. It's potent annoyance, to the point where it cracks, then shatters to pieces and becomes hatred simply from the inconvenience. Messy, washed out hair, with the perpetual look of someone who hasn't showered or slept in about four days. He can kill you in a second, with the touch of a final finger; dangerous beyond the human body's limitations.

Yeah, I have problems, but I find him hot, okay?
I love EVERYTHING about him, I love his eyes mostly because the red is so enchanting. I literally would die for him. Plus, I just love how he is so crazy and insane.
He may be a villain and need a bit of chapstick I LOVE him and his personality like he is such a badass and I LOVE his hair it looks so fluffy!
Well, too start it off he's pretty cool his hair is Unique it's funny how he looks so much like Eri. But I mass simp for him, even with his hand's he looks cool!
9
Hawks

1. I dint reach yet at the episode that he's inside! Uhm yea I dint reached yet, So he's so hot- he deserve 1st hottest mha character

2.He's the 2st pro hero! Nice and he's voice are total Deep! omg noice even my cousin likes him

3.He's actually gay, Yay I'm lesbian and I support LBGT! I like a girl and I dint confess my feelings she will hates me! she doesn't support LBGT so yea I still love her no matter what like hawks like a villain (Dabi)

Sincerely

Zahra Nuraisyah
I have not even gotten to see much of him because I am just watching the anime but he is freaken hot why isn't he higher on this list!?!
We are SO grateful that Hawks' design ended up being this. Like have You SEEN his og design, we are so lucky that we got THIS hot stuff as a pro hero!
This is my husband right here. He's perfect and really hot. People say he's a fictional character but for me he's not. He deserves to be number 1.
10
Ochaco Uraraka

I love Uraraka! She's a super adorable girl, with a very powerful quirk. She is so confident in helping others and her family. She wants to be just like Izuku because of how amazing he is. I really do love her!
She's cute and strong and determined and just wants to be like Deku plus earn money for her family, I can't find a sweeter enough reason to be a hero. I would love to have a friend just like her!
She is always caring and acts kinda like my crush. She is the best she looks good and has an amazing personality, kind, sweet, and bubbly.
She has such a nice personality she makes me want her to be with Deku because the Cute Couple is my new word and stuff so ya!
The Contenders
11
Tamaki Amajiki

I love how sweet and nervous he is. He tries so hard to be confident like Mirio it's adorable. He's literally the purest character in this series. Horikoshi gave us all a blessing. He's too cute for this world. I'm literally rewatching for him. How can anyone hate this bean?
I love this cute bean so much! He's trying his best to become confident but still is shy, which is kinda adorable. He looked so brave during the rescue mission to save Eri, it gave me goosebumps. Although when I first saw him I thought he looked like an elf xD
He's just the smol bean everyone loves! and I'm actually an extrovert but I love Tamaki still the reason because tho I'm an extrovert I can relate to him in many ways so we are similar
He's so adorable, cute handsome. And his attitude is just soooo... I can totally relate to him. He's literally my favorite character.
12
Tsuyu Asui

Ngl Tsuyu made me realise I was lesbian

Like I looked at her and went, "She's cute" (not in a simp way) and I was like "Well, I never said that about the guys"
I'm not attracted to girls (I'm gay asf), but she's honestly just awesome and really sweet. I fell in love with her personality immediately.
I love her every time I see her I was like oh my god she is just like a frog they are my
Favorite animals.
I love her personality and how chill she always is. She's always looking at the bright side too!
13
Himiko Toga

She's too cute. She can make killing people seem cute. Her protectiveness over her fellow league members is just so sweet. I hate how horribly people treated her for her quirk. But I love how she's not completely reliant on it. She has tons of skill even without it. If she weren't a villain, she would've been an amazing hero.
Toga I love because I am lesbian, I just love her and if she were real I would ask her out and if you don't think I should like her read the next sentence.


I don't care what you think because I am me and you can't control my life.
She is the best character, she is good at parkour, she has such a cool quirk, she is cute, she is relatable plus I think she is underrated
She may be a psycho, but that's why I love her because I know she wouldn't let anyone hurt the people she loves and cares about unless she's taking blood from them herself
14
Midoriya Izuku

Deku was the first character I fell in love with and I still love him...He is energetic, perseverant, Determined, He's not like other men who say "It's weak to show my emotions because I'm a boy", He's always ready to risk his life, and most importantly he is always putting people's Happiness above his own. Mine. Mi Amor
Izuku is my everithing he is cute, hot, respectfull and always ready to risk his life for anyone he is an angel and I hope he will get more attention. And if you say he can't even control his quirk all I can say is he is learning and in the manga he will get much stronger...I just hope that he will get less hate then he has now because he ia a cinnamonroll...plus one thing if you are reading this please help our broccoli get higher on this list. (:
Izuku is a super cute boy. He is super hot too, (especially the fight with Todoroki at the sports festival), and has a pretty great control over his quirk. I totally ship him and Uraraka, Todoroki, and Bakugo, but it is very obvious he will get with Uraraka.
He is one of the most Hard-working. Kind, respectful. And cutest ones in the anime. This boy deserves the world after all he's been through. And yeah he crys a lot. But if you were in his shoes, you would be crying like that too! He deserves better and really needes to be in the top 5. He is amazing
15
Mirio Togata

Mirio is just such an amazing character! He's so generous and kind. Honestly, he's my type, I can't stress it enough, he's just such a sweetheart!
He is adorable. I have to say one of the most caring characters in the whole show. (Daddy All Might is at my top) He is very energetic and look at him! Even without his quirk he still has power. He has the muscles of teen All Might.
He's cute and his personality is so high energy. I feel like he's be that friend that make you feel a lot more confidence.
Mirio is such a nice person who always smiles he always will smile no matter what and will make someone happy.
16
Tenya Iida

He is responsible, good looking, respectful, kind and make the right decision. Except the one when he was planning to take down stain by himself. But other than that he is the perfect bf/husband to have.
He is an ANGEL. I can't express gow much I love him. Husbando material to the m a x. Too underrated. If you see this, please make more iida x aoyama content
He's nice, funny, respectful, responsible and not to mention handsome. What's not to love?
Iida wants to be just like his older brother and that's just so adorable. The way he chops the air tho-
17
Hizashi Yamada

I have been in love with Zashi since only God can remember. Something just drew me to him, and I don't know what it was. He is personally my forte, (besides Aizawa Shota) but Zashi is just- UGGGHHH!

S.O.S., please someone help me
It's not healthy for me to feel this
Y.O.U. are making this hard
I can't take it, see it don't feel right
S.O.S. please someone help me
It's not healthy for me to feel this
Y.O.U. are making this hard
You got me tossin' and turnin', can't sleep at night
Sure, most people say he's annoying, but he's not that bad. He cares about his fellow teachers and is a good person. I love this fabulous cockatoo
I feel he's underrated. The dude can crack joke and lightens the mood in a few words. Also, he has a great music taste
He has my lucky number. Only reason I voted for him. Oh and I told my friend I would.
18
Chisaki Kai (Overhaul)

Best villain, best logical villain, smartest villain, the most interesting villain, and the most handsome and hottest villain. Overhaul was the only villain in this series that made sense, and that made him more attractive. All the other villains are crybabies, unlike Overhaul here who actually had a goal.
He honestly is hot because even though he's a murderous freak that abuses his boss' granddaughter I love me a man that can be clean!
Easily one of the hottest characters in the show. He deserves credit for his archetype. Guess I'm into ornithologists.
The only character I've even been attracted to and he was voiced so perfectly. Deep ass voice Piercing eyes and a beak mask. He is daddy
19
Kyoka Jiro

Are you kidding me—JIRO IS A STUNNER. like come on. Momo is pretty, but I think she's a bit overrated. Jiro is very gorgeous with her cute face and silky hair. Her voice is very calming and smooth (not that other girls' voices are bad, they are just more peppy and excited).
She's just so- aaarrhgghghgh- she's so gorgeous and rockin. Okay, so I'm a lesbian and a sucker for cute anime girls. When she goes blush, I think a part of me dies :')
She plays the same instruments as me, that's why I love her so much. I don't think I need to explain why she's hot.
Can those earbud things download information? If so, she is most likely quite knowledgeable, more so than we have seen.
20
Fumikage Tokoyami

I don't know tokoyami is just a masterpiece and also he is super cool, and strong. his quirk is legit so cool bro I just can't explain he is literally one of my favorites from class 1-A.
Ok it is kinda weird to say a bird is hot, but it is not a bird :/ Just listen to his voice, hos he acts and all, just watch, you'll see why he's hot
Super underrated character just because he has a bird head. He's an amazing person and would do anything to keep his fellow classmates safe
Like, this bird boy is so underrated. I unironically got turned gay by him and I am now wondering if that makes me a furry.
21
Momo Yaoyorozu

I don't love her costume, but she's undeniably gorgeous. I really hope they develop her character more, as well as her quirk, because I can totally see her becoming one of the best parts of the series
Momo is a queen, point blank period. There's nothing else to it. She's a genius, incredibly sweet, and if I married her I'd be set for life. Also, she has a beautiful face. The fact that Bakugou with his 👹 face is above her is a tragedy. Have some respect for the goddess. I don't care if you're straight, that doesn't mean you're blind as well. Thank you, goodnight.
Do I even need to explain? She's got a great personality, she's a relatable character, great character design, and yes, her body is nice too.
She's just such a good girl, and secretly a real baddie. She's the hottest girl if we just talking about their looks.
22
Neito Monoma

monoma is just I don't know I actually kinda like his annoying attitude also he is attractive ok . his eyes literally mesmerize me.
There are legit no words that explain him better than "honey he is a fine boy". Good luck finding something negative and his weakness
I don't normally enjoy characters with these kinds of personalities, but in the manga he's pretty attractive.
There are times when this dude is annoying, but you can't help but like him because of his childish behavior.
23
Mina Ashido

We have a lot of things in common like we both are amazing dancers, a little strange. but these are only a few. She is very sweet, loves her classmates, and is super hot. *Simp noises* how can someone be so cut AnD hOt aT THe Same TIIiiIIiMMmmmMMEeeEeEEe
MINA How do I even begin to explain how hot she is! I love her power it's super cool and I would die if somebody like her asked me out!
Mina is a great friend and her aspiration to be a great hero and a great dancer is so admirable. She's also hot. I'm just gonna say it.
Oh my god she loves dancing. I love dancing. We could dance together. But if I do. that would make me remind me of my grandpa. And I would start crying. Because me and my grandpa would always dance together when I was small. We would have so much fun. I miss doing that.
24
Hanta Sero

Everyone keeps forgetting the fact the Sero takes care of Mineta whenever he goes too far. He is a good friend and needs to be shown more in the series. He is also attractive.
Now this man is a businessman. I mean he sponsors Flex tape and He's spiderman. To top that he is gonna be a hero. He's like one of the hottest boys out there
What are you all looking at? Hey, he may not be hot but he's a pretty cool guy! He'd make a good boyfriend.
I mean-
he's tape man! I see him in every flex tape commercial, he's basically famous!
25
Mashirao Ojiro

Ojiro is incredibly underrated and needs more screentime. Not only is he helpful and a good friend to Hagakure, but he is also incredibly attractive.
He has so much respect and I think the tail is cool , That and he just has that hot type of face and I mean he would be great to be with
I don't know okay. I just love him to death.
You can't convince me otherwise.
PSearch List