Top Ten Attractions Disneyland Has that Walt Disney World Doesn't Have
The Disneyland Resort in Anaheim, CA and the Walt Disney World Resort in Orlando, FL share many of the same attractions, including classics like Space Mountain, Pirates of the Caribbean, and the Haunted Mansion. These shared rides are not completely identical, with some being significantly better at one resort than the other, but the general ride experiences are pretty similar on both coasts. However, both resorts also have a fair share of attractions that cannot be found on the other coast. In fact, the original Disneyland park, despite having a very small amount of space to work with, actually has quite a bit more rides than any of the Florida parks. It's tempting to say that you don't need to visit Disneyland if you've been to Walt Disney World, but these unique Disneyland offerings might just have you booking a flight to the West Coast.
The Top Ten
Radiator Springs Racers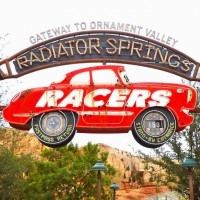 Say whatever you will about the Cars franchise, but Radiator Springs is one of the most stunning expansions Disney has ever done. The whole land is so detailed, you'll believe you walked right into the Cars world, from the shops right down to the music. The sense of immersion extends into the land's signature attraction, Radiator Springs Racers, a ride that is similar to Test Track at Epcot, but better themed and much more fun (at least compared to the second iteration of TT). This ride has everything you could want in a Disney attraction, great scenery, impressive animatronics, neat special effects, and is fun for the whole family. The main thing that puts this over Test Track though is the racing gimmick, which fits right in with the whole Cars theme and it just makes it a more fun experience. I have yet to actually ride it myself (as it was still being built when I went), but from what I've seen, it looks like the best ride in the park and if I ever go back to Disneyland, this is ...more - SplashMoun10
Indiana Jones Adventure

Out of the several attractions Disneyland Park has that the similar Magic Kingdom doesn't, this is the attraction I wish MK had the most. While WDW does have a similar attraction in Dinosaur at Disney's Animal Kingdom, Indy is a far more exciting ride with better theming, better special effects, memorable music and is just overall a higher caliber attraction than Dinosaur despite being the same ride type. With Dinosaur, you're in the dark for the most part while you're blasted with loud noises until you get your eardrums ruptured by the big dino at the end. With Indy, there's actually a lot to look at, it's got a great queue and impressive scenery throughout the whole ride that you expect from Disney. Plus it has Indiana Jones himself in it, which, I don't know about you, but I'd take that over some dinosaurs any day. If only the Magic Kingdom had this in their Adventureland instead of the Magic Carpets of Aladdin. Just another reason to give the original Disney park a try. - SplashMoun10
I love this ride!
I love this ride! The stone part is a bit terrifying though. - MirrorImage
Guardians of the Galaxy: Mission Breakout

When this makeover of DCA's Tower of Terror was first announced, I was incredibly opposed to it, and I still think the exterior looks like an eyesore. However, California's Tower of Terror was almost unanimously viewed as the weaker version in comparison to the original in Florida. It was completely missing a fifth dimension scene, had a less appealing exterior, and though it had a unique mirror effect, it was still overall inferior to the version at Disney's Hollywood Studios. At least now, California's tower can stand on its own with fun Guardians of the Galaxy theming while still retaining the same thrills as the original. I am glad that this makeover was not done to Florida's tower though, and the Guardians are getting their own original attraction in a few years anyway so we don't have to worry about it happening. As it stands, Mission Breakout is an entertaining twist on the Tower of Terror that Disneyland fans can call their own. Let's just hope they don't mess with any other ...more - SplashMoun10
The Guardians are so funny when see them on screen during the ride
Matterhorn Bobsleds

The first Disney mountain, the Matterhorn Bobsleds is an iconic attraction that has been enjoyed by families since 1959. Walt was inspired to build a recreation of the Matterhorn Mountain based on a vacation in Switzerland and had come up with the idea of a toboggan-style coaster ride through the man-made structure. The Matterhorn would be the first tubular-steel roller coaster ever built, with two separate tracks for both Fantasyland and Tomorrowland. When the Skyway was still in operation, it would pass through an opening in the Matterhorn as it took guests from Fantasyland to Tomorrowland and vice versa. This hole was never closed and serves as a reminder of what once existed in the park. The ride has undergone many refurbishments over it's 60 years of operation, but perhaps the most significant was the addition of the Abominable Snowman in 1978 that would roar at the riders. At least "Harold" hasn't gone into Disco Mode unlike a certain other mountain monster. A fun fact about the ...more - SplashMoun10
Grizzly River Run

I know Florida technically has Kali River Rapids as an equivalent to this, but Grizzly River Run is so much better that they might as well just be considered different rides. Not only is Grizzly River Run a longer ride and has two drops instead of one, I think the atmosphere is better and more fitting to a ride of this type. I like how this ride tries to recreate a white-water rafting adventure that you might experience in Northern California, while Kali just has some nice theming and an attempt at a story about illegal logging. Original plans for Kali involved a much longer ride and even offered views of wildlife, but those plans were scrapped and we got left with a ride that really isn't worth that long of a wait. Between the two, Grizzly would be my ride of choice, as I prefer the theming and all the extra attributes such as caves and the fact that the ride is pretty much the icon of the park. Of course, opinions on which one is better may vary. As it is, this is a pretty great ...more - SplashMoun10
World of Color

It's true that both Disney resorts have impressive nighttime spectaculars, but World of Color at Disney California Adventure in a particularly stunning show. The show features a mix of fountains, light, fire effects, mist screens, and lasers, all set to music over the Paradise Bay Lagoon. While there are other shows out there with fountains synced to music, such as the Fountains of Bellagio in Las Vegas and Universal Studios' Cinematic Spectacular, none come close to this colorful masterpiece. The show features numerous scenes and songs from various Disney movies with the effects transporting the audience right into their favorite films. However, even non-Disney fans can appreciate this show on a technical level as it is stunning in all regards, including fountains that can shoot up to 200ft in the air (which is higher than what used to be called Mickey's Fun Wheel), and thrilling pyro and laser effects. Most of all, this show is just a ton of fun for the whole family and there's ...more - SplashMoun10
I went to Vegas and Disneyland the same year (2015) but I've only seen the Bellagio fountains in person. I have only seen World of Color on YouTube.
The Incredicoaster

I'm gonna be frank here and say that the whole Pixar Pier makeover of what was once Paradise Pier comes off as really tacky to me. I can't judge entirely since I haven't actually been to it, but based off of what I've seen, it could have been done so much better. This extends to what was once California Screamin', the Disneyland Resort's major thrill coaster. The coaster itself is the exact same, and it looks like a blast to ride at night, but the Incredibles decorations are not very well done to say the least. Then again, the original ride didn't have much of a theme either outside of mimicking classic boardwalk roller coasters. Theming aside, it still looks like a fun time and the ride is actually in the Top 10 longest roller coasters in the world with a 6,072 ft. distance. Walt Disney World has Rock n Roller Coaster, but aside from being a thrilling launch coaster, it has nothing in common with The Incredicoaster, plus the latter gives pretty great views of the park. If you're a ...more - SplashMoun10
Roger Rabbit's Car Toon Spin

Did you know that there were plans for an entire section of Disney's Hollywood Studios (then MGM Studios) devoted to the 1989 smash "Who Framed Roger Rabbit? " For whatever reason, these plans were scrapped, but you can still find homages to the film in the park today, including a billboard for Maroon Stuios with Roger Rabbit, Jessica Rabbit, and Baby Herman. It's not known what the attractions in this land would be like, but Roger Rabbit's Car Toon Spin located in Toontown at Disneyland could probably give us an idea. This dark ride is very wacky and delightfully absurd, which is something you would expect from a Roger Rabbit themed ride. Unlike many other dark rides in the park, this one doesn't really retell the story of the movie and is kind of just its own silly thing. It's one of those rides that while not one of the best is just pure fun and a good time for the whole family. What could have been in the planned Roger Rabbit land in MGM Studios is left to imagination, but if you ...more - SplashMoun10
Mr Toad's Wild Ride

Based on the "The Wind in the Willows" segment of the 1949 film "The Adventures of Ichabod and Mr. Toad," Mr. Toad's Wild Ride was an opening day attraction at Disneyland and at one point in time had a counterpart at Walt Disney World. Out of all the Fantasyland dark rides, this was probably the darkest and most disturbing out of all of them. Compare something like Peter Pan's Flight, a whimsical adventure into Neverland with no scary moments, to a trippy drunk-driving adventure that literally ends in Hell. It was probably the most "hardcore" of the dark rides and would probably still have been a draw at WDW today. In 1998, that version closed to make way for The Many Adventures of Winnie the Pooh, which is not only a tamer ride but a much more profitable IP. However, in California, you can still take that crazy ride through hell and also get to ride Winnie the Pooh. - SplashMoun10
Walt Disney's Apartment

The Contenders
Finding Nemo Submarine Voyage

Ever wanted to get a taste of the old Submarine Voyage or it's 20,000 Leagues-themed counterpart at WDW's Magic Kingdom? Well, with this Finding Nemo revamp, you can still explore it to some extent, albeit with a profitable IP attached to it. The Submarine Voyage at Disneyland opened in 1959 and simulated the experience of deep-sea diving. It closed in 1998 to eventually reopen with a Finding Nemo theme in 2007. The 20,000 Leagues ride at the MK on the other hand was completely removed and it wouldn't be until two decades later that something of substance was put in it's place. WDW did eventually get a Finding Nemo attraction as well, though it would be a clam-shell omnimover at Epcot as a replacement for the Living Seas. That attraction is definitely not as much of a draw as the Voyage and people mainly ride it to get to the aquarium after the ride. Overall, if you want to get a decent Finding Nemo-themed ride and a taste of nostalgia for it's predecessors, make your way over to ...more - SplashMoun10
Storybook Land Canal Boats

BAdd New Item