Best Six Flags Theme Parks
Since Six Flags reaches almost everywhere in the U.S., this will be a battle of hometown pride. And it's good that I'm making this list, seeing as there isn't a Six Flags near me - I have to leave my state to get to them. I won't be biased. Just… vote away!

The Top Ten

1 Great Adventure - Jackson, NJ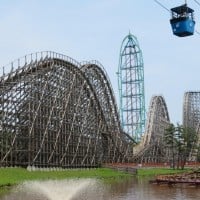 I'm a fan of both Six Flags Magic Mountain and Six Flags Great Adventure. If I had to pick between the two of them, it would be Great Adventure. The have a better variety of thrill rides AND kids rides, so they're good for kids and adults/teens.
Best park for thrill seekers (but also has some family parts and rides) Magic Mountain doesn't have a variety of both. That's why GA is my favorite SF park.
I like the 75 ft tall water slide at Hurricane Harbor next door. Also Skull Mountain was fun!
Have fun wetting your pants on Kingda Ka, because it is the tallest rollercoaster.
2
Magic Mountain - Valencia, CA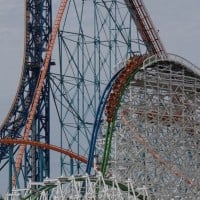 Magic Mountain is better for thrill seekers. Great Adventure is better for families. I personally like Magic Mountain better because I love thrill rides. It has the most roller coasters in a single park in the entire world. Beat that cedar point! I'll name a bunch of the great rides they have. Full Throttle, Superman: Escape from Krypton, X2, Twisted Colossus, Goliath, Tatsu, Scream, Riddler's Revenge, Batman: The Ride, Justice League Battle of Metropolis, Goldrusher, Ninja, The New Revolution, Tidal Wave, Jet Stream, Roaring Rapids, and Green Lantern (sometimes). Viper is not the best because it is very shaky and Green Lantern can be good if you ride with the right people. Anyway this park has such fun rides and I think it should be number 1. This is just my opinion you can disagree if you want
I think Magic Mountain rules. I know Great Adventure has the tallest coaster, and the best wooden coaster, but I think magic Mountain tops it. Magic Mountain has, yes, 19 COASTERS! Unbeatable. Magic Mountain's coasters are amazing... the flying coaster, Tatsu, the first 4th Dimension coaster, X2, a shuttle coaster, Superman Escape From Krypton, the unique double sided track coaster, Full Throttle, the one and only Twisted Colossus, the spinning ride, Green Lantern, the stand up, Riddler's Revenge, the first coaster with a loop, The New Revolution, a ride with a huge drop, Goliath, the invert, Batman, and all the other coasters, Scream, Goldrusher, Ninja, and the cool water rides too, Tidal Wave, Jet Stream and roaring rapids. Don't forget the kiddy coasters too, Road Runner Express, Canyon Blaster and Magic Flyer. This place is amazing.
This is a great park, with arguably some of the best coasters in the country. I'm talking about X2, Tatsu, and The Riddler's Revenge. It also has some other great coasters like Twisted Colossus, Goliath, Superman, Full Throttle, Viper, Scream, Batman The Ride, and Apocalypse. This park is defiantly the best Six Flags Park.
This has awesome coasters like X2, Goliath, Scream, Batman the ride, and Green Lantern first flight. And awesome kiddie rides like Magic Flyer, Bucaneer, Scrambler, and Speedy Gonzalez hot rod racers. All I can think about is going here!
3
Great America - Gurnee, IL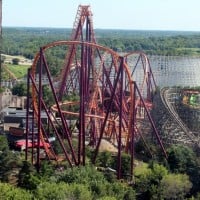 This is overall my favorite six flags because of its many great rides, and High Velocity.
This one is fun! My favorite ride is the Raging Bull!
Love this park the
Goliath is the best
4
Fiesta Texas - San Antonio, TX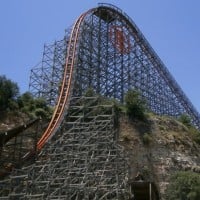 Beautiful atmosphere and world class attractions and shows. What more do you need?
Feels almost like Disneyland with awesome thrill rides!
Best six flags
5
New England - Agawam, MA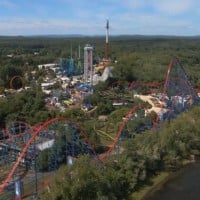 Has a great variety of roller coasters and it is also home to six flags first water coaster. Typhoon
This has the world's tallest swing ride, right?
Actually its pretty lame
Superman and wicked cyclone are the best rides on the east coast
6
Over Texas - Arlington, TX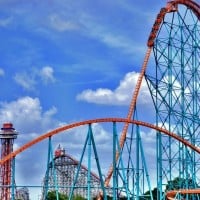 First Six Flags Park, amazing coasters such as Mr. Freeze: Reverse Blast, Titan, and New Texas Giant; great flat rides like Justice League: Battle for Metropolis, Texas Skyscreamer, and Superman: Tower of Power; as well as its unique history, theming, and charm.
Love this park..Need a new roller coaster
Titan is pretty good
Titan is the best
7
Discovery Kingdom - Vallejo, CA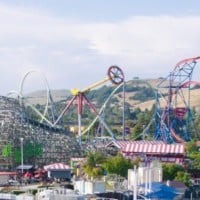 Really is one of the worse Six Flags: It doesn't have many rollercoasters compared to other Six Flags and really only has a handful of rides to enjoy: Medusa, Joker, V2, and Superman's Ultimate flight not the best selection, but if you want to visit a zoo and ride some thrill rides it is a good choice
Been here it's so fun
8
Over Georgia - Austell, GA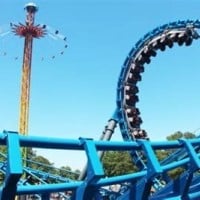 The best option if you are a thrill seeker. Superman, Goliath, Batman, Georgia Scorcher are all very thrilling and very unique. There is also a Hurricane Harbor located inside the park as well as Six Flags White Water located nearby.
While Texas takes the cake for theme parks, Georgia takes the cake for WATERPARKS! Two equally amazing water parks, White Water is bigger but Hurricane Harbor has a better layout
I'm planning to go to this park on the next spring break.
A lot of coaster
9
Mexico - Mexico City, MX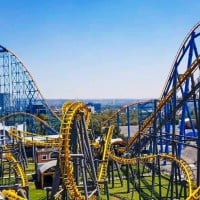 Medusa is at least on the top 5 hybrid coaster, is completely insane and intense, and Superman is super fun, and the tallest coaster of Latam.
One of The Best Theme parks, With tons of Theming for a SiX Flags Park
10
St. Louis - Eureka, MO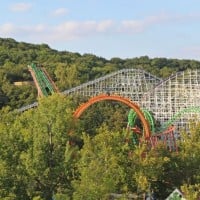 I'd rather make the drive from Chicago to St Louis instead of going to the one in Chi land area.
Really good theme park
Best place on earth
Love this place
The Contenders
11
Great Escape - Queensbury, NY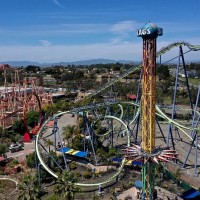 12
La Ronde - Montreal, QC
Got great rides like Goliath, Vampire, Ednör, Boomerang & Titan! Lots of restaurants and seats! Adding more shade will be great!
13
America - Bowie, MD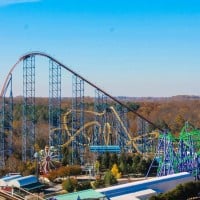 Great people, not crowded, great water park. Fright Fest is Incredible here!
14
New Orleans - New Orleans, LA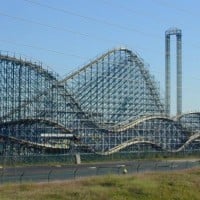 15
Darien Lake - Darien, NY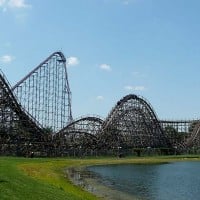 16
AstroWorld - Houston, TX
It's closed, unfortunately, so is New Orleans. But Astroworld was the best, especially in the early 80s. I wish it could be revived along with their original mascot Marvel Mcfey.
Texas Cyclone is astounding.
17 Worlds Of Adventure - Aurora, OH
18
Cedar Point - Sandusky, OH
This is the best Six Flags park. It definitely beats Cedar Fair's Magic Mountain.
This is a best SF list not a best Coaster theme park list, yes it is one of the best theme parks, if not the best theme park but it isn't a Six Flags
BAdd New Item