Most Beautiful Pokemon
The Top Ten
1
Gardevoir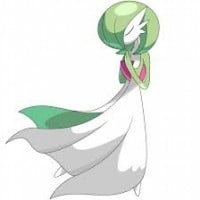 Gardevoir is a third-generation Pokémon species originally introduced as a Psychic type creature in Pokémon Ruby and Sapphire in Nintendo and Game Freak's Pokémon franchise.
How can someone treat such a beautiful Pokemon like crap! She is a guardian angel for goodness sake! I love her personality and her looks. I think she sort of looks cute. Her personality is protective and she doesn't even care how much she gets hurt as long as you don't get hurt. She is my favorite Pokemon. She goes from being a shy little Pokemon to not even caring if she gets hurt as long as her trainer doesn't get hurt. Isn't that beautiful enough to keep her number one one this list?
Gardevoir Looks so lovely! I even want to cuddle her. I just find it disgusting that the poor Gardevoir's being abused as porn material.
gardevoir is one of my favourite pokemon when I found out about it I couldn't wait to catch it I'm glade it is number one
When I caught ralts, I really didn't expect it to evolve into something amazing.
2
Milotic

Milotic, known in Japan as Milokaross, is a Pokémon species in Nintendo and Game Freak's Pokémon franchise.
milotic is awesome I never knew it was a pokemon until I got a shiny one
I have this pokemon on my game and I just can't help loving him. I came across him just randomly on my own and was so surprised and excited that I just had to add him onto my team. Gardevoir is almost as elegant in my opinion as Milotic; its almost like Gardevour rules over the land while Milotic watches over the sea. They are both gorgeous and I struggled to choose which one to vote with but eventually I made my decision. I think Milotic deserves a spot as number one.
I loved Milotic as a kid, and the concept of from Ugly to Pretty and Weak to Strong ( Magikarp and Gyarados ) is very unique. Milotic's tail and design in all is goddess like, and elegant like Gardevoir
Milotic deserves to be the #1. It's the world's most beautiful Pokemon. It started as an ugly and weak feebas, but when it evolve, it become a legendary-like, beautiful Pokemon that looks like a mermaid or goddess of the sea. More amazingly, in just a glimpse of a Milotic with its beauty, it'll calm any negative emotions you are feeling!
3
Primarina

Primarina is a mermaid after all, her shiny still looks beautiful, and in the poke dex is says the singing of one is beautiful as well
ok,look up primarina x inteleon and it is gorge! + it's my favorite pokemon
It's a mermaid! a beautiful mermaid how can anyone ever dislike her?
The most beautiful of the evolved Alola starters. The fire one looks like John Cena and the grass one reminds me of Huntress Wizard.
4
Ninetales

Ninetales, known in Japan as Kyukon, is a Pokémon species in Nintendo and Game Freak's Pokémon franchise.
Ninetales, so much Ninetales. People just think Gardevoir is the most beautiful Pokemon because its human-like. Ninetales REALLY takes the cake. Its powerful, myth-like, and its fur is so shiny! If you grab one of its beautiful tails, you will be cursed forever.
majestic and gorgeous. the first time I saw it I fell in love with it. <3
Ninetails a adorable pokimon that has nine tails also evolves from vulpix its power is fire
Pokemon that look like humans aren't humans so they look weird. Pokemon are meant to be animals, right? So Gardevoir and Milotic both look weird, if you see what I'm getting at. But Ninetales? It is a majestic, beautiful and regal Pokemon that deserves to be number one. Don't you see it in that the elegant lift of its head, the refined and balanced posture when it is standing? Ninetales is the most deserving of the title of most beautiful Pokemon.
5
Dragonair

Actually, I like this more than dragonite, while dragonair is very pretty, dragonite is more cute than pretty
I love Dragonair because it's elegant and powerful at the same time. The beautiful crystals on its body and the wings on its head make it my favourite Pokemon! Also it's voice gives me the chills which I think makes it so beautiful!
Dragonair is just so slick. With its pearls, swirling head-wings and slender body, it is the most mesmerizing pokemon. Plus it has a believable design. And with its pose & horn on its head, this pokemon assures you that it is not something to be messed with.
The most beautiful Pokémon I can think of is Dragonair.
6
Absol

Absol is a fictional creature in the Pokémon franchise. It was first introduced in Pokémon Ruby and Sapphire. It later gained a Mega Evolution in Pokemon X and Y and Omega Ruby and Alpha Sapphire.
The Mega evolution of this pokemon is beautiful, and this pokemon itself is strong as well
Most beautiful by far! It exhibits beauty and coolness, even having a fascinating lore behind it. The angel wings and devil horns plus the yin yang symbol worked well too. It deserved a fairy typing if you ask me. To differ it from other dark types.
She so AWESOME with those cool new wings! It's not everyday you see an AWESOME and MEGA BEAUTIFUL Pokemon get wings!
If absol has wings when it mega evolves, why isn't it a dark and flying type?
Ironically, the disaster Pokemon is placed at #13. I think Absol is the most beautiful with Ninetails in a close second
7
Glaceon

Glaceon, known in Japan as Glacia, is a Pokémon species in Nintendo and Game Freak's Pokémon franchise.
It's like the most gorgeous Pokemon ever how can it not be first, I went crazy for glaceon
Shes so pretty! I love her eyes, and her colour. It's the perfect shade of an icy blue that's not too light.
Glaceon reminds me of an angel she is so pretty if I was a Pokemon I would love to be glaceon
Glaceon is so adorable, amazing, cute... What more can I say? How I wish to have to have one and also a Sylveon in real life...
8
Meloetta

Meloetta is a Mythical Pokémon from the Unova Region. It is a Normal and Psychic Type. When it uses the move Relic Song, it turns into a Normal and Fighting Type and changes its appearance.
Meloetta has two forms which are both beautiful. Meloetta also has beautiful singing.
So far when I got here there were 69 comments and I read all of them 2/69 were bad, how dare u lol, this thing is nothing but a pure sweetheart who came down from heaven, a cute little angle with the prettiest voice, and those EYESS, there heaven - V
I think Meloetta is beautiful, she has a cool voice and she is so powerful, I think she is the best.
Even she's so small like Charmander, she's really beautiful in both of her forms.
9
Cresselia

Cresselia, known in Japan as the same name, is a Legendary Pokémon species in Nintendo and Game Freak's Pokémon franchise.
She looks like a swan made out of gold. With the power of creating wonderful dreams, this pokemon does deserve to be one of the top ten of the most beautiful pokemon
I looked Cresselia up- by far the the most beautiful
It's so messed up to not call cresselia beautiful. I'm mean COME ON LOOK AT HER! It should be number 1!
Lapras is better
10
Sylveon

Sylveon, known in Japan as Nymphia, is a Pokémon species in Nintendo and Game Freak's Pokémon franchise.
My favorite pokemon . It's gorgeous . Really like an angel . No more words to describe it .
Sylveon is the best pokemon to exist and that will ever exist, here are my reasens why.

1. She is the cutest.
2. She is SUUUPER strong.
3. She is a dragon slayer!
4. She is not boring, like espeon. they just took a random cat, poured purple paint on it, slapped a gem on it, and made espeon a FREAK SHOW.
5. She is umbreon's girlfriend.
6. She is most elagent.
7. she is most graceful.
8. She is most beautiful and pretty.
9. Espeon is weak and scraggly, while sylveon is kind and powerful.
10. She is better then that UGLY DUMB STUPID ESPEON.
I like Sylveon, but she is cute, not beautiful. In my opinion she would come first in a CUTENESS one, but maybe not in beautiful.
I really don't know how come you guys don't like sylveon and like Pokemon's like virizion and froslass
The Newcomers
?
Alcremie

?
Zacian

the second most beautiful pokemon! in my opinion, only beaten by zamazenta
The Contenders
11
Espeon

Espeon, known in Japan as Eifie, is a Pokémon species in Nintendo and Game Freak's Pokémon franchise.
I really love Espeon because it is cute, beautiful and majestic.
I like Espeon because she is beautiful. Though that may be because I love all the eeveelutions.
I think this is my FAVOURITE I like the design color and the tails
It's mysteriousness and cat-like appearance is honestly what makes Espeon to be so gorgeous! It personally gives me vibes that it comes from royalty, considering that it's so much like a princess, and that it's elegance and grace is really what makes it so beautiful.
12
Xerneas

Xerneas is a fictional creature in the Pokemon Franchise. Introduced in Gen 6, it is a legendary Fairy type Pokemon, and the mascot of Pokemon X. Classified as the Life Pokemon, Xerneas has the ability to give eternal life, which occurs when the horns on its head shine in seven lights. When its life ...read more.
With it's rainbow-color palette and is rated 10? Xerneas cannot be number 10! Why people choose those bland homogenous colors over attractive heterogenous colors just like crystals of Bismuth (Bi-210)!? Or the flame test color of Caesium!? Xerneas has a combination of Caesium, Gold, Francium, Bismuth and Rhodium and these elements are very rare! Also, its body resembles the brightness of Xenon gas, surprisingly!
Xerneas is the Pokemon of life and nature. So peaceful serene. Xerneas is a fairy type, and fairy types are not only strong they are adorable and pretty!
Xerneas is beautiful. It is graceful, powerful and elegant. Xerneas should be number one, period.
Xerneas is just so elegant and majestic. It certainly is the most beautiful! It radiates with colour and light, much more than Millotic and Gardevoir. And its also extremely powerful- it's rare to have everything, but Xerneas does!
13
Lapras

Laura's is majestic and beautiful I really love the little spikes on its shell and its blue colour matches the sea and Lapras and humans have been bonding since the dawn of time
How can this lovely, blue Pokemon be 9th? It's hard to imagine Glaceon is above Lapras. Gardevour looks dumb and garish compared to the exquisite beauty of Lapras. Even the idea of her making is amazing. The base of a beautiful sea turtle, leading into a water dragon's head. I think it should be higher. Everyone likes Gardevoir because she resembles a human, but Lapras doesn't look boring and original. Personally, I truly wish people liked Lapras more. At least it is one of the top ten.
Lapras is way so far more beautiful than milotic. It's so friendly and with a noble heart its one of my favorite my favorite Pokemon are rayquaza and lugia
Lapras should be number one. It is my favorite pokemon and way more beautiful than all other pokemon.
14
Rapidash

Rapidash, known in Japan as Gallop, is a Pokémon species in Nintendo and Game Freak's Pokémon franchise.
Rapidash is definitely very mystic and beautiful with its fire mane and horn.
If apostasy didn't have those flames she would be like...
She looks so beautiful.
Rapidash looks really cool and pretty
15
Lopunny

Lopunny, known in Japan as Mimilop, is a Pokémon species in Nintendo and Game Freak's Pokémon franchise.
I actually like lopunny. A lot of people judge it on its looks, but seriously - this pretty rabbit can throw a punch. All that fluff hides the tough.
I like sylveon, lopunny, gardevoir and the Pokemon who I love so much eevee
I don't get why anyone would think Lopunny is pretty...it looks like a prostitute. And the mega has no shoulders.
I love lopunny not only she is strong but so cute and beautiful her fluffy yellowish white fur mixed with brown is a total match!
16
Froslass

Froslass, known in Japan as Yukimenoko, is a Pokémon species in Nintendo and Game Freak's Pokémon franchise.
Besides Milotic, Froslass is the most gorgeous Pokemon on this list, not taking into account that it's amazing. Only Ice and Ghost type in the game, and who can argue that those aren't two of the coolest types?
Froslass is so pretty. She should be top 1. I mean you have to admit. Her dress outfit is so pretty. Also, she is my second favorite. First is piplup.
I think she's attractive too! No offense! People should love other Pokemon than overrated ones like Lopunny and Gardevoir.
I don't really find her that beautiful, but I like how they have arms coming out of their heads (in a good way)
17
Suicune

Suicune is a legendary Pokemon that's a pure water type that first appeared in Pokemon gold and silver, and was the cover legendary for crystal. Ho oh revived this Pokemon (along with entei & raikou) when it died when it's home, the burned tower got destroyed by a fire that was started by a lightning ...read more.
This may be the most beautiful pokemon. I mean, its mane is basically a river of miniscule diamonds and, according to the pokemon ultimate guide, " its heart as is pure as clear water." Now that's something you can appreciate.
This creature is based on the untouched beauty of natural water systems. Its mane flows like a river, its body is smooth like an undisturbed lake.
Suicune is such a majestic, beautiful pokemon. It's fierce but it is elegant. It should be number 1 for sure. It is such a pure pokemon too.
Suicune: The Chlorine of Pokemon!
18
Alolan Ninetales

I can't believe that they added Alolan Ninetales this beautiful than I thought
SO PRETTY. She is so pretty when she uses Aroura Vile!
Go od
This is so beautiful! Why is it not #1? I love it!😍
19
Jirachi

Jirachi, known in Japan as the same name, is a Legendary Pokémon species in Nintendo and Game Freak's Pokémon franchise.
Jirachi is what makes this list bearable. It's design is overflowed with femininity.
Jirachi is way better than stupid Pidgeot
Max loves me for this... and I think him plus this Pokémon equals KAWAII!
He is very cute, I love his eyes and his...hum...hat?
20
Ho-Oh

Ho-Oh, known in Japan as Houou, is a Legendary Pokémon species in Nintendo and Game Freak's Pokémon franchise.
Ho-oh has prismatic wings so trails a rainbow behind it, and is based on the beautiful legendary creature, the phoenix. It's said that anyone who is lucky enough to see Ho-oh is blessed with eternal happiness. Its desire to protect other Pokemon (as seen when it resurrected the legendary beasts) and to search for a pure hearted trainer show inner beauty as well.
Ho oh is the first legendary pokemon ash ketchum saw in the anime
Ho-oh is said to bring eternal happiness to anyone who sees it. That just proves it is beautiful
Did you hear what he said? ETERNAL HAPPINESS!
21
Articuno

Articuno, known in Japan as Freezer, is a Legendary Pokémon species in Nintendo and Game Freak's Pokémon franchise.
She's the Most Beautiful One out there! Much better if she did Mega Evolve! It would be like this:

So that it would overpower the other two birds; to be more majestic than the most beautiful pokemon and to be also the strongest. If she did mega evolve, I hope it would be a Water/Ground-type that can learn at least one fairy-type move; It's ability would be Climate Change i.e. Ice-type moves become Water-type moves; Rock-type moves become Ground moves, summons simultaneous hail and rainfall and water moves will become super-effective on grass, ice flying and dragon-types--almost no weaknesses, right? That's really great and I want her to have a signature Ice and water at the same time move w/c is Tsunami Rage (160 power, 100 accuracy)--a beautiful Iceberg and Aquatic Waves to be thrown at the target but the user must recharge on the next turn and a fairy and ice-type move w/c is Winter Aura (130 power, 100 accuracy)--glowing ice chunks are thrown to the target beautifully but ...more
Team Mystic members, fan and supporters, this is the prettiest legendary bird pokemon LOL! It should be on the top ten most beautiful pokemon. It is one of my favorite legendaries. It reminds me of Elsa in the movie Frozen ("The Elsa of Pokemon").
Articuno has always been been my favorite. So strong but most importantly the most beautiful Pokemon I have ever seen. It looks so regal. Light shimmers off of its sea blue wings!
Why is this Pokemon not in the top ten? It's one of the most beautiful ones out there!
22
Arcanine

Arcanine, known in Japan as Windie, is a Pokémon species in Nintendo and Game Freak's Pokémon franchise.
Not the most beautiful for me, his design, even though beautiful, is way more badass than it is beautiful, for me he has easily the best design of any Pokemon.
I think he easily is one of the worse of fire types, though, since other pokemon such as Flareon, Charizard and almost every other fire type are much better than Arcanine.
Well I don't know if arcanine is the most beautiful Pokemon but it is one of the coolest (to me) I really love arcanine. It is my FAVORITE. Go arcanine. I think the most beautiful Pokemon is sylveon.
This Pokemon is the only one who I can say is both masculine and beautiful. I love it!
This is the only Pokemon I can say is both beautiful and handsome.
23
Roserade

It's sweet aroma, it's beautiful blooms, it's graceful movements, it's EXTREME POWER!
The flowers, dress, and eyes are amazing
he's so cool and I would merry him
Beautiful and powerful roserade is great but honestly I think roselia is much prettier
24
Serperior

Serperior, known in Japan as Jalorda, is a Pokémon species in Nintendo and Game Freak's Pokémon franchise.
Serperior is absolutely majestic and elegant. I have no idea why it's 27.
She should be at top 10. I really love this pokemon, it is kinda elegant, and has such beautiful eyes
Don't you see? Her eyes are really calm, her body style is elegant! She is more likely to be at least top 10!
Come on! She's called the Regal Pokemon for a reason!
25
Hatterene

Haterene is very powerful pokemon . I have her on pokemon shield. She's AMAZING .
Along with Corviknight, she's my favorite Gen 8 Pokémon.
It's really pretty and cute
PSearch List