Best NFL Wide Receivers of All Time
The Top Ten
Jerry Rice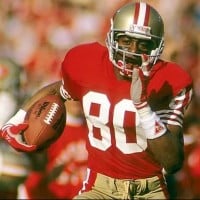 Jerry Lee Rice is a former American football wide receiver who played 20 seasons in the National Football League, primarily with the San Francisco 49ers.
His nickname is GOAT. (Greatest of all Time) Holds basically every record anyone as a wide receiver would want.
Jerry Rice, hands down the Greatest of All Time.
* The Following Statements are not to deny the Greatness of the players mentioned (they are just not better than JR)
1. Alworth was not faster than Jerry Rice (crack is whack)
2. Moss did play on the 15-1 Vikings and 16-0 Patriots (wow, where's the SB Ring? Laugh out loud)
3. Stop with the WR's used to get mugged on every play, I was around during that era and some WRs were mugged (they generally weren't good at getting off of the line of scrimmage and they were in a 3 point stance, of course they got mugged)
4. Lynn Swann shouldn't even be in this conversation (and I'm a Lynn Swann fan)
5. Hutson was great, but really how many teams were good at defending the pass in those days, since the emphasis was the rushing attack;75% rushing 25% passing (talk about the element of surprise)
6. You can have Alworths 85 TDs over 11 years, I'll take Rices 146 TDs
Jerry Rice is the goat. Holds records for career receptions, receiving yards, receiving touchdowns, and total touchdowns. Best big game receiver ever. Has the only ever 200 yard game in a Super Bowl with 215 in Super Bowl 23 and caught 3 touchdowns in his other 2 Super Bowls. Best route runner ever and best running after the catch ever. Simply the best.
Okay, the Dwayne Jarrett vote was just hilarious, and Darell Green was a cornerback, for god's sake! Some people are just stupid, especially the ones who spelled Cris Carter's name wrong. Anyways, Rice is number 1, and will be for a long, long time.
Randy Moss

Randy Gene Moss is a former American football wide receiver who played 14 seasons in the National Football League.
Randy Moss, the most athletic wide receiver ever. He is faster and more athletic than Rice and Harrison. He is less consistent and his awareness is not as nice but that doesn't mean it isn't amazing. Put three defenders on him "Mangini" and he'll still catch over all of them 60 yards deep. The biggest deep and TD threat the game has ever seen. If he had played with the Patriots right after the Vikings he would have amazing stats right now, as if he already doesn't. Doesn't get as many catches as Harrison or Rice and never will because he is to busy going deep and scoring. The biggest difference maker on a team "if" used properly. Played on both 15-1 vikings and 16-0 Patriots. If you have a good quarterback and a solid defense you're basically guaranteed at least 12 wins with this dude. Behavior could be better and he could be more modest, but hey with his talent you know you're better than everyone else. Third best receiver ever to Rice and Harrison.
Let just say this- No one strikes fear into the heart of defenses more then Randy Moss in his prime. NOBODY. I really can't think of a player (non-quarterback) who commanded and changed the game like Randy Moss. Hell, Moss was so good, the Cover 2 HAD TO BE INVENTED to stop such an amazing deep threat, and yet Moss still dominated. Jerry Rice may be the greatest ever OVERALL, but the best deep threat the game has ever seen and probably will ever see, is Randy Moss. I feel sorry for these young kids who couldn't witness Moss in his REAL prime with MN, because I guarantee you no one was more talented and more awesome. One on one, NO CORNER IN THE HISTORY OF THE GAME could take Moss 1 on 1. Not Deon Sanders (Moss was just as fast, if not faster, and could easily outleap him), not Champ Bailey (Bailey would pull a hammy trying to hang with Moss' speed), not Rod Woodson (Randy would blow by him so fast... ), nobody.
Not just an airheaded, brash deep threat. Great student of the game and well liked by his teammates. Perceived as arrogant because he knows more about what he does and how he should be used than most coaches and he gets impatient. Many geniuses are this way. Hard for them to take orders from and respect those who don't get it. Part of their freedom and creativity. They just express... One on one, the greatest receiver in NFL history hands down. Remember his first year in the league? Denny Green started getting pissed when Randall Cunningham would just throw it up there to Moss like a sandlot game. But after Moss consistently came down with it (even battling 2 or 3 defenders), Green started saying, "I think you got something there. Yeah, just keep doing that. " Of course, you have to give the short and mid range receiving crown to Rice. Shorter and more compact, so was able to juke better and get open (like Cris Carter). But, one on one, open field, Moss leaves them all in the dust.
He was better with the patriots and was dominaint with the vikings.
Terrell Owens

Terrell Eldorado Owens is an American football wide receiver who played for the Seattle Seahawks, San Francisco 49ers, and Philadelphia Eagles of the National Football League.
After Jerry Rice, T.O. is the best runner after the catch ever. He was also the toughest cookie ever. Not afraid to get hit and not afraid to go up the middle.
T.O. is probably the biggest difference maker on a team when it comes to wide receivers. He always makes his team better. This is all assuming he likes he's QB enough to play but think about it. He helped the Eagles get to a superbowl who made 4 consecutive NFC championship trips. He helped the cowboys get to the playoffs two consecutive years. Sure as far as behavior he is last on the list but he knows his worth. Not as athletic as Rice or Moss but one of the strongest every to play the position. He could catch the ball at the 7 and drag it about 5-6 more yards. Also second to Rice he is the most clutch receiver. Dubbed "The Catch II" Owens droped 3 passes in that playoff game until catching the game winning touchdown amidst 3 defenders. Then coming off an injury he had an amazing superbowl performance despite a losing effort. In all his playoff games sure he mouthed off but he never played bad. T.O. aside from the Jessica Simpson saga seems to be meshing with Romo so unless Romo or ...more
Maybe not as good as Jerry, but nobody is. His numbers are better than Mosses! About 100 receptions and 65o yards in exchange for 3 touchdowns in only 1 more game played. And don't say the whole "Moss was better in his prime" thing, because year by year, from 1998 to 2010 not including 2005, Moss was better 5 times, T.O. was better 6 times, and they tied once. In an average year during their prime, Moss averaged 33 more yards, but 1 less td and 4 less receptions. T.O. has more yards per game and receptions per game throughout his career. It's T.O. over Randy Moss (Although Don Hutson and Jerry Rice are better than both of them)
This cat made it en vogue for big and fast receivers we're seeing now in the NFL. He's always in shape and he's made Jeff Garcia, McNabb and Romo all have their best years playing with him. Yeah he may say crazy stuff but his numbers don't lie!
Cris Carter
Best combination of hands and feet ever. If Cris Carter's hands could touch the ball, they caught the ball. And his feet always brought him down in bounds when landing. Best sideline receiver ever.
1) Jerry Rice 2) Cris Carter There is nothing to discuss. Best hands of all time, unbelievable route runner and clutch performer. This list is a disgrace.
Can't believe he got passed on the HOF today for 2008! He is one of the top 10 WR of all time and he got passed up! This guy invented the toe drag catch as he's going out of bounds! Now everyone is doing it because of him! If you needed a first down I would pick Carter over any other WR ever! HOF committee made a monstrous mistake today! Awesome awesome WR! Moss and Carter was the best WR tandem (deep threat/possession receiver combo) of all time!
Best hands ever. Runs the best routes ever. No one could stop him. He made the most one handers ever. Is the best boundary receiver ever. He scored at least 130 TDs which for your info is more TDs than half of the of the other guys on this list.
Calvin Johnson

Calvin Johnson Jr. is a retired American football wide receiver who played his entire career for the Detroit Lions of the National Football League. He is often called the nickname ''Megatron'' for his rare combination of size, speed, and leaping ability on the field.
The all time leading receiver for a single season, Calvin Johnson was the best jump ball threat who ever lived.
This guy better step up or the lions should get a better QB. Too much talent and potential to let go wasted. The dude is 6-5 240 lbs. He's a beast. He has the third best 40-yard dash time after Randy Moss and Deion Sanders (and we all know what they did in history). He has the second best vertical after Randy Moss. This dude also has Marvin Harrison style modesty. Imagine that Randy Moss Marvin Harrison. I know I'm getting ahead of myself but I seriously want to see him develop and quick. The next Jerry Rice or better, not likely (especially considering Jerry Rice came into the league with a Hall of Fame QB at the helm, Montana, not no John Kitna) but hopefully he comes close to it. One of the best college wide receivers ever hopefully one of the best NFL wide receivers ever.
Matthew Stafford and Calvin Johnson are a great pair. Stafford broke almost as many records as Drew Brees and Tom Brady, he was just under their shadow. Stafford is a great Quarterback. What he did this year is amazing considering he had no running game. Then we have Johnson who's beast. He can break any coverage. And, 2 games with over 200 yards, 16 touchdowns, and 1681 yards. Can't touch that
Calvin is a really good receiver and he is so good he has a nickname called Megatron I think he should be 2nd place easily
Michael Irvin

T.O. shouldn't even be on this list he's always dropping passes yet he's above A Hall of Famer Just think about what Irvin did to get here and then think about what T.O. when he's dropping passes
3 rings and look at the stats please
I think he should be the best receiver of all time but he can't pass Jerry Rice in this competition Jerry Rice is clearly the greatest in the history of the National football league (NFL)
Michael Irvin was one of the hardest working players on that cowboys dynasty team. His leadership and talent helped that team to three super bowl wins.
Marvin Harrison

Marvin Harrison has more receiving yards then TO and Randy moss. He also won a superbowl unlike TO or Randy Moss. So in what sense are those to better. The only receiver that is better then Marvin Harrison is maybe Jerry Rice because Jerry had the best player who ever played the game Joe Montana. I understand Marvin had peyton so that's why their is a maybe.
Great all around receiver and always a threat on 3rd down, as well as the deep ball.
If Marvin didn't have that season ending injury he would have been second in every receiving category this year. He is the second best wide receiver to Jerry Rice. He's not physical enough to play as long as Rice but he's consistency and modesty is unbelievable. An unspoken icon.
The best Duo of all times is Peyton and Marvin look at the stats, look at the history. He had the right QB at the right time.
Don Hutson

None of the rest of these receivers would even have jobs if not for Don Hutson.

He led the league in touchdowns and receiving to a degree no other wide out on this list ever approached.
8 first team all-pro awards.
In the inaugural HOF class; of all the players who have ever laced up cleats, he was on the short list of the best from ALL positions, not just WR.
Hutson still holds the following records:
Most seasons leading league in pass receptions (8),
Most consecutive seasons leading league in pass receptions (5),
Most seasons leading league in pass receiving yards gained (7),
Most consecutive seasons leading league in pass receiving yards gained (4),
Most seasons leading league in pass receiving touchdowns (9),
Most seasons leading the league in total touchdowns (8),
Most consecutive seasons leading league in pass receiving touchdowns (5),
Most seasons leading league in scoring (5), and
Most consecutive seasons leading league in ...more
Tied for first with Jerry Rice. Dominated the league in receiving; even led the league in interceptions!
This guy put up stats that blew away everyone in his era
he still has records that will never be broken
Lance Alworth
Sure, if one goes by pure numbers, Lance's don't look good compared to the Jerry Rice's, Randy Moss's, Terrell Owen's, Chris Carter's, or even average players - such was the state of the game after he played. But if Lance played by their rules, he would have easily averaged 100 catches a year and well over 20 yards a carry. He epitomized the lightning bolts.

He had grace and toughness. He was traded to the Dallas Cowboys for 6 players. SIX. He immediately helped the Cowboys win a Super Bowl - even though it irks me that they NEVER took advantage of designing an offense that capitalized on Lance and Bob Hayes. Whew! That would have been a tandem.

The best receiver in the 60s should always be in the conversation for the BEST of ALL-TIME. Too bad he didn't play during a time when media overage of the NFL was as it is today.

Sid Gilman invented the West Coast offense in order to take advantage of Lance Alworth's gifts, but Lance had to run the patterns and make the ...more
Alworth was a bit of an athletic freak. World class speed and vertical leap coupled with toughness. He was elusive and yet could hit and block. Was a star running back at Arkansas before being switched to receiver in AFL. Also was Yankees first round pick to be their center fielder. One of the most entertaining players to watch of all time. And yes, he was faster than Jerry Rice, Rice was never much of a burner. Alworth was the fastest man on the field in every game he played until he got older, and Bob Hayes came along. If another Alworth (i.e, white guy with toughness, freak athleticism and movie star looks) came along, he would be so marketable you could sign that one guy and start your own league of all top young talent that would rival the NFL and force them into merger. Oh wait, already happened.
Are you kidding me? For what he did during his era he is unmatched. Seriously the guy created modern day football.
Lance Alworth had more speed than Jerry Rice. He played during an era in which defensive backs could virtually mug receivers throughout their route. Furthermore, Alworth was a fantastic blocker on running plays. Lance Alworth, with Paul Warfield a close second, are the best wide receivers in professional football since 1960. Prior to 1960, the best wide receiver was Don Hutson.
Steve Largent

Stephen Michael Largent is a retired American football player, enshrined in the Pro Football Hall of Fame, and a former Republican politician, having served in the U.S. House of Representatives for Oklahoma, from 1994 until 2002.
Steve Largent held the career receiving triple crown at the time of his retirement and was the first wide receiver to catch 100 touchdowns. Best hands ever and 2nd best route runner ever behind only Jerry Rice.
best seahawks ever, carried the team for what they did for years
There is an incredible regency bias on this list. Largent finished his career with the record for most receptions, yards, and TDs in NFL history. Who else did that? Jerry rice and that is it. Largent should be #2 on this list
Never a quality quarterback throwing to him and he was not afraid to go over the middle.
The Contenders
Larry Fitzgerald

Larry Darnell Fitzgerald Jr. is an American football wide receiver for the Arizona Cardinals of the National Football League. Fitzgerald was drafted 3rd overall to the Arizona Cardinals in 2004, he is considered to be one of the best players of his position to never win a Super Bowl.
Larry is top three, the others have super bowl titles and all that but Larry is better then that. And what he's done with his career he should be #3!
Great hands, great runner after the catch, great postseason performer.
2nd all time in receiving yards only behind jerry rice. I think that's enough to be ranked higher than 11th
Still playing and a super human being on and off the field. Love this guy
Tim Brown
Ok, I know this can't be right. Brown along with Carter out of the top 10 when you have guys like Steve Smith and Chad Johnson ahead of them. Moss and TO are also questionable but I am not trying to take anything away from them. Some of those guys are good but this is of all time and Brown should be in the top 5 for sure. In a lot of the major records, he is ranked 2nd to only Rice yet still doesn't get the respect he deserves
I agree. Ridiculous that he's not in the top 10. Brown retired with 14,934 receiving yards, the second-highest total in NFL history, 1,094 receptions (3rd), and 100 touchdown catches (3rd-Tied).
Rice, Brown and Largent are the top three, but most of those today wouldn't last in the days when the receiver was blasted all the way down the field. Moss and T.O are too soft. Art Monk was one great receiver.
He was an explosive player who had season after season of great productional. Too bad the Raiders teams he played on were subpar for most of his career or he would be in the top 3 without a doubt.
Lynn Swann

Lynn Swann is a great wide receiver. If you replay his plays you will be very good plays.
As a huge Pittsburgh Steeler fan and a bigger...sorry, THE BIGGEST LYNN SWANN FAN! This man was hospitalized a week before Super Bowl X with a concussion, from a cheap shot, played and became Super Bowl MVP. 4 catches 164 yards and a touchdown, with possibly the greatest catches in Super Bowl history. And the way he flies through the air, and his catches are like poetry in motion. With a name like Swann, couldn't be more appropriate
He's much better than crybaby loudmouth terrell owens
In the Golden Era of smash mouth football, Swann was arguably the most important piece of the four-time Super Bowl winning Steelers.
Andre Johnson

Andre Lamont Johnson is an American football wide receiver who is a free agent. He played college football at Miami, and was drafted by the Houston Texans third overall in the 2003 NFL Draft.
beautiful hands, he'll be the first Texans hall of famer ever and big boi pysiczl
toughest reciever to ever play. his game does the talking for him unlike the mouths of a to or chad ochodinco. I would still rank rice #1 but by the time the beast retires hell be #1

Andre has Matt Schaub throwing to him and still makes OUTSTANDING plays. If you give him any one of the quarterbacks that these other athletes have he would demolish the record books.
He is amazing watch his highlights. He beats his man by fifteen yards every throw. If he had a Joe Montana there is no doubt in my mind he would be as good if not better than Rice
Andre Reed
You cannot put chad ocho cinco over this guy not even michael irvin is better then him... Best run after catch wr of all time next to jerry rice... There was a play where andre went across the middle and he breaks six or seven tackles and scores
If his team one just one Super Bowl, their would have been a different light shown on him. This guy had it all, speed, quickness, strength, tenacity, courage, attitude and brains. Never into self promotion, a total class act.
Absolute joke, Andre was a clutch over the middle receiver. Finally honored with his introduction into the hall of fame, something most of these clowns will never do
He lead the K-Gun offense and should be in the Hall of Fame
Reggie Wayne

Reginald Wayne is a former American football wide receiver who spent his entire 14-year career with the Indianapolis Colts.
Amazing route runner, right behind marvin harrison!
Reg is an awesome route runner does not drop the ball and is number 7 all time and will finish number 1.
how do you get timed so slow and put up these kind of numbers this kid is the exact duplicate of rice.
Reggie Wayne is good but not better than antonio brown and jordy nelson but reggie is good if I were to rank him I would put him in the top 45
Roddy White

Extremely good player, injuries have been affecting him lately sadly. He is often overlooked because he plays beside such talented wide outs, Julio jones and tiny Gonzales but is Atlantas greatest wide receiver of all time
Best offensive player in falcons history
Why is Roddy White even being considered?
He is the best
Isaac Bruce
He should be at least 5 come on. He has the number 1receiving yards, number 5 in receptions, and number 9 in touch downs and number 2 in average. He also has multiple recording records, was a great leader and is the rams won the super bowl! He has it all. And how can moss be 2 the only thing he beat Bruce in was the 40 yard dash! Everyone that voted has seen Randy play and is why they vote for him.
Smoothest route runner of all time. Great down field blocker as well, sprung blocks for Bettis, Marshall Faulk, and Steven Jackson. Old school baby! Pro bowler and super bowl champion. Life time RAM! Hall of famer for sure.
Set the record for receiving yards in a season for a few hours before Jerry Rice passed it the same day. He did it in a horrible offense, well before the Greatest Show On Turf. Retired 2nd all time in receiving yards. Should be higher than 19th without a doubt.
Has 15,208 yards receiving in his career plus he played for The Greatest Show on Turf.
Brandon Marshall

Brandon Tyrone Marshall is an American football wide receiver for the Seattle Seahawks of the National Football League. He has played for six different teams in his NFL career. Marshall was drafted in the fourth round, 119th overall to the Denver Broncos in 2006.
Current record holder for most receptions in a game
I like him because he can catch if you through the ball up he will make a big play that's why I vote for him

By daniel devine
Great player can catch almost anything did you see that catch in the pro bowl where he hit the ball of his shoe amazing
When he was with the dolphins he hardly missed a catch and he's in most of the pro bowls in his career and he's a nice guy I know him
Wes Welker
I don't think they give wes a lot of credit down his field stuff because he so known of his short routes but he is very explosive down the field to he should be much more higher than Andre reed because he doesn't have 4 seasons with 110 reception.
Nothing against Welker but A. Reed played in the 1/2 spots not the slot. Also Welker plays in an era where it's a pass heavy league. Most of those seasons in NE the pats threw the ball 75-80% of their offensive plays. Welker is a beast, but if he A. Reed played his role now he'd be killing with stats as well
He is small you see, but is totally built like a tank and get out of tackles pretty dang easy
John Madden says he is quick.
Sterling Sharp
I always felt that if not for the neck injury, we would be talking about Sterling has the best receiver to ever play the game. He had better speed than Rice, he was stronger & more physical than Rice, & he had incredible hands like Rice. He'll always be one of my all-time favorites long after people have forgotten about him as far as the record books show
Oh what could have been. :( Stoll should be in the Hall of Fame though.
Better stats then a lot of players on list for such a short career. Put his numbers next to Rice 1st 7 years in league and while rice has better numbers Sterling is not far behind.
He was the only good receiver on the team, everyone on the defense knew the ball was coming to him, and he still caught a record number of passes.
James Lofton
"Arguably the best deep threat of all time. An eight time pro bowler and maybe the best long range speed and hands combination ever. Held the all-time receiving record at time of retirement. "Overcame extreme adversity and renewed his image in the NFL. Possibly the most inspirational play as a veteran ever by having over a thousand yards at the age of 35 although playing in an arsenal of wide receivers such as Andre Reed on the Buffalo Bills in the early nineties. "
Best Long Range Speed and hands combination ever . Doesn't have
as much credit as he deserves because of early altercations in his career. 14,004 career yards multiple plays of 70 yards or more in career.
Lofton deserves to be in the top 10. Never even in a pass oriented offense but was a hard nosed, ultra talented football player with the stats to match.
Wow 36? How burnt is this list? Hines Ward and Donald Driver are jokes take them off this list.
Raymond Berry
One of the most precise route runners of all times. The younger guys don't know but he out thought and out worked the defenses. He also, worked with Unitas to set up plays based on the tendencies of the offense. He is a top 10 all time.
He was a pioneer that paved the way for others to follow who improved the position with analytical preparation that enhanced his natural abilities.
Unitas to Berry. The main target for John Unitas and they won a lot of Championships together.
Unitas' go to guy in the 50s and early 60s.
John Stallworth
Higher up on the list... #30 is way too low!
I can not believe in good conscience Stalworth was not in the top ten.GO STEELERS!!!
Why is this guy number 30 in the list he should absolutely be in the top 5
He should be in the ten 10, people review the stats please, he still holds records and he hasn't played since 1987. Super star status!
GO Steelers! GO Steelers! GO Steelers! GO Steelers! GO Steelers!
Steve Smith

Steve Smith, Sr. is an American football wide receiver for the Baltimore Ravens of the National Football League.
best panther ever fast could chuck a 230 pound linebacker right out of his way
Pound-for-pound toughest guy in NFL history. Smallest guy on the field, yet he's ALWAYS knocking people over (or juking them out of their shoes and then blowing by them). Steve Smith also ALWAYS shows up huge in big games. Has scored a TD in 9 of 11 playoff games. And 1 of the other 2 was a 100 yard receiving game last year. As a comparison, marvin harrison has scored a TD in 1 of 16 playoff games.
Steve should be higher on this list he has been the best since Randy moss sorry Larry but Steve is just better
94? Seriously? This guy had the TRIPLE CROWN of receiving in football in 05. Only 3 players have ever done that before. Consistent 1000 yard seasons led to him being one of the best wide outs in the league. Plays with one of the biggest hearts in the NFl, and no one can touch him when he gets on fire.
PSearch List