Candidates that Should Win the United States Presidential Election of 2020
The Top Ten
Bernie Sanders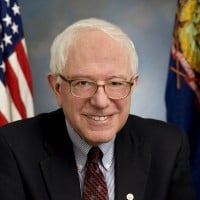 Bernard "Bernie" Sanders is an independent American Senator from Vermont and was a candidate for the Democratic nomination for President of the United States in the 2016 election.
Good thing he dropped out. He would've completely destroyed our country. This guy is a communist, socialist, and anarchist who would completely destroy our economy, as he thinks that lazy people who are too incompetent for a job should earn more money than actual hard-workers and be seen as more respectable. Plus, communism on its own has absolutely no ethics, has caused millions of deaths, and literally kills rich people just for being rich. It's really telling that despite how many die-hard commies worship him, yet he's never been popular enough to stay in the elections.
He's a Social Democrat, and it's not socialism. His political views are left-center which is better fit in the rest of Europe, and not as much in America.
Showed how a socialist in a capitalist country can write a book trashing capitalism and become a multi-millioniare. Did release his tax returns, and he paid way less than the normal percentage of tax by taking every single deduction possible. His philosophy is "Do as I say, not as I do".
Why do you assume he isn't a capitalist, Bernie is definitely a democratic socialist that is the synergy of both capitalism and socialism
Integrity showing that he is consistent. Trump worshipers attack him because he is finally a millionaire but his policy hasn't changed. He knows that he and other millionaires should be paying the larger portion of taxes.
Screw Bernie Sanders. You guys say he stands up for income equality? A person works their butt off and that person gets paid the same amount as a person that puts in poor quality! Pardon my French, but I think that is BS.
That is misrepresenting his stance and you know it.
He is merely saying a person should be paid a fair wage for that work he isn't say everyone should be paid the same amount
Donald Trump

Donald John Trump (born June 14, 1946) is an American businessman, television personality, politician, and the 45th President of the United States. Born and raised in Queens, New York City, Trump received an economics degree from the Wharton School of the University of Pennsylvania in 1968. In 1971, ...read more.
Donald Trump is not nearly as bad as the media makes him look. His biggest downside is that he isn't a very nice person. However, nearly everything he did as a president has been beneficial to our country. Due to the COVID-19 outbreak, the U.S. will most likely go into an economic depression. We need a president who is an expert in economics. Trump is great at that stuff. You guys who are voting for Bernie are nuts! I respect your opinion, but seriously. He's a socialist. Remember what has happened to socialist and communist countries, how it seemed like a good idea but ended up destroying the country? The U.S. will probably lose its status as a superpower if we go socialist. Those of you who are against Trump, don't let the media sway your opinion and find out for yourself what Trump really stands for. Sure he's not perfect, but then again no president is.
Your comment was so incredibly wrong in every way that all I can do is laugh at it.
Barack Obama just told the democrat party bosses that none of their current candidates can win, maybe it will finally soak in, but they have waited way too long.
It is extremely hard to beat a candidate that is willing to call for foreign intervention to ensure he wins as well has lie and create conspiracies theories
The Democrats have trouble understanding that every time they act out with "Trump Derangement Syndrome", they drive more votes in Trump's direction. They need to clean up their act, and find a viable candidate for 2020, or Trump will win again. Think a younger version of Joe Biden or other nice middle of the road Democrat, and it can be done.
Actually, people like you just make democrats hate trump more.
SJW maniacs made a mistaken ID of a high school kid, and doxxed the complete wrong guy, resulting in death threats to his family, irate letters to the college he applied to, and more insanity for somebody who was not even in the city on the day in question. At least a million new votes for Trump resulted.
Joe Biden

Joseph Robinette "Joe" Biden, Jr. is an American politician who was the 47th Vice President of the United States, jointly elected twice with President Barack Obama, and in office from 2009 to 2017. A member of the Democratic Party, Biden represented Delaware as a United States Senator from 1973 until ...read more.
He's the only person left in the Democratic primary, and since he isn't one of the greatest candidates in the race this year, he at least has a heart and a lot of experience in politics that he can lead the country forward again.

I'll back him up throughout the whole year, and I want to make sure that he wins so that we can make Donald Trump a one-term president since I don't want to have a con man, a pathological liar, a cult leader, and a malignant narcissist taking over the White House.

Are you with me?
Heads and tails over buffoon and incompetent dump! Please..let's not be imbecilic and elect the moron currently destroying our country, again. If he wins...shame on us!
A shame that he's too old now, his time has passed. Ironically, he would have easily won the 2018 election, but the Dems were dead set on the coronation of queen Hillary.
Seems like a good Democrat candidate. I'll have to research to see if he's good enough for the spot, though.
Elizabeth Warren

Elizabeth Ann Warren is an American academic and politician. She is a member of the Democratic Party and is the senior United States Senator from Massachusetts.
The less scary version of Sanders, She has plans and can defend all her political stances not just say this is what I want to do
Really. She wants to give reparations to all black people. On the debate stage she just threw a bunch of offensive words together to attack Bloomberg, and I don't even like Bloomberg. Plus she the "I'm a women" card a lot.
She dropped out
Andrew Yang

He actually has sensible policies and ideas, would be nice to see him get elected
A person who IS ACTUALLY RUNNING FOR PRESIDENT! He's one of the smartest candidates there is and we got the Kardashian's. at least Yang is smart let alone has a brain.
Not really smart. And how in the world can you give 12,000 dollars to every American a year. It doesn't add up.
I agree, he is one the smartest candidates
Not really smart. How do you give 12,000 dollars to every American a year? It doesn't add up.
I miss Andrew Yang.
Mike Pence

Michael Richard Pence is an American politician and lawyer who serves as the 48th and current Vice President of the United States, in office since January 20, 2017. He previously held the position of Governor of Indiana from 2013 to 2017.
Although he's not running, and probably will have had enough of politics after Donald Trump finishes his second term (and I can personally guarantee that is gonna happen) Mike Pence would be a great President.
He can only be president if Donald Trump is gone from office
Certain winner in 2024.
A great Christian Vice President!

My second choice
Pete Buttigieg

Smartest candidate, with a clear vision, and as authentic and honest as Bernie.
Ben Shapiro

Benjamin Aaron Shapiro (born January 15, 1984) is an American conservative political commentator, writer and lawyer. He has written seven books, the first being 2004's Brainwashed: How Universities Indoctrinate America's Youth, which he started writing when he was 17 years old.
This is the world we live in, where people legit think that a talking head on T.V. should be elected president of the most powerful nation on Earth.
Would be able to destroy the entire political field with facts and statistics.
Not old enough now, but WILL be president in about 20 years.
I want Don to run as a conservative... not any other person.
Jeb Bush

John Ellis "Jeb" Bush is an American businessman and politician who served as the 43rd Governor of Florida from 1999 to 2007.
I think his political career ended with his run in 2016, Jeb Bush would be a decent alternative to Donald Trump, even if he's not as charismatic.
Ben Carson

Benjamin Solomon "Ben" Carson, Sr. is a retired American neurosurgeon and former candidate for President of the United States.
This guy's got gifted hands.
The Newcomers
?
Arnold Schwarzenegger

Arnold Alois Schwarzenegger is an Austrian-American actor, filmmaker, businessman, investor, author, philanthropist, activist, former professional bodybuilder and former politician.
Yes, he's technically ineligible, since he was born outside of the USA, but the hypothetical is interesting enough, even if in vain.
?
Tim Ryan
Same basic idea as Tulsi Gabbard. Although I'd only seen him in maybe two debates, he was moderate enough to be almost guaranteed to lose the nomination, but would've had Donald Trump going on ultra-campaign mode.
The Contenders
Michelle Obama

Michelle LaVaughn Robinson Obama is an American lawyer and writer who was the First Lady of the United States from 2009 to 2017. She is married to the 44th President of the United States, Barack Obama, and is the first African-American First Lady of the United States.
I can see her doing good in office as a female president. I don't see much to hate about her (that is, unless you hate the Obama family). Plus, she can continue to promote living healthy in the United States.
Start from the bottom, Michelle, and run for the House, or for mayor. You're not nearly qualified enough to be president.
Hell No. Barack was bad enough
Training rebels in Syria to fight Assad and accidentally creating ISIS, then training more rebels in Syria, but to fight ISIS this time and not Assad
Tulsi Gabbard

Tulsi Gabbard is an American politician of the Democratic Party serving as the U.S. Representative for Hawaii's 2nd congressional district since 2013.
Although I'm a conservative, I thought she had some promising things that she brought to the table. She's one of the few candidates who could be dubbed as "moderate," and she exerted common sense.
Y2k is hating. She understands what she is doing well. There are many reasons to support her ideas even if you do not like them yourself. Her time in congress and ability to get people interested shows that she has potential to be a great president.
She's probably the best Democratic nominee out of everyone confirmed. Even as a Republican, I'd vote for her if I was old enough to vote.
She supports murderous dictators like Assad in Syria, smears refugees, and she used to lead anti-gay protests. She's also just a representative, and not even part of leadership. No thanks.
Condoleezza Rice

I guess since people don't like Hillary Clinton, Condoleezza Rice is the good version of her. Rice would be a good Republican candidate from what I've heard of her.
Smart enough to know that she wants no part of politics ever again.
Dwayne Johnson

Dwayne Douglas Johnson, also known by his ring name The Rock, is an American and Canadian actor, producer and semi-retired professional wrestler, signed with WWE.
Out of all the celebrities on this list, I would choose him. Although, he should get more experience in the world of politics first.
No more celebrities!

This is the most important job in the world - you need the highest qualifications and many years of experience. Don't repeat our past mistakes.
He is one showbiz person who I think should get into politics. He is very charismatic, and would be kind of like the anti-Al Franken.
The Rock for president!
Hillary Clinton

Hillary Diane Rodham Clinton is an American politician who was a Democratic presidential candidate in the 2008 and 2016 elections.
Best ever! We certainly blew it!
It would be 2016 all over again.
She isn't running again now
Love her. She's the greatest
Kamala Harris

Her mentor CA governor Jerry Brown just commuted the Life Sentences of 20 convicted murderers, and set thousands of violent felons loose on the streets with early release programs. Look for even more of the same from her.
After her antics at the Kavanagh hearing, every single male person in the USA should fear the possibility of Harris having any amount of power over them, much less the ultimate power.
Slept her way to the top of the San Francisco political scene, and jumped from there. Possible she will charge any of her "benefactors" with assault sometime down the line?
Just revealed that when she was DA in San Francisco, she helped in the cover up of pedophile priests by declining to press charges in numerous cases.
Ted Cruz

Rafael Edward "Ted" Cruz is an American politician and attorney serving as the junior United States Senator from Texas since 2013. He was a candidate for the Republican nomination for President of the United States in the 2016 election.
We need him to stay in the Senate, but he'd have an okay chance at winning. But I wouldn't bet on it.
Ted should never ever ever be president
Ivanka Trump

Ivana Marie "Ivanka" Trump is an American businesswoman, fashion designer, author and reality television personality.
Truthfully, if it were 2024, I wouldn't bat an eye if she and Eric Trump ran on a Trump/Trump ticket.
The only female president I want!
First Women president in 2024.
Cory Booker

Undefeated middleweight boxing champion in male vs. female matches.
Julian Castro

We need somebody who actually cares about their country and everyone in it, not just the elite.
Kanye West

Kanye Omari West is an American rapper, songwriter, and fashion designer. He was born on June 8, 1977 in Atlanta, Georgia. After West's parents divorced, him and his single mother moved to Chicago, Illinois. At the age of 10, West temporarily moved to Nanjing, China, because his mother was teaching ...read more.
Are you frigging serious? What makes him think he's qualified for this? He's a bad rapper. A really bad one at that. He has no political experience whatsoever and his temper is practically nonexistent. He asked Mark Zuckerberg for 1,000,000,000 dollars to "bring wonderful ideas into the world.". Not only does he have no wonderful ideas, he doesn't need a billion dollars! He already makes millions from his rap career, and he's married to a Kardashian! If he were to win, we'd have her as First Lady! Nobody wants a talentless rapper retard as president and no one wants a Kardashian as First Lady.
Trump being President says that pretty much anyone can be President
If another MORON wins the election, I think I'm moving out of this country. If this fool right here wins, I will try my hardest to stay indoors. For the last four years I've had an orange president, and I don't want to have some bad rapper as president, he probably doesn't even know what he wants to do as president! If Kanye "I'mma let you finish" West wants to change the world, don't run for president, get a divorce and MOVE TO ANTARCTICA!
This'll be my first presidential election. If I told someone 20 years ago that Donald Trump and Kanye West would be running for President, they would have laughed. (I wasn't even alive 20 years ago so what)
This guy wouldn't be able to handle the job of President. He's a dumbass and he doesn't know anything about politics.
because most Americans don't usually vote based on who would be the best President, oh and foreign interference
John Delaney

Another moderate. Seemed like a nice guy and had the same common sense as Tim Ryan or Tulsi Gabbard.
He Already Started His Campaign!
Melania Trump

Melania Trump is a Slovenian-American former fashion model, and the current First Lady of the United States, as wife of the 45th U.S. President Donald Trump. She was born in Novo Mesto, and grew up in Sevnica, in the Yugoslav republic of Slovenia.
Melania Trump would make a very good president of the United States, whether she's American or not!
Why because she happens to look good in a swimsuit? Is that all that matters to be a very good President because that is some extremely low standards
Comments from people who think she can run prove out education system is in ruins.
What idiot thinks a foreign-born person would be eligible to be president?
The same people who voted for Ted Cruz and are going to vote for Michael Bennet
She's literally a prop to her husband.
Bill de Blasio
Wasn't crazy about him, but even though he's basically a loser, he seemed rational enough.
Lunatic.
Amy Klobuchar

PSearch List