Top 10 Cell Phone Tracking Apps
Nowadays spy application is a tool that is available for everyone. You can just buy it and install on your smartphone, tablet or computer to start spying. And there are so many spy applications these days that sometimes it's hard to choose the right one. They can be free or paid, for Android, Windows or iOS, for computer only or mobile devices. Some of them have only one or two functions such as tracking or keylogging; others allow users to monitor all the activity of the target device, including phone calls and messages. Due to the high popularity of such software, sometimes the quality of the products is not proper. Moreover, it's hard to select the best among such variety of them. Therefore, here I'll try to describe the best among the best. Hope this article will help you choose your perfect application. You can also find detailed reviews of different spying apps here.

The Top Ten

1 Mspy.com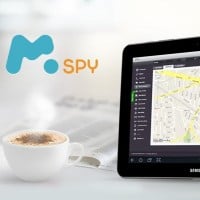 Great tool for tracking your other half. It offers a wide range of functions, including phone calls monitoring. It is almost impossible to find out that this tool was installed on a target phone. It also can help with kids and employees monitoring.
2
FlexiSpy.com
This is a serious spy app that is mostly used by business owners. It helps to monitor corporate smart devices. This is a great choice to prevent theft of confidential business information. Of course, FlexiSpy functionality allows to spy on your children and spouse, but it's too expensive for this purpose. FlexiSpy offers 2 packages: Premium starting from $ 68 per month and Extreme starting from $199 per quarter.
3
Highster-Mobile.com
Highster Mobile is compatible with all Android and Apple devices. Among main features, it is important to mention Stealth Camera function which enables the user to take videos and pictures from the target device as well as view multimedia from the phone. Other functions are standard: call logs, messages monitoring, GPS location tracking, etc. This app is one of the best choices for family tracking. Price: $30
4
Thetruthspy.com
Affordable spy app (only $16.99 for the standard plan) which is compatible with Android and iOS phones. You can check 48-hour free trial to decide if it worth its money. The standard plan is limited to basic functions: location tracking and SMS tracking. The Gold version ($22.99) allows recording calls as well. Honestly, for this money you can try the app with more wide functionality. However, it has its advantage - the app is very simple in use.
5
SpyEra.com
This is one of the most expensive apps. The cheapest version costs $149 per 3 months. But the price speaks for itself - the app is also one of the easiest-to-use and has a lot of useful features. Also, SpyEra is compatible with all possible mobile devices: Android, Apple, Blackberry and Symbian.
6
iSpyoo
This is another great application that works with Android and iOS. It works great as your personal monitoring solution. For instance, you can install it on your own phone to find it easily if it was stolen or lost.
7
MobileSpy
It has a 7-day trial, so you can just check if it worth using. The app is compatible with Android, Blackberry and iPhone. The basic version (49.97 per 3 months) lacks live control panel and ability to view instant GPS map. Other functions are standard: SMS tracking, phone calls information, GPS location.
8
SpyBubble
This application has a wide range of features to offer to Android, iOS and Blackberry phone user. There is nothing extra here. The app has simple and useful options that allow you to hack any smartphone on the highest level of performance quality. It will be the best solution for basic monitoring requests. Also, you have the ability to try it free.
9
Mobistealth
This is another software with a reliable stealth mode feature. Its name speaks for itself. If you are trying to spy on your kids or employee, Mobistealth is the best choice. Even if you want to catch your spouse on cheating, this application will help you.
10
Phonty
Phonty.com was created to help parents take care of their children and protect them by means of remote mobile tracking. The application runs on iOS and Android.
The Contenders
11
PhoneSheriff
PhoneSheriff is a simple solution for everyday phone monitoring. It has a user-friendly interface, and all the details that are provided by this application are accurate. The price for the application is also very reasonable - only $49.00 per 6 months. This app is perfect for parental monitoring as it was developed specifically for this.
BAdd New Item