Top 10 Fictional Characters Who Would Be Most Shocked to See the Amount of Rule 34 Porn About Them
The Top Ten
1
Toriel - Undertale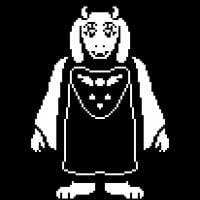 She's supposed to be old and people draw her like she's a young adult
She's clearly in her 70s, yet people draw her like she's 26.
People on the internet treat her like she's some MILF. Disgusting what people do.
Toriel would probably commit suicide or something
2
Zim - Invader Zim

Zim is the titular protagonist and anti-hero of the American animated series Invader Zim, created by Jhonen Vasquez for Nickelodeon.
I bet it would be some crazy sex.
3
Fluttershy - My Little Pony: Friendship is Magic

Fluttershy is a female pegasus pony from the 2010-2019 animated TV show My Little Pony: Friendship is Magic. She is a kind pegasus and is very timid and shy. She takes care of the animals. She represents the element of kindness
She would be very shocked
She is the best
Shocked as hell.
4
Peridot - Steven Universe

Peridot is from the show Steven Universe created by Rebecca Sugar. The show airs on Cartoon Network and has grown in popularity over the years. The character Peridot is an alien gem from a planet called Homeworld, Peridot is introduced in the episode "Marble Madness," when Steven and the Crystal Gems ...read more.
Peridot likely doesn't even know what porn is
Seriously, how does rule 34 get to exist?
Because she is not from earth
To much rule 34 of her
5
Tails the Fox - Sonic Series

Miles "Tails" Prower is a fictional character in Sega's Sonic the Hedgehog series, and the title character's best friend and sidekick.
6
Papyrus - Undertale

Papyrus is a character from the 2015 game Undertale, made by Toby Fox. He is the Younger brother of Sans the skeleton, royal guard in training, and a sentry in the town of Snowdin. Opposite to his brother, papyrus is active, loud, and full of himself; but in an endearing way. Papyrus means to become ...read more.
To be honest he is so full of himself he probably wouldn't be too shocked but actually like that people find him attractive, unlike most of the other characters on here who are rather innocent.
This, however, doesn't change the fact that I am pretty shocked that people find Papyrus attractive. Like, why? But I guess whatever floats your boat.
Now explain this to me, how the hell do you have sex with a skeleton?
I don't think he'd sp shocked because he loves himself so much.
He would probably be shocked
7
Samus - Metroid

Samus Aran is the protagonist of the Metroid science fiction action-adventure game series by Nintendo.
Samus is supposed to be a subversion or sexualized women being in danger. She wears a masculine Power Suit, and is on a mission to eradicate a galaxy wide threat.
Not surprising, every big breasted character seems to have porn of them.
Any character with big breasts would have porn
Not surprised, please take a look at her body.
8
Vivio Takamachi - Magical Girl Lyrical Nanoha

Vivio Takamachi is a clone of Saint Kaiser Olive Sagebrecht who was sought by Dr. Jail Scaglietti in Magical Girl Lyrical Nanoha StrikerS.
9
Rouge the Bat - Sonic the Hedgehog

Not surprising since she looks more like an 20s somehow adult
10
Vita Yagami - Magical Girl Lyrical Nanoha

Her image would probably be how she would react to all of the lolicon porn of her.
Why do some people think that lolis are sexy? I don't get it at all!
The Newcomers
?
Luz Noceda - The Owl House

?
Lisa Loud - The Loud House

At 4 years old, Lisa is the second-youngest child of the Loud family and the second-youngest of Lincoln's five younger sisters. She is often seen working on complex experiments, equations, and formulas. Her most annoying habit is her weird studies on others, especially her siblings.
The Contenders
11
Einhart Stratos - Magical Girl Lyrical Nanoha

12
Edd - Ed Edd n Eddy

Edd, mostly referred to by his nickname "Double D," is one of the three protagonists in the Canadian-American animated comedy television series Ed, Edd n Eddy. He is the physically weakest but the most intelligent member of the Eds.
Why is there even porn of him?
13
Princess Zelda - The Legend of Zelda

Princess Zelda is a fictional character in Nintendo's The Legend of Zelda video game series, created by Shigeru Miyamoto and introduced in its original entry in 1986.
People that draw rule 34 of legend of zelda should be thrown in the shadow temple.
She always had porn ever since 2007-2009 somehow
14
Misty - Pokemon

Misty, known as Kasumi in Japan, is a character in the Pokémon franchise owned by Nintendo and created by Satoshi Tajiri. She's the gym leader in Cerulean city & specializes in water Pokemon. In the games, she's known as 'the tomboy mermaid.' ...read more.
Oh my gosh, imagine if Misty saw this and started to hate her fandom.
She is only 10 years old
15
Judy Hopps - Zootopia

Officer Judy Hopps is the protagonist in Disney's 2016 animated feature film Zootopia. The first rabbit to be in Zootopia's police force, Judy is determined to make the world a better place while breaking preconceptions about other species. Teaming up with a fox named Nick Wilde, she sets off on her ...read more.
Literally, not just on that site, but on every fanart site
It's just disgusting.
Rabbits aren't sexy
She's a rabbit...
16
Gollum - Lord of the Rings

Gollum is a fictional character from J. R. R. Tolkien's legendarium. He was introduced in the 1937 children's fantasy novel The Hobbit, and became an important supporting character in its sequel, The Lord of the Rings.
EWWW! What kind of sick minds would ever want to watch this?!
What the hell?
they even do this to somewhat an ugly guy
17
Sakura Kinomoto - Cardcaptor Sakura

She'd definitely be creeped out and be traumatised, and I won't blame her.
She would cry
She's still in elementary school though :(.
18
Fate Testarossa - Magical Girl Lyrical Nanoha

I actually legitimately saw a Rule 34 doujinshi with her and Signum when I went to Anime USA last month and I was shocked by it.
19
Squidward Tenticles - Spongebob Squarepants

Squidward Tentacles is a fictional character voiced by actor Rodger Bumpass in the American animated television series SpongeBob SquarePants.
well his nose does look like a penis.
20
Princess Peach - Super Mario

Princess Peach is a major character in the Mario Bros. Franchise. She is the lead female of the The Mario franchise. She is usually the character who needs saved in most Mario Games, but also has appeared as a playable character in the Main-Series Mario Games, including Super Mario 3D World, Super Mario ...read more.
She might tell Mario to help her
The violation is worse
21
Gardevoir - Pokemon

Gardevoir is a third-generation Pokémon species originally introduced as a Psychic type creature in Pokémon Ruby and Sapphire in Nintendo and Game Freak's Pokémon franchise.
She is the Pokemon who has the most Rule 34
22
Lara Croft - Tomb Raider

Lara Croft is a fictional character and the protagonist of the Square Enix video game franchise Tomb Raider.
She is one of the only characters on this list that look realistic, I'm not surprised. Plus teens have been fantasizing on Lara since the first game came out. They thought there was a cheat code to make Lara naked in the game.
Not surprising
23
Disgust - Inside Out

Disgust is a major character in the 2015 Disney/Pixar film, Inside Out. She is one of the five emotions inside the mind of Riley Andersen.
She would disgusted
But she's like a state of mind
24
Zane - Lego Ninjago

I could add all ninjago characters here
25
Nanoha Takamachi - Magical Girl Lyrical Nanoha

PSearch List