Top 10 Best College Football Wide Receivers of All Time
One of the most important parts in a football lineup is a Wide Receiver due to how much they can score for the team in its passing. While there are a lot of amazing NFL Wide Receivers, not as many people talk about the best wide receivers in college football. This will based not on how they did in the NFL, but how well they did in college football. Hi, I'm Pnut, and after a two week list hiatus, I bring you the Top 10 Best College Football Wide Receivers of All Time.

The Top Ten

1 Randy Moss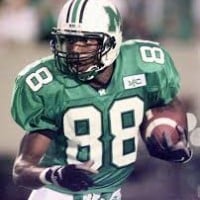 Randy Gene Moss is a former American football wide receiver who played 14 seasons in the National Football League.
Kind of like Jerry Rice, and even though Marshall is in Division 1 but was a small school sort of, Randy Moss shows that you can succeed from any college, even small. After having some issues with Notre Dame and Florida State, he would head to Marshall in a redshirt freshman season. Turns out, this would be a steal for the Thundering Herd. In his freshman season, he would catch 78 passes, gain around 1,700 yards, and a whopping 28 TOUCHDOWNS. I guess Jerry Rice didn't hold on to this record as much. And it got even better next year in 1997 as he gained more in catches and yards. He also had 26 touchdowns with that as well. In his short career, he had a total of 54 touchdowns and he had one every single game he played, which is quite impressive to say the least. He would eventually would be drafted by the Vikings, and just like Rice, he had a spectacular career. Even though he had a short season, it was quite amazing to say the least.
2
Jerry Rice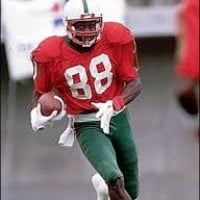 Jerry Lee Rice is a former American football wide receiver who played 20 seasons in the National Football League, primarily with the San Francisco 49ers.
In case you don't know Jerry Rice is regarded as one of the best NFL players of all time. And this is proof that you don't need to attend a large school to excel in professional football. In the early 80s, Rice decided to not attend large schools around the area and attend at Mississippi Valley State. During his career with the team, he would have a total of 301 catches, along with 4,693 yards and a big total of 50 touchdowns in his college career. His biggest standout of a season was in 1984, where at the time, it was amazing for the standards in the college. He amassed a total of 112 catches and 1,845 yards, but the biggest thing of them all was 27 touchdowns, which for a long time, was a record. And even in a span of two games, he had 5 touchdowns. Many people were impressed with him, and became a hot target for scouting. He would eventually be a first round pick to the 49ers, and is now considered the best Wide Receiver in NFL history.
3
Calvin Johnson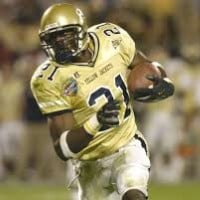 Calvin Johnson Jr. is a retired American football wide receiver who played his entire career for the Detroit Lions of the National Football League. He is often called the nickname ''Megatron'' for his rare combination of size, speed, and leaping ability on the field.
Let's talk about the Lions Receiver who was just inducted into the NFL Hall of Fame (Congrats c:). During his career with the Yellow Jackets, he wowed crowds at games and sports analysts all over the country. With his main two abilities in football (Incredible leaping skills and Speed), he had an amazing run with Georgia Tech. He was a two time All-American player, won the Biletnikoff award for best Wide Receiver, and was a big problem for cornerbacks in the entire league. Eventually, Johnson would get drafted to the Lions, where he would put up a great career there. In the end, Calvin Johnson's playing abilities are considered to be very rare for a player to do today.
4
Desmond Howard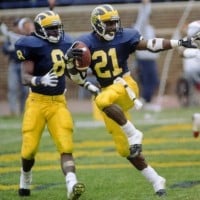 Desmond Kevin Howard is a former National Football League player. Howard was known mostly as a return specialist but also played wide receiver.
Only 4 wide receivers have ever won the Heisman Trophy: Tim Brown, Johnny Rodgers, and in the most recent season of College Football, DeVonta Smith.That leaves one more person, and that is none other than Desmond Howard. He played in the college of Michigan, and his volume to the team was quite huge. Not only was he famous as a wide receiver but also famous as a kick and punt returner as well, making many famous plays. In his versatile players of his kind and finished off his career with stats such as 37 all purpose touchdowns.
5
Corey Davis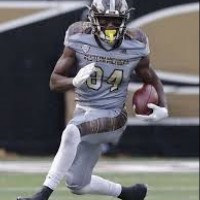 In 2016, the Western Michigan Broncos went out with a total record (Including Bowl Games) of 14-1. The head coach at that time should probably give a huge thanks to their best player on their team: Corey Davis. When it comes to him, he is one of the most prolific wide receivers in college football history. In FBS history, he has the most receiving yards in a single career so far, with a total of 5,278 yards. Also in his three seasons, he had at least 1,400 yards, 78 catches, and 12 touchdowns. One man described as not only selfless, but also a very hard working player. In the 2017 NFL Draft, the Titans drafted him as the 6th overall pick, and to be honest, didn't really live up to the expectations of a early first rounder. But his college career had a lot of hyped that was well deserved.
6
Larry Fitzgerald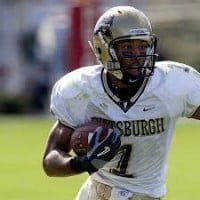 Larry Darnell Fitzgerald Jr. is an American football wide receiver for the Arizona Cardinals of the National Football League. Fitzgerald was drafted 3rd overall to the Arizona Cardinals in 2004, he is considered to be one of the best players of his position to never win a Super Bowl.
You might be quite surprised to see a player that only played two seasons in college, but what Larry Fitzgerald did at Pittsburgh left a big impact on the team and his career as well. Firstly being redshirted in his freshman year like Randy Moss, Larry Fitzgerald would have a great beginning in 2002 when he had a total of 12 touchdowns, around 1,000 yards, and 69 catches. He was known to be as a instant contributor. However, things got very hot in the next season. In it, he broke a NCAA record with 18 straight games with a TD catch. He also was a runner up for the Heisman Trophy, which is pretty rare for a Wide Receiver to do. Despite him not being there for long, it was good enough to land him to the Arizona Cardinals, and is now a football legend.
7
Tim Brown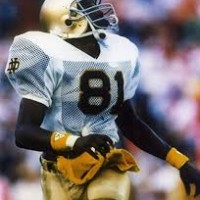 Not only did he win the Heisman (A very rare thing to do in college football) but he also got into the Hall of Fame in the NFL as well. But before he made it into the big leagues, he made Notre Dame team a interesting team to watch at his time. Like Desmond Howard, he did a little bit of everything on his team to succeed. While his stats are as impressive as they were today, they still were huge news at the time for the game. And also like I said at the beginning, he won the Heisman trophy in 1987, which was pretty shocking since it can be hard to accomplish that feat. Overall, Tim Brown is a all time player in the history of college football.
8
Braylon Edwards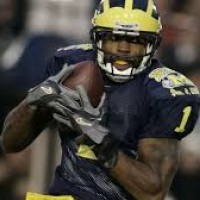 It might be weird seeing two Michigan players on here, but they are both that good. He had a little rough start in his freshman year, where he only caught a total of 3 passes. Then, things started to rev up. In his next three years, he would catch a total of 249 passes, which is an average 83 per year. He became the first ever player in Big Ten history to have three consecutive seasons of 1,000 or more yards. His most notable season was in his Senior year, where he caught 97 catches, 1,330 yards, and 15 touchdowns, which would end up getting him the award for best Wide Receiver. Ever since he has left Michigan, he has been cemented by some people to be one of the best wide receivers of all time.
9
Michael Crabtree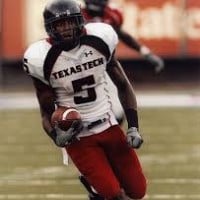 Michael Alex Crabtree, Jr. is an American football wide receiver for the Oakland Raiders of the National Football League.
Crabtree was under the watch of his head coach Mike Leach and the offense was a big part of his great coaching career for Leach. But no other player was better other than Michael Crabtree. Like a few other people on this list, he only had a total of two years in college football. But his time with the Red Raiders was worthwhile. In his two seasons with Texas Tech (Following a redshirt season in 2006), his career stats were 231 catches for 3,127 yards and 41 touchdowns. He broke the freshman record for receptions (134), yards (1,962), and touchdowns (22). Along with another impressive season after, he won the Biletnikoff Award two times and All-American as well. He might've been a role model to a few people in his position in college.
10
Justin Blackmon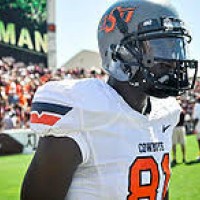 Blackmon never really got a chance in the NFL as issues with alcohol have stopped him from playing and derailed his chances. It's quite unfortunate since he had a flashy career with Oklahoma State in his time before the NFL. The 6'1, 210 pound athlete was with the Cowboys for three years and had a total of 252 catches, 3,564 yards, and 40 touchdowns. His biggest season though was in his 2nd year where he had some impressive statistics such as 20 touchdowns and 1,782 yards. In his next season had 122 catches. He was the nation's top wide receiver twice and finished fifth in Heisman voting in 2010. He took advantage of his skills and is now known as one of the most prolific wide receivers in modern era.
The Contenders
11
Devonta Smith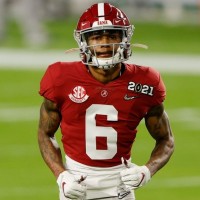 12
Michael Irvin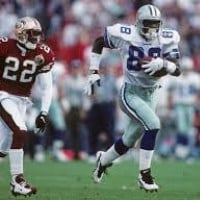 13
Cris Carter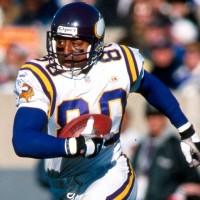 14
Percy Harvin
To bad he did not continue his talented career in the NFL great kick returner though
15
Julio Jones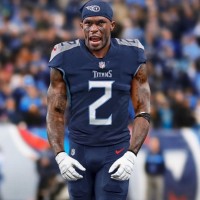 Quintorris Lopez "Julio" Jones is a current wide receiver who plays for the Atlanta Falcons of the National Football League. Jones was selected sixth overall in 2011 to the Atlanta Falcons, and since made it to one Super Bowl.
16 Johnny Rogers
17
Charles Rogers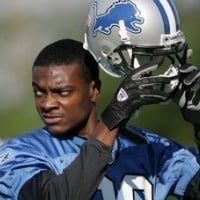 18
Peter Warrick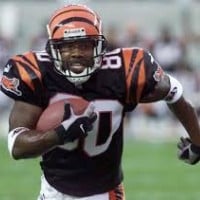 BAdd New Item