Top Ten NFL Head Coaches on the Hottest Seat Going Into the 2020 Season
While there aren't many coaches with their jobs on the line this season, there are still some that should be a bit concerned for their jobs. Here, we are looking at the top ten NFL head coaches on the hot seat going into the 2020 season.

The Top Ten

1 Matt Patricia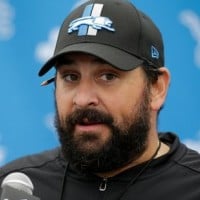 The seat is sizzling for Patricia in Detroit, after regression from a 6-10 2018 season to 3-12-1 in 2019, all with a decent amount of talent. His strategy of turning the Lions into the Patriots of the Midwest may not work, and it could cost him his job.
2
Doug Marrone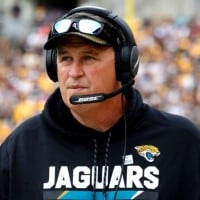 Most expected him out of Jacksonville by the end of 2019, but surprisingly, he's there for another season. Except, things are going very wrong there, as things go from bad to worse. This Jaguars team is a far cry from what they were under Marrone in 2017, and if he can't bring them back to the playoffs, even now that they are expanded, then he may find himself searching for another job.
3
Bill O'Brien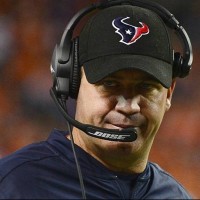 O'Brien has been under a lot of scrutiny lately, and for good reason. Trading Deandre Hopkins to the Cardinals for basically nothing? That is an issue. Not only is he a bad general manager, but he also can't coach. Sure, he's gotten Houston to the playoffs multiple times, but it's such a struggle for them to win games. When they do earn a wild card victory, they go on to get defeated in the divisional round. He cannot coach the Texans to playoff success. If things really go wrong this season, then O'Brien's tenure as head coach and general manager may come to an end.
4
Dan Quinn
Like Marrone, most expected Quinn to be fired and out of Atlanta by the end of 2019. Owner Arthur Blank showed his loyalty to him however and brought him back for another season. The Falcons are a very talented team, but Quinn hasn't been able to utilize it very well the past two seasons. Their offense really isn't the problem, rather their defense. Quinn is a defense oriented coach, and if he can't fix that defense this season, it could finally spell the end for Quinn in Atlanta.
5
Adam Gase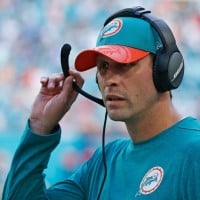 Gase is definitely not a popular guy in New York right now. His hiring was scrutinized from the start, and he got the Jets to a 7-9 record in 2019, but they were worse than their record showed. Sure, you could make the argument that there was a lack of talent, but that still doesn't excuse Gase's lousy coaching, especially on offense. He's an offensive-minded coach that can't even put up a decent offense as a head coach. No wonder the Dolphins let him go. The Jets could end up being the next team to do so.
6
Zac Taylor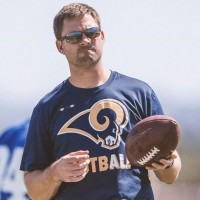 He went 2-14 as a first year head coach in 2019, but he was working with a talent-depleted roster. Now the expectations for him are higher in 2020, and the goal is to get Cincinnati to the playoffs for the first time since 2015. The Bengals have some good draft picks, including the first overall pick. If they draft Joe Burrow, Taylor, a former quarterbacks coach for the Rams, will have his franchise quarterback. But if he can't find success with an improved roster, then the Bengals may decide to let him go.
7
Matt Nagy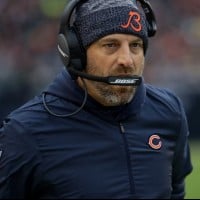 I don't think his job is really on the line, but after a disappointing 8-8 season after going 12-4 in 2018, Nagy could be going. Maybe an offense led by someone not named Mitchell Trubisky could help him and Chicago get back on track. The Bears need him, but could possibly move on after this season.
8
Kevin Stefanski
I know he hasn't even coached a game yet, but if Freddie Kitchens tells us anything, it's that anything can happen. Cleveland is too talented of a team to be bad, and if Stefanski can't coach them to the playoffs in an expanded form, then he may go one and done with the Browns.
9
Anthony Lynn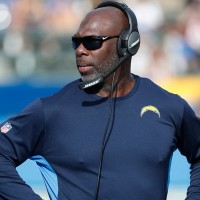 Lynn definitely didn't have a good season in 2019, with Los Angeles falling out of the playoffs by a lot. The Chargers are a talented team though, and Lynn has had previous success with them. He's a good head coach in my opinion, and I think he can rebound after a bad previous season. Still, there's a chance the Chargers could move on from him.
10
Brian Flores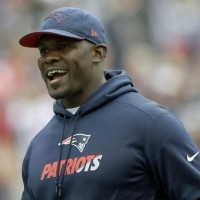 I don't think Flores is going anywhere, but if he doesn't improve Miami with an improved Dolphins roster, then he could be gone.
BAdd New Item