Top Ten Best Quarterback to Wide Receiver Connections in the NFL Going Into the 2020 Season
The Top Ten
1
Matt Ryan and Julio Jones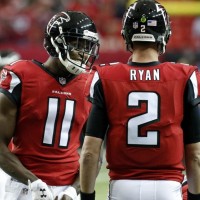 Since 2011, Jones and Ryan have been arguably the NFL's best quarterback-wide receiver connection. Jones has put up hall of fame numbers with former NFL MVP Ryan at the helm of Atlanta's offense.
2
Drew Brees and Michael Thomas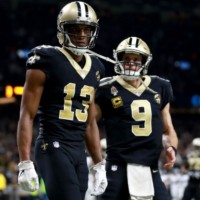 Also in the NFC South, Brees and Thomas is a more recent one that really started to take shape in 2018. Brees is still putting up big numbers going into his 40's, and Thomas is among the NFL's best young wide receivers, having broke the NFL single season receptions record in 2019 and also winning offensive player of the year because of those reasons.
3
Aaron Rodgers and Davante Adams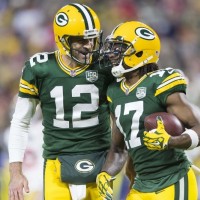 Adams' career really didn't start to take shape until 2016, when he scored double digit touchdowns and fell 3 yards short of 1,000 yards (997). Since then, he has been Rodgers' best target out of all of Green Bay's receivers. Their best season together came in 2018, as Adams topped 1,300 receiving yards and 13 touchdowns. This is a dynamic duo that can produce for years to come.
4
Dak Prescott and Amari Cooper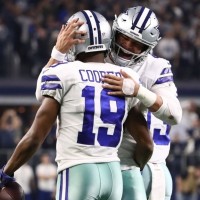 Coming to Dallas in a mid-2018 season trade, Cooper rejuvenated a lackluster Cowboys receiving core, and gave Dak Prescott his best receiver since Dez Bryant. Now that he re-signed with the Cowboys on a five year, $100 million deal, he can serve as the best receiver for a relatively young offense and new head coach Mike McCarthy.
5
Patrick Mahomes and Tyreek Hill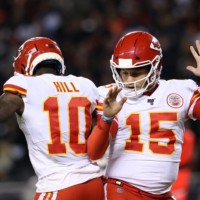 When Mahomes burst onto the scene in 2018, his go-to receiver was the dynamic Hill. One of the NFL's fastest players, Hill can absolutely burn a corner and catch a beautiful pass from arguably the NFL's best quarterback. This duo has already won a Super Bowl, and one can only wonder how many more they can possibly win.
6
Kyler Murray and DeAndre Hopkins
We have not seen this duo on the field yet, but a young and dynamic quarterback in Murray paired with a top five wide receiver in Hopkins should give Arizona's offense a huge boost from the last few years.
7
Russell Wilson and Tyler Lockett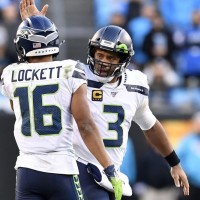 After Doug Baldwin's retirement, Lockett became Wilson's best target, and so far, the connection has been elite. Wilson has been able to complete some crazy throws to Lockett, and Lockett will make crazy catches, like his touchdown against the Rams in 2019. They have years left to wreck havoc on opposing defenses together.
8
Tom Brady and Mike Evans
Another one we have not seen on the field together yet, but unlike Brady's offense in 2019, he will have a multitude of targets to pass to in 2020, the best of which being Evans. If he could produce with Jameis Winston throwing to him, just imagine what will happen with Brady throwing to him.
9 Mitchell Trubisky and Allen Robinson
10
Ryan Tannehill and A.J. Brown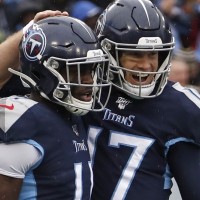 With both in Tennessee for at least the next few years, this should be a duo to look out for. We got a glimpse of what is to come last season, with Brown being Tannehill's best target when he was not handing it off to workhorse Derrick Henry. The young receiver will flourish with Tannehill under center.
The Contenders
11
Kirk Cousins and Adam Thielen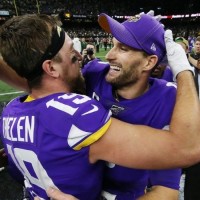 With Stefon Diggs out of Minnesota, Cousins and Thielen are the best connection there. Now that Thielen does not have Diggs opposite to him, it will be his time to shine as the Vikings' best wide receiver.
12 Ben Roethlisberger and Chase Claypool
13
Matthew Stafford and Kenny Golladay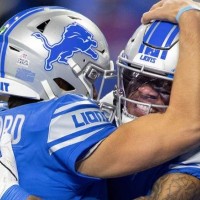 14 Lamar Jackson and Marquise Brown
15 Joe Burrow and Ja'Marr Chase
BAdd New Item