Top 10 NFL Players Who Retired Too Early
Retirement is an inevitable thing that everyone will eventually go through. The NFL is no different. Some players retire after a long career, injuries, or just lost passion for the game. For all the players who retire there's always a few who choose to hang up the cleats way too soon. Here's some of those players

The Top Ten

1 Barry Sanders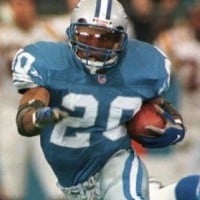 Barry Sanders is a former American football running back who spent his entire professional career with the Detroit Lions of the National Football League.
When Barry Sanders was playing he was an absolute beast. He played 10 seasons with the Lions going to the pro bowl every year. He also broke countless records and was only 1,500 yards away from passing Walter Payton's record. While he was still in his prime the reason why he retired was because of the mismanagement and failure of the Lions organization to build a winning team
2
Andrew Luck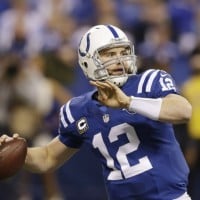 Andrew Austen Luck is a former American football quarterback who played his entire career for the Indianapolis Colts of the National Football League.
Here we have the most recent player to call it quits at only 29. In fact on August 24 2019 he made it official. Injuries had taken a toll on his body and he felt he wouldn't be the same player. Fair enough reason I just wish he wasn't on a team like Indianapolis. They didn't deserve him
Yes, he retired earlier than people expected, but you can understand why he retired. He's been injury riddled his whole career, and the colts fans booing him really showed they don't respect him as a person, but an asset for winning.
The timing is the biggest problem here. He retired a week in a half before the season starts leaving The Colts witout a starting QB. If he had retired maybe in May or June The Colts would've had a chance to either sign a QB or draft one.
3
Jim Brown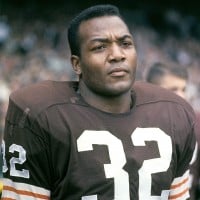 James Nathaniel Brown was a former professional American football player and actor. He was a running back for the Cleveland Browns of the National Football League from 1957 through 1965.
When he was playing for the Browns he was a near unstoppable man. He led the league in rushing in every season except one and was voted to the pro bowl in nearly every season. He's arguably the greatest athlete to come through Cleveland (until Lebron)
4
Calvin Johnson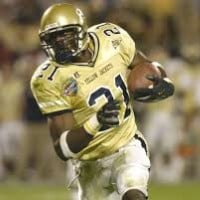 Calvin Johnson Jr. is a retired American football wide receiver who played his entire career for the Detroit Lions of the National Football League. He is often called the nickname ''Megatron'' for his rare combination of size, speed, and leaping ability on the field.
Much like Barry Sanders Megatron walked away from the Lions Likely due to them being a losing organization. He was just 30 when he decided to hang up the cleats and was coming off a 9 touchdown, 1,200 yard campaign in 2014. His retirement might also have something to do with the physical toll of football
5
Rob Gronkowski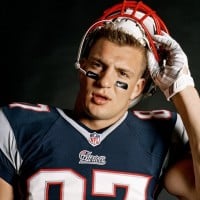 Robert Paxton Gronkowski, nicknamed "Gronk," is an American football tight end for the Tampa Bay Buccaneers of the National Football League. After retiring at the end of the 2018 NFL Season, Gronkowski came out of retirement to play with former Patriots teammate Tom Brady for the 2020 NFL season.
Another player who recently retired while at the top. Makes sense considering he just wasn't the same last year. Injuries had taken a toll on him so it makes sense
I think we saw this one coming though. He was always missing at least half the season due to injuries.
6
Chris Borland
A fairly recent example that may soon become common practice. He played only one season with the Niners and called it quits due to health concerns. He had a decent rookie campaign in his only season but it's understandable why he hung up the cleats
7
Robert Smith
He played running back for the Vikings and after suffering a few injuries early on he became a force to be reckoned with playing from 1993-2000. He was 28 when he called it quits
8
Al Toon
A stud wide receiver who played 8 seasons with the Jets (1985-1992) he was forced into retirement after 9 concussions in his 8 seasons. This was also before player safety was a top priority.
9
Terell Davis
Started off as a key player on John Elway's Broncos and their back to back Super Bowls but after that he suffered an ACL and MCL tear and was never the same player as before. But at least he has 2 rings unlike a lot of other guys on this list
10
Billy Sims
Man what is it with Detroit Lions Players being on this list? Sims was a Heisman trophy winner in 1978 and after being drafted by the Lions he was a Star early on in his career before suffering a horrific knee injury in 1984 from that point he could just never fully recover from it
The Contenders
11
Patrick Willis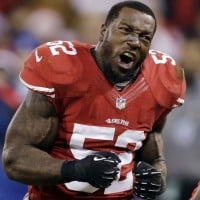 Patrick L. Willis is a former American football inside linebacker who played his entire eight-year career with the San Francisco 49ers of the National Football League.
12
Luke Kuechly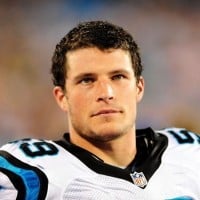 Luke August Kuechly is a former American football middle linebacker. He played his entire career for the Carolina Panthers of the National Football League.
13
Bo Jackson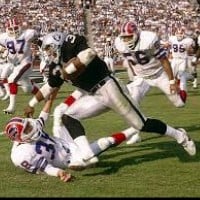 Vincent Edward "Bo" Jackson is a former baseball and American football player. He is the only athlete in history to be named an All-Star in both baseball and football, and one of few to do so in two major sports.
14
Christian Okoye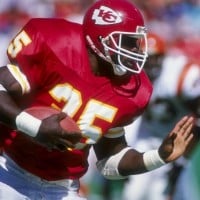 15
Gale Sayers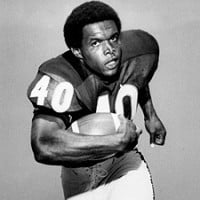 Gale Eugene Sayers, also known as "The Kansas Comet", is a former American college and professional football player who was a running back in the National Football League for seven seasons during the 1960s and early 1970s.
16 Tiki Barber
17 Jake Long
18
Joe Guyon
although he was 36, he had a baseball injury that forced him to retire a little early but not before he led the New York football Giants to the 1927 NFL Championship. That's the stuff of legend.
Its Joeysworld
BAdd New Item