Best NFL Running Backs of the 1980s
The Top Ten
1
Walter Payton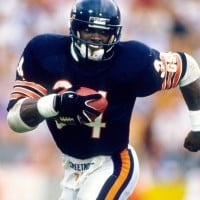 Walter Jerry Payton was an American football running back who played for the Chicago Bears of the National Football League for thirteen seasons.
Walter reached that unreachable star in 1984 when he surpassed Jim Brown as the all-time NFL leading rusher,that year he rushed for 1,684 yards, but it was 1985 that was his best year for this decade. Because he helped a lot to make the Bears a very competitive team. 15-1 record would go a long way for that and yes he took part in that Super Bowl Shuffle song with the rest of the Bears. In 10 games that year, he rushed for 100 yards or more and then it happened. Walter finally played in the Super Bowl along with the rest of the Bears, and Walter finally got that Super Bowl Ring.
Its Joeysworld
2
Barry Sanders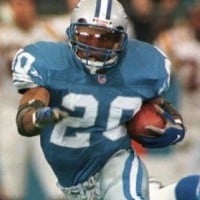 Barry Sanders is a former American football running back who spent his entire professional career with the Detroit Lions of the National Football League.
Although he shined in the 1990s, Barry started his amazing career in 1989 and what a season he had. In the NFL Draft, he was the 3rd pick by the Detroit Lions, and in his rookie season, he rushed for 1,470 yards DESPITE losing the ball 10 times which believe it or not led the NFL. But he led the NFL rookies in yardage and touchdowns, played in his first of 10 straight Pro Bowls, was a first-team ALL-Pro and was named the 1989 NFL Offensive Rookie of the Year.
Its Joeysworld
3
Eric Dickerson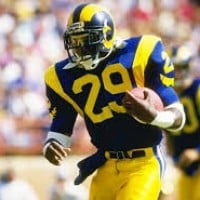 Eric Demetric Dickerson is a former college and professional American football player who was a running back in the National Football League for eleven seasons during the 1980s and 1990s.
Pro Football's greatest enigma of this decade, but he was also the best running back of this decade. 1984 was easily the best season. After his record breaking rookie season the previous year, he picked up where he left off. In the first 2 games of the season, he gained 240 yards against the Cowboys and the Browns. after 2 off weeks, Eric's juice refueled and off he went. In week 5 he rushed for 120 yards against the New Yorl Giants (1 of 12 100-yard games he did in 1984). Then in week 15 against the Houston Oilers he achieved immortality by breaking O.J. Simpson's 2,003 yards to become the single season rushing yardage record holder. His 2,107 yards is still an NFL record as of 2020.
Its Joeysworld
4
Earl Campbell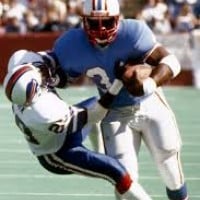 Earl Christian Campbell is a former American football running back who played professionally in the National Football League for the Houston Oilers and New Orleans Saints.
2 years removed from his rookie season, Campbell had an unforgettable 1980 campaign. In only 15 games, he gained 1,934 yards, an average of 128.9 yards per game. In 4 games that season, he gained 200 or more yards, still an NFL record and led the Oilers to their 3rd straight playoff berth. Campbell was named Associated Press NFL Offensive Player of the Year, and the Jim Thorpe Award as the NFL MVP. But the wear and tear of Campbell's body eventually took its toll and by 1985 he retired from the NFL.
Its Joeysworld
5
Bo Jackson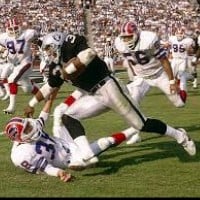 Vincent Edward "Bo" Jackson is a former baseball and American football player. He is the only athlete in history to be named an All-Star in both baseball and football, and one of few to do so in two major sports.
Bo ALMOST became a Buccaneer, instead he joined Professional Sports' winningest team, the then Los Angeles Raiders in 1987 and in his rookie year he became a seansation and his 221 yards against the Seattle Seahawks was his first big pro football moment and his 91-yard touchdown run past Kenny Easley sent him perhaps all the way to Tacoma. Bo also told Brian Bosworth who's the boss. Never a 1,000 yard season, Bo provided speed, excitement and memories for the famed silver and black.
Its Joeysworld
6
Marcus Allen
Marcus, a hall of famer had many great years and 1985 was one of those great years. That season he rushed for 1,759 yards and even though he had 12 more seasons, that would be his last 1,000 yard season. He scored 11 touchdowns rushing. As a receiver, he caught for 67 passes (his 3rd and last 60 plus reception season) and 3 touchdowns as a receiver. The Raiders captured their last AFC West Title this decade with a 12-4 record. For Allen, he was named the Associated Press NFL Most Valuable Player and The Associated Press NFL Offensive Player of the Year for a member of the silver and black.
Its Joeysworld
7
Tony Dorsett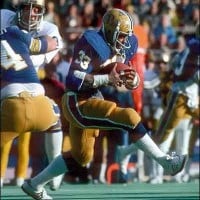 Take your pick of Dorsett in the 1980s, 1981 when he appeared on the cover of Sports Illustrated while the Cowboys was leading the NFC East, 1982 when he set a NFL record 99 yard touchdown run on Monday Night Football. I take 1985 because after being hold out for a contract, he went back to work and lead by example as he gained 1,307 yards (the last time he gained 1,000 yards in a Season) and led the Cowboys to the NFC East Title.
Its Joeysworld
8
Herschel Walker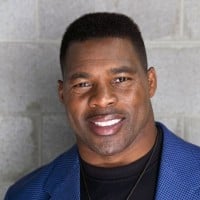 Herschel Walker is a former professional American football player, bobsledder, sprinter and mixed martial artist.
After many great years in the USFL, Herschel finally arrived in the NFL in 1986 as part of the famed tandem of him and Tony Dorsett, and Cowboys fans thought that Dallas would remain winners all the way to the end of this decade. 1986 started out that way with a 6-2 record, then the bottom fell out and Dallas would not register another winning season until Herschel left the Cowboys. But Herschel did run well for the Cowboys. In 1988 on a 3 win Cowboys team, he led the NFL in rushing yardage, appeared in 2 Pro Bowls and scored a total of 26 touchdowns for the Cowboys. Herschel, a one man gang.
Its Joeysworld
9
Roger Craig
He came from the University of Nebraska, and joined a 49ers team that needed a running game in 1983, that the team lacked in a forgettable '82 season. Craig was the one. In his rookie season, overshadowing by the efforts of Curt Warner and Eric Dickerson, Craig scored a combined 12 touchdowns and brought the running game and the 49ers back to life and back to the playoffs. Craig was not done, in 1985 he became the first man to rushed for 1,000 yards rushing AND 1,000 yards receiving and was named the N F C West Most Valuable Player. Craig, a true work horse for the Niners.
Its Joeysworld
10 Christian Okoye
The Contenders
11
John Riggins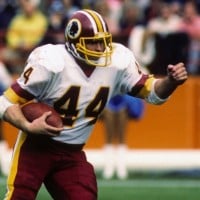 12
George Rogers
He's easily the most underrated running back of the 80s. In 1981 as a rookie, he amassed the New Orleans Saints faithful by rushing for 1,674 yards and was named the NFL rookie of the year and played in the Pro Bowl. He followed that up with 3 more 1,000-yard seasons and left on top of his game by leading the former Washington Redskins to a Super Bowl 22 championship. Rogers would later be inducted into the New Orleans Saints Hall of Fame.
Its Joeysworld
13 William Andrews
14 Pete Johnson
15 Curtis Dickey
16 Stump Mitchell
17 Kevin Mack
18 James Brooks
19 Greg Bell
20 Dalton Hilliard
21 John Stephens
22 Bobby Humphrey
23 Ottis Anderson
24 James Wilder
25 Joe Morris
PSearch List