Top 10 Worst Plays in NFL History
The Top Ten
1
The Butt Fumble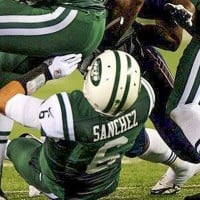 This was the most hilarious, dumbest, and ridiculed play in NFL history. This proves just how bad of a quarterback Mark Sanchez is. No one else could ever do this.
Ah yes the glorious buttfumble. I can't think of a better play to describe the Jets Organization in a nutshell
2
Colts Fake Punt Attempt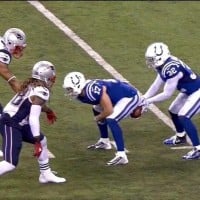 This has to be one of the worst play calls in NFL history. What was Pagano thinking? Maybe he wasn't. But he was playing the Patriots, who have an elite special teams unit. Did they think they could actually gain the first down?
3
Jim Marshall Runs the Wrong Way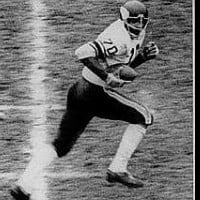 After recovering a fumble, you'd think whoever had the ball would go running for the end zone. Well Jim Marshall of the Minnesota Vikings did. Just not the oppenent's. He ran to his own against the 49ers, despite his entire team hollering at him to run the other way.
I'm gonna say this because Jim Marshall is still one of the best defensive players ever, but now when everybody hears his name they think of this moment.
Who runs like 40,50,60 yards backwards for a safety, I mean it makes sense from the three yard line.
4
Dan Orlovsky's Safety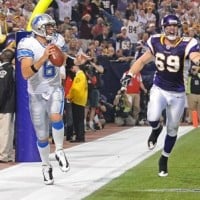 Deserves to be even higher than 5, it represents how bad the Lions were in the 2000's and that year going 0-16 with that hysterically bad highlight follie.
If you want a dumb play, here it is. Against the Minnesota Vikings, under pressure, Detroit Lions quarterback Dan Orlovsky ran out the back of the end zone trying to pass the ball. That gave the Vikings 2 points. But what made it even more stupid was that he didn't seem to know he was out of the end zone for a few seconds. A similar incident happened with Cody Kessler a couple of years after this.
5
Blair Walsh Missed Field Goal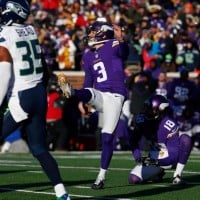 How do you miss a 27 yard field goal? Don't blame the holder or the cold temps, Blair Walsh is just the crappiest kicker in the NFL. He also missed potential game winners when he played with Seattle against the Falcons and Cardinals. Just awful.
In his defense that was brutal to play in even if he missed epicly.
6
Tony Romo's Failed Extra Point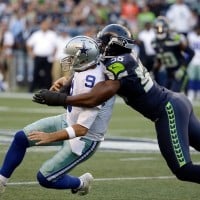 This whole thing is Romo's fault. If he had just held on to the football steadily, Seattle wouldn't have won the game. The play was doomed from the beginning. The moment I saw it, I knew he wouldn't make it to the end zone.
7
Desean Jackson's Drop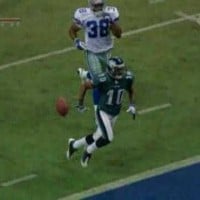 Celebrating a bit too early in this case. Well, maybe not celebrating, but got excited too early and dropped the ball too early. Just an awful play on Jackson's part, who is a good wide receiver.
8
Malcolm Butler Interception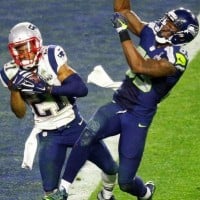 Let's see here you're at the 1 yard line with a chance to win the Super Bowl. You have 2 options. The obvious choice is giving it to one of the best Running Backs Marshawn Lynch who would guarantee you a Lombardi trophy or pass it. And you PASSED? Are you serious? Pete What were you thinking? Seahawks fans will probably still be triggered by this call for years to come
After the Malcom Butler interception, we had to constantly hear Seahawks fans complain about how Seattle should've run it. Truth be told, they were right. You have one of the best running backs in the league with Marshawn Lynch, you're at the 1 yard line, and you decide to pass it. Awful call by Pete Carroll.
Let me get this straight. You are at the one yard line, and you have Marshawn lynch in the back field, and instead of giving the ball to beast mode, you throw it at the ONE YARD LINE.
9
Saints Missed Extra Point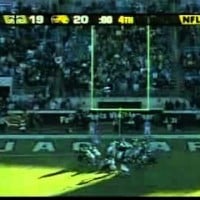 The Saints had an awesome lateral, and were on their way to tying a close game against the Jacksonville Jaguars. Then their kicker misses the extra point. Way to miss it, buddy. You and Blair Walsh must know each other well.
10
Miracle at the Meadowlands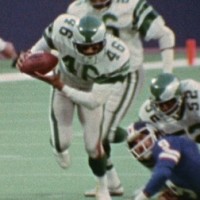 "Why is this on here? " you may ask. Well, this play is awful on the Giants part. Joe Pisarcik for some reason decides to juggle and fumble the snap, and let their division rivals beat them on a defensive touchdown. Just one snap away from a win, and you blow it?
The Contenders
11
Saints Missed Tackle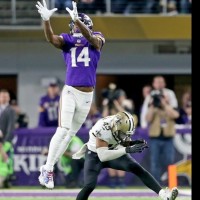 They were one tackle away from beating the Vikings and they blow it. The Vikings responded by getting blown out by the super bowl champion Eagles
12 Cody Parkey and The Doink
13 Jakobi Meyers' "Lunatic Lateral"
14 Justin Tucker Missed 67 Yd FG
BAdd New Item