Best NFL Running Backs of the 2018-2019 Season
Two weeks away from the season to kickoff, and here is what I feel could be the best tail backs this year.

The Top Ten

1 Todd Gurley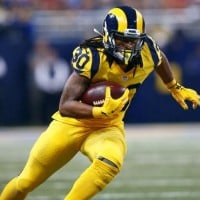 Todd Gurley II is an American football running back for the Atlanta Falcons of the National Football League.
Without a doubt the guy right now in his prime more than any other player is Todd Gurley he was unbelievable last season, and I expect more of those yards consistently to come. A big impact to Rams offense, while they had a fairly well passing game it was the running attack of Gurley that came on a mission to kill for touchdowns I mean it don't get any more deserving than that right?
He is the best running back this season getting 100 yards per game and now the rams have C.J Anderson whose getting a lot of yards per game but that puts a hole in Todd Gurley but he still gets 100 yards per game which is hard and that is why Todd is definitely number 1!
Todd Gurley is amazing he is very talented and puts in the work to be a top guy. Sean McVay was dumb by not playing him much in the super bowl.
Best running back and gonna lead to a win in the super bowl and become a champion
2
Ezekiel Elliott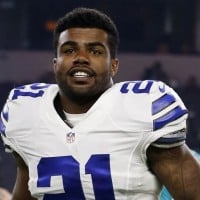 Ezekiel Elijah Elliott is an American football running back for the Dallas Cowboys of the National Football League. He played college football at Ohio State, where he earned second-team All-America honors in 2015.
Ladies and gentleman Zeke is gonna come hunting for his missing half yards from last season thanks to the NFL screwing him up half the season. Dak doesn't have any receivers you can therefore let's give if off to the other rookie sensation that could be a great tail back for years. Revenge tour for Zeke is very likely to happen, and while Dallas doesn't look that good on paper they will have a very lethal running game that's toxic.
He's everyone's daddy
He should be first
Elliot is the best
3
Le'Veon Bell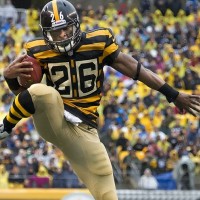 Le'Veon Andrew Bell is an American football running back for the New York Jets of the National Football League.
I mean yes his a big player who will produce I like him this year over the other two B's only for which this could be the final year for Bell as a Steeler, and in doing so it could also be the end of Ben Roethlisberger. Antonio Brown... however let's see what the madden curse does to him down the road. Bell is definitely gonna give it his all this season I believe that, but there are two other backs who I would rank above him this year.
I think he's the best but not right now obviously. I'm a Steelers fan and I hope he comes back
He should be first
4
Saquon Barkley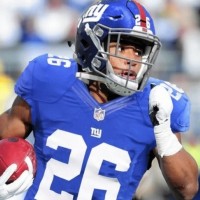 He'll probably be better than half of the other tail backs considering the other half are done by committee scheme. There's a good chance that even as high you take him in fantasy I avoid him based on the O-line he has around him I wouldn't call necessarily great to be behind.
How is he not top 3, let alone be at 8? This is disrespect since Bell never played, Jordan Howard got replaced by Tarik Cohen, and Kareem Hunt got cut later on in the season.
Saquon need to be at number for but jordan howard and dalvin cook are good not going lie but come on don't do the rookie like that.
By kid got hops
5
Jordan Howard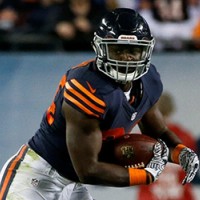 We know he can run effectively, but his one minor flaw is not always catching the football... hell fix that up hopefully, and Da Bears could be a sneaky good team this season on the offense led by Jordan Howard storming runs hard.
Top 5? you have to be kidding me he isn't top 20
6
Dalvin Cook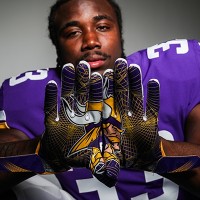 I have a suspicion that Kirk Cousins could disappoint in a new offensive scheme however let's not forget the phenom that dominated for the first three games of the season being Dalvin Cook he could dominate this season he could come back strong, and a nightmare for the NFC north rivals to come.
7
David Johnson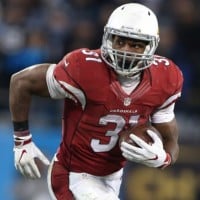 David Jerome Johnson Sr. is an American football running back for the Houston Texans of the National Football League. He was drafted by the Cardinals in the third round of the 2015 NFL Draft. He played college football at Northern Iowa.
In what could a great comeback story in David Johnson after being out with a tragic wrist injury could be the one bright spot on this entire Cardinals offense for how bad they operate they'll go out and fight to lose, but all eyes on number 31 getting the touches to thrive possible.
David Johnson is the best hb in the league and he will prove it this 2020 season.
8
Devonta Freeman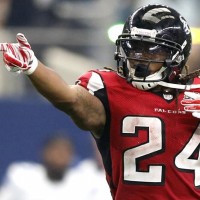 Devonta Freeman is an American football running back for the Atlanta Falcons of the National Football League.
While Matt Ryan got it to one guy for most of the offense which was Julio just not in the endzone, Freeman is a solid back option to go for as well. A big factor from last season when it came to tight game situations. While it is sorta a committee balance Freeman gets more yardage then what Coleman ends up doing inconsistently.
My favorite player
9
Melvin Gordon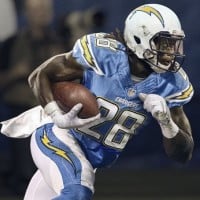 Melvin Gordon III is an American football running back for the Denver Broncos of the National Football League.
To me he is the second coming of L.T slowly coming together, and the fact he had some carries that were not given to him is ashame he is the primary back, and not Ekeler. Hopefully L.A's B team gets that idea, and plug in a potential playoff appearance with what looks to be a top 10 offense on both rush and pass game.
10
Kareem Hunt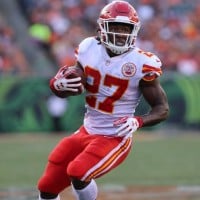 I'm not sure what young Patrick Mahomes is gonna look like just yet in year one, but if I had to guess they'll commit to Hunt hard like they did before only difference we'll know they have a running, but not necessarily a passing game of the unknown at controls.
Kareem hunt has amazing speed and is a amazing player all around just a bit under rated and could be the best one day!
The Contenders
11
Christian McCaffrey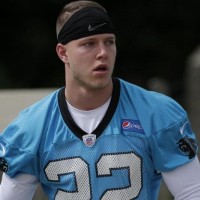 McCaffrey could have big year two after a look warm rookie season. He'll get all the touches perhaps, and somebody who should be on your radar in fantasy who could be that sneaky good second round type pick to snatch up.
He is the goat
12
Alvin Kamara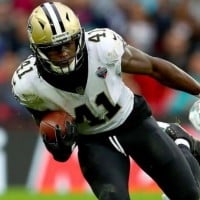 Not having him in the top 20 is definitely unjustified, but I should of put inbetween here since I got feeling they switch from a more passing than rushing team this season Drew Brees I feel will remind us why his one of the best while Kamara might not have as good of a rookie year as he had thus why he would not of cracked my top 10.
Alvin Kamara should be in the top 3. Replace eliot with Kamara.
Kamara should be top ten
He's the best Obviously
13
Sony Michel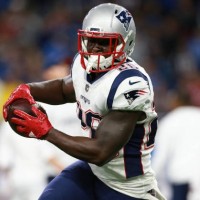 Sony Michael was one of the most underrated pick in the 2018 draft, even though he only had 6 touchdowns in the regular season he had 6 in 3 games in the postseason.Its crazy to think to think a rookie put up those kind of stats. I think he should be higher on the list.He has a great career in front of him.
He ran for 900 yards in his rookie season after missing a quarter of the season to a knee injury. His second year will be massive if he can avoid injury.
He is a monster running back he is quick with moves and is always the right guy to give the ball to!
Best player ever
14
Leonard Fournette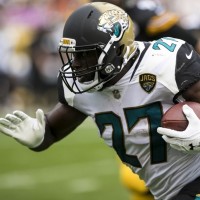 Leonard Joseph Fournette III is an American football running back for the Tampa Bay Buccaneers of the National Football League.
I'm worried about most of the second year tail backs because well I avoided zeke, and that played out exactly what I fought, but there are two of last years rookie studs that I would still believe have a strong game. Fournette is their offense to me, and that can't be ignored compared to others I'm worried about like Kamara.
15
Phillip Lindsay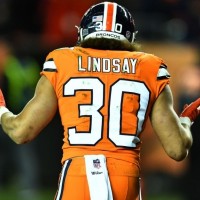 Phillip Lindsay is an American football running back for the Indianapolis Colts of the National Football League.
I think he is around 11 or 12.
16
Barry Sanders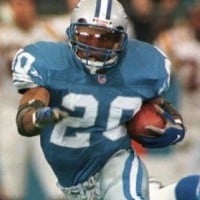 Barry Sanders is a former American football running back who spent his entire professional career with the Detroit Lions of the National Football League.
17
Nick Chubb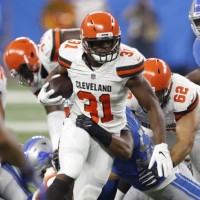 Cleveland has an unknown running committee to be specific 2/3's. Carlos Hyde has fumble issues, and is pretty inconsistent, Duke Johnson his okay, but again inconsistent leaving the bulldog Nick Chubb who could really benefit the way for this offense.
Chubb has rhino strength to break tackles and amazing breakaway speed.
18
Joe Mixon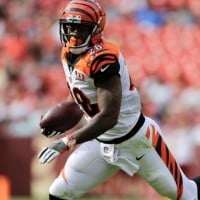 A bit low seeing he will get a lotta touches in year two, and he was not that good his rookie year. Could pay off big if you believe in troubled steals such as bad dudes like Mixon could be vital for both the Bengals running attack, and in fantasy.
I think he's not thought of because of how bad the Bengals were. The Bengals had a horrible offensive line and he managed to lead AFC in rushing yards plus he had an injury early on in the season.
19
Chris Carson
This is unbelievable. Chris Carson. 18. Who had the best yards after contact. Chris Carson. Who was the Seahawks star running back on a rebuilding season? Chris Carson. In my opinion, he should at least be in the Top 12, due to the times he saved Our Seattle Seahawks
Carson showed that he can run with one of the worst lines which helps Russell Wilson greatly, now rookie Penny I don't know what to say, but I feel they overreached on him perhaps.
He should be number 3
20
Derrick Henry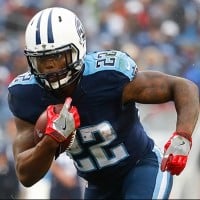 Committee run scheme, but his gonna get more touches I would hope over former Patriot Dion Lewis. Henry has this aggressive style run game that can prove to be lethal, and thus his big sign of that was the playoff game against the Chiefs.
21
Jamaal Williams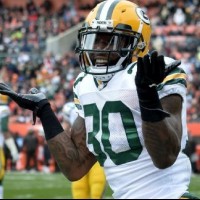 Not sure if Green Bay is gonna be committee runs or not just hurt at running back again who knows, but if I'm gonna point at anybody I guess will go with a real tail back, and not a phony one who was originally playing at Wide Receiver who by the way got hurt last night. Jamaal Williams shows signs he can be a decent tail back for Packers, and take some pressure off of Aaron Rodgers a couple of plays.
22
Rashaad Penny
Remember that sweet reverse field in the Vikings game?
23
James White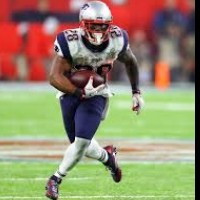 24
Marshawn Lynch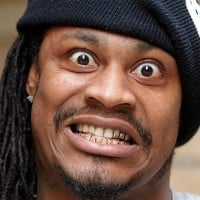 Marshawn Terrell Lynch is an American football running back for the Oakland Raiders of the National Football League. He previously played for the Buffalo Bills and Seattle Seahawks, winning one Super Bowl in Seattle. Lynch initially retired from professional football in 2016, but returned in 2017 to play for the Raiders.
Based on his improved speed of burst beast mode might have a much better year than he did the first go around.
25
James Conner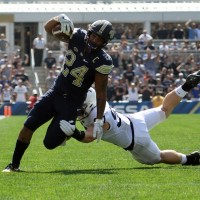 James Earl Conner is an American football running back for the Pittsburgh Steelers of the National Football League. He played college football at Pittsburgh, and was drafted by the Steelers in the third round of the 2017 NFL Draft.
PSearch List