Top Ten Projected College Football Wide Receivers of 2021-2022
This is a list of the projected best college wide receivers of the 2021-22 college football season.

The Top Ten

1 Chris Olave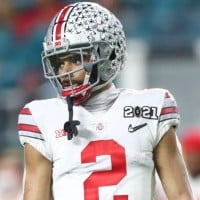 Chris Olave proved to be one of the best wide receivers last season, and is hoping to continue his success into this season. Last season, in only seven games, he caught 50 passes for 729 yards (14.6 yards per catch and 104 yards per game), and 7 touchdowns. Now, despite the face that Justin Fields is gone, Ohio State has a new quarterback with the potential to do great things, and Olave will as well.
2
Marvin Mims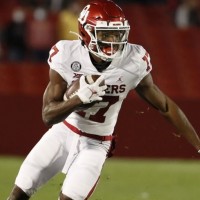 In only his freshmen season at Oklahoma, with a freshmen Spencer Rattler at quarterback, looks to expand on his own potential, with Spencer Rattler expanding on his game as well. In 11 games last season, he caught 37 passes for 610 total yards (16.5 yards per catch, and 55.5 yards per game), and 9 touchdowns. He will have every opportunity to improve off of last season, and will put himself in the running for best wide receiver.
3
Justyn Ross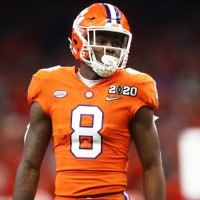 Even with the departure of Trevor Lawrence, and despite the fact Justyn Ross missed out on last season due to a spinal cord injury which required surgery, he comes back as a starter trying to retain his success of 2018 and 2019. DJ Uiagalelei is a competent replacement for Trevor Lawrence, who showed his potential in 2 games last season, and has Justyn Ross a major downfield receiving threat at his disposal.
4
David Bell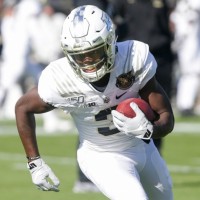 Bell, out of the shadow of Rondale Moore at Purdue, will have to prove he can maintain the incredible performance which he put on last season. In only 6 games, he was able to account for 53 receptions, 623 yards (12 yards per catch, and 104 yards per game), and 8 touchdowns. Even at Purdue, Bell has shown to be an incredibly talented player who should be recognized for it.
5
Garrett Wilson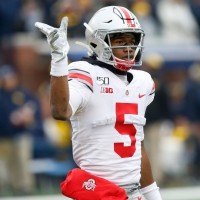 Coming into the most elite receiving corps in college football at Ohio State, Wilson, paired with Olave will be sure to make a splash this upcoming season. Last season, in 8 games as a WR2, Wilson totaled up 43 receptions for 723 yards (16.8 yards per catch, and 90 yards per game), and 6 touchdowns. Again, even with the departure of Fields, Wilson is talented enough to open himself up for the new quarterback this upcoming season.
6
Treylon Burks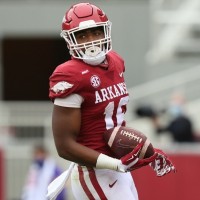 Playing for Arkansas always has to be rough, but Burks was one of the bright spots on a mediocre Arkansas team last season. Burks was able to catch 51 passes for 821 yards (16.1 yards per catch, and 91 yards per game), and 7 touchdowns. In his junior season, he hopes to expand upon these numbers, become a standout SEC receiver, and a household name.
7
John Metchie III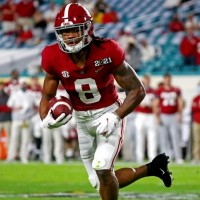 Coming off of an incredible season with Alabama playing with Mac Jones and alongside heisman winner DeVonta Smith, Metchie will have the opportunity to follow up with an even better season. In 13 games last season, he caught 55 passes for 916 yards (16.7 yards per catch, and 70.5 yards per game), and 6 touchdowns. Now that he is free to play as WR1 at Alabama, he has the opportunity to cement himself as the next great Alabama wide receiver.
Alabama has been so fortunate at wide receiver these last few years.
8
Ty Fryfogle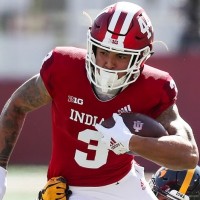 At a resurgent Indiana program, Fryfogle proved to be a valuable 2nd receiving option for Penix. In 8 games played last season, he caught 37 passes, recording 721 receiving yards, (19.5 yards per catch, and 90 yards per game), and 7 touchdowns. When he is not standing in the shadow of Whop Philyor, he should be able to showcase his true talents and abilities.
9
Jaquarii Roberson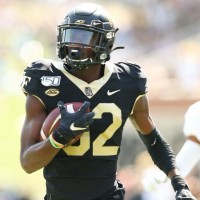 Even in an underwhelming Wake Forest football program, Roberson emerged in his junior season as a large pass catching threat. In 9 games last season, he caught 62 passes for 926 yards (14.9 yards per catch, and 103 yards per game), and 8 touchdowns. Roberson's presence will be key if Wake Forest wants any chance at success next season.
10
Josh Downs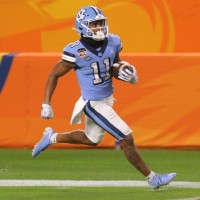 While Josh Downs is only a freshmen, he still has one of the best quarterbacks in the country at North Carolina, in Sam Howell, throwing to him. Even last season, in the few games which he played, he proved to be incredibly talented, the most impressive of which was a 91 yard performance against Texas A&M, one of the best defenses in the country. It will be interesting to see how Downs does this season, and what he will be able to accomplish.
BAdd New Item