Top Ten College Quarterbacks of 2021-2022
Probably the position with the most well known players and starts, quarterbacks are expected to lead teams to new heights. Good quarterbacks boost players around them, represent important leadership qualities, and are able to deal with pressure and take over in late game situations. These quarterbacks are some of the best.

The Top Ten

1 Spencer Rattler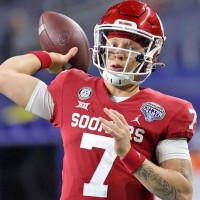 Coming in as a Freshmen, standing in the shadow of star Oklahoma quarterbacks like Baker Mayfield, Kyler Murray, and Jalen Hurts, he threw for 3031 passing yards (275.5 yards per game) and 28 touchdowns, and 7 interceptions. While Oklahoma didn't get where they had been in previous years (College Football Playoffs), but this season, a much improved Spencer Rattler is looking to lead a much improved Oklahoma offense to the college football playoffs.
2
Sam Howell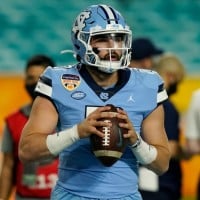 Sam Howell came in with a North Carolina team not known as a perennial powerhouse, and along with the killer RB duo, helped lead North Carolina to one of the best teams in the country last season. He ended up throwing for 3586 yards (298.8 yards per game), 30 touchdowns, and 7 interceptions in the deadly North Carolina offense. Next season, even without the killer RB duo, Howell is expected to maintain his position as one of the best quarterbacks in the country.
3
DJ Uiagalelei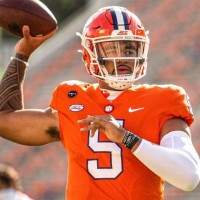 Last season, when Lawrence was injured, Uiagalelei showed he was up to the challenge for Clemson, performing well in several games, his only loss being the weak defensive performance against Notre Dame. Uiagalelei, in only two games started, he picked up 781 passing yards, 4 touchdowns, and 0 interceptions. After standing In Trevor Lawrence's shadow, DJ has the opportunity to showcase his talent and true potential as a quarterback.
4
JT Daniels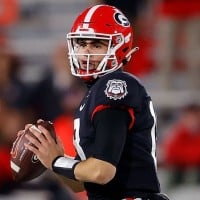 While JT Daniels only started 4 games for Georgia last season, they happened to be very impressive. In 4 games, he led Georgia to 4 wins, including an incredibly impressive Peach Bowl performance against Cincinnati. In these 4 games, he threw for 1231 yards, 10 touchdowns, and only 2 interceptions. If he is able to keep numbers like these consistent, there is no doubt he should be in the conversation for best Quarterback in college football.
5
Brock Purdy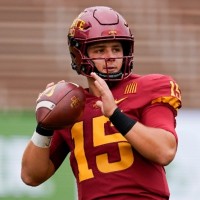 The man under center for Iowa State, in the rise of their football program, Purdy helped to lead Iowa State to a top tier bowl win in the Fiesta Bowl over Oregon last season. Purdy over the course of the season threw for 2750 yards (229.2 yards per game) , 19 touchdowns, and 9 interceptions. Purdy looks to build upon these numbers and continue to, with the mix of him, his receivers, and Breece Hall, grow as a player and athlete.
6
Bryce Young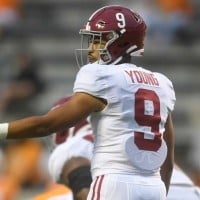 Replacing Mac Jones at Alabama, one of the best college quarterbacks in recent memory will not be an easy task. But Bryce Young is no bum, he is a former top ranked high school recruit, and has the potential to grow into the next great Alabama quarterback, following in the footsteps of so many others.
7
D'Eriq King
D'Eriq King remains one of the best dual threat quarterbacks in college football for Miami, as a threat through the air and in the running game. Last season, he threw for 2686 yards (244.2 yards per game), 23 touchdowns, and 5 interceptions. He also ran for 538 yards and 5 touchdowns. If King is able to keep these types of numbers up and avoid injury, he may become someone even more difficult for defenses to contain.
8
Kedon Slovis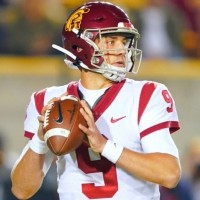 While Slovis and USC did not have a large chance to showcase their talents last season, Slovis was still very successful in the games which he played in. In only 6 games, he threw for 1921 yards (320.16 yards per game), 17 touchdowns, and 7 interceptions. With this season being a return to normality, Slovis has the chance to expand upon these numbers and show the country his true talent.
9
Michael Penix Jr.
Before his season was cut short by an injury, Penix was having a breakout season for Indiana. In only 6 games, he threw for 1645 yards (274.4 yards per game), 14 touchdowns, and 4 interceptions. He has proven to be a quarterback who takes control of the football, and in an Indiana program with little/no success, he brought a winning attitude and a lot of talent.
10
Grayson McCall
Easily the best player the Sun Belt Conference has seen in a long time, McCall came in with Coastal Carolina, a team very few people had even heard of, leading them to an 11-1 record, with the impressive stats of 2488 passing yards (228.2 yards per game), 26 touchdowns, and only 4 interceptions. He also rushed for 569 yards and 7 touchdowns. If he is able to continue this run, he will be able to keep Coastal Carolina relevant and a team to watch for as long as he is there.
The Contenders
11 CJ Stroud
BAdd New Item