Top 10 Best College Running Backs of 2021-2022
We lost a lot of running backs to the draft last season. Players such as Najee Harris, Travis Etienne, the North Carolina duo of Michael Carter and Javonte Williams, and Chuba Hubbard have taken their talents to the pros, leaving room for this group of future superstars to take over in the first season back from COVID.

The Top Ten

1 Breece Hall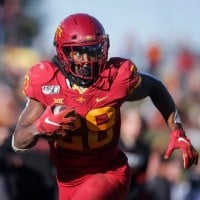 One of the most prolific running backs of last season for Iowa State, Hall comes back with a returning Iowa State roster and offensive line. He led all of college football in rushing last season with 1572 yards and 23 touchdowns, and is definitely in the running to do it again. He ended up as the first unanimous all-american in Iowa State history, and was the big 12 offensive player of the year, ahead of players like Spencer Rattler and Sam Ehlinger. With the offseason, he gets an opportunity to improve even more and solidify his position as the best running back in college football.
2
Isaiah Spiller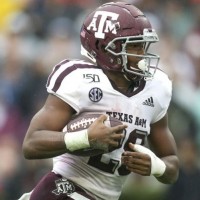 The biggest weapon in the Texas A&M offense of last season, Spiller comes back as one of the strongest and most physical running backs in the country. Despite the fact that a few offensive linemen graduated and went to the draft, Spiller has the power and potency to continue his running prowess, averaging 7 yards per carry and 256 total yards after contact in 2020-21, earning himself all sec first team honors. We will see if he is able to continue, as with the departure of Kellen Mond, Texas A&M will rely on him for more offense next season.
3
Mohamed Ibrahim
In a year where Minnesota had a large number of players sit out to either prepare for the NFL draft or because of COVID, Ibrahim was given an expanded role in the Golden Gopher offense, allowing for him to rush for over 1,000 yards, and rush for over 200 yards in a game twice. He was awarded the big 10 running back of the year, in a conference with several incredible talents in the running game. It will expected that he will continue his success in this upcoming season.
4
Master Teague
Before getting hurt near the end of last season and being replaced by Trey Sermon, Master Teague was having an incredible, and very impressive season for a potent Ohio State offense. However, now that Justin Fields is gone, Ohio State will likely rely on Master Teague in the run game even more than last year, allowing for him to get more touches and improve on his already impressive statistics
5
Bijan Robinson
The number one running back coming out of high school in 2020, there were big expectations for Robinson at Texas. In his first season, he ran for a respectable 703 yards, and caught 15 passes for an additional 196 yards. All of this being in his freshman season, he shows great promise, and with improvement in the offseason, he should be able to increase his numbers and cement himself as a potent running back in a talent heavy Texas offense.
6
Kyren Williams
Williams was one of the biggest and most unexpected success stories of last season. Despite the fact that very few people know who he is, he rushed for 1125 yards (5.3 yards per carry) and 13 touchdowns, helping to lead Notre Dame to the College Football Playoff. Now, without Ian Book, Williams may have to take a larger role in the Notre Dame offense, allowing for him to grow to his full potential, as it is only his sophomore season.
7
Brian Robinson
As a backup for Najee Harris, Robinson ended up accounting for a fair amount of yards on Alabama's championship team. He rushed for 486 yards (5.3 yards per carry), and 6 touchdowns, in a BACKUP ROLE. When he is given the freedom of the starting role, he is bound to improve on these stats and the next Alabama running back to gain national attention for his abilities.
8
Zamir White
As the starting running back for Georgia last season, White showed he would not be living in D'Andre Swift's shadow, as even in a short season he rushed for 779 yards on 144 carries (5.4 yards per carry), accumulated 3 100 yard games over the course of the season, and scored 11 touchdowns. In a season with an improved Georgia offense, it is likely we will be hearing White's name many more times than last year.
9
CJ Verdell
Before a down season where much of the Pac-12 was shut down due to concerns over COVID, Verdell was a superstar running back for Oregon, rushing for 1220 yards, (6.2 yards per carry) and 8 touchdowns in 2019. However, he only ended up playing 5 games last season, and was not given a lot of carries, leading to the question, how will he perform this upcoming season?
10
Kennedy Brooks
Brooks opted out of the 2020 season for Oklahoma due to concerns over Coronavirus. This does not discount the fact that in the previous two season, he rushed for over 1000 yards, with per carry totals around 9 yards per carry in 2018 and 6.5 yards per carry in 2019. You do have to wonder if he will be rusty as the season begins. It will most likely end up that he has put an incredible amount of work to improve himself as a player, or he has gotten complacent with his work, and will come into the season rusty.
BAdd New Item