Top Ten Best Tight Ends Going Into the 2020 NFL Season
The Top Ten
1
Travis Kelce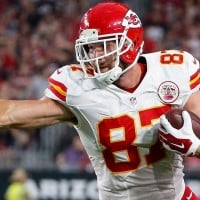 Travis Michael Kelce is an American football tight end for the Kansas City Chiefs of the National Football League.
In a tight race between Kelce and Kittle, I went with the Super Bowl champion. He is the best receiving tight end in football, and provides a big and consistent target for Patrick Mahomes.
Kelce is better than Kittle. How does Kittle have a 98 Madden Rating? Smh 🤦‍♂️
2
George Kittle

Kittle comes in a close second for me, and he could end up first soon. He came by storm in 2018 after a quiet rookie season, and had his best season yet last season. He is arguably the most balanced tight end in the NFL, with great catching and blocking skills. His best play from last season was that insane catch-and-run against the Saints where he was getting taken down by like three defenders. He is the face of the future at tight end in the whole league.
3
Mark Andrews

It's strange to think Andrews lasted longer with the Ravens than 2018 first round pick at tight end, Hayden Hurst. Andrews was a good target for Lamar Jackson, alongside Nick Boyle. He also made his first Pro Bowl last season.
4
Darren Waller

After four uneventful seasons with the Ravens, Waller was traded to the Raiders in 2018. The next season, he became one of the NFL's best tight ends. He has formed a formidable duo with Foster Moreau, giving Derek Carr steady and reliable targets. He is one of the most underrated tight ends in the NFL currently.
5
Zach Ertz

Zachary Adam Ertz is an American football tight end for the Philadelphia Eagles of the National Football League.
Before Kittle came onto the scene, it was Kelce and Ertz competing for the NFL's top tight end spot, and for good reason. He holds the NFL record for most receptions by a tight end in a season with 116 in 2018, a few hours after Kelce set the record. He has made three straight Pro Bowls, and expect him to make more.
6
Jared Cook

Jared Cook Jr. is an American football tight end for the New Orleans Saints of the National Football League.
Cook went around the NFL for a little bit before reaching his first Pro Bowl with the Raiders in 2018. Now with the Saints, he reached his second Pro Bowl in 2019. He is now going into this season as a good target in a stellar offense for Drew Brees.
7
Austin Hooper

A Pro Bowler, Hooper recently signed a big deal with the Browns after becoming a star with the Falcons. He will now be in a passing attack with Odell Beckham and Jarvis Landry. He will help Baker Mayfield with his inconsistencies.
8
Darren Fells

9
Mike Gesicki

10
Hunter Henry

When he is not injured, Henry is a top tight end in the NFL. The Chargers have had a lot of success with tight ends in their franchise's history, and Hunter could be the next great to come from the team, after Kellen Winslow and Antonio Gates played.
The Contenders
11
Rob Gronkowski

Robert Paxton Gronkowski, nicknamed "Gronk," is an American football tight end for the Tampa Bay Buccaneers of the National Football League. After retiring at the end of the 2018 NFL Season, Gronkowski came out of retirement to play with former Patriots teammate Tom Brady for the 2020 NFL season.
Coming out of retirement to play for the Buccaneers, Gronkowski gets to play with his old quarterback on the Patriots, Tom Brady. He still has to prove that he can play well coming off of a year out of football, but playing alongside two other decent tight ends, he will do fine.
12
Kyle Rudolph

Kyle Daniel Rudolph is an American football tight end for the Minnesota Vikings of the National Football League.
Rudolph is playing alongside a younger tight end with Irv Smith, but he is still playing at a good level. He even made the game-winning touchdown catch against the Saints in the Wild Card. He will continue to produce for the Vikings and help mentor the younger Smith.
13
Cole Kmet

14
Jonnu Smith

15
Jordan Reed

Jordan M. Reed is an American football tight end for the San Francisco 49ers of the National Football League.
16
Noah Fant

BAdd New Item