Top 10 Best Running Backs Going Into the 2020 NFL Season
The Top Ten
1
Christian McCaffrey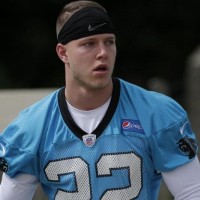 Honestly, to nobody's surprise, CMC is at the top. He was third in rushing yards and touchdowns with 1,387 and 15, respectively. He was second in the entire league in receptions. Only Michael Thomas had more.

Did you see the Panthers' offense last year? It wasn't good, to put it lightly. He played his tail off and was the only highlight to speak of, regardless of who was at quarterback. At least Teddy Bridgewater will bring some stability, but they will still have to rely on McCaffrey, who is a once-in-a-generation, do-it-all talent putting the team on his back. He got some big bucks, which were rightfully deserved, and I expect him to dominate the league for the next few years to come.
McCaffrey showed in 2019 why he is arguably the best running back in the NFL. He had a 1,000-1,000 season, and that is something that does not happen often. He carried a bad Panthers offense and made them decent. He is such a valuable player, and that is why he got extended.
2
Derrick Henry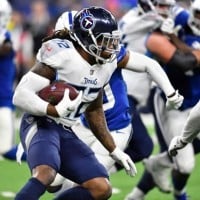 Last year, Derrick Henry had his best year and led the league in yards with over 1,500, as well as in rushing touchdowns with 16, and attempts. This concerns me because you can only put so much mileage on him. But seriously, he was a game-changer and the backbone of that offense. I mean, did you see what he did to New England and Baltimore? Yeah, he is an absolute wrecking ball. Tell me again how ESPN had him all the way down at #5?
Henry, along with Ryan Tannehill and A.J. Brown, made the Titans a formidable opponent. Going 9-7 once again, the Titans surprised everyone by beating the Patriots and Ravens on their way to an AFC Championship loss to the Chiefs. In their two playoff wins, it was Henry who bowled through the top defenses of the Patriots and Ravens. He needs an extension soon.
McCaffrey is more talented, but this guy is a beast. He basically got the Titans through the playoffs, going against the toughest teams. He proved why he's the king.
3
Saquon Barkley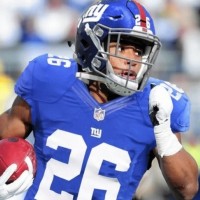 Somehow ESPN put him at number one? How? He missed a few games, had just barely 1,000 yards on the ground, only 6 touchdowns, and 400-plus yards in the air. Obviously, he blew up the league like a firecracker in 2018, but last year he was off. To be fair, the Giants' O-line is hot garbage, so it's not entirely his fault. If he has a bounce-back year, then he has a case for the top five, but right now, I don't see it.
Barkley missed time due to injury in his second season, but in the time he did play, he showed why he was the second overall pick in the 2018 draft.
4
Ezekiel Elliott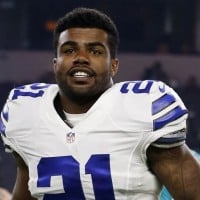 Ezekiel Elijah Elliott is an American football running back for the Dallas Cowboys of the National Football League. He played college football at Ohio State, where he earned second-team All-America honors in 2015.
This one I agree with ESPN's placement. Zeke wasn't quite as explosive last season, but still put up decent numbers on the board: 1,357 yards and 12 touchdowns, fourth in yards by the way, and second in attempts. These aren't quite 2018 numbers, but they are solid nonetheless. He does have the advantage of being on the Cowboys, with a high-powered offense and a decent O-line, but he's easily a top-five running back.
Elliott recently signed an extension and once again rushed for over 1,000 yards en route to another good season.
5
Nick Chubb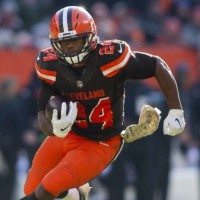 Chubb undoubtedly deserves a shoutout on the list. He is one of the more underrated running backs in the game. Last season, he had 1,494 yards, just shy of 1,500, which was the second most in the league. He also scored 8 touchdowns. While you could arguably place him in the top 5, I have him just outside of it. The Browns also have Kareem Hunt, who could take some of the workload away from Chubb. Nevertheless, Chubb remains a versatile weapon capable of doing damage.
Chubb is emerging as one of the NFL's best running backs and was a major reason the Browns remained relevant last season.
6
Aaron Jones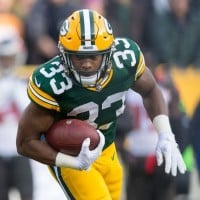 Aaron Jones is, without a doubt, the biggest snub from ESPN's list. I don't understand how he didn't make the cut. Although he has had injuries in his past, he finally played a full season and delivered in a big way. He fell just short of 1,100 yards and had 16 rushing touchdowns, the second most in the league. He also had nearly 50 receptions for over 450 yards and 3 touchdowns. He is a do-it-all type of running back and was key to the Packers' offense last year. I'd even go as far as to say that he was central to their overall success. My only knock against him is his injury history, but given his 2019 season, he is arguably top 5 in the league.
Jones and Cook are interchangeable on this list, though I'm inclined to say Jones is better. He finally showcased his elite abilities by scoring 22 total touchdowns and leading the league in rushing touchdowns, alongside Christian McCaffrey. Despite this, he remains underrated and wasn't even selected for the Pro Bowl. I hope the Packers are able to extend his contract.
7
Dalvin Cook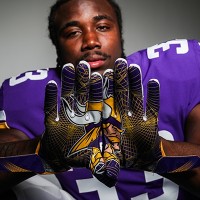 Cook is arguably a top 5 running back in the league. He improved significantly from his 2018 season, accumulating 1,135 yards in 14 games and scoring 13 touchdowns. When he's off, the Vikings' performance suffers. He is essentially the backbone of that offense. He is due for a big payday soon. Minnesota had better pay him, or they should prepare for a significantly worse offense. Say what you will about paying running backs, but Dalvin Cook is an exception. He has always had a significant workload for that offense.
Injury issues hindered him in his first two seasons, but Cook finally broke out for the Vikings in 2019. He earned his first Pro Bowl berth and became a top-ten running back in the NFL.
8
Alvin Kamara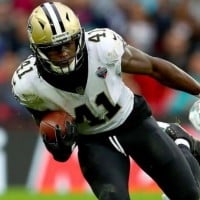 Kamara is just barely in the top 5, primarily because he had an off year. However, he was also injured last season. He finished with 797 yards and 5 touchdowns, as well as 81 receptions for 530 yards. When healthy, he is one of the most dynamic weapons in the league. He consistently gives defenses fits and is a significant factor in the Saints' offense, offering Drew Brees a versatile weapon. If his 2018 numbers are any indication, he is a dual-threat force in both running and receiving. You definitely want him on your side.
Kamara had a down season in 2019, but he still remains a top running back in the NFL. The Saints certainly think so. In a talented offense, Kamara is one of the best on the field.
9
Josh Jacobs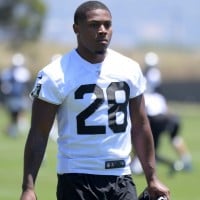 This is another one with which I can actually agree regarding ESPN's placement. Josh Jacobs, in his rookie year, absolutely tore up the league. He had 1,150 yards and 7 touchdowns, and that was while missing a few games near the end. Now, the Raiders have some receivers, so they won't have to rely purely on Jacobs, but he could actually be a beast for years to come.
Jacobs was a 1,000-yard rusher his rookie season and only looks to get better as the Raiders settle in Las Vegas.
10
Joe Mixon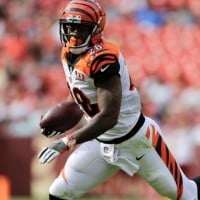 Mixon was basically the only good offensive player for the Bengals last season, but he was overlooked because of how bad his team was. Mixon is a borderline top-ten running back right now.
The Contenders
11
James Conner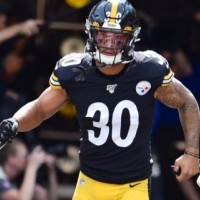 James Earl Conner is an American football running back for the Pittsburgh Steelers of the National Football League. He played college football at Pittsburgh, and was drafted by the Steelers in the third round of the 2017 NFL Draft.
12
Leonard Fournette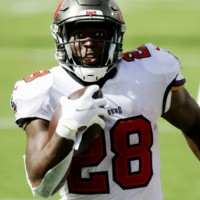 Leonard Joseph Fournette III is an American football running back for the Tampa Bay Buccaneers of the National Football League.
13
Raheem Mostert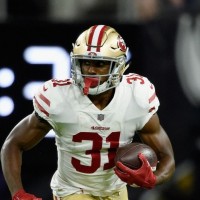 14
Mark Ingram Jr.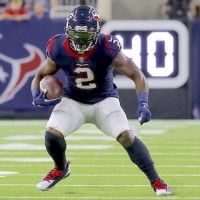 Mark Ingram, Jr. is an American football running back for the Baltimore Ravens of the National Football League.
If you picked him in fantasy football, he paid off big time. He had 200+ attempts, over 1,000 yards, 10 touchdowns on the ground, and 5 touchdowns in the air. He was a major factor in the Ravens' offense. Obviously, he's not as highlighted as Lamar Jackson because Jackson is on his own level and deserves credit, but Mark Ingram deserves some credit as well. He played some very solid football last year.
15
Austin Ekeler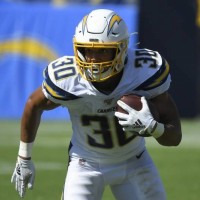 16
Kenyan Drake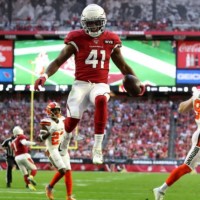 17
Chris Carson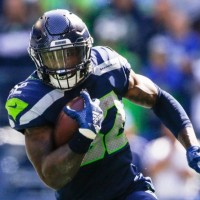 18
Miles Sanders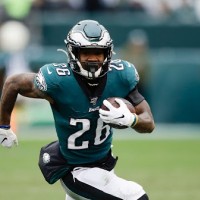 19
Ray Rice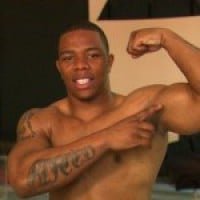 Raymell Mourice Rice (born January 22, 1987) is a former American football running back who played his entire professional career with the Baltimore Ravens of the National Football League (NFL). He played college football for Rutgers and was drafted by the Ravens in the second round of the 2008 NFL Draft. He is ranked as the Ravens' second all-time leading rusher behind Jamal Lewis, and is also second in rushing attempts and touchdowns, and third in combined touchdowns. He was a member of the 2012 Ravens team that won Super Bowl XLVII. ...read more.
BAdd New Item