Steve Perry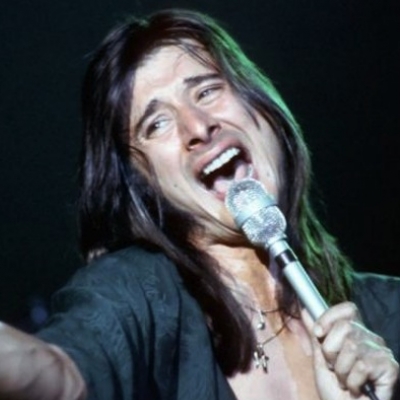 Found on ultimateclassicrock.com
Info
Stephen Ray "Steve" Perry is an American singer, songwriter, and record producer. He is known as the lead singer of the rock band Journey during their most commercially successful periods from 1977 to 1987 and again from 1995 to 1998.
Comments
Top
Popular
Newest
YESSS He made it to #3! Good Lord the man has worked so hard and fought bad health to be where he is today. He's more than a rock singer, he's more than The Voice...He's a man. He has heart, compassion, he cares, he loves his fans and his group he helped build to where it is today...Journey. He once said he didn't feel much like he was part of the group, that's one reason he worked as hard as he did...he wanted to be liked, loved, recognized and noticed. Little did he know he already had millions of fans right in his back pocket! Look into the mans eyes, beautiful yet feeling every word he sings. Watch his movements as he sings...His song "When You Love A Woman" in the video you can watch his hands, the expression on his face. He seems to reach far into his soul to give the best he has. He makes you feel as if you're the only person in the world he's singing to. His passion is truly a gift. His music is yesterday, today and tomorrow. He fits just about into every category of music ...more
Steve Perry's voice is Powerful while still sounding creamy. He can hold a note longer than most people can hold their breath. His range and vibrato are truly amazing. The emotion and heartfelt sincerity in every word he sings alone make him the greatest singer ever to grace the stage. I can't get enough of listening to this man's voice whether it be with Journey or solo. He is a remarkable singer and a remarkable man. I consider it one of the greatest blessings in my lifetime to have been able to enjoy is beautiful voice on radio, CD or the Internet. Thank you Steve for sharing your remarkable talent with us. God Bless.
Many rock singers have distinctive voices and/or powerful voices. Steve Perry's voice is both, AND with a purity unmatched. He was put on earth by God to sing; there can be no other explanation. Listen to his voice soar into the heavens in conjunction with the guitar solos in "Wheel in the Sky," and "Do You Recall." Listen to him belt it out on "Edge of the Blade" and "Anyway You Want It." Listen to him get soulful on "She's Mine," and "Walks Like a Lady." Listen to him emote on "Faithfully," "I'll Be Alright Without You," and "In the Eyes of a Woman." Truly amazing. His vocal range and dynamics are unequalled. I hope he doesn't wait much longer to bless us with new music.
By the way, he is at his best when backed with blues-based rock musicians like Journey and on his "Street Talk" solo album vs. prog-rock studio musicians like on his "For the Love of Strange Medicine" solo album. He truly is "the Voice."
There are many and too good, but Mr. Perry's is the one and only voice that reaches the deepest strings of my soul and is able to make me cry, smile, laugh, dream, love and cheers me up just by listening to it. He makes me yearn for my youth and at the same time enjoy my adulthood. What a voice! So powerful and and full of passion. How many others have that same power? For me, he is the only one.
Mr. Steve Perry is #1 here and should be #1 everywhere! He is the consummate performer with his amazing voice that can sing any range, any kind of song.. And he does it with more emotion and more showmanship than all the rest, bar none!
He sang the soundtrack to our lives. Yes, he has the "golden" voice and the look, but he also had the soul, the spirit, that spark that made you feel and believe every single word that crossed his lips. He made you feel love and he broke your heart. The girls cried when he sang because he touched our souls and made us "Believe".
Steve Perry is an incredible singer. The sound quality of his voice is just beautiful, and his range is breathtaking. The best examples of his talent are older songs, from the seventies such as Wheel In The Sky and Something To Hide. Although, in interviews he has stated that the most demanding song that he has done with Journey is Mother Father, which is truly impressive, and my favorite.
Steve Perry has the most unique vocals ever. No other musician has, can, or ever will be able to match his talent. There is no song he can not sing & sing better than anyone else, he's proven that. His voice is still in demand today & sings every song with soul & emotion as if he is singing directly to "you" & you alone. He is the absolute best singer in the world & always will be, after all he is the "voice".
Steve Perry is by far the best male singer I have ever heard hands down. He can hold notes longer than I have ever heard. Fantastic singer and by far deserving of the number 1. spot. There hasn't been anyone else like him. I doubt there ever will be. He's not only one of the best rock singers out there.. he's a wonderful person too. And that can only make him even more beautiful.
A one in a million... He has the gift... Saw him with Journey and FTLOSM tour... A few years ago I saw him with friends in LA at a cafe' -I decided then and there to pick up the tab for him and the friends... Low and behold... He came up to me and his friends to thank me... I thanked him for his music.. His voice and the songs that go on forever. He was so great and the real deal... And still handsome as hell... Hope I run into him again one day
The range, quality, emotion, feeling, the ability to hold notes and change from one scale to another, effortlessly.. Are all reasons Steve Perry is unmatched as The Voice. He can be soulful, gritty, fun, painful and loving.. All with his voice. Steve Perry can sing it all, and sing it wonderfully.
Nothing like the best voice I have heard. He sings with such feeling it almost feels like he is singing it for who ever is listening to it. I fell in love with his voice in 78 and still feel the same today. His music is all I listen to in my car while driving. Thank you Steve for the best VOICE.
The purest vocal talent in the history of rock and roll, "rolled" into a great showman, a one in a million interpreter of lyrics, a great writer who also saw the potential in the writings of others, and someone who just gave his all on all fronts. No other rock singer has ever touched Steve Perry and I really doubt that they ever will.
There is no one that can touch this man on vocals! When you hear his voice you know immediately that it is Steve Perry! Not to mention the range of his vocals! His fan base is so loyal to him that even 20 years later we still hope that he will put out some new music. He had me since the first time I heard him on the radio in 1978. To me Steve Perry is a legend and should be #1!
Steve Perry can not only sing rock, but he also has a wonderful voice in any genre. He is a truly talented singer, who could make singing anything sound good. It is Perry's vocal range that makes him stand out amongst singers. He can sing notes most singers can only dream of.
Steve Perry can sing anything with such emotion, feeling and heart that people can get lost in the music! He is a TRUE musician and ARTIST! The man handsome, sexy and a true gentleman, has a VOICE and range that is unsurpassed and cannot be matched. The call him THE VOICE for a reason! His pitch, tone and range is terrific!
Steve Perry is "The Voice"- often imitated, never duplicated! I have loved Steve Perry forever! He is Journey! He could sing the yellow pages and it'd sound like heaven!

Steve Perry is now and will ALWAYS be the greatest rock voice of all time. I've never heard anyone put as much emotion into a song as he does. His voice touches my soul. And he's not bad to look at either!
"The Voice" is his nickname! Of course he's #1! He can do and sing anything... Ballads, rock and roll, blues, funk and is an amazing song writer as well... Not to mention a hell of a nice guy
"The Voice" of Steve Perry is transcendent. His voice is so full of emotion that anyone can tell it comes from deep within his soul which is where it touches you... Deep within your soul. His fans both young and old are forever faithful. He is now and always shall be No. 1. ROCK ON!
He isn't known as "The Voice" for nothing! Steve Perry's voice is so exceptional that he has become a legend in his own time.
He will go down in music history as one of the very best singers of our era!
Simple. He is & was the best that's ever been. His voice is pitch perfect (even if he doesn't think so), he pulls a live audience along with him dancing, talking, laughing, flirting and making fun of himself. He is simply the BEST.
The most amazing voice ever, deserves to be #1, Steve will go down in history for his fabulous vocals on every record he has ever made, his title of 'The Voice' is truly well earned.
STEVE PERRY IS A LEGEND IN HIS OWN TIME! HE IS "THE VOICE" FOR OBVIOUS REASONS... HE CAN SING ANYTHING AND SING IT BETTER THAN ANYBODY! STEVE PERRY'S VOICE IS AWESOME AND TIMELESS!
No one can compare. This man's voice gave me chills... Still does, and I love to reminisce about the days of Journey by listening to their songs. Will never tire of them or The Voice.
Related Lists

Best Steve Perry Songs