Best Hockey Players of All Time
The Top Ten
Wayne Gretzky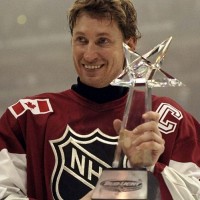 Wayne Douglas Gretzky CC is a Canadian former professional ice hockey player and former head coach. He played 20 seasons in the National Hockey League for four teams from 1979 to 1999.
Simplest choice ever THE GREAT ONE is easily number 1.
Anyone who does respect it should walk off the face of the world
grezkey is the best hockey player cause he scored 521 goals in a row
I visited Gretzky's restaurant in Toronto last year. There is a very special room with jusy a few tables and each of the four walls has a single portrait which seems to suggest that Wayne holds these players in high reverence. Gordie Howe; Bobby Hull; Maurice "Rocket" Richard; Bobby Orr. Thanks Wayne - great room!
Hands down, THE best player ever. Orr was hands down THE best defenseman. Mario, well some whine that he was just injured too much or could have...blah, blah, blah. Take a look at the BEST amazing goals ever scored...hmm. Whose name keeps coming up? TSN even says there were so many amazing Gretzky goals, they could not just show one. Mario, well we remember one. Orr, one. Some say he wouldn't have gotten all those assists, except he played with such "skilled players"...well just look at the passes he made. Many of those passes were like "the puck had eyes" as was quoted over and over and over at the time. I don't remember hearing that about the other two. I saw both of them play. Also, staying healthy and giving 100% EVERY SINGLE game is an amazing feat in itself. Before he got to the NHL, naysayers said he would never make it in the NHL. Things would be different. Wrong. They say "He played in an era where there were just a lot of goals scored". Wrong. There are no Mike Bossys, no ...more
Bobby Orr

Robert Gordon Orr is a Canadian former professional ice hockey player, widely acknowledged as one of the greatest hockey players of all time.
Orr was the only player in the history of the NHL to win the Art Ross Trophy ( Scoring title ) and the Norris Trophy ( most valuable Defenseman ), in the same year! He did it TWICE!
Also the only player to make the nhl as a 18 year old rookie during the original six teams ( 1966/67 ). Plus he would fight his own battles, block shots, made the other superstars look like ordinary players. The only way that he was stopped was they chopped his knees out from under him. Played nine seasons on 1/2 a leg and rest guts.
Orr was harder to shadow than a forward like Hull but he still ranks with Hull & Howe as the most complete player in the era of original six team play. Gretzky was the best specialist in history in the style of a Magic Johnson in NBA as a play-maker & in his ability to be in the flow of play. I would like to have seen an Orr or Hull surrounded by a team like the 80's Oilers to see what they could have done to the record books! We did get a glimpse of that in 1976 with the Canada Cup.
Orr was the greatest hockey player he changed the game he was 14 trying out for the boston bruins just 14 he was the greatest player in the game.
Orr revolutioned the game in a way no ever did- not Gretzky-not Howe-not Hull. I once heard this analysis from a respected NHL player who played against all those players. Howe could do everything but not at top speed. Hull would always perform at top speed but he couldn't do everything. Orr could do everything- and at top speed. Orr invented the offensive defenceman. Before he came along, 10 goals and 30 assists were considered big numbers. At his peak and while still reasonably healthy, Orr put up 46 goals and more than 100 assists. In an era when the game wasn't as wide open as Gretzky's era. Plus Orr played defense and played it as well as anyone. And he could fight he had to. A much more complete player than Gretzky. And arguably Orr's supporting cast wasn't as strong as Gretzky's. At age 27, Orr won his second scoring title, his final healthy season. If he had stayed healthy it's mind boggling the numbers he would have put up. Gretzky played till he was 38. All things considered ...more
Mario Lemieux

Mario Lemieux is a Canadian former professional ice hockey player and current owner of the Pittsburgh Penguins. He played parts of 17 National Hockey League seasons with the team from 1984 to 2006, assuming ownership in 1999.
his shortened career was the only thing that kept him from beating all of Gretzky's records. He's at least just as good.
Simply the most skilled all around player who ever lived.
For many reasons, Mario is better than Gretzky, but I think Orr is first, Mario second. I am not even sure I would put Gretzky third and the simple reason is that I think the greatest hockey player should be not just who has the best stats but should be based more on talent along with stats of course. So here are my reasons: Gretzky had far better talent around him for more years than Mario did. Of course the injuries to Mario, prevented him from breaking the records, Gretzky admits to this. Mario was more skilled and more physical, Gretzky admits this too. Many point out how many assists Gretzky had which is certainly amazing, but obviously he would not have had all of those assists if the people he passed too can't score. That is the case with lots of great passers... Not enough skilled scorers on their teams, so the passes don't amount to anything. Gretzky was lucky to have many great players around him. Also, Gretzky played in a much less physical environment, as history shows... ...more
None better! If you say Gretzky, its because you either never saw both play or forgot just how hostel the media was to his being bumped to second, its also why Gretzky won a few extra Hart trophies at guess who's expense? Look, I felt the same way at first but then I just could not believe what I was seeing every time I saw him play on a team that without him was dead in last place! His behind the net goals, his speed, his reach, his moves by HoF defensive players.
Truly the only professional athlete in a team sport who looked like he was playing against kids but their was no other league to go to! And BS if you say Jordan, I never got that feeling at all and Babe Ruth would be the only other athlete.
To make it even more amazing was to learn he was playing with real physical issues to top it off. I just cannot imagine someone playing at a level so far above anyone else and yet not reaching even close to what might have been!
Now throw a healthy Mario onto a HoF loaded team ...more
Gordie Howe

Gordon "Gordie" Howe OC (March 31, 1928 – June 10, 2016) was a Canadian professional ice hockey player. From 1946 to 1980, he played twenty-six seasons in the National Hockey League (NHL).
Greatest athlete in hockey. Played into his fifties! He was given room to set records because he manhandled players - not because he was protected. When Howe had the puck it was special like when Mantle came to the plate.
Howe had the unique ability to define how a game was to be played on any given night. Any style /speed his skill set allowed him to play any way the opponents wanted to play. Probably the one thing about Howe was that while he was the most dominant player he was not dynamic in the sense of the other great players. You had to watch him play over a period of time to witness how much bettor he was than his contemporaries. Their would be even a higher appreciation of his extraordinary skill set if there was video and or tape of him during his prime.
Scotty Bowman. You know him? At a luncheon he was asked who the best was and without hesitation said Howe. In an era of 5 decades, he defined the all around player. He could score, he could defend, he could pass, he could skate. The Russians when just starting to take ice hockey seriously, used Howe as their model. As far as Gretsky goals, look at the number of goals scored when Howe played and the overall number per game was far lower than in Gretsky's time. So, based on the lower totals, Howe scored more goals based on overall production.
Best All around player ever...and..there is a record that will never be broken..Gordie Howe was in the top 5 in scoring for 20 straight years...Orr didn't even PLAY half that long...Gretsky never came close to that...I saw all the greats play...Gordie was the best
Maurice Richard

The Rocket was a great player, not top 10. 1 season he scored 50 goals when many of the players were off fighting in WW2, he had far more seasons of less than 30 goals than he had over 30. The Rocket's legend will live on and people will always remember him but his stats do not stand up to the other greats.
Most people voting now never seen him play, so please go see some archives and just watch how he played and then you will see that he was the greatest
Most folks who are voting have never heard of, much less actually watched the Rocket play but believe me, there was no one more dominating or intimidating on the ice than Richard!
The most under rated player ever to have hit a Puck
Steve Yzerman
He belongs at 3 or 4... Not 8... He's the 2nd best player ever on the best team ever The Detroit Red Wings
Steve Yzerman had something that Crosby will never have... Class! I will never say that Crosby isn't talented or doesn't deserve to be ranked high on this list but he can never be compared to Stevie, Wayne, Bobby or Gordie. I think a lot of people have voted based primarily on who currently on top and whos name they hear the most.
Yzerman is much better than Crosby and Ovechkin. Neither of them belong on this list.
All-around talent, class, and commitment to the greatest hockey team ever. He was a hero to me and the rest of Detroit while growing up. Even at away games, Stevie would be cheered by their fans because they respected him that much. Now that's powerful, and speaks about the character of that man. The Captain.
Bobby Hull
Hockey's "Golden Age" according to the "Legends of Hockey" series was the 1960's. The "Original Six" era when Gordie Howe was still in his late prime and Bobby Orr was a spectacular rookie. Bobby Hull was named the "Player of the Decade" by the sporting press! I wish he had not jumped to the WHA in 1972 (his absolute prime) because he was on track to shatter all of Howe's records. His career even overlapped Gretzky's early career in the WHA and in the first game involving their respective teams, I read that Wayne's Mom said to Hull "don't you hurt my son! " During the 1972 Canada /Soviet series when Hull was not allowed to play for Canada I remember the billboards "To Russia with Hull" and how the NHL had almost lost the series due to their vendetta against Hull. The most dissapointment was expressed by the Russians themselves as Hull was the most idolized western player ever. During the 1976 Canada Cup the long awaited dream team was assembled and both Hull and Orr dominated the ...more
Bobby Hull arguably could easily be a top 3 player, but one thing for sure he was the most exiting player to ever lace on a pair of skates, when Hull picked up the puck behind his net the fans at the old Chicago stadium would rise to their feet, it was one of the most exiting moments in hockey not many players then or now could had that effect on the fans.
Bobby Hull played Russians on WHA 74 team lead both teams in scoring. In 76 lead all teams in goals. When Montreal played the Russians the Canadians were considered the top team in the world game ended 3 to 3 tie, Winnipeg jets also played the same Russian team in that visit final score 5 to 3 for Winnipeg Bobby Hull scored 3 goals.
Back in early 70's when the WHA needed a true superstar to build their league around there may have been 2 or 3 players that could do it, Bobby Hull was the man they chose, amazing they payed him 1 million dollars when top player made 50,000 per season. Every player in every pro sport needs to thank hull for the huge pay raises.
Mark Messier
This list is idiotic, nobody still playing in the NHL should be in the top 30 except for maybe Martin Brodeur certainly not Sidney Crosby or Alex Ovechkin, How could any of these guys be rated above Mark messier2nd all time in scoring and perhaps the best 2 way player of all time...
8 and 87 are not better. He should be 5th. 2nd all time in points. He has a award named after him and is the best captain to put on a Jersey in any sport. Gave the Rangers a cup with some help but come on the Mouse is better then sid and the great 8. And the great 8 still has not won a cup.
The Moose, The Messiah or whatever you want to call him, was the best leader of all time. During the Oilers era, Gretz admits he wore the C but Mark lead the team to victory. Messier has to be in the top 3 or at least 5.
You have got to be kidding, he is second in points in NHL history, played the second most games ever, third in assists, he has to be in the top 3
Patrick Roy

Patrick Jacques Roy is a Canadian former professional ice hockey goaltender and the former head coach and vice-president of hockey operations for the Colorado Avalanche of the National Hockey League.
He is the best goalie ever to walk on this earth
I find it funny that on this same site, Roy isn't even ranked greatest goaltender of all time in the top 10 goaltenders (he's 2nd behind Brodeur), yet he's on this list and Brodeur isn't. Roy MAY have been slightly better than Brodeur at stopping the puck but Brodeur blew him out of the water in puck handling and passing. Also, if there's one stat that scared me about Roy, it was that he was below.500 in career games 7s.
He should be higher no one played goalie has well has him
He has to be the BEST goalie ever in the history of the NHL...
Jaromir Jagr
SImply the best, putting him behind OVY is just a poor joke. I would put him into same level as Lemiuoux

What makes Jagr a top-5 player of all-time is his ability to succeed in the many changing eras of the game. It's nearly impossible to compare Crosby and Gretzky, given the evolution in rules, conditioning, goalies, etc.. But, here's a guy that managed to be successful across all of these eras. His lack of success without Mario wasn't a function of riding coattails as much as it was a team running dry on money and talent. It takes a team to win, not an individual. The prime of Jagr's career was spent with lackluster teams expecting him to carry most of the load. The greatest of greats had supporting casts, including Gretzky, Howe, Orr, and even Crosby. Let's face it, today's NHL is a young man's game and Jagr has found a way to stay relevant and successful in spite of it.
Don't say he's 47 and still playing cause the only reason he is still playing is because he thinks he can be better then Gretzky
What?! The best European player all times in 15th place behind Ovechkin (yes, he is amazing, but he is still too young to compete Jagr), Sundin and Forsberg (okay, maybe it's equal with that guy)
The Contenders
Teemu Selanne
Last year one of his best seasons! And he will continue to play at least one more year.

Even if he is very old player, he can still keep playing at the same level. GREAT! ONE MORE YEAR!
He has the Rockie record and he's 40 year old and still one of the best! that says it all!
It's amazing how he still can keep playing on such a high level - he must soon have some kind of record as a NHL pro in years. His dedication to icehockey is one of a kind. And it does not seem like anyone is going to break his rookie year record of 76 goals - and that was only a beginning.
Jean Belliveau
Jean Beliveau is too good of a player to be this far down. He should higher than Crosby and Ovechkin at the least. I don't think Crosby and Ovechkin deserve to be on this list, but Rocket Richard does.
No list of greats would be complete without Le Gros Bill.
He was a real gentleman and a great player. He is somebody all hockey players should strive to be like.
Belliveau should be rated higher, Crosby and Ovechkin do not have the years behind them to be even rated. Lets see were thet are in another five years
Phil Esposito
Esposito and Orr dominated the scoring only Hull and Mikita could be compared. Esposito broke Hull's scoring record with 76 goals in one season and he was the best player on team Canada in 72 series. Maybe a top ten.
He was the heart and soul of Team Canada in the 1972 series with USSR. He was an outstanding center for the Bruins for 12 years and carried the team emotionally as well as with his on ice talent.
There are a definite top five iconic players in hockey who will always be considered the best: Gretzky, Howe, Hull, Orr, and Richard (with an honourable mention to Lemieux). But Phil was a cool cucumber, so I'm giving him my vote.
Hero of 72 series, cannot believe Paul Henderson is not on list.
Pavel Datsyuk
Datsyuk wrecks like no other player in the league today just watch him in the shootout he makes all-star goalies cry for their mommies
How the hell is this guy last on this list, his puck control is amazing
Paval datsyuk is probably one of the best hockey players of all time because he is an amazing shooter he makes the best plays and his puck control is amazing even better than others in the top ten.
Hands down way better than Selanne, should be in top 10 for several reasons:
Size, the low level he was picked, being bowlegged and pigeon toed enabled him to turn on a pin head, and ability to shoot from any angle
Mike Bossy

Michael Dean Bossy or, according to some sources, Michael Jean Bossy is a Canadian former ice hockey player who played for the New York Islanders for his entire career and was a crucial part of their four-year reign as Stanley Cup champions in the early 1980s.
Bossy it at least top 10. He had over 500 goals in less than 1,000 games in his career. If he continued his insane pace, he would be been the highest goal scorer in NHL history. It wouldn't have been that high, but it would have been much higher. He was always one of the best players in the league and I still stand by him being underrated.
I can see people rating their fair share of people above Mike Bossy. But not this many. He's AT LEAST top 10 material. Holds the record for most goals per game all time, and even the Great One's goals per game doesn't threaten his record. So ranking Ovechkin 7th and Bossy 33rd makes absolutely no sense.
Mike Bossy had "the touch". No matter where he was near the net, he could turn and spin, and know exactly in his mind where the open corners were. He feel around the net was second to none.
One of the Top 3 pure goal scorers to ever play. 50+ in his first 9 seasons will never be duplicated. Only his bad back could stop him.
Vladislav Tretiak
No way he should be ahead of great goalies like Sawchuck/ Plante / Hall / Tretiak was the goalie who let the 3 most important goals in hockey history , when the NHL played the Soviets in 1972. The reputation of the NHL as the greatest hockey in the world was on the line. 3 games remaining all the Soviets had to do was win 1 game and they become the greatest players in the world. Here is the funny thing Paul Henderson who scored all 3 winning goals to save the reputation of the NHL is not on the list he is not in the HOF and for some reason Tretiak is on the list at #16 ( are you kidding ) and is in the HOF based on 8 games that he choked in when it really counted.
Vladimir is good goalie have state Soviet union constitution Russia.
Vladislav Tretiak is the greatest goalkeeper of all times. It was a mistake to bench him in the OS 1980 semifinal against the USA (the "Miracle" game). This probably affected the USSR playing morals negatively and it boosted the USA team morale. If they hadnt benched Tretjak the USSR team would probably have won the OS and the title would have stayed in the USSR. However the young USA team won the game and they deserve the greatest credit for their fantastic efforts. And Herb Brooks too of course.
The most creative and innovative goal keeper of the Soviet team.
Sidney Crosby

Sidney Patrick Crosby ONS (born August 7, 1987) is a Canadian professional ice hockey player who currently serves as captain of the Pittsburgh Penguins of the National Hockey League.
Best player in the history of the game. He routinely draws 2-3, even 4 players on him at a time and still manages puck protection, goal-scoring wizardry, while engineering goals for his team. His ingenuity, athleticism and skill is mind-boggling. Check out this guy's highlight reels on YouTube and find someone better. You can't. Crosby is a once-ever talent. I followed him from youth hockey when he was an 11-14 year old kid dismantling 16-19 year old players. It was self-evident that he was going to become one of the greatest players of all time.

He beats my team every time but as I'm not a pathetic loser who claims the W/Ls of my team as my own personal achievement and bemoans the Ls as affronts to my ego, so I stomach the embarrassment and disappointment, because he puts on such a great show. There is something electrifying and viscerally inspiring about Crosby's play. He does things that no other player can do. He does things with guys hanging on his back, attacking his legs ...more
He is a awesome player he can score goals he is awesome at hockey
In todays game, the best and for anyone calling him a baby if you knew anything about hockey, you would know how strong this man really is. Crosby is the hardest working hockey player on the ice and that is what seperates him from the rest. He's a superstar and a champion!
He's is amazing and way better than ovechkin! He's got the better stats and all! He is a boss!
Martin Brodeur

How many rules did the NHL change for Patrick Roy? Did Marty ever pout like a baby and quit the team - wrecking an organization and their ability to win for decades? People keep talking about how Marty won because of the team around him. Look at Roy's teams... they weren't slouches. Patrick was a true pioneer and gifted as a player, so he should be on this list. But, not higher than Marty. Stats don't lie.
He was the best goalie of all time. Who has the most wins as a goalie? Marty. Who has the most shutouts? Marty. Games played? Marty. He even had a rule made because of his style of play. He is simply the best goalie to ever play the game. Yes, Roy is good, but not as good as Marty!
Good goaltender, but he also had great defencemen in front of him, and played in a clutch and grab system that was accepted back then. Patrick Roy was a much better goalie. Just look at what he did in Montreal. Singlehandedly won cups for montreal.
He holds every important record for goaltenders. He is the only person with over 600 wins, and no one will come CLOSE to his records for years. The. Best. Goalie. To. Ever. Play.
Patrick Kane

Patrick Timothy Kane II (born November 19, 1988) is an American professional ice hockey right winger for the Chicago Blackhawks of the National Hockey League (NHL).
Great in shootouts, reliable in the playoffs
Why is he 29? Kane deserves to be in the top FIVE! He is part of a team that has won the Stanley cup six time, and I bet most teams can't even match that.
Best player of all-time he's my feet second best player and I love him
Three things.1,he got the goal overtime vs the flyers. 2,he was the first American to win the art Ross trophy. 3 Crosby had 89 points in 2015-16 season. Kane, on the other hand, had 106 points.
Valeri Kharlamov
I thought he would have ranked top ten. I mean he was the Russian team force in the 70's. Bobby Clarke had to be missioned to break his ankles to stop him in 1972 summit series. Any NHL franchise would have loved to have him as their top pick.
Whoever made this list, has no idea what they're talking about. Valeri Kharlamov is by far considered among the top 3 hockey players of all time.
Don't believe me, ask Wayne Gretzky and other great players.
Best player on the great Red Army team deserves a much higher ranking. Ask Dallas Smith.
Since he was the best and the most charismatic player in the USSR super team of 1972, that fact speaks for itself
Ray Bourque
Bourque didn't make the people around him better? Please note that Adam Oates played 3 seasons with Brett Hull assisting on most of his 70+ goals during each of those 3 seasons, yet Oates still got his highest career point total (142) as a Bruin, playing in front of Bourque (keep in mind, this was 92-93 and Neely missed much of that season due to injury).
Ray Bourque is the leading defencemen of all time, and 11th overall for all skaters points of all time (and that's as a defencemen)! Definitely one of the best.
He is a great player who never gave up
He got a rent a cup in Colorado, did he make people around him better, no he did not. Nick lidstrom was a far better all around player.
Guy Lafleur
He is my choice. A dedicated player with great skills! He was a leader of the game, a comet-loke on skates and a sharp shooter. Every team mate he had became a best player with him
Definitely should be in top ten. He was a game changer and dominated the league for four years as the best player in the world - check your history. It seems everyone forgets that Lafleur was a playmaker not just a goal scorer. He consistently got many more assists than goals and made everyone around him better.
pppppppfff guy lafler was a fifehudered goal scorer and got at leest then a point every game you dont even need to say to ten

pz
With Lemieux he ist he most natural hockey player and a real winner. He could smoke between period. To sad he sit on the Bench for a couple of seasons as a Rookie. Bossy was good but not like the flower. Flower was natural skills and talent.
Nicklas Lidstrom
First European-trained Captain ever to win the cup, seven Norris trophies (second best in NHL history only behind Bobby Orr), flawless defensive positioning at every turn, four Stanley Cups. Perhaps the best player as far as defensive ability in history; it is incredibly hard to qualify the abilities of a defenseman with quantitative values, but his incredible talent, positioning and just plain intelligence render him number ten.
You people are crazy rating this guy 20th! He has 7 Norris Trophies! An Olympic gold medal, 4 Stanley Cups, 12 time All-Star, Conn Smythe Winner, a 450 career +-, A blue line threat, and in my opinion, the best defensive player in the history of hockey. How can anyone put, Peter Forsberg, Mats Sundin, and in my opinion Alex Ovechkin in front of this man. None of those players could even win! Ovechkin plays defense about as well as Carmelo Anthony. People are crazy!
Worlds best defenceman ever. 5 Norris Trophies says it all, and he will take his sixth this season.
Amazing player. Even more amazing team Captain. Every time he was on the ice he did a fantastic job. No idea how he could get rated so low on this list. Guy was a great player!
Ron Francis
Probably closer to top 20... took Carolina to a Cup final... I mean! Carolina? Total class like Beliveau on and off the ice.
Top 4 player COME ON
He sucks
Boris Mikhailov
2 Golds 1 silver,long time Soviet captain and payer from Red Army and CSKA 9-time world Champ
PSearch List