Royce Da 5'9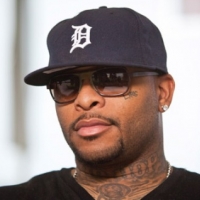 Found on vibe.com
Info
Ryan Daniel Montgomery, better known by his stage name Royce da 5'9", is an American rapper from Detroit, Michigan.
Comments
Top
Popular
Newest
Royce the 5'9 was once the king of Detroit - people expected him to be the greatest thing coming out of 8 Mile. On the road to fame, he was sidetracked by his friends and became an alcoholic. He has the same lyrical skill as many of the top MC's on this list and his style stretches across a multitude of flow patterns. Some of his older songs have a similar flow to a lot of Nas' music. He has almost identical lyrical skills to Eminem, which is evident on his Bad Meets Evil collaborations with him. Overall, Royce is my favorite rapper.
Royce the 5'9, way behind Nicki Minaj, Lil Wayne, Drake, and all these other so called "Rappers" that just make me want to puke. Royce the 5'9 is a real rapper, one that just doesn't rap about drinking at clubs and money, you can actually feel his music. Sadly with the "Pop" rap of today, nobody appreciates good rap any more. Eminem will always be #1, but Royce should at least be somewhere in the top tens.
Royce should be at least in the top 20. His lyrics and flow are one of the best I ever heard. Royce can make it underground as well as mainstream, just listen to the Bad meets evil EP. He goes back and forward with Eminem completing lines. He should get more recognition now that Shady records sign him.

But with Lil Wayne at #3 this list is a joke anyways.
Royce is definitely underrated, he should be higher on this list. Terrific flow, above average lyrics. Most of all he has a very distinct and original style so props to him for that. Ah we'll, I suppose this list is merely a popularity contest, as seen by eminem being at the top
Royce is easily top 5, but most of his fans are also Eminem fans, and would use their one vote on eminem. Royce's entire album Success Is Certain is my favorite rap ever. His lyrics and flow are great and so are his beats, and he can keep on going for so long without stopping he's just the best. Legendary and ER are two of the best songs of all time
Royce is a lyrical genius man! The guy must be in the top 5 list, and given the album "hell: the sequel" with em as Bad meets evil, his flow and style went up against em's (with everything). This is the definition of being under-rated.
Eminem is number one on the chart so why can't Royce the 5'9 be like number 2. Eminem and Royce the 5'9 use to be a group called Bad Meets Evil and one of their best songs is Lighters. And down that Royce the 5'9 is almost as good as Eminem.
This says it all about this list. Pathetic you have people on here who don't rap for a living like John Cena, people who are useless like the Young Money Crew and Chris Brown and this guy isn't even in the top 50. Slaughterhouse are a proper rap group and aren't fake and rap bull like Young Money. Rap is being ruine and could be lost forever, rappers like Royce could save rap.
He is so underrated when he is one of the best rappers out there.
You may say who the hell is royce the 5'9 well he is in slaughterhouse and bad meets evil so he should be higher up this list.
Royce would be top 10 if all his fans weren't also Eminem fans... let's be honest here, his lyrics are good and his flow never stops. I know he's barely competing in most people's minds, but they just need to listen to a damn Royce album to be honest
He from 32 to 49 who the hell did this? He can manage to be a good person and be a great rapper#we live ladies Grand Theft Auto 3.
Royce is crazy and should definitely be up in the 20's... His one of the very few rappers that could hold his own on an Eminem track... Underrated!
This man may not be the best rapper ever, but you have to admit he delivers very well. He killed it with Em in bad meets evil not to mention with slaughterhouse
Royce is hugely underrated. In truth he's an amazing rapper. Good flow, good lyrics, amazing talent. He deserves to be where Lil Wayne doesn't: In the top 10
Royce can only be second best in Bad Meets Evil & Slaughterhouse... He must be pissed! Eminem & Crooked I are BEASTS!
Come on! Royce should be before that commercial trash Nicki Minaj. He's real real good.
All of slaughterhouse should be higher than Wayne and royce on the original bad meets evil was boss plus he reps the 313 which is my home!
If Royce fans who are also fans of Em had voted on Royce, he would be top 10 by now. He is as good as Eminem. Full stop.
His lyrics are so good listen to Lighters with him, Eminem and Bruno Mars be prepared to be blown away. - justsayingthetruth
Seriously who made this god awful list they need rehab cause the meth their smoking has to come from another planet - roadrage
How are people like Macklemore, Lil Wayne and B.O. B above Nickel?
Honestly on writers block I think he rapped just as hard as Eminem could after that I realized they're simply equals
He worked with Em and Dre so he should get as much fame as they do.
He is too tall for be on this position
I love Royce the 5'9 especially when he was in Bad Meets Evil
Related Lists
Best Royce Da 5'9" Songs
Best Rolls Royce Cars
Best Prince Royce Songs