Greatest AFL Players of All Time
The greatest players in the history of the Australian Football League.

The Top Ten

1 Leigh Matthews

The best "rover" in the game, later to then become the best small forward in the game. Simply ruthless on his attack on the ball, opposing players ( sometimes to his detriment) and pesky point posts at "Windy Hill". His nickname to VFL fans was "Lethal", but to the Hawks faithful he was always known as "Barney" as in Barney Rubble. Brute strength is what broke the point post that day and he only received a little lump on his elbow from it. I'm glad I was there to see this happen and for it to reinforce the "Legend that is "Leigh Matthews.

Leigh Mathew's is definitely a top 5 player and arguably the greatest. The only thing that gets in the is that he never won a Brownlow otherwise he would be labeled the GOAT like Michael Jordan of the AFL.

Easily the greatest player of all time. He played over 3 decades and dominated as a ruck rover and small forward. What other player of his size and ilk has won a Coleman medal? Intimidated opponents and was ruthless. The greatest and scariest player of all time.

This man is the best voted best player of all time. Kicked 915 goals as a small forward, and voted player of the century. Won 8 premiership medallions as a coach and player for the hawks, he's won a coleman and 9 best and fairest.

2 Wayne Carey

He was known as "The King" for a reason. There has never been a centre half forward that has brought so much leadership, power, finesse, skill and strength to a team. The basic skills needed to make a holistic AFL player were finely tuned. Except for the 98 girlfriend, his set shot kicking was one of the most reliable of all time.

He could turn a game off his own boot. Was impossible to stop 1 on 1. The only man at his size that has ever come close to his creativity and touch when the ball was on the ground is Buddy Franklin.

There will never be a more imposing contested mark in the game. There will never again be someone so dangerous 1-on-1. The King had his dominion and when it counted - he rose to the occasion and dragged his team over the line.

A fair comparison can only be done by assessing a players influence. It's them most difficult thing to compare players in different positions little lone combined with different generations. Afl strategy has changed over the last 20 years to such an extent it's virtually a different game.

Center half forward at the time was perhaps the most pivotal position. Cary's ability to turn a game, dominate an opponent and inspire a team put him second only to Gary Ablett Jnr from an influential standpoint.

From a technique perspective- marking ability, strength/intellect in contested possessions, positional awareness and presence on the field plus a supreme confidence in his own ability is what made Cary so formidable.

No doubt Whitton, Barassi & Matthews are all strong contenders for most influential player from previous generations.

Certainly the best player ever at his best. Had all the x-factor of a buddy franklin, but was so much more. He was the best on-field leader I've seen, best contested mark, great at ground level as well, one of the most reliable shots on goal from any range. He was probably the strongest bloke in the league and was quick for his size... There genuinely wasn't an aspect of the game that he wasn't great at. And he was a winner. I don't think there's ever been a player with the same ability to win games for his team.

There has been no better player than Wayne Carey. His strength, athleticism and skills were obvious but equally important was his huge work ethic. He rarely, if ever, played a bad game and was the consumate match winner. Despite immense attention throughout his whole career, he never succumbed to injury or poor form and routinely played at a level that most players could only dream of. Unlike some of his feted peers, he was instrumental in his team winning premierships. Not more than you can ask, really. Mark M.

3 Gary Ablett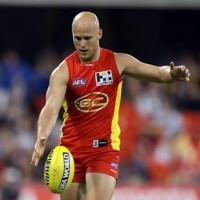 Gary Ablett Jr. is a professional Australian rules footballer playing for the Geelong Football Club in the Australian Football League. The eldest son of Australian Football Hall of Fame member and former Geelong player Gary Ablett Sr., Ablett was drafted to Geelong under the father-son rule in the 2001 AFL draft.
No player has ever consistently reached the heights of this fellow. An absolute freak, a magician, uncontrollable amongst the opposition. Was able to manufacture situations from nowhere. Fast, a great mark, unbelievably strong, good at ground level and equally as skilled on either
side of the body. A further string to his bow centred on his ability to play equally well in a multitude of positions... as a wingman, centreman, half-forward or full forward... his versatility was awesome. In short no player was feared so much by players (and coaches) of opposition sides. People would go to the football just to watch this bloke play. His strength, skill, fierce attack on the ball put the fear of God into opposition players. And incidentally, not far behind him on the scale of best ever players was his son Gazza Junior
Ablett, 2 premierships, brownlow, best and fairest, MVP what else do you want? The fact that he has played in 2 premierships is a contributing faactor for he being the greatest player. I'm a Geelong supporter and even though he's moved to gold coast, he is still the benchmark player of the A.F. L!
Ablett could dominate the game in more than 1 position, make the impossible possible and the ridiculous seem normal. A genius with and without the ball, there was no one more worth watching at their best.
GARY! You should have always been in your fathers team. Who cares about having lots of money or not. You could win a Brownlow Medal in Geelong Cats and a Flag. Go back to Geelong Cats,.unless you are to scared
4
Gary Ablett Sr.
Greatest player I have seen he has brilliant consistency. He is the best kick ever. To kick 65 metres on your right foot and 60 on your left is amazing, when some players can not even kick 50. He kick a kick against hawthorn that went around 80 metres. He had excellent hands and perfect judgement. His speed is astonishing he could not bet beat. Ablett could have the whole back line on him and still kick goals. 9 goals against richmond at half time from the wing is incredible. He had the best season of any footballer in 1993. He his the best footballer by a country mile.
GOAT go watch his highlights package, ball comes in, he attacks it, wins it more often than any player to have played the game. His aerial, his ground work, his goal sense his execution. No one has ever turned it on like Gary Ablett Snr, his 1989 Finals series of 27 goals inc 9 in a losing girlfriend against demonstrably the greatest team the 89 Hawks that's ever been. (17 All Aus players in that side, Derm Brereton points out youd never get them/afford them in modern day Salary Cap. Itll never ever happen again...and GARY GOD YAABLETT took em on and nearly beat them himself coming back within 5pts. He got Norm Smith in losing side against the GOAT team of all time
Ask oneself...?
How many field positions can this player actually play?
How are his aerial skills?
How sharp is he off the ground?
How quick is he?
How accurate and distant is his kicking from either foot?
How strong is he in one on one strength?
How does he stand in big game performances?
How good is his overall athleticism as a footballer?
This guy won matches on his own, kicked big bags of goals, took genuine spekkies, kick goals from 70m out and would run right through anyone who was in the way. He rarely trained and would turn up late for matches and just keep playing unbelievable football. Tough footballer that could just tear a side to pieces week after week.
5
Ted Whitten
I don't see how Ted is not #1, He is easily the greatest footballer of all time, I reckon Gary Ablett Jr is definitely #3, Chris Judd and Nick Maxwell in Top 10? Your joking! I reasonably understand Chris Judd, but Nick Maxwell?! He would not be in the Top 50 and he never will, even if he tried! And Luke Dalhaus at #59?! I'm a Bulldogs Fan and I'm disgusted! Little fanboys need to stop posting random entries!
Are you serious #7 that's not right, #1 is easily where he belongs, as if Chris Judd is above Mr. Football and if that's so why isn't Josh Kennedy in at least the top 15 and we all know Mr. Football is better than both of them combined!
Get it right "the top tens"
There is a whole game named after him and an oval and I believe a medal two (not in the AFL but for the club) should be on top.
Of course it Ted Whitten...just because more recent players are fresh in your mind doesn't change this fact.
6
Chris Judd
His best was electrifying. Such an accomplished player in so many aspects of the game. His approach and attitude to football enabled him to get the best out of himself. What did he say in his biography - I recognised Chris Judd the footballer was just a character created by the fans / public. He has maintained a great perspective on the game that is Aussie Rules.
Chris Judd is one of the best Afl players in history. He wins hard contested ball every game he plays, has won two brownlows medals one of the best centreclearence people in the afl. Can change a game by the flick of his finger. He is the reason why carlton still win games
CHRIS JUDD is by far the best player the AFL has ever seen duel brownlow medalist and a real ball getter. He has been the best player in his era and the most outstanding player VFL/AFL has ever seen he's an out right legend.
Judd's contested football, ability to get the ball away to a teammate when he has 3 players hanging off him and his ability to turn a game is second to none. Now he's starting to kick goals. Magnificent
7
James Hird
Probably the classiest and silkiest player to ever play the game. Would make things look easy, was able to do things in slow motion without breaking a sweat, and alongside Wayen Carey, was the clutch king of the AFL. Hird would frequently step up in big moments to win matches off his own boot for Essendon. Pure magic.
Instinctive, fast, next level. When the ball came near him it was hard to stay in your seat.
If Hird was within 50 and got a smell of the ball, he'd goal.
In a pack, facing away from the sticks, a nanosecond of space, he'd goal.
Hird played best under extreme pressure, which probably explains his sometimes ordinary set shots, and his insane commitment with no thought for self-preservation explains all the broken bones:(
Hird + Michael Long was football poetry.
Best for sure loved watching him play and would always do the team thing. Turn the tide of a game with a magic touch and would draw the ball to him where ever he played.
Best player, always seems in control and dominates his opponents. Also part of two great premiership wins and is going to be a great coach in the future.
8
Robert Harvey
Dual/Back-to-Back Brownlow Medalist in 1997 and 1998, used to always beat his opponent physically and mentally. Equally polled the most votes in a season in 1998 until Dane Swan's victory with 34 in 2011. Could run all day and gather around over 30 possessions a match. Used to leave midfielders such as Buckley, Voss, Riccuito, West and Crawford metres behind him.
Easily one of the greatest players to ever play his achievements say it all.
2 time Brownlow Medal winner
8 all Australian
4 club best and fairest
2 time AFL MVP award ( Leigh Matthews Trophy)
Herald sun player of the year award winner.
Not many players who have had a track record like that.
You have to love the composure, honesty and gut running of this team first player. One of the most highly respected universally loved players ever.
His level of sportsman ship and ability to run any other player on this list off their legs should really have him at no. 1
9
Tony Lockett
Tony locket was a super star. 5 all Australians,4 Coleman medals,3 club best and fairest, a MVP trophy and won a Brownlow AS A FULL FOWARD and set a impossible goal kicking record that no one is ever gonna beat. I think that track record says enough about him as a player.
With injury amd suspension and playing in a at the time so so stkilda team. He could have kicked another 200goals.. I watched him dominate for stkilda and sydney amd the big V. By far the most talented goal kicker in the history of the game... I'm surprised not to see john coleman on this list. But plugger you are the man. My football idol. There's only one tony lockett. Big plugger!
7 goals or more in a game - 22 times. 22 times! Won more games of his own boot that any other player in history. Destroyed every great full back in his era (Silvani, Langford, Lynch, Martin etc). The greatest Full Forward the game has ever seen. If he'd played at a better club than St. Kilda in his heyday, would have kicked over 20 goals a match more than once.
He had the record of the most kicked goals in his career and also has his name in the hall of fame. He also has managed to get his name on one of the sides in the ethihad stadium.
10
Jason Dunstall
For someone who just got behind opponents and pushed ( sarcasm intended) he was an extraordinary mark on the lead. Great hands, accurate kick and only Pratt and Hudson kicked more goals in a season and they never dished one off to a team mate. He was a fantastic big game player and continued at an elite level even when Hawthorn went in to a decline.
Not bad for a (fat boy) from Queensland.
Best leading mark of all time, not a bad kick either.
Oh if only 10 goals was kicked by a forward every day in this day and age. A freak and also a star on Bounce. #nodribblekick
A Hawks legend a real sharpshooter who often kept the team in games when they no right to be winning
The Contenders
11
Kevin Bartlett
The ordinary man who did extraordinary things.
Receiver nevergot dirty quick to pounce on other player's hard work...
Champion goal sneak.
Pretty good lad
12
Nathan Buckley
Collingwood's greatest and a one man team who every play went through. The most prolific exponent of the long kick in AFL history leading the AFL through much of the 90s and early 00s in long kicks.
Hands down to Nathan Buckley who has been a Collingwood all time great. Hard nut at the footy, and was so close to winning a premiership for the pies. Definitely should be in the top 5!
I hate collingwood but this guy could play. He should be 5th not nick maxwell whos done nothing as captain since taking over buckley. He held the cup in 2010 because of his team mates leadership not his
Hands down better then hird. Buckley had a left foot as well as everything else jimmy had. Best player to not win a flag.
13
Matthew Lloyd
The greatest full-forward in the AFL era. Kicked over 900 goals and could have easily gotten to 1000 had Matthew Knights not ruined his career. Was a traditional key forward who led up to the footy all day long, had vice like hands, and never missed for goal. A genuine weapon that performed on the big stage as well.
Matthew should still play. I play footy and I look up to him a lot. His my hero. That's why I love the bombers. In the EJ game (2013) he was a superstar I've got something to say Matthew you ROCK
I'm a keen bomber and think Lloydy was a fantastic footballer but no way is the 18th best of all time. He would laugh at this rating.
Lloyd was one of the greats. Fantastic player should be ranked a lot higher!
14
Buddy Franklin
Alongside Gary Ablett Snr as the biggest freak to ever player the game. People would watch Hawthorn/Sydney games just to see his guy in action. Did things nobody else ever could or will do ... unless we go full Gattaca style and engineer humans to be superhuman.
Buddy franklin!
Brilliant!
His is the greatest forward of all time kicks the best goals from 80+meters and has kicked 950 career goals and has 3 years left on his contract by the end of his career I'm saying 1100! 4 Coleman's 2 for hawthorn 113 and 68 and 2 for Sydney 69 and 87! 2 premierships 2008 and 2013
2 goals of the year! Hawthorn 6x leading goalscorer and 5x leading Goalscorer at Sydney. 7th most goals currently in history by the end of his career by my prediction he will be 4th behind Jason dunstall!
Official rated 12th best AFL player of all time by the afl as of 2018!
We love you bud hope the end of your career is amazing and have a great life with jesinta and your soon coming baby in March! Buddy Franklin #GOAT
Greatest forward of all time!
Buddy not quite there yet but will be one of the greats. This poll has no accuracy as a lot of players have not completed their careers. If the poll was based statistically the greatest would be Lethal Leigh Matthews!
The very best player in the game bar none. To kick 65 -70 goals a year and play Winger, Half forward, Full Forward is a testament to the complete player that he is. I reckon he will have 900 or 1000 goals by 2021.
15
John Coleman
Rumours had it that Essendon fans would switch sides every quarter at Windy Hill just to see his man up close. The greatest goal kicker in the history of our game, and it's fitting the season's best goal kicker is warded the "Coleman" medal.
I'm not old enough to have seen him play but must have been one hell of a player based on older people describe.
Had lunch with some workmates in about 1991 and we joined up with 4 older gents who were having there monthly 'catch-up'. ( It was around the period where many in the press were speculating that Garry Ablett And was the best player of all time.
None of these guys barracked for Essendon but to a man, each of them scoffed at the suggestion that Ablett and was in the same class as Coleman. They say he marked from anywhere, was too quick for any opponent, a great kick and a constant match winner over his 99 games. 'We will never see his like again'.
These are similar to the stories my parents, uncles, aunties, grand parents etc told about Coleman. Was he the best ever? I don't know but the generation that saw him say he was.
So good the crowd, including opposition supporters, used to move up and down the ground at each quarter change just to watch him play. Probably the best ever, dominant on the ground, untouchable in the air, just played too long ago to be clearly remembered of just how good he was. Sadly a short career. Those who know, know why the league's leading goal kicker now receives the Coleman medal.
If he had played 250 games, he could be the GOAT. Only played 98 games, but kicked over 500 goals, 12 in his first game. Hard to put him ahead of Mathews, but he is in the top 5.
16
Matthew Richardson
Magnificent player. A fantastic ability to take high and stretched out marks and an amazing goal kicker too. Deserve red a lot better than 23.
Richo is a real icon to look up to because of his amazing ability to grab the ball and kick many goals. Deserves to be right up there as one of the best that ever played.
Should be higher on the list, played with an average team for most of his career and still kicked 800 goals!
Will always be voted one of the best forwards by the Richmond faithful.
17
Michael Voss
Did all the hard unnoticed work in a scrap as well as performed the miraculous. An absolute game changer, he led his team by example, put his body on the line and did whatever had to be done to inspire his team.
Absolute champion player! Skillful, strong, fantastic finisher. Lead his team by example. Unbelievable work ethic on the ground.
Totally needs to be in top ten. Literally carried inspired drove the lions into and win 3 grand finals by his play and leadership
Total boss...
No one beat the 3 premierships ever...
Get real Australia.
18
Peter Hudson
Better than Lockett, better than Coleman, simply the best full forward the game as ever seen. How many goals would he have kicked if his career was not cut short? What other full forward has ever had the ball on a string like Hudson.? He was a guenuine football genius and of course, like Leigh Mathews he played for the brown and gold.
The best forward I ever saw. Great anticipation and a wonderful reader of play. Strong and used his body strength to out maneuver his opponent. Could mark very well above his head and one on one was rarely beaten. A very accurate flat punt for goal.
Quite simply, the greatest full forward to ever play the game, his goal average is higher than anyone else's. If he hadn't missed five years of VFL footy, he probably would've broken all the goalkicking records... Most goals in a game, year and career.
Met this man in December last year, a fantastic bloke. Would've loved to have been there to watch him at the peak of his powers.
19
Greg Williams
He was awesome to watch live. He'd be in a pack looking one way and handball the other way to a player 20 yards away. In a pack it was like he slowed down time, ducking and weaving standing still, and still not gettin tackled. Just magic.
Should be in top 5 @least. Vision on field 2nd to none.
Best player I've seen in the last 40 years!
20
Alex Jesaulenko
Time goes on and the younger generations didn't see him. Jezza could play anywhere on the ground and excel. Stood up in the grand finals. Weaved through packs with ease. Kicked 100 goals in a season when sent forward. Mark of the century. Captain/coach in grand final year. Carlton's best. And best ever!
Simply the most elegant player there was...
For his size, he had an amazing leap and grip for the ball, and could always be relied on to kick a goal when needed
The greatest ball player.
21 Kevin Sheedy
22
Bobby Skilton
Left or right foot and over his head. Bashed and bruised he won the ball against winning rucks. Had to fight for every kick and still won three Brownlows. Never reported nor suspended and always humble. Belongs on everyone's mantle piece among the very best.
To win three brow lows in a team that was for the most part in the bottom half of the ladder and umpires votes mostly go to the winning sides I regard Bob Skilton as the greatest footballer in the sixty years I have followed league football G.J. G
Brave, fair, humble and highly skilled. Never beaten. Best player I ever saw play. Just ahead of Matthews.
Brave, courageous, always fair and highly skilled. 3 Brownlow's attest to his ability.
23
Mark Riccuito
One of the best players of all time, and without a doubt, the best Italian player of all time, can play as a midfielder and small forward. He's an equal holder for the most All Australians with Robert Harvey, with 8 equal best and fairest for the Crows with 3 equaled with Bujji and Goody, and a Brownlow. I reckon Andrew McLeod is still better than him, but he is a champion. Now he has handed his jumper to Patrick Dangerfield, who is a gun. Quick, good long kick, talented, and has a spark. Patrick Dangerfield, remember his goal against Fremantle assisted by Tippo.
The best I have watched. Hard as nails, great leader and can be a brutal full forward
You are the best
24
John Nicholls
Are you kidding? Number 30? Big Nick was 'the general' who directed play and had a huge influence on so many games. He was the engine room of the mid-field of his day via his wonderful tap ruck work. John Nicholls had one of the best football brains of all time and, with his size, ability and ground leadership, he deserves, (along with Polly Farmer, incidentally), to be rated in the top 10.
25
Graham Farmer
Everyone I know that saw this bloke play rated him as the best they had seen. Gave Bobby davis and Geelong glory. And coached WA to 1977 state of origin demolition of Victoria.

"The only individual man that changed the game".
A Legend in two States. His hand balling skills were second to none. As a ruckman of the highest calibre his clashes with Jogn Nicholls were legendary. He played beat 400 games at the top level. Probably the greatest player from W.A.
Not just a brilliant player, but changed the way the game is played. Overcome the most incredible adversity in life, to make his mark. Virtually the father of handball.
How Matthews is rated ahead of this bloke is staggering. Matthews was quite simply just a thug.
PSearch List