Jim Brown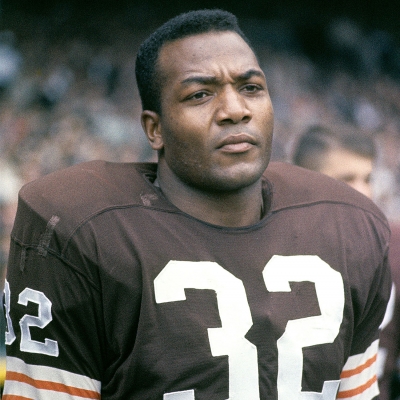 Uploaded by htoutlaws2012
Comments
Top
Popular
Newest
No disrespect to others on this list. In fact, their greatness is testimony to how great Brown was to be head and shoulders above anyone else on this list. And he is. It's not an old-is-better-than-new-school thing. It's a football thing. And if you know football and know Jim Brown, you know he was the greatest. period. Also, you can't have a legitimate top ten RBs with OJ. I know he is way beyond (insert obscenity here) but as a RB the guy belongs. He may well even be top two.
I am old enough to have seen the man play for a number of seasons. Vince Lombardi once remarked that football is not a "contact sport"; football is a "collision sport". Any defensive player who ever saw Jim Brown coming at him knew that he was going to be punished for daring to try to tackle Jim Brown. I've seen tackler after tackler left motionless on his back after having collided with Jim Brown. I can remember, so many times, seeing Jim Brown going down the field with multiple tacklers hung off his body... And still they couldn't stop him. In terms of a power running back, Jim Brown has no equal. Other great running backs tended to rely on their finesse at physically avoiding tacklers. Jim Brown was power personified. He simply plowed right through them.
Jim Brown isn't known by many people but I think Jim Brown is the best because there are players like Barry Sanders who are extremely efficient at juking, but then there are people like Jim Brown who will do one of two things: he will either punish you by stiff arming or he'll just humiliate you by running to the side of the field and then just juking you.
Obviously younger fans are doing most of the computer voting. If anyone ever saw Jim Brown - there is no question and no doubt he is not only the greatest all purpose running back but also the number one player you would pick to build a team around. And I mean of all time! Before you make a comment watch The Man!
To another comment, Brown played in seasons when there were just 12 games. Reaching 1000 yards a season was rare, unlike today with 16 games. Brown often averaged more than 6 yds/carry, which is unheard of. Brown could block and he could catch passes. His attitude off the field probably hurt him.
Love the previous post, great information but the the greatest statistic is that Jim Brown only played 8 years. His LEAST productive year was his rookie year where he gained 997 yards from scrimmage and scored 10 touchdowns. Also you have to consider that back in the 50's they only had 12 game seasons.
JIM BROWN was the consummate running back. He personified power and speed better than any other running back in history. It literally took entire defenses to take him down. Remember this, he retired in the prime of his career at 29 years old. Had he stayed in the league 5-6 more years nobody would've beaten his record.
Jim Brown is the best running back of all time. Honestly he played 12 game seasons and still has more rushing yards then most backs. 110 yards per game! He was faster then everyone and stronger then everyone he was unstoppable. Barry Sanders was just fast. Brown Had the whole package.
gained more yards and scored more touchdowns in less games than any running back in history. Greatest combination of power and speed ever besides Earl Campbell. Three-time MVP. Eight rushing titles and nine pro bowls. Not only the greatest back ever, but the greatest player of all time. - SgtPeppersz196715
He dominated a ridiculous amount during the time he played, and led the league in a ton of rushing stats almost every season he played. He was powerful, violent, fast, quick, and smart. At least adjusted to time period, he was the best running back ever definitely. - jroche16
Made the straight arm his weapon and inflicted punishment on anyone who tried to tackle him. He also was faster and more elusive than many people think. Great running back, played in cold conditions in Cleveland with outstanding durability. Should be #1 or #2!
Jim Brown could arguably be called the greatest RB of all time (I still think Barry Sanders might edge him by a tiny amount). However, putting Emmitt Smith above Jim Brown is a joke! Emmitt Smith was helped by a great offensive line, offense, defense, etc.
jim brown crushed defenses in his time without even using the equiptment the team provided, and the equiptment back then was no where as up to par as the equiptment is today. And Jim Brown still didn't miss not one game due to injury.
Played only 9 seasons, yet his numbers held up for many years against players who played longer. To watch his film is to watch a player who had exceptional running skills on the body of a linebacker. NFL defenses simply had no answer for Brown his entire career. - Ned964
He is the gold standard by which all other backs are judged. Barry Sanders!? Are you kidding me? He is not even in the top five. Brown and Payton are the only two in the conversation. Everyone else can be considered for the third best back.
It should be 1. Barry Sanders 2. Jim Brown 3. Walter Payton 4. Emmitt Smith 5. LT 6. Marshal Faulk 7. Earl Campbell 8. Eric Dickerson 9.O.J. simpson 10. Gale Sayers. Adrian Peterson shouldn't even be considered until he has been in the league for 5 more years
Jim brown ran with holes in his shoes a plastic helmet and under unbelievable weather conditions and never missed a game in 9yrs also he didn't avoid hits he just ran you over
Had he played more 11 seasons at 16 games per season he would have gained over 18, 357 yards based on his 104.3 yards per game rather than 9 seasons 4 with 12 games and 5 with 14 games. he lead the league in rushing 8 of the 9 years he played including his last year and over 5 yards a carry (compare to the others on the all time yards list). he was the ultimate combination of power, speed, balance and shiftiness.
Simply the standard by which all running backs are judged, past present and future. The greatest. Never missed a game. Paul a Brown stated this about the great Jim Brown, "when you have a big gun, you shoot it".
He should be number 1. he is a great player who never gave up and always looked to get more yards. he was poor but it didn't matter because he was too much for people they couldn't handle him.
Check out the documentary of Jim Brown and that may make you change your list around a little. This guy is just simply amazing tough hardcore unbelivable when it comes to running backs.
If Jim Brown is not the top running back on this list then the list is wrong end of story, averaged over 100 yards per game with 8 guys in the box just a tremendous player. Oh and never missed a game
I am a huge Barry Sanders (Detroit Lions) fan, but Jim Brown was better. The only reason why he is not #1 on this list is that there are too many kids voting who aren't old enough to know who he is.
Look at his yards per carry being over 5, remember all defenses were stacked to stop him and they couldn't, and don't forget his speed for a big back. Could dominate in today's game also.
How can Jim Brown be under number one? At least the other RBs on this list had the forward pass give the impression they might not hand it off what do you know about 10 man fronts? - bigwern99
Lot of voters are probably too young to have seen Jim Brown...He only played nine years with much shorter schedule...Would have had better stats if he stayed around.