Top Ten Best Mario Characters
The Contenders: Page 6
101
Wiggler
Wiggler is awesome! My absolute favorite Mario character. Go Wiggler!
The best Mario enemy, he is so bouncy!
V 1 Comment
102
Dry Bowser Jr.
He is really cool. Just like his friends and father Dry Bowser and Dry Bones. - Jonas103
V 1 Comment
103
Donkey Kong Jr.
Donkey Kong Jr is a forgotten character who made his first appearance in Donkey Kong Jr, and his second and last appearance in Donkey Kong Jr Math.
Gone but not forgotten he still makes the occasional cameo
104
Boshi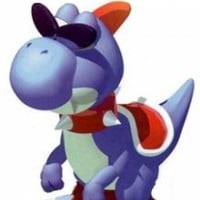 I would bet that Boshi & Wario are best friends with each other.
Id bet a dollar yoshi and boshi are rivals
Scine Yoshi is best friends with Mario than boshi has to be best friends with...WARIO!
V 1 Comment
105
Ghost
Ghost, Ghost doesn't deserve a paragraph. Ghost deserves a thousand books written about how amazing Ghost is. Ghost is beautiful and when Ghost smiles, it's the prettiest thing I've ever seen. I know I've never really made it clear how much I like Ghost, but I've been afraid Ghost wont feel the same. Sometimes I think Ghost is too beautiful for me. I miss Ghost, even though we're not even together. I thought I'd better let Ghost know how I feel. Its pointless keeping these feelings to myself. Ghost deserves to know that Ghost means the world to someone.
Um... The ghosts are called Boos and they already are on the Top Tens...
106
King Koopa
King Koopa is just a different name for Bowser.
Bowser is already on this list...
107
F.L.U.D.D.
F.L.U.D.D. is awesome! He's one of the best power-ups in Mario history! What power up is also a character? F.L.U.D.D. is! He is from my favourite game of all time, Super Mario Sunshine. He deserves so much more credit!
F.L.U.D.D. Is awesome not as good as Yoshi but awesome.
108
Fly Guy
My 3rd favorite character, with 2nd being shy guy and 1st being dreambert!
My 3rd favorite, but a mix of my other to! : he floats like my favorite, dreambert, and is a shy guy, like my 2nd favorite, shy guy himself!
V 2 Comments
109 Baby Luma
110
Professor Fancy Pants
She is the best. And the smartest. On the next Mario game or in 2013, Waluigi's female self comes put. A purple-lover female techniqual luigi hating bear raising princess, which other characters has her personality?
V 1 Comment
111
Doopliss
Paper Mario: The Thousand Year Door is countless, terrible, confusing, pain-giving, unfair, overrated & awful video game, & even Doopliss is confusing.
I've never even heard of some of these characters. Including Doopliss, Vivian, Watt, Smithy, Princess Shroob, Antasma, and More
What did you say about the thousand year door
V 1 Comment
112
Cackletta
What do you think about Cackletta's Soul
Please vote for her.
113
Kooper
Wow kooper moved up from place 139 page 7 to 93 he is awesome and deserves to move up a lot of places - ziadabdo3011
Kooper! He is my top 1 best paper Mario character IN THE SERIES please at least move him up to the top 10 wait what am I saying MOVE HIM UP TO THE TOP 5 because he does very strong attacks HE DOESENT DESERVE PLACE 139!?!?
V 2 Comments
114 Nastasia
115 Candy Kong
116
Orange Yoshi
Orange Yoshi is great. He needs to get more representation!
If anything, the multicolored Yoshis are underrated as hell and just as great as the badass, capable Yoshi/and I would vote for Yoshi as all Yoshis! Check out their powers in Super Mario World (long live the Super Mario World duology) for proof!
117
Tippi
Tippi is like Navi from Zelda: Oot.

HEY, LISTEN Navi calls Tippi
This is my favorite video game character
118
Red Koopa Troopa
He is stronger than green koopa troopa
PSearch List
Recommended Lists
Related Lists

Top Ten Mario Kart Wii Characters

Coolest Mario Characters

Top Ten Mario Kart DS Characters

Most Overrated Mario Characters

10 Most Underrated Mario Characters
List StatsUpdated 17 Jan 2017
3,000 votes
203 listings
7 years, 209 days old

Top Remixes (115)

1. Wario
2. Bowser
3. Dimentio
DCfnaf

1. King Boo
2. Black Yoshi
3. Luigi
thelegendaries101

1. Mario
2. Fawful
3. Vivian
NintendoFan364
View All 115
Posts
The amount of hate Peach gets is ridiculous.
Hakros323
Error Reporting
See a factual error in these listings? Report it
here
.