My 10 Favorite Sci-Fi Characters
It be from Movie or Tv. Be minus Superheroes as it may take over.
The Top Ten
1
BB-8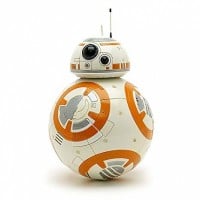 BB-8 or Beebee-Ate is a droid character in the Star Wars franchise, first appearing in the 2015 film Star Wars: The Force Awakens.
2
Porgs

3
Daleks

The Daleks are a fictional extraterrestrial race of mutants principally portrayed in the British science fiction television programme Doctor Who.
4
Tardis

5
Boba Fett

Boba Fett is a fictional character in the Star Wars series. In The Empire Strikes Back and Return of the Jedi, he is a bounty hunter hired by Darth Vader and also employed by Jabba the Hutt.
6
Cybermen

7
Stormtroopers

8
Judge Dredd

Judge Joseph Dredd is a fictional character created by writer John Wagner and artist Carlos Ezquerra. He first appeared in the second issue of 2000 AD, which is a British weekly anthology comic.
9
The Doctor

10
RoboCop

RoboCop is a fictional Detroit robotically enhanced police officer designated as OCP Crime Prevention Unit 001 in the film series of the same name.
The Contenders
11
Neo

Neo is the main protagonist of the Matrix franchise created by the Wachowskis and portrayed by Keanu Reeves.
12
Davros

Davros is a character from the long-running British science fiction television series Doctor Who. He was created by screenwriter Terry Nation, originally for the 1975 serial Genesis of the Daleks.
13 Jean Luc Picard