Best Climbing Destinations In Utah
Utah is known as the home of the Mormons, Arches and Zion's National Parks, as well as a red sandstone desert wasteland. While these are all accurate to a point, Utah also has some of the most varied landscape in the entire United States and with it, some of the best rock climbing in the world.

Whether you are looking for bolt-clipping sport climbs, pebble-wrestling boulders, or purist traditional lines, Utah has it all and in great quantity.

The north third of the state is a mountainous, high-elevation playground. Pine trees and granite/quartzite canyons abound. The middle of the state is high-desert with sporadic outcroppings of smaller boulders but few climbable mountains and canyons. The southern third of Utah is characterized by sandstone for as far as the eyes can see. Desert towers and cracks jutting from a parched landscape of sagebrush and pinion/junipers.

Below is a list of the best climbing destinations compiled from all styles of climbing.

The Top Ten

1 Little Cottonwood Canyon

The Salt Lake Valley's most diverse canyon for climbing. Granite walls offer you sport, multi-pitch trad on bomber cracks, and a plethora of boulders right off the road. Ice climbing in the winter rounds out the experience.
Whatever you climb, it's here.

2 Joe's Valley

While it's a bouldering spot only, it's THE bouldering spot in Utah. Sandstone rocks in 3 different "canyons" all within a few minutes drive of free camping. V0 to V14.

3 Maple Canyon

Hidden in the middle of the state, Maple canyon is a sport climber's paradise. With new routes being put up every year, the guidebooks are out of date by the time the ink dries. Regardless, word-of-mouth will keep you up to date on the newest hard stuff. 5.4 to 5.14.
Oh, and did I mention there's ice climbing in the winter?

4 Indian Creek

If you've seen a photo of a desert climber ascending a perfectly parallel crack cut into a tower of sandstone surrounded by a panorama of the most beautiful desert colors, you've seen Indian Creek. It revolutionized trad climbing by being the catalyst for modern cams and remains a mostly untouched wilderness.

5 American Fork Canyon

Some trad, some ice climbing, but mostly perfect sport clipping on bulletproof limestone. Pockets galore and edges to write home about.

6 Ibex

It's hard to find but worth the drive. Nestled along Highway 50 - the loneliest highway in America - most days you'll have a choice of places to climb all to yourself. Some routes are going up but this place is known for quartzite bouldering.

7 Zion National Park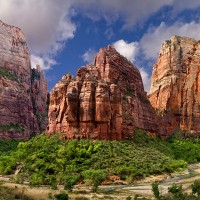 Zion National Park is situated in southwestern Utah and is renowned for its dramatic landscapes of cliffs, canyons, and mesas. Established in 1919, the park encompasses 229 square miles and is characterized by the Zion Canyon, which cuts through reddish Navajo Sandstone. It offers various outdoor activities including rock climbing, hiking trails like The Narrows, and bird-watching, attracting approximately four million visitors every year. The park also contains diverse flora and fauna, including more than 289 species of birds.
The rules are restrictive but once you pass that obstacle, you've got some of the West's best sandstone big walls.
8
Big Cottonwood Canyon
A form of quartzite, Big Cottonwood Canyon was formed by a river eroding it away - leaving steep faces of rock perfect for the thug in you. Primarily sport, there are a few classic multi-pitch trad climbs to be found. The S-curve area is a must.
9
Rock Canyon
Quartzite at the mouth and limestone farther up, this little-known gem is a great place to climb without the crowds. Similar to American Fork, Rock Canyon routes are a little easier to climb on average.
10
Moab Area
There are just too many areas right around Moab to specify a specific place but know that you'll have sport/trad inches away from the road, or desolate trad lines at your disposal. All of it is quality though.
This should be at the top of the list. The desert towers here are amazing, and you'll never run out of stuff to do.
BAdd New Item