Top 10 Best Rides at Disney California Adventure
Disney California Adventure is the second Disney Park that is part of the Disneyland Resort. Even though it's not as great as Disneyland Park, it still has/had some pretty great rides. This list can include rides that are currently in the park and rides that used to be in the park. So pretty much any DCA ride.

The Top Ten

1 Guardians of the Galaxy - Mission: Breakout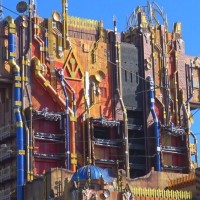 People say that the fact that they made this ride shows how greedy Disney is. Well, you can say that about any IP based Disney ride. I personally love this ride. I'd even go as far as to say that it's better than Tower of Terror. While Tower of Terror had an interesting premise, it didn't have a strong story. People disappear in an elevator and that's about it. Mission Breakout actually has more of a story. The Guardians are trapped in Tivan's collection and Rocket needs our help to free them. The best part of the ride is the fact that it has different ride combinations. There are 6 different combinations with 6 different songs. The ride is a lot more intense than Tower of Terror since it is constant thrill throughout. There's never a slow moment. The only problem I have with the ride is the screen. I find the scenes they show on the screen to be pretty funny, but it's not really that immersive since I just feel like I'm watching stuff on a screen. Tower of Terror had screens but at ...more
2
Soarin' Over California
Soarin' Over California is the ride that holds a special place in my heart. It's one of the first rides I remember going on at DCA. They do a great job of making us feel like we are flying over these iconic areas in the state. Some of these areas I didn't even know about despite living in California. My favorite part is obviously San Diego because I'm biased. When we fly over the orange groves, we actually get a scent of the oranges. And also, the music is phenomenal. This is such a great ride and one of my favorites. Which is why after riding Soarin' Around the World, I felt absolutely betrayed! They took such an awesome ride and turned it into a CGI mess! It is definitely the worst ride that's currently at DCA. I hate everything about it.
3
Radiator Springs Racers
Even people who hate Cars can say that this ride is amazing! This is the perfect example of an immersive ride! It makes us feel like we are actually in the world of Cars. The scenery is amazing! The animatronics are amazing! These animatronics are tied for my third favorite Disney animatronics. This is pretty much California's version of Test Track. But a lot better because we actually get to race other people. Sure it's not as fast as Test Track, but that's not the point. This is an amazing ride. Cars Land is one of the best things that any Disney Park has ever created. Let's see if Galaxy's Edge can top it.
Loved the ride, hated when it broke down while I was in line.
4
California Screamin'
California Screamin' is a roller coaster. That's pretty much the most I can say about it. But that's what I like the most about it. It's just a regular roller coaster. It doesn't have a theme. In fact, I think it's the only ride in the Disneyland Resort that doesn't have a theme. Despite it being in a theme park. It features a launch at the beginning, a 100 ft drop, and a loop. It's actually the first looping coaster I've ever been on. So the fact that it's just a generic roller coaster makes it a lot more special. But unfortunately they've decided to turn it into an Incredibles themed roller coaster. Hopefully it will be good though.
5
The Twilight Zone Tower of Terror
It's nowhere near as good as the Tower of Terror at WDW, but it's still really fun. It has a very creepy atmosphere that makes you feel a little nervous before getting on the ride. I've never seen an episode of the Twilight Zone, but they still make very entertaining for people who haven't watched the show. When the ride first opened, people were a little upset that it wasn't as great as the one in WDW. The elevator's don't spin, there's no 5th dimension scene, and the drops aren't random. Then when it was announced that it was closing, it suddenly became a masterpiece to people. Very funny.
I went on this ride in May 2014 and I loved it. It's a shame they replaced it with something else.
6
The Little Mermaid: Ariel's Undersea Adventure
The Little Mermaid ride is a ride at Paradise Park that replaces Golden Dreams. It tells the story of the Little Mermaid through amazing animatronics and excellent scenery. It makes us feel like we are underwater. Every detail shows how much the imagineers paid close attention to the movie to get everything just right. Especially in the Under the Sea scene. My favorite animatronic is Ursula. She has such lifelike movements. I consider her to be my fourth favorite Disney animatronic. This is a very enjoyable ride. Especially if you just want to relax.
How did this beat toy story?
7
Mickey's Fun Wheel
Only the non-swinging gondolas. I can't handle the swinging ones. The non-swinging ones are better if you just want to look at the view of DCA. There's a lot to see. I don't go on it as much as other things in DCA, but occasionally I go on it if I want to take a break. The ride is currently closed so they could change the gondolas to represent Pixar for Pixar Pier. So why they're still calling it Mickey's Fun Wheel is beyond me.
8
It's Tough to be a Bug
I miss this attraction. If I knew it was gonna close, I would've gone in it one last time. Even though a lot of people really hate It's Tough to Be a Bug, I personally really enjoy it. Mainly because of how terrifying it is. They spray water at the audience, you get poked in the back, black widow spiders come down from the ceiling, and bugs crawl underneath you. The best part is hearing people's reactions. I also really love the Hopper animatronic. He's my second favorite Disney animatronic. Animal Kingdom is very lucky to still have this attraction. I miss it in DCA. But hopefully Marvel Land will be cool.
9
Toy Story Midway Mania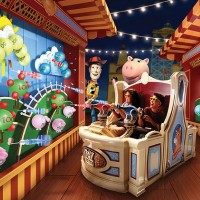 Whenever I hear the word "Mania", I think of that terrible Mickey Mania parade. At least Toy Story Mania is a really great ride. It's located st both DCA and DHS. It's kinda similar to the Buzz Lightyear ride since it's an interactive shooting game. Except this one is in 3D. This best way to get a lot of points is to just constantly keep shooting. If your arm gets tired, just switch arms. Another thing that I love about the ride is the Mr. Potato Head animatronic outside. It's my 6th favorite Disney animatronic. I don't ride Toy Story Mania a lot since the line is always so long and I'm too lazy to get fastpasses. I still very much enjoy it. I hope Pixar Pier will be good.
This one's my favorite.
10
Monsters, Inc. Mike & Sully to the Rescue!
Monsters Inc is a ride that we definitely needed. Okay, we didn't need it, but I'm glad they made it since it replaced that terrible Superstar Limo ride. The ride tells the story of the movie and uses a bunch of animatronics and a bunch of very well detailed scenes. I love the scene with all the doors. That must've taken a lot of work. Another thing I really like is the Roz animatronic since it actually interacts with people. She's my fifteenth favorite Disney animatronic. The Monsters Inc ride is definitely a fun time. I really love the movie so of course I love the ride.
The Contenders
11 Goofy's Sky School
12 Silly Symphony Swings
13 Grizzly River Run
14 Maliboomer
15 Incredicoaster - Disneyland
BAdd New Item