Clannad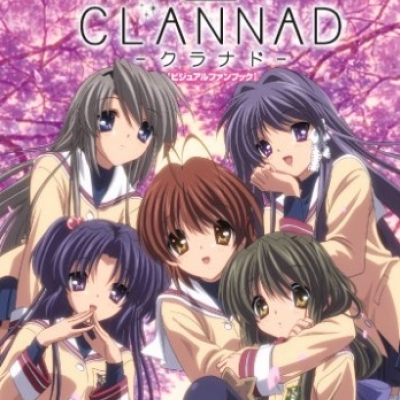 Uploaded by RoseRedFlower
Info
Clannad is the anime adaptation of the visual novel developed by KEY for Windows PCs in 2004, which was later ported to PlayStation consoles and the Xbox 360. The game was the best-selling PC game in 2004 and charted in national top 50 rankings several more times afterwards. Clannad has been adapted ...
read more
.
Comments
Top
Popular
Newest
Recently finished this anime (and recap episodes) and it is truly a masterpiece. By far the best anime I've ever seen. The characters, the art style and most significantly the story, all add up to the greatest show I've ever watched. I believe that if you did not cry a little through watching every episode of Clannad, and obviously after story, then you did not watch it properly and therefore not witness the full effect it has on the viewer. It's mix of subtle comedy and romance, brings an amazing atmosphere when watching through it. I have a confession to make however. I did binge watch through most of it on one weekend, and I'm still thinking if that was the right thing to do. It let me have the full effect without me forgetting anything, but it was so fantastic that I feel bad for not savouring it. I usually don't re watch, however Clannad's perfection will make it re watchable for me. I almost want to take a break from anime, as I don't think it can really get much better than ...more
Clannad really exploits the truth in how most people are like today, and show why it needs to be changed. It is definitely very emotional, yet displayed insightful and logistical views on family, and how society should view it. Seems these days that plenty of families fall apart or don't understand the true meaning of family, so Clannad states the importance of family and love. - Dorfdude8
This anime has actually done things to change people's lives, unlike some of the animes in the top 10 (don't get me wrong, I do like Naruto, Bleach, and those animes) but other than having really cool fights and a few touching moments, most of them are just your typical shonen.

But Clannad is different. It teaches lessons to you that none of those animes could ever have done (because they aren't that type of anime). Really, Clannad and its sequel Clannad After Story have changed the way people, including myself, have thought about life.

I am shocked that this isn't in the top 5 or 10,and actually pretty disappointed because currently the ones up there in the top 10 are carbon copies of each other with slight differences (with all due respect ofc, I have nothing against the "mainstream" animes, it's just Clannad is really something special and cannot be topped by another of its kind).
One of the best Series of all time. Clannad After Story being even better than the first season. There is plenty of character development, humor, and real life situations to facilitate connection with the characters in addition to some flawless voice acting which makes some of the situations feel like they were happening to U. Simply one of the best slice of life animes ever! And yes before anyone asks I cried 5 times throughout watching both seasons. After Story is clearly the best of what anime story telling has to offer.
Just watch, just cry, it will show you the true meaning in everyone's life, never give up in bad times and keep living, is what this anime show, real emotional tears may flood your house if you watch this. Great lovely romance followed by tragic and ended by crying tears of love when the family is re-untitled with a mother and father with their lovely daughter.
I will never look at life the same way again after watching CLANNAD and CLANNAD After Story.
It basically breaks your heart, rips out your insides, chews them all up, puts them back in you, but they will never be put back in the same way they came out...
It touched every single emotion I have.
If you watch this without shedding a tear, then you didn't watch it.
Definitely my #1.
One of the greatest anime ever created. It's repeatability invokes an astonishing array of emotions. By the end, you are left wondering what it is that you really want in life, regardless of the hardships you may face.
Many people have tried to survive the emotional onslaught of this and. Many have ended up in a void of depression. It's the best and most influential anime series I've ever watched, and now I'm trying to find something that's better, which has been quite a waste of time. This deserves to be at least in the top 5.
Best ever... This is the best emotional anime I ever watched... The relation ship of the main character with friends and his dad has shown very good... I recommend you to watch this... Deserve to be in top 5 must see anime... Changed my life..
It's not sad. Sure, it is the most emotional anime in existence and some parts are sad. But what makes this show so great is its capturing of human emotions - happy times, sad times, calm times, and crazy times. It shows the cycle of life and loss, and leaves it off at a happy ending. Life isn't so bad.
This anime is by far one if not the best and well constructed Anime of all time. The series should be seen as a master piece and not as a anime series it sets a bench mark in the industry
Clannad needs to be at the top no matter what. I don't care who you are if you don't cry by the end you fail as a human, great story and CRAZY good characters all around.
This anime gave me a new outlook on life, a wider view and greater understanding. You'll laugh, cry, smile, and experience everything with this one; definitely worthy of the top 5.
Hands down most touching story of any anime I've ever seen. The characters are all likeable, it flows really well, and the ending is amazing. Only anime to ever make me cry. Belongs in the #1 spot for sure
Clannad was one of the first romance animes I watched. I didn't think I could possibly cry so much. A mix of romance and comedy, this anime has a lot to hold. It gave me a new look on the world, how can one NOT sit and think about the world after watching this? Deserves better appreciation.
The best anime I have ever seen. I really cried with this anime and I wish all those who watch it the same advice. Get tissues because you will cry like a baby
Should defiantly be in top 10 if not 5 the 1st series was very funny and made me laugh out loud many time then series 2 was incredibly hard hitting and as a guy I'm not afraid to say I cried.
It's unbelievable how many stories are packed into the series, and the lessons one can learn from watching a series like Clannad. This is by far my favorite anime of all time, and if you did not cry at all during the first season, you fail at being a human.
Breathtaking storyline. Clannad will always be on the top of my anime list! The viewers will really sympathize and go through what the characters go through in the anime.
Clannad is my favorite anime of all time, it makes me laugh out loud and cry until my head starts to hurt. Clannad is a truly amazing anime that I recommend to everyone.
So many tears. So. Many. But... The ending is actually really nice and sweet, I think. So don't run away just cause of the sad moments. It's a beautiful story and you must watch it till the very end.
This anime is one of the best. I wanted to cry watching this anime but I have a lump-like feeling in my throat because of which it is hard to cry. Some last episodes are left for watching, I will watch it after treating the throat problem so that I can cry a lot.
The first series I've ever watched, and the best series as well! It can make anyone cry easily! The characters are so deeply developed and each character has an amazing story behind them! Definitely recommended, it's a very "life changing" series
Best anime if is in the Slice of life category or maybe even when not sorted. I always try to be like Okazaki, the way he walks, talks and everything. Best anime I ever watched, thanks to my friend for suggesting me to watch it.
This is the BEST piece of art I've experienced in a long time. This is actually what got me into anime. The emotion, the story, the music... I don't have words to explain them. I'll always remember this anime throughout my life!
Related Lists

Best Clannad Characters

Prettiest Clannad Girls