Top Ten Attractions Walt Disney World Has that Disneyland Doesn't Have
The Disneyland Resort in Anaheim, CA and the Walt Disney World Resort in Orlando, FL share many of the same attractions, including classics like Space Mountain, Pirates of the Caribbean, and the Haunted Mansion. These shared rides are not completely identical, with some being significantly better at one resort than the other, but the general ride experiences are pretty similar on both coasts. However, both resorts also have a fair share of attractions that cannot be found on the other coast. The Walt Disney World resort is twice the size of Manhattan Island and consists of 4 theme parks, 2 water parks, Disney Springs, and numerous highly-themed resorts. Even though Disneyland has plenty of attractions to satisfy, you could spend a whole week at Walt Disney World and still not get to see everything. The WDW parks boast a fair share of original rides, most of which cannot be found in any form at any other Disney resort in the world. You can't go wrong with the original Disney park in Anaheim, but these attractions might have you wanting to give the World a try.
The Top Ten
1
Avatar: Flight of Passage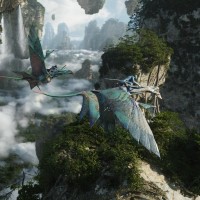 One of the newest additions to the WDW parks, Avatar Flight of Passage is a stunning attraction from it's breathtaking, highly-detailed queue, to the groundbreaking ride experience that is unlike anything else at the Disney parks. You'll feel like you're actually in the world of Avatar flying on a banshee. The technology is similar to Soarin' but is considerably more advanced and the visuals in the film are stunning. A lot of people were skeptical about Pandora at first considering the once highest-grossest film of all time had fallen out of relevance when they started building it, but ever since it's opening in 2017, it's been a massive hit with guests. Not only is the land of Pandora itself gorgeous, but this ride has topped many people's favorites lists and I can only imagine it'll stay a fan favorite for years to come.
Yeah, I haven't rode it, but it does seem like Soarin'!
Also, Avatar is Disney?
Avatar is not Disney, but they got the rights from James Cameron and 20th Century Fox to use it in the park.
I went on this, it was incredible
2
Expedition Everest

Leave it to Disney to make a standard roller coaster ride something truly unique and memorable. With the theme of a Himalayan train ride, this ride offers some incredible views at the start before you make your way up the mountain, including lush bamboo forests and a view of a waterfall coming off the side of the mountain. On the lift hill, you pass through a temple with murals of the legendary Yeti, and come across various signs of the Yeti throughout the ride. Pretty much every Disney park fan is aware of the broken Yeti animatronic (or "Disco Yeti as some like to call it). I'm fortunate enough to have ridden when the Yeti was working and it was by far the best part of the ride. It's really inexcusable that it's been over a decade and they still haven't gotten it fixed yet. However, it's still an incredibly fun ride regardless and now makes for a great night ride ever since Disney's Animal Kingdom extended its hours. A few highlights of the ride include a fast drop out of the ...more - SplashMoun10
We originally tried this ride in the regular line and it took an hour. If you do it in the single rider line, it never took longer than 10 mins - SirSheep
3
Rock n Roller Coaster Starring Aerosmith

One of the most thrilling rides at the resort, Rock n Roller Coaster launches you from 0 to 57mph while rocking out to Aerosmith. Disneyland does have a more extreme ride of their own with The Incredicoaster, formerly known as California Screamin', but I prefer RnRC for several reasons. The theming in the queue is excellent and makes you feel like you're in a back alley in Los Angeles. The theming on the coaster itself might not be the greatest itself, but it's better than basically having no theming at all. I also like that's in the dark and you can't anticipate what's coming. Plus, the launch always catches you off guard even when you think you're prepared for it. You also can't go wrong with having on-ride music. Every train plays a different Aerosmith song, with some having their lyrics being slightly altered to match the ride itself. Even though the ride might seem intimidating to some, its actually a fairly smooth coaster and a good ride to get over a fear of inversions with ...more - SplashMoun10
Wait, what? Disney has a ride based on a rock band? Lol
Not that I'm complaining, but I thought Disney only makes Disney-related rides. - Misfire
4
Tomorrowland Transit Authority PeopleMover

The TTA is a mass transit ride that takes guests on a tour of Tomorrowland, passing over and through various attractions. Disneyland once had a ride like this called the Peoplemover and was essentially the same attraction, albeit with different scenery considering Disneyland has the Matterhorn towering over everything and that Tomorrowland is/was very different looking from WDW's in itself. It closed in 1995 and was replaced with the short-lived Rocket Rods in 1998. There are possible plans to bring the ride back in some form as people are very passionate about it, though only time will tell if that ends up happening. What we have at the MK though is a very enjoyable, laid-back ride through the Tomorrowland area, with the ride going through both Space Mountain and Buzz Lightyear's Space Ranger Spin, as well as passing by a concept model for Project City, which would eventually become what we know as Epcot. Because it's constantly loading and unloading, it hardly ever has a wait time, ...more
RIP DLA PeopleMover
5
Spaceship Earth

The very icon of Epcot is also one of the best attractions it has to offer. While the geodesic sphere exterior is impressive enough, the ride is great too and is one of the last attractions remaining from the park's opening day. Currently narrated by Judi Dench, the ride takes you on a trip through human history and how our world has changed over thousands of years with an emphasis on where we go from here. It is a lengthy omnimover that features numerous animatronics, detailed sets and a compelling story about the progress of mankind. The ride has been changed a few major renovations since it opened, with different narrators including Jeremy Irons, as well as various scenes being added and removed. Some people aren't a fan of the changes that have taken place with the attraction, but the ride as a whole remains a classic that embodies what Epcot is all about. If the ride got a real ending again, it would definitely move up a few notches on my overall favorites list. - SplashMoun10
6
Kilimanjaro Safaris

At approximately 580 acres, Disney's Animal Kingdom is the largest Disney theme park in the world, and a good chunk of those 580 acres are taken up by this attraction alone. Kilimanjaro Safaris, located in the Africa section of the park, mimics the feel of a real African safari with a large variety of African wildlife and environments that will convince you that your in a real African savannah. Each ride is different, with different cast member commentary, as well as different animals you might see, and you might actually learn some new facts about these African animals by taking a ride. It's a fairly long attraction too with a running time of about 22 minutes and there's always something interesting to look at throughout the entire duration. There might be other safari-type rides at other parks around the world, but none feel as authentic as Kilimanjaro Safaris, and of course an attraction like this couldn't work at any other Disney park. A trip to the Animal Kingdom wouldn't be ...more - SplashMoun10
7
Test Track

One of the most popular attractions at Epcot, Test Track has you creating your own car and going through various tests to see how your car performs. It was once sponsored by GM and featured a crash test dummy theme, but in late 2012, it reopened with a Chevrolet sponsorship and an overall feel that is more in line with Tron. The queue features the latest Chevrolet designs as well as a station that allows you to determine the Capability, Efficiency, Responsiveness and Power of a vehicle you create.These concept vehicles are uploaded to the sim-car (your ride vehicle) and are displayed at various points in the ride, with the best scores being displayed after each test. The ride is fun in that it gives the rider some control and lets them use their imagination a bit. I personally liked the original version more, but the big moment of the ride is still the same, which is the acceleration from 0 to 60mph out of the building. The Disneyland Resort has Radiator Springs Racers which is a ...more - SplashMoun10
Chevy Silverado. Like a rock.
8
Dinosaur

DinoLand U.S.A. is viewed by many as the weakest area in all the parks, and I can't say that I disagree with them. However, the lands' one saving grace is this dark ride that has you going back in time to the Cretaceous period. When the park first opened in 1998, the ride was called Countdown to Extinction, but was later changed to promote Disney's animated film "Dinosaur." The ride has you hopping aboard a time rover on a mission to save the Iguanodon from going extinct by bringing it to the Dino Institute, coming across various other dinosaur species along the way. The ride itself is similar to the Indiana Jones Adventure at the Disneyland Park but instead of traversing an ancient temple, you're being stimulated by all the loud noises and there's also the fact that you're trying to outrun a meteor shower, so there's a lot more sense of emergency here than on Indy. Then of course there's the big Carnotaurus animatronic that scares you out of your seat at the end (and is also where ...more - SplashMoun10
9
Na'vi River Journey

The only ride on this list I have yet to ride myself (though that will change come this winter), Na'vi River Journey is the other main attraction in Pandora that features one of the most realistic animatronic figures ever created and beautiful scenery. Unfortunately, I also hear that it's on the shorter side. However, a ride doesn't have to be long to be good. While Flight of Passage is the thrill ride of this land, this is a much tamer boat ride that allows you to soak in the atmosphere. This is an attraction that the whole family can do also, and it serves as a nice break from the intense heat of the Animal Kingdom park. Those who are going in expecting something of the same caliber as Flight of Passage might be disappointed, but if you view it as a breathtaking boat ride into the world of Avatar, you'll most likely leave satisfied. - SplashMoun10
10
Seven Dwarfs Mine Train

While I think this is one of, if not the most overrated attraction on property, it's still a good family ride in it's own right. It just frustrates me a bit when people put it on the same level as rides like the Haunted Mansion or Splash Mountain, because it just isn't on that level. Granted, everyone has their own opinions when it comes to which rides are the best. Many people love this ride for it's lush scenery, views of Fantasyland and state-of-the-art animatronics in the ride's big show scene. They also like the swinging car aspect and the overall smoothness of the coaster. If you're a fan of classic Disney, rich theming, and stellar animatronics, you're sure to get something out of this ride. Disneyland's Fantasyland has quite a bit more to do than the Magic Kingdom's, but the Mine Train and the Fantasyland Expansion as a whole helped elevate MK's a few notches. - SplashMoun10
The Contenders
11
The Twilight Zone Tower of Terror

The Twilight Zone Tower of Terror, also known as Tower of Terror, is an accelerated drop tower dark ride located at Disney's Hollywood Studios, Tokyo DisneySea, Walt Disney Studios Park, and formerly located at Disney California Adventure Park. Except for the Tokyo DisneySea version, the attractions ...read more.
I didn't initially have this on the list considering California does have their own unique version of the Tower of Terror, but this one is the original and is considered by most to be the better ride. Guardians of the Galaxy: Mission Breakout is a fun ride with a great queue, not to mention the first ride based on a Marvel property in the Disney parks stateside. However, only time will tell if it comes to be seen as a classic like the Twilight Zone based attraction in Florida. Mission Breakout was a major renovation to the old Tower at Disney's California Adventure, which was also themed to the Twilight Zone. However, that version was not as highly regarded as the Florida one, as it lacked a fifth dimension scene, had a less appealing exterior (not like the Guardians changed that though), and was just all around not as impressive of a ride. At least with Mission Breakout, Disneyland's tower can stand as its own thing now, although some wish for the old version back. However, taking a ...more - SplashMoun10
12
Carousel of Progress
That WAS in Disneyland, but now in Disney World. - BorisRule
BAdd New Item