Best Cities In North America
The Top Ten
1
Toronto, Canada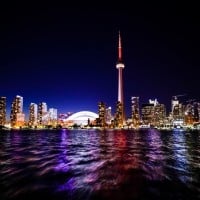 Toronto is the most populous city in Canada, the provincial capital of Ontario, and the centre of the Greater Toronto Area, the most populous metropolitan area in Canada.
I think Toronto is the best city because of a few reasons:
1. It's much safer than other major cities like New York or Chicago
2. There are a lot of things to do in Toronto (partly because of Niagara Falls)
3. Lots of delicious food there
It's a good city so I think that Toronto is the best in Canada and NYC in America
Canada is the best part of North America. If you disagree you are brainwashed.
Toronto is so diverse, great food, so safe and best downtown
2
New York City, United States

The City of New York, often called New York City or simply New York, is the most populous city in the United States.
Why No.2 wrong its No.1 its awesome and people trash talking cuase its smelly (k bronx sucks because that's where usally crime is) but other than than that its amazing ( I went twice there and it's my No.1
I like in NYC and I been to Miami and LA I find NYC beats them a long way, they have museums less crime and some of the best restaurants, buildings, and museums.

Places you gotta visit in NYC,
Moma Museum
Metropolitan Museum of Art
Central Prak
Coney Island (Brooklyn)
New Your Aquarium (Brooklyn)
Bronx Zoo (Bronx)
Empire State Building
Freedoms Tower or World Trade Center
Wall Street
Yup, New York is awesome all right! John Lennon used to live here until he died.
Anyone who says Toronto is better must be drunk
3
Vancouver, Canada

Vancouver is a coastal seaport city in western Canada, located in the Lower Mainland region of British Columbia.
Ahh the city I grew up in. I honestly like it better than Toronto. Vancouver is by far cleaner, more attractive, and has better weather.
Vancouver is a big city but still has amazing scenery. Mountains, ocean, rivers and beaches. Toronto is a good city, but to many people and lots of hobos. Montreal is also good, but the city literally smells like pot. Vancouver is cultural and just amazing. No other city in the top five largest Canadian cities has whales, or even ocean for that matter...
Weather is really good in Vancouver, it doesn't snow every day Americans!
I love Vancouver canada.
4
Montreal, Canada

Montreal is the most populous municipality in the Canadian province of Quebec and the second-most populous municipality in Canada. Originally called Ville-Marie, it is named after Mount Royal, the triple-peaked hill in the heart of the city. The city is centred on the Island of Montreal, which took ...read more.
It's better than Toronto and Vancouver lol. Toronto is just condos and Vancouver has no real summers and it rains. Montreal is half-north american and half-european
Montreal is big city with a lot of History. Montreal is also a multicultural city with a lot of attractions. She was the best to study in Montreal is also bilingual.
Great night life, fantastic restaurants, great place to learn a second or third language. Fantastic university eco sysyem.
Montréal is a feeling. And it's a feeling of love, tolerance and harsh winters. This is Canada's cultural capital and one of North America's most unique cities.
5
Chicago, United States

Chicago is the best
6
Calgary, Canada

Calgary is a city in the Canadian province of Alberta. It is situated at the confluence of the Bow River and the Elbow River in the south of the province, in an area of foothills and prairie, about 80 km east of the front ranges of the Canadian Rockies.
Amazing City, very underrated. Ranked the mot liveable in North America 4 years in a row.
Terrible city. Everyone is rude..
Beautiful clean city
7
Los Angeles, United States

8
Mexico City, Mexico

Mexico City, or the City of Mexico, is the capital of Mexico and the most populous city in North America.
9
Houston, United States

Houston is the most populous city in the U.S. state of Texas and the fourth most populous city in the United States, with a census-estimated population of 2.312 million in 2017. It is the most populous city in the Southern United States and on the Gulf Coast of the United States.
It's a sprawled out dump.
10
Boston, United States

Boston is Massachusetts' capital and largest city. Founded in 1630, it's one of the oldest cities in the U.S.
I absolutely love Boston. Can't wait to leave Europe and move to Boston.
Clean in most places, historic, and not too ugly
The place looks nice and is great to travel to.
The Contenders
11
Seattle, United States

Seattle is a seaport city on the west coast of the United States. It is the seat of King County, Washington.
Progressive, eco, whip smart, multicultural and embracing of art & culture. Best I gradients in the USA and some of the very best foods -in the grocers and the cafés. Seattle was built IN a rainforest and is almost an island. So much water, from the Orcas- traversing Salish Sea to Lake Washington, Ship Canal, Lake Union, Seattle is what most other cities wish they coucafes. Apart from Montréal, no city deserves to best Seattle on this list.
Forget about Boston (San Francisco of the East Coast) or New York. Seattle is the real deal!
12
Ottawa, Canada

13
Madison, Wisconsin, United States

14 Palo Alto, California, United States
15
Salt Lake City, Utah, United States

16
Denver, United States

Denver, officially the City and County of Denver, is the capital and most populous municipality of the U.S. state of Colorado.
Great weather, scenery, food, recreation, and the Colorado Rockies are the best in the U.S.
It's currently freezing there
17
Orlando, United States

18
Pittsburgh, United States

Hands down the greatest city in the world
Go 412
Should be 6 but top 10 so true. we have the the most iron,steel,and coal
My brother went there before. he said it was amazing.
19
Havana, Cuba

Havana is the capital city, largest city, province, major port, and leading commercial center of Cuba.
20 Boulder, United States
21
Edmonton, Canada

Jobs, high salaries and affordable real estate is what truly matters. For the price of a small condo in Tor/Van, you can have a huge house in Edm, multiple luxury vehicles, all the toys you want, and plenty left over to vacation for months throughout the year if your job allows.
Best city in the world
Best kept secret
amazing people
exploding food scene
22
Puerta Vallarta, Mexico
I think Puerta Vallarta is pretty cool.
23
Miami, United States

Miami, officially the City of Miami, is the cultural, economic and financial center of South Florida. Miami is the seat of Miami-Dade County, the most populous county in Florida.
Have you ever been there? It is THE number one hands down!
24 Bellingham, United States
25
Washington D.C., United States

PSearch List