Top 10 Best Cities in Pakistan
The Top Ten
1
Lahore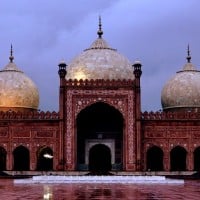 I think this list has been made by people in Lahore, Lahore is nice city but there is no comparison to Karachi in Pakistan then Islamabad and Lahore. There is no fight between Karachi and Lahore or Islamabad, it is just the list has wrongly made or taking into account what. But no offense to Lahoris of course they love their city and Lahore is also pakistan, I'm from Multan but I have to be honest Multan comes after Islamabad but in this list Multan is before Islamabad and even Peshawar and Faisalabad are before Islamabad which is completely wrong.
Lahore is not only the city to live, but a city to grow. There is a certain magic in the air of the city that enthralls visitors so much that their temporary stay in the Town makes them the permanent resident of the city. Lahore is not only loved by its residents or other countrymen but Love for Lahore spills from the heart of neighbors across the border when the hoary elders narrate the stories of their mischievous childhood or tell the tales of their youth well spent in the streets of Lahore. One simple demonstration of the peace loving people of Lahore can be witnessing how Muslims and Sikhs are engaged in religious activities from on door across the other from biggest mosque in the world to the gurduwara of historical importance.
Lahore offers everything like any modern city. The Old City offers a cultural variety as well as links you to the heritage of the city to the Mughal era. The New City built in British era is home to a city of modern life with shopping malls, five star hotels as well as recreational places. The City's suburbs house the elite housing societies which give you an impression of ultra-luxurious lifestyle. The city's architecture is incomparable to any city in the country.
I recently visited Pakistan from England and lived there as foreigner. Lahore is one of the cities one should visit but Karachi is full of life, truly one of the most lively cities I have seen in the world, so much life in Karachi. Lahore has beautiful historical places one should see but If you have not seen Karachi you have not seen Pakistan. Also Karachi is the most modern city in Pakistan well ahead of Lahore and Islamabad
2
Karachi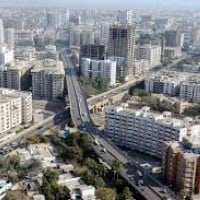 This city should've been on Number One. The educational hub of South Asia as well as the port city of Pakistan, our country is incomplete without Karachi. Karachi has everything which Lahore has like culture, elite lifestyle, high rise buildings but Lahore is deprived of some things which Karachi posses. Examples are Beaches, Port, and the bearable climate itself. I agree that 'Lahore Lahore Hai' but a person who hasn't seen Karachi hasn't seen Pakistan.
I recently visited Pakistan and its major cities from England, I found Karachi truly full of life maybe one of the most lively cities I have ever seen in the world,. With the security situation is so good now that If you have not seen Karachi you have not seen Pakistan. Karachi is truly the heart of Pakistan full of all cultures from Pakistan living in one city, there is no Pakistan without Karachi.
Karachi is truly full of life. I recently visited Pakistan and its major cities, I found karachi the most modern and most lively city in Pakistan well ahead of Lahore Islamabad and others in terms of everything. It is one most lively cities I have ever seen in the world. I believe karachi is Pakistans hear of you have not seen Karachi you have not seen Pakistan. Pakistan is incomplete without karachi
There is no doubt Karachi is mini Pakistan.

Other cities are good too but you can not give them numbers when comparing with Karachi. It does not mean other cities are bad, other cities are still beautiful and amazing but you can not give numbers when comparing with Karachi. Islamabad, Lahore, Peshawar are still beautiful cities of our beautiful Pakistan.
3
Faisalabad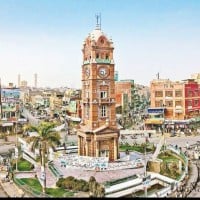 I am a Lahori, which makes me a resident of city that has a everything. But once you visit Faisalabad, you feel something that you've never felt before. Faisalabad has something which no other city has. That is its unique culture. The people of Lahore and Karachi have forgotten their true cultural identity but Faisalabad strongly retains it today. The people are very hospitable and the city itself very charming. Ghanta Ghar and the eight bazaars are worth visiting. Faisalabad might not be of that standard like Karachi or Lahore but it is place that's worth visiting.
My dad was born in Faisalabad and it was really fun in there. My dad house is at Wapda city, it's a compound in Faisalabad and I saw the clock tower and I really enjoyed Faisalabad!
It is a brilliant city. I also live in Faisalabad. It is a house of modern and other clothes for example. Kohinoor. 8 Bazars. Agriculture university.
Faisalabad is very safest city & have great importance in cloths all over the Pakistan it is a industrial city.
4
Multan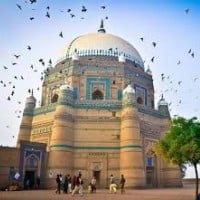 Multan was the city that my college use to be in and I loved Multan. It was so beautiful and the most safest city and I had old memories in there but then sadly I left there. I will never forget my old memories and good times that I spent there.
Multan has many popular historical locations, such as the Multan Clock Tower, the Multan Fort and the Delhi Gate are attractions for both locals and tourists alike. The architecture of these famous landmarks are enough to make visitors become permanent residents.
If you want peace with all facilities nearest to your doorstep then it's the only city in pakistan where you can find all that. The city is so beautiful and the people are also very humble.
Multan is the middle most city of Pakistan which is very well protected by military which makes it safest city of Pakistan.
It is one of the most progressing city of Pakistan.
5
Islamabad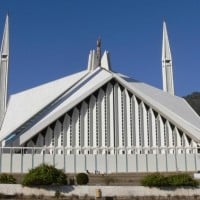 It is a pity seeing my Isloo on number 5! It should be on NUMBER ONE! It is the second best capital in the world. Islamabad offers everything. It has five star hotels, high rising buildings, broad avenues and a unique architecture. On the other hand, Islamabad is locked in the natural beauty of Margallahs. Islamabad is truly a glimpse of heaven. No matter if Islam and is a boring 9 to 5 city...The nightlife can be enjoyed in the neighboring city of Rawalpindi. Above all, it is our National Capital.
Islamabad is the most beautiful city among all green places I have ever seen in my life. it's the capital of Pakistan. They can make it better +There should be towers, skyscrapers and good roads like we have in Dubai. these things will make it look more beautiful.
I was born in Islamabad and I saw the Faisal Mosque and prayed in there, I went hiking and I touched the clouds and I went to gliding. It was really fun in Islamabad and I am happy to live in Pakistan :)
Islamabad is safest to live, shop and almost everything. Centaurus, Faisal Mosque and many other areas are fantastic and beautiful no terror at night race cars are racing near faisal mosqu. Setle down your life here for beautiful day and gorgeous nights
6
Peshawar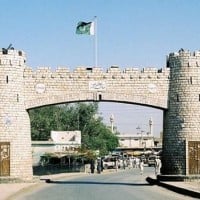 I have lived in Peshawar a for three years. I feel no hesitation in saying that when I heard the news of our transfer to Peshawar, I was shocked and was very upset. I would prefer living in the wild than in Peshawar. Might it be the terrorist incidents or the city's conservative nature, I didn't wanted to go to Peshawar. However, my opinions changed once we were settled. The People were extremely hospitable, the city offered anything you required and the land of Peshawar felt very protective. Despite many bomb blasts, once I heard that we were leaving Peshawar, I literally cried and didn't wanted to say goodbye. I always have desire to visit Peshawar once again and wish all the best for its people whom I witnessed sacrificing their life for our country. Such a sense of Patriotism Iis deficient in another place in the Country. LOVE YOU PESHAWAR!
I love Peshawar because it is so beautiful and I learned Pashto in there. I started to know how to speak Pashto. I love Peshawar and it is the best city in Pakistan.
Peshawar is the best city of the world. It looking not very lighted like Karachi. It is not looking like Lahore but I it because it is the city of Pathans. I love Peshawar
Peshawar is the most important city because it is the gateway to central Asia.
7
Hyderabad
A calm and cool city but offers anything which residents require
It's a beautiful country because I am a Pakistani and at least it is better then America
8
Rawalpindi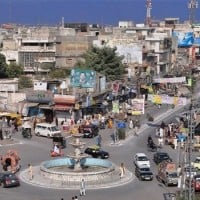 This should be on number one. Rawalpindi can offer anything. It has large shopping malls (e.g. the ones in Sadar), large hotels (PC, Flashman, Shalimar), parks (Jinnah park) and everything that a modern city requires. For a traditional touch you can go to Murree Road Commercial Market or Raja Bazaar. On the other hand the city is very near to Islamabad. Pindi has a marvellous nightlife but at the same time is very peaceful. In addition, Pindi is a very secure city (although Crime activities are not rare but the city is free of terrorism) cause there are three important military setups here.
Rawalpindi is most populated city of Pakistan so its at no.4 in list of biggest cities of Pakistan
Best Place to live in.. Parks, schools, good infrastructure, secure, good transportation, historical.. people are politically aware..

House of Pindi Boys.. led by Shiekh Rasheed
So cool roads, and also safest...
9
Sialkot
Why Sialkot is the most peaceful city? Because it is not on GT road, and most of its citizens are natives, with very few outsiders. But that doesn't mean we are not welcoming.

There is a lot to explore, like Iqbal house, the peaceful Chanab River at the feet of the Himalayan range. Moreover, the sports, surgical, and leather industry is at its peak, and most people here are very hardworking and talented.

The famous things of Sialkot city are the historical Qilla, Gao Shala Temple, Sialkot International Private Airport, Imam Sahib Tomb, and Sialkot Cantonment.

There is also a lot more to explore. I would be a proud tour guide if any of the readers visit my town.
Indeed a small city of Pakistan Sialkot has served a lot from politics to defense. After faisalabad sialkot is the 4th largest economic hub of Pakistan. After karachi sialkot is the most tax paying city due to business comunity.
I had went there and I think it is beautiful then the white house in America and I know that America is really jealous of the beautiful Pakistan their so selfish.
A city full of industry and foreign earning for Pakistan.it produces what the whole world needs,
Sports, Apparel, Health, Music.
so from economical aspect. Sialkot is one of the important city of Pakistan.
many mega projects are done by citizens itself which is an example of prosperity itself.
culture is also good and rich,
and also The great personalities who share a great part in Pakistan every sector.
Sialkot is now facilitated with modern infrastructure as well.
10
Gujranwala
Gujranwala is now Pakistan third largest industrial city after Karachi and Faisalabad
Gujranwala contribute 5% GDP
Sialkot, Guitar and Gujranwala forms golden triangle of industry. Gujranwala founded in 18th century it was state of Maharajah rangeth singh. Gujranwala 5th most populous city proper.
I'm also from Gujranwala, Pakistan.
I love my city.
It's very beautiful, clean & nice city.
Every Pakistani wants to visit this city because of its popular wrestlers.
Brave person, happy talking persons, foody people, food shops and street open all night with full booking.
Open hearted and kind hearted people.
Taste of food is better than any city of Pakistan and Cheap price.
It is the industry of Pakistan.. Pakistan can not run without an industry..
The Contenders
11
Bahawalpur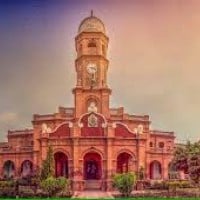 If you want peace with all facilities nearest to your doorstep then it's the only city in pakistan where you can find all that. The city is so beautiful and the people are also very humble.
Bahawalpur is the best in Pakistan. It is not only Punjab's largest by Area but also beautiful. It has many palaces,tombs,and heritage. It has great architecture. Beautiful parks,peaceful and loving people,best educational departments and many other facilities makes it the best to live in Pakistan.
This is peaceful, neat and clean city. Good municipality and administration. More is that, this is division and remain unit in Past. Every thing is avail. More than 4 universities are spreading knowledge including QMC & UCET of IUB which make Doctors and Engineers.
Beautiful city.
I like this city most, because of its Beauty and Nature.
Its people are also Beautiful and Humble.
12
Quetta
Quetta is best city because quetta wheather is awesome and there people are really hard working and it has its natural beauty there so many mountains which you feel like wow! There are many resources like gas,electicity and water etc...
I think Quetta is the best city to live.
Best is always best
It is the best city
Best best best
13
Sargodha
It is a very beautiful city.Sargodha mainly comprises flat,fertile and plain roads although here are a few small hills on the sargodha. It has well as well educational institutes'playlands and shopping centers So I lOVEMYCITY very much
Ideal place to live because of its suitable area facilitated with hospitals,educational institutions,and agricultural lands.
I live in Sargodha. It is also a center of Pakistan Air Force. I also love PAF.
Sargodha is my lovely city and I think that Sargodha is good in studies
14
Abbottabad
I born here and if you want to live in Pakistan its best because of beautiful nature. Its not a big city so it is quiet and peaceful.
A city known for its best educational institutes, Scenery, Weather, Pakistan Military Academy, Tourist Destinations!
Lived there for 9months best place ever, clean, peaceful and beautiful scenery. Well mannered people too.
It is the best city of Pakistan. You will feel safe as everybody is sensible and educated.
15
Bhera
A great historical city on the bank of river Jehlum. Famous for Mehndi (Hina) production.
Land of Saints and Scholars. It is being funded by the Pakistan government to protect its history and heritage.
I have visited it few times, when I visit Pakistan (from USA), as it is the city of my ancestors - as such have special place in my heart.
Best city to live in having advance educational and health services...
16
Gujrat
The air is very clean as well as the tremendous scenery. The agricultural developments are ever expanding and had the potential to add immense value to the great country of Pakistan
A beautiful city with helping people.
Powerful city and helpful people's.
Sacrificing people land
17
Mirpur
I love my beautiful city of Mirpur and it's noble inhabitants. Situated at the foothills of the Himalayas at a historic invasion route into kashmir the city has saw many hardship, bloodshed, Invasions, occupations, resistance & freedom. The inhabitants of the city are known for their simplicity, hardwork, resistance, resilience, bravery, biraderi (patriarchal clan system) & the large expat Mirpuri community in the UK who have very strong links to their homeland.
Mirpur is an awesome place to live and visit, the scenery in Kashmir is breathtaking and the food is delicious.
Very clean city. Pahari people are very simple & brave. I'm from Kohat I visit Mirpur and in love with this city and it's people
Beautiful place to visit
18
Jhelum
In my opinion Jhelum is the best city of Pakistan. and not just because it's my hometown. but also because it has almost everything which makes a city perfect like, mountains, greenery, hospitality, Safety, Conservative people, Liberal People, literacy rate, GDP per cap., river, history. etc. on top of that living standard is much better and yeah of course I love my beautiful hometown Jhelum. Love From Dubai.
Jhelum is beautifull and very hospitable- has everything you need- very kind community.
Jhelum is more educated and wealthy.Good city of Pakistan after Islamabad.
Too many rich people
19
Sahiwal
Peaceful and clean city
Best city in Pakistan
20
Rahim Yar Khan
It is the one of the safest and secure city in Pakistan.
I think its ranking needs to be updated.
One of the beautiful city of pakistan.
The most developing city having historical places. Many colleges. schools, brands are open. The need of citizens for University is completed by Punjab Govt. by the opening of Mini UET (KFUEIT).
21
Sheikhupura
It's the city among all, because my girl live there.
22
Swat
There are so many beautiful places in Pakistan Swat is one of them. No doubt it is Switzerland of our beloved country. I love my forefathers native place.
It should be number 1
Very beautiful so much
Swat has a good weather
23
Gilgit-Baltistan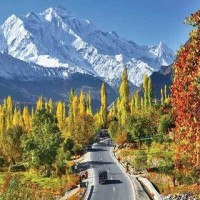 What a beautiful stunning scenic place to live your life in, I mean really living. I have a dream to live this paradise on earth, I have visited it numerous times and I am sure by the grace of Almighty I will live there.
24 Murree
25
Okara
Okara! okara! best and most beautiful cantonment but so much hot weather in okara
PSearch List