Top Ten Best Super Mario Bros. Characters
The Top Ten
Yoshi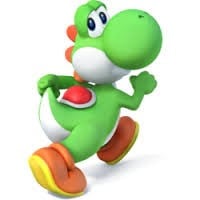 Yoshi, once romanized as Yossy, is a fictional anthropomorphic dinosaur who appears in video games published by Nintendo. He is most known for his appearances in the Yoshi and Mario franchises.
Yoshi is the cutest character, the second is Luma and the third is Toadette.
Amy Rose has got nothing on Yoshi, plus Sonic Adventure is awesome! Also, for the other comment, you list Yoshi as &quotmediocre&quot but you put Daisy as &quotquite good?! &quot
Yoshi is awesome and cute! If this dinosaur don't make you happy nothing will.
Come on he's cute and strong. In ssbb I destroyed bosses on intense with out dying once with yoshi. He is worth it to get or unlock
This is a good example for Yoshi as he's a SECRET WEAPON for Mario and Luigi
He is so sweet, like, I never knew there were variants of him in different colours until I had Super Mario Run! Second of all, he literally goes out of his way to take Baby Mario back to Baby Luigi! I mean, isn't that dedication?
Luigi

Luigi is a character featured in video games and related media released by Nintendo. Created by prominent game designer Shigeru Miyamoto, Luigi is portrayed as the slightly younger but taller fraternal twin brother of Nintendo's mascot Mario, and appears in many games throughout the Mario franchise, ...read more.
Why do I think more of Luigi than anyone else? He has a distinguishable and amusing character, being the easily scared younger brother, he always follows his heart, and in Luigi's Mansion(stop hating and actually play it) he shows how brave he is by fighting off hundreds of terrifying ghosts in order to save his brother. 'enough said
Luigi is the only Mario character to gain a personality. He inspires others to try and faces his fears. He is also my favourite video game character. GO LUIGI.
He is one of the best developed characters in the series and one of the only characters to earn his own official video game. He is also a really nice guy in general and a hero in his own right, ready to help others whenever he can, even if he is often perceived as a coward or usurped by others. Luigi is easily unnerved in comparison to other characters, and a bit of a daydreamer to boot. But it is the fact that he can surpass these aspects of himself that makes him one of the most admirable characters of this series. Clumsily lovable, he has a big heart and always tries to do the right thing. He's actually really op, though you wouldn't think it, and he is more endorsed in power and athletics than his older brother (jumps higher, can manipulate fire and electricity). Plus, with Luigi, his goals are often accomplished without much effort on his part. He's just that awesome. If you still aren't convinced, just check out his Mario Strikers theme. Come back here after that and say he ...more
I love how, in the gaming community he is more popular than Mario himself.
Mario

Mario is the main character in the Mario Bros. Franchise, who was created by the creative director and video game designer at Nintendo of Japan, Shigeru Miyamoto. Mario has appeared in almost every Mario Game, including spinoff series, as a playable character, with few exceptions including New Super ...read more.
People like to think yoshi is the best, and he is great, but mario was the star of so many great games that we all love
He's the main man. He's number 1!
Mario is the best video game icon he's cool has cool power ups and if there was a reboot of the super Mario bros super show it would air for five seasons it would have highly stylized animation and some of he episodes would be based on popular movies like Godzilla star wars batman superman justice league Jurassic park lord of the rings and power rangers and with an amazing plot I would love it he and Luigi would save their own pizza Restaurant from Bowser and his henchmen I hope there will be other new Mario games and spin offs and and crossovers since I love super Mario bros one two and three there fun and cool at the same time and it's so cool that that his name was originally Jumpman in donkey Kong and in some of the episodes of the reboot of it would some different villains I always thought that Mario rules since that he is the best and number one and he would be the leader of the super smash bros and I can guess that girls dig him he covered the eighties from top to bottom and ...more
It's-a me! Mario! This never gets old.
I especially love the way he speaks (well done Charles Martinet!) because he has the funniest Italian accent ever!
Bowser

Bowser is the main antagonist of the Mario Bros. Franchise. From kidnapping Princess Peach to simply destroying a fun game between Mario and Friends in the Mario Party spinoff series, this king of the Koopas has set up a certain hatred towards himself amongst the large cast of Mario Characters. He first ...read more.
The koopalings are widely hated due to their repetitive boss battles and never providing any form of variety. Not even Bowser cares for those seven dreadful bastards. In Paper Jam we saw the koopalings being killed off and they said things like "Avenge us, Master Bowser! " Bowser just stood there like "Eh..." Heck, Paper Bowser was going to destroy the magic book with the paper koopalings still inside. At the same time we saw how Bowser truly cares for Bowser Jr. "WHAT HAVE YOU DONE TO MY SON?! " This was followed by Bowser attacking Peach's castle. He's usually trying to take over Peach's castle, but he blew it up in response to what happened to his son. I have to give my respect to the big lug.
I hate the koopalings so damn much, stinking up multiple to all the boss areas with Boom Boom in all the recent Mario games with their samey, uninspired and overused battles. However, Bowser, Bowser Jr and Kamek are cool. The three of them have personality and do interesting things.
Nintendo designed a great character when they made bowser. At first you think he a generic villain but the in games like sunshine and Mario & Luigi fleshes out his character greatly.
Bowser is honestly a nice guy that likes one girl a little to much. Part of me wants him to move on or find someone else and another wants more Mario games.
Toad

Toad, known in Japan as Kinopio, is a major character in the Mario Bros. franchise. He assists Princess Peach in the Mushroom Kingdom and will do whatever it takes to help her. He first appeared in the classic game, Super Mario Bros. after being kidnapped by Bowser and his minions. Since then he has ...read more.
Imagine how he evolved over the years, like his voice, and how much of a main character he has become too! I really love Toad as you can see.
BEST CHARACTER EVER I love toad so much I was him for Halloween in 2019 I know he has a annoying voice ,this is my opinion
Toad is extremely cute! Who wouldn't like him? Toad is kind, loyal, and funny! He helps Mario and Luigi and Peach! If you think that Toad is whiny and can't do anything for himself, you're looking at the wrong guy! Peach is perfectly capable of saving herself, but is too lazy too. Toad does all he can too help, but he is too small to do something really big. He just helps all he can!
This cute mushroom is one of the only characters in the game that has no nose. He's just SO adorable!
Rosalina

Rosalina, known as Rosetta in Japan, is a major character in the Mario Franchise created by Nintendo. She first appeared in the 2007 Mario Game, Super Mario Galaxy for the Nintendo Wii and later returned for the game's sequel in 2010. Since then, she has been featured in many main-series Mario Games ...read more.
SHES NOT SOME PRINCESS WHO SITS AROUND WAILING AND MAKES PEOPLE DEFEND HER - *punch hand thing* she's super pretty, noble, though shes a human CONTROLS THE UNIVERSE! I MEAN, SHES NOT A HUMAN SHE'S A WIZARD, OR NO. THE MOON PRINCESS! Shes cool and guess who is lame and sits around WAILING?
P- party lack. She likes to be calm and be saved every time.
E- every time she cries like a baby.
A- annoying, just don't say her name.
C-charity charity! Where are you?
H- horrible!
Don't hate on my comment I just don't like peach ok? Plus her lumas are the cutest star things I ever seen!
I don't like Peach but I'm not a hater. But I see where you are going with it. Rosalina is better and I love her story. And I like how she is a celestial enchantress for a princess. It's pretty damn unique in my opinion.
Rosalina is one of the most amazing and majestic Mario characters in existence who can be seen as a motherly figure with revolving cute little Lumas. She is attractive with a nice calm and mature voice and wears a unique teal dress. Rosalina has a wand which grants her magical powers to perform abilities such as levitation, forcefields and even control a large beautiful comet observatory as a spaceship.

She is one of those rare gem characters representing the modern era, originating in a main game (Super Mario Galaxy) and actually has a back-story. In her beautiful story, due to her loving and caring nature; she assisted a 'strange creature' now known as a Luma in an attempt to find it's 'mama', even at the expense of her own family. Doesn't this say a lot about her character?

Even though Rosalina is still a relatively new character, she's beginning to appear in many more games, even making an entire playable appearance in a small roster of 5; in one of the most ...more
Rosalina is the type of character that you can't help but feel sorry for. She's had a pretty tragic early life, with the death of her mother. This is what makes her different to Peach - Peach is just the ordinary damsel in distress. Rosalina didn't deserve to experience tragedy, yet she is a strong enough character to adopt and care for all the lumas. She is a loving, kind and unselfish person, and sometimes I wish I could be more like her in that way. Also said to be intelligent. She is a good role model to the young children who play Super Mario Galaxy.

What I love most about Rosalina is the fact she is one of the very few characters (possibly the only character) who actually has a developed backstory. You have Mario, Peach, Luigi and all the others who are just there and nothing is revealed at all about them. Rosalina's backstory just adds that element of interest to the franchise.

And of course, she is also attractive. Not sure of other people's opinions, but I ...more
Rosalina is a good and noble Princess. She is princess on the universe pretty much and she has had such a sad story! You can't blame her for that! She is the most powerful girl character in Mario pretty much and she is super pretty and kind. Plus she can actually fight. And not use an umbrella like some princess who so Stines makes Toad defend her… (Peach) I love Rosalina!
Yoshi and Peach are more important that's Rosalina. Also you CANNOT get rid of characters others like because you don't like them.
Wario

Wario is a character in Nintendo's Mario series who was originally designed as an antagonist to Mario. His motives are driven by greed and he will take the side of whoever will give him the most pay. Although he may seem like just a mean man with no heart, he does have a very tragic past.
He is one of the best Mario Characters because he is a cool anti hero and has a great personality. He is also hilarious (same goes for Daisy)
Even though he's the bad guy in some games and good in others he still one of the best characters and has one of the best personalities of the bunch.
He's good and bad forgive the guy for farting and being greedy but he is awesome fat and all for real
I love Wario. Especially in Smash bros. His final smash is funny. Plus he has a massive Butt Chin.
Bowser Jr.

Bowser Jr., or sometimes simply Jr., is a video game character who appears in Nintendo's Mario franchise as the secondary antagonist. He is the youngest son of the series' primary antagonist, Bowser.
I'm glad Bowser Jr is NOT a koopaling. The last thing we need is for him to be "generic koopa #8 who flings glitter from his pixie stick." Bowser Jr is not only Bowser's right hand man, but he's Eggman! He builds and uses machines against Mario. Bowser Jr modified his junior clown car into a submarine! Bowser has never done this with his koopa clown car.
People troll him just because he's not a Koopaling. Okay, so what? He was a good addition to Mario Sunshine and is personally my favourite of the Koopa Kids. The others just look... WEIRD. Bowser Jr. Actually resembles his father in a way. He is JUST PLAIN AWESOME.
Bowser Jr really is awesome! Bowser Jr. Has a paint brush can even rival Drawcia from Canvas Curse. This guy really has some awesome boss battles and is a threat in the mario & sonic series, mario party, mario kart, and the sport series. Fawfaul's Minion, you may shun Bowser Jr. Greatly, but if you dare mock my game character, I will have Dikelo, Radox, and Terata chop you! Just kidding. But seriously, do not mock him.
He is as evil as Bowswer!
Waluigi

Waluigi is a lanky self-centered, brusque young lad as he is considered evil and the main rival of Luigi. Waluigi is shown causing local havoc in most games he appears in alongside his partner Wario. Waluigi is not instinctively evil or the antagonist (not counting DDR), as a matter of fact, he shows ...read more.
Even worst than the damn koopalings when it comes to useless filler.
Waluigi is hated by a lot even by Sakurai and even though he was created just to be to be a partner for Wario in Mario Tennis he has a lot of personality and should be in the next smash game.
The reason I like Waluigi Is because He is funny, Misunderstood, Never gives up to do his goal, and when give the chance to do something he does it
I like waluigi because he never gets enough love so I want to come help him he is epic
Toadette

Toadette is a character in the Mario series. She is a female Toad who first appeared in the Nintendo GameCube video game Mario Kart: Double Dash.
Toadette farting has been made canon with Super Mario Maker 2 so she shot up to the top with her canonical gassy habit!
Toadette is cute. She is a strong female toad that never gives up. She goes on the adventures. In captain toad she goes on to save captain toad. She is a better swimmer than everyone is mushroom kingdom as we can see in New Super Mario Bros U Deluxe. She, along side with Luigi, Rosalina and Waluigi is my favorite character ever
Little girl, big farts. It's always the ones you least suspect.
Another character that has no nose. Very rare.
The Newcomers
?
Parakarry - Paper Mario

The Contenders
Donkey Kong

Donkey Kong is an arcade game released by Nintendo in 1981. It is an early example of the platform game genre, as the gameplay focuses on maneuvering the main character across a series of platforms while dodging and jumping over obstacles.
Top 10 Greatest Donkey Kong Games

Top 1: Mario vs. Donkey Kong. 15+/10.

Top 2: Donkey Kong Country 3: Dixie Kong's Double Trouble. 12.5+/10

Top 3: Donkey Kong: Jungle Climber. 10+/10.

Top 4: Donkey Kong: King of Swing. 10/10.

Top 5: Diddy Kong Racing. 9.9/10

Top 6: Mario vs. Donkey Kong 2: March of the Minis. 9.7/10.

Top 7: Mario vs. Donkey Kong: Minis March Again. 9.6/10.

Top 8: Donkey Kong Country. 9.4/10.

Top 9: Mario vs. Donkey Kong 3: Mini-Land Mayhem. 9.2/10.

Top 10: Donkey Kong 3. 9/10.

Man, Donkey Kong has been in so much great video games, his muscularity is very handy and he never loses. He is such a cute character and taught me great lessons. I want to have Donkey Kong as a pet. HeavyDonkeyKong would love me for this comment and reply soon.
He was the whole reason the Mario series started - Unnamed Google User Remade
He never had a time without bananas. Bananas are his best friends.
Ripped! Because he has a tattoo on his shoulder. Makes Mario cry.
King Boo

King Boo is the leader of all the Boos, and the main antagonist in both Luigi's Mansion and Luigi's Mansion: Dark Moon.
He is a great villain for the series as he can be pretty creepy at times
I play as king boo all the time in mario kart wii because he is awesome
The only villain scarier than Bowser himself
He is just plain awesome
Fawful

Fawful, known in Japan as Gerakobits, is a fictional character appearing in the Mario & Luigi series of role-playing video games developed by AlphaDream.
Fawful is awesome. Everyone who hates him should go get a life. Those who compare him to Plankton or say he doesn't have arms you obviously haven't played the game, because IF YOU PLAYED THE GAME, then you would know these are traits that he does NOT have.

Fawful is NOT a cheap idiot or loser. Sure, he laughs weirdly, talks weirdly, and makes weird food metaphors, but that ADDS to his character, not taking away from it. He is a valuable henchman to Cackletta in the first game, carrying out her orders successfully and efficiently until he is defeated by Mario and Luigi. He is also a tactical genius who manages to take over the Mushroom Kingdom without a scratch (before Bowser stops him, but hey, it's Bowser), he captures the Dark Star and almost becomes the essence of dark power.

If you aren't a fan of the RPG's and haven't actually bothered to play the games, DO NOT judge the characters! Don't say that a character is a fail who doesn't deserve to be on this list just ...more
One of the most clever video game antagonists of all time! 2 words: suicide attempt!
Fawful is the only correct choice here. No other character has such fury.
Fawful is definitely one of the funniest Mario characters along with nerdy Francis from Super Paper Mario.
Shy Guy

I love the way he just wants to participate in games like Mario Party 9, Mario Power Tennis and so on.
I just love Shy Guy because he has a lot of mystery and suspense behind him and also he has a lot of different forms such as Fly Guy, Stilt Guy and Bomb Guys
Shy guy just rocks! Luigi is the only one who knows what his face looks like in mario power tennis you win a tournament as shy guy to see the video AND you can unlock fly guy by winning all 3 normal tournaments in singles but it did not work 4 me...shame
I always like to think about who they Shy Guys really R.I can transfer whatever back story I want to them, and they end up as really interesting characters.
Princess Daisy

Princess Daisy is a fictional character in the Mario series of video games, in which she is the princess of the fictional region of Sarasaland. ...read more.
Daisy is very independent and actually has a personality unique from any off the other characters.
Not to be annoying but I think Wendy O Koopa has the tomboy personality also. But I like Daisy's tomboyish attitude
Daisy Is Number 1 at my count. She is just like me, fun tomboyish. We've also learned that she is more fearful than Bowser in her rage count. So also she is better than peach Rosaline and pauline
Mario's close friend and likes luigi. Peach's sidekick
My favourite character, hands down. Her tomboyish attitude is awesome, and I love how finally she is a character in Super Mario Run!
Koopa Troopa

Koopa Troopas, or just simply Koopas, known in Japan as Nokonoko, are a fictional race of turtle or tortoise-like creatures from the Mario series, as well as its sister Yoshi series.
So cute to cute he should be in the top ten
He's got guts because he's runs off cliffs to get mario and has an indestuctable shell!
This is the best Mario character, you'd expect it as Yoshi but it's not. It's the most underlooked character in the game series
Bowser's minion. Anyone who is bad is amazing!
Princess Peach

Princess Peach is a major character in the Mario Bros. Franchise. She is the lead female of the The Mario franchise. She is usually the character who needs saved in most Mario Games, but also has appeared as a playable character in the Main-Series Mario Games, including Super Mario 3D World, Super Mario ...read more.
Princess Peach is the most admirable character you can think of in the Mario universe. She is strong willed, athletic, and quite pretty if I might mention. Everyone that hates her just says that. They don't have any proof. It's not her fault she can't move while Bowser is right there. We wouldn't have a story plot without her. I mean it's just better. Mario has a purpose to running around worlds. And he gets a girl! And don't forget that she plays a lot of sports. Not just one, but all of them! She is an Olympic athlete, and that is something to be proud of! She also her own game, Super Princess Peach. Where she tries to save Mario and Luigi, on her own. No help except a talking Parasol (His name is Perry, and he is super cute! ) Now I know your probably all like, "But that game is stupid, she uses her emotions to proceed." But it's not stupid. Sense when can you change your emotions in split seconds. Nobody but she can! (Well, except for Pinkie Pie but were just gonna save ...more
I like Rosalina because of how complex and developed she is as a character. She is also a nice change of pace from the usual "damsel-in-distress" female character that we usually get. I like Peach and Daisy too though, so relax.
She's a sweetheart! I wish people stop spreading lies about her or hating her for stupid reasons because she's in most games while they feel Daisy/Pauline/Birdo/etc... are left out. Well hello! That's like complaining that Mario is overrated or Bowser is and the other guys need more a chance at the spotlight. Peach is the one the originals and has been there throughout the years. I'm not saying I don't want a Super Princess Daisy or have a game where Luigi has defeat Waluigi to stop him from destroying the world or something. But point is it's unfair to do it to Peach cause you guys are jealous and it's obvious you are cause she's all over everyone's comments and its repeated over and over that Peach is 'ugly' while Daisy and Rosalina is beautiful I do think all of them are gorgeous and would like to see them more but I'm not going to blame Peach for us not instead we should complain to Nintendo or Shigeru Miyamoto cause they can do something hating a fictional character for stupid ...more
Lol Daisy's not ugly either. Actually she's kinda pretty. But Waluigi wont destroy the world
She us the most popular girl. She is the one mario always saves.
You Peach haters make me sick. Just leave her alone! It's not her fault she gets kidnapped! She's a very sweet kind princess. (She's only dumb in the Mario and Luigi games). People do hate her for pretty awful reasons. "Daisy and Rosalina are prettier! " That's pretty arguable and I've been a jerk about Daisy's glamour. She is pretty but not her dress (in my opinion trying not to be a jerk about her anymore). While I am a Rosalina fan myself, I do like Peach. And then there's Daisy...who I tolerate now. You can't really replace her since she's a classic and the other two aren't (though Rosalina is becoming a main Mario character.)
Dry Bones

Dry Bones is a common enemy species in the Super Mario series of video games since "Super Mario Bros. 3" (1988). After his first debut as a playable character in "Mario Superstar Baseball" (2005), he became a fan-favorite and also got playable in other spin-offs of the Mario series.
Dry Bones is so dry! He is my favorite character for some reason, I just love him!
Dry bones is the best that's why he is dead
Come on people! Dry Bones is the best! He could have an amazing personality but Nintendo never gave him one. I don't really know why I love him so much, I just do!
Some things, like Dry Bones, that are literally dead, are better than live things like that awful Koopa Troopa and Paratroopa! Make him higher! PLEASE!
how DARE YOU! Dry Bones is useless and ugly and he's only the dead ripoff version of Koopa Troopa. Koopa Troopa is way better because remember that Koopa in Super Paper Mario? Yeah, it's something useful. And look at Mario Kart. The shells can hit people and there ain't a single Dry Bones shell. - OnyxtheOcelot
Diddy Kong

Diddy Kong is a fictional character in the Donkey Kong series of video games, first appearing in the 1994 game Donkey Kong Country.
Diddy Kong rocks! Whoever said that he sucks is a fat idiot because many people want him to return to Mario Kart 9.
Diddy Kong sucks, I hope they throw him out the Mario games
He deserved to get replaced by Pink Gold Peach in Mario Kart 8, huh?
He needs to encounter many tall female crossover characters.

Also, he could have a slightly younger Spanish twin sister named Middy Kong. Middy is a portmanteau of the Spanish word for bad called "malo" & the British slang word for small called "Diddy".
How could someone hate this cute little monkey? Diddy is AMAZING!
Baby Yoshi

He is so cute and yoshi rocks!
Ok. Baby Yoshi is fugly and not cute whatsoever. Aside from that he looks drunk.
Classic Tails is cuter than Baby Yoshi.
Even though I love classic Tails and he is cute, he is no match for any Yoshi - Berger
Baby Yoshi should be lower on the list.
Pauline

Pauline, also known as Daniella Verducci, is the original damsel-in-distress whom Mario must rescue from the eponymous ape in the original Donkey Kong.
Pauline is a character who makes more sense then Peach.

Pauline - I'm a girl who lives in Brooklyn who used to date a plumber and a wild monkey on the loose snatches me up a few ladders, and a plumber with a hammer has to save me.

Peach - I'm a mushroom princess where mushrooms are the theme around here. A senseless monster named Bowser throws me in a ship with monster kids. Two plumbers and sometimes mushroom kids save me.
Pauline- I'm a girl that used to date Mario gets kidnapped by a Monkey that has a crush on me and gets put on an open platform.

Peach- I'm a Princess with strong wish powers and gets kidnapped by a giant turtle that put me in a cage above lava to seal my powers.
Pauline made appearances in Mario vs. Donkey Kong games, and super Mario oydessy, but she has a fanbase. Her fans are weird, in my opinon.
Hi I was wearing pink when I first appeared and was a damsel in distress. Now I am a mayor of a huge city and the big fat monkey lost his hopes and dreams and now I sing like a boss. Sounds good.
Pauline isn't bad she's normal. Peach isn't bad either. But Pauline doesn't steal Mario. He chooses to visit her. Look how much toads came to see them! Even peach helped save pauline on mario vs donkey kong. Peach and Pauline should be friends. The feud is fanmade and stupid. People should stop hating pauline over it (and it is Mario's fault peach is kidnapped. He doesn't defend her in time.)
Vivian

And you know what I'm sick of? Morons blaming peach for everything like she destroyed all of the Mario franchise. Peach haters, please just get over it.
She's cute and shy. She kinda reminds me of myself sometimes.
Hottest girl
How can Vivian be lower than Peach? I am sick of those Peach fanboys that go, "Oh, Peach is hot and Peach is pink, which is my favorite color." In this case, NO! Peach sucks and made Mario Party 9 even worse.
Dimentio

Dimentio is an evil harlequin magician and the main antagonist of the 2007 Nintendo Wii video game known as "Super Paper Mario". One of his notable features is that he has created his own Dimension, known as Dimension D.
Dimentio is such a great villain! He was manipulative and he thought out his plan pretty good. He has very clever dialogue and all of his battle songs are epic.
Dimentio is the coolest mario character ever. He is really fast, really cool, and is funny.
Dimentio is just awesome. He is quite mysterious and makes plans ahead of everyone else. His personality is incredibly fun and cool.
The best mario villain, extremely intelligent, and utterly insane. HE IS HELPING DESTROY ALL WORLDS AND IS GRINNING AND LAUGHING!
Boo

This ghost has made me love Super Mario even more in November. I love these adorable ghosts.
I love him! I'm the ultimate boo fan!
Boo is the most memorable video game ghost character in my opinion, the Boos are what a great factor of luigi's mansion is about. they also share a great background story from a Nintendo employee which inspired the Boo's temper, timid and shy when observed working, but very boastful when not observed. Just such a well creative and good character on a lot of aspects. But enough said, he is cute and kool!
So cute, but so scary and mischievous. Love how they hide when you look at them. Also, the levels with them are pretty memorable most the time. One of my favorite Bowser minions.
Mr. L

I played Super Paper Mario and when I ran into this guy I thought what a cool idea for a boss and is still one of my favorite bosses to this day and it is very cool to see the dark side of one of the most beloved characters Mr.L should definitely be in the next Super Smash game.
This Guy is amazing it's so cool to see a Mario character go Dark especially in a kids game like paper Mario
.
Luigi takes a turn to the dark side in he most awesome way possible.
Mr. L should've been at the top of this list, and I hope he is soon. Mr. L is one of my favourite characters in ANY video game. He is just an excellent character. He was interesting, had a certain smug charm to him, and made the perfect final boss to Super Paper Mario.
PSearch List