Spottedleaf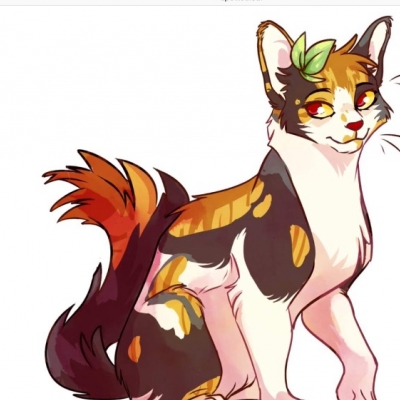 Uploaded by Feathermist
Comments
Top
Popular
Newest
Me, also being honest, hate Spottedleaf.
1. She never experienced life. She was a wooden dummy, waiting to see what life brings her. But she doesn't react to it. She doesn't move at all.
2. Sure, she loved Firepaw. Oh, really? He just looked at her butt and thought "Oh, she's so fancy, I will start mooning over her."
3. She SEDUCED Firepaw. She blinked at him with her pretty eyes, spoke to him with her pretty voice, shook her pretty butt at him, and finally, won him over with her scent. How does she smell so good? Herbs? Did she roll in Catmint? If she did, she would be wasting precious resources. After all, I don't think Rusty knew what catmint was. Maybe she just smelled of catmint- it is known to look and smell very tasty.
4. Did she really love him? I'm a fierce believer of Clawface x Spottedleaf. Anyway, do we really know what happened? For all we know, Spottedleaf could have been sick of Firepaw. So sick that she decided to go to ShadowClan and ask Clawface to kill ...more
SPOTTEDLEAF IS A BEAUTIFUL CAT! I LOVE HER WITH ALL OF MY HEART. I ALMOST CRIED WHEN SHE DIED. I KNOW SHE LOVED FIREPAW/FIREHEART/FIRESTAR AND I THINK THEY WOULD'VE BEEN A GREAT COUPLE. SHE DIED WAY TO YOUNG IN MY OPINION. SHE NEVER SHOULD'VE DIED. BUT I AM GLAD THAT SHE WENT TO STARCLAN, AND I KNOW SHE WILL ALWAYS BE WITH ME IN MY HEART. GOODBYE MY SWEET SWEET SPOTTEDLEAF!
I'm going to say this is in the nicest way possible Spottedleaf is a big load of dung. She is in love with someone that could be her grand kit. When she dies she stalks him, his daughter and his grand son. Let's be real Spottedleaf should hand died sooner and I enjoy reading both her death cause when it comes down to it even Darkstripe is better then her and well he's Darkstripe
I'll be honest... I hate Spottedleaf. She could've had a good character, but no, all she is is an early excuse for Firestar to fall in love. She was as flat as a board, not to mention old enough to be his mother. Dislike all you want, I'm just stating an opinion.
One of the most prettiest she-cats you would have ever seen! A lovely medicine cat and a kind clan member, She died so young and way to early. Killed by Clawface, later killed again by Mapleshade. Poor Firestar, they would of been a great Couple! I may love Sandstorm in the series but I love Spottedleaf even more.
All of these people commenting on how she should have been with Firestar, but honestly in our world we would call it pedophilia, I mean look at the age gap! Spottedleaf was a full grown medicine cat and Firestar was well...Just an apprentice. Sure, there have been other couples like this but this one is by far the most popular. I just don't get it.
DEATH TO SPOTTEDLEAF! Stalker alert! You speak three times! How is that love? Seriously someone please explain it to me because I'd like to know. It's sweet how Firestar reacts both times she dies, but saying " I cannot journey with you anymore, my love" while his mate is RIGHT THERE is wrong.( and to be honest, super cheesy)
I think Spottedleaf was a truly amazing character with a great deal of compassion, however I believe that the relationship between her and Firestar was rushed and awkward. For Firestar Sandstorm truly is a far better match. I respect and understand your opinion if you disagree.
I love Spottedleaf! Why did she have to die in the first book! I was so sad! I loved everything about her! From her fur to her personality! She was absolutely beautiful. I am so happy that Erin Hunter kept her even in the books even though she died. WHY DID SHE HAVE TO DIE!
It's annoying that people call her a stalker. I mean they can think whatever they want, but still...I personally think that she never ever did anything wrong. She sacrificed herself for Sandstorm or something! She's amazing! She died way too soon, but luckily we get to see her later on in the books. - Pebblepaw
I think she's the best because she helped her clan, and she's very smart. I love medicine cats more that leaders. And I wish that she could be with Firestar, though I don't like him. Because they would of made such a great couple together
She was one of the only cats that like fireheart and loved him when he first joined and here's a paragraph of what I meek she cares " Are you looking for something to help firestar spottedleaf? " Bluestar mewed. "You know I'll do anything to help firestar bluestar! " Spottedleaf hissed.
Isn't Spottedleaf a bit overrated?
Just stating my opinion, but all of these perfect sayings about her-
'Oh, she's so beautiful! '
'She should have been with Firestar! '
'DIE SANDSTORM'
And she's always stated as beautiful. Perfect this, perfect that, she's annoying after a while.
Sure, she's still a good medicine cat, just take it down a notch.
And it's like what that person said, she's old enough to be his mother.
Her and Lionheart were my favorite characters when I first started reading the books. She is such a beautiful cat and shouldn't have died so early on. I'm glad she still comes in some of Firestar's and other warriors/medicine cat's dreams though!
I love Spottedleaf, but I honestly don't get why most fans have to hate Sandstorm. I like Sandstorm as well as Spottedleaf. Also, I don't get the Fire x Sand hate. Firestar is happy with her, not Spottedleaf. The two were never meant.
Spotted leaf, a picture of pure courage, knowledge, good temper, and beauty. Her life rests in star clan, a unwanted deed Claw face dared to perform. Spotted leaf was all Thunder Clan needed to have a successful life time. If only she was alive to experience the adventures her clan has done, as well as making a wonderful mate for Fire star.R.I. P SPOTTED LEAF!
Spottedleaf has always been my favorite character from the first book. It's too bad she had to die so early. I really liked the Fire x Spotted pairing even though she was a medicine cat. I think it was unnecessary for Erin to give her permadeath in The Last Hope. I hope that we somehow get to see her again.
SPottedleaf was so amazing but I think Sandstorm should be with firestar I really think she fits as a mate with lionheart better they would be so perfect! SHE doesn't DIE SHE can't NOT A SECOND TIME please TELL ME ITS NOT TRUE because IT isn't she can't...
Spottedleaf is a sweet, kind, caring, and pretty medicine cat. She didn't deserve to be killed by Clawface. She should've stayed in the series longer. I also wish that Mapleshade didn't kill her in the Last Hope. She died saving Sandstorm. Spottedleaf died saving her clan's kits too. She was a great medicine cat and she is one of my favorite characters.
I really liked. And still like, Spottedleaf. I don't think a relationship with Spottedleaf and Firestar could have worked out, though, cause I know Sandstorm is the one for Firestar. But I still think Spottedleaf was an AWESOME MEDICINE CAT! So, yeah.
D: D: WHY DID SHE HAVE TO DIE. She was my favorite character and will always be remembered. I will never forget her. She shouldn't have died. But what really made me mad was that she died TWICE );
I LOVE SPOTTEDLEAF! But why hate Sandstorm? I love her too. I know a LOT of people are like sandstorm shouldn't be with firestar. But she's awesome too. Plus if Spottedleaf didn't die she'd have to break the warrior code to be with firestar.
I think it's amazing that even after only being alive for one book, she's still in nearly all the others. The effect she has on the story, even after death shows that she's quite the cat!
Such a pretty medicine cat! She was just so perfect for him but Fire/paw/heart/star was a warrior and she was a medicine cat! Sandstorm always was mad at him because of stupid things. Example: She got mad at him because he chose Brackenfur to be Tawnypaw's mentor! Spottedleaf died so unfairly... I miss her.
I agree she should have been with Firestar and I feel like she should have have been in more books as a real live character and not in Firestar's dreams.