Top 10 Attacking Cricketers in the World
Any batsman, bowler, fielder or wicketkeeper who gives the opposition sleepless nights.

The Top Ten

1 Virender Sehwag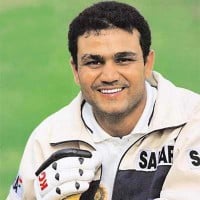 Virender Sehwag is an Indian cricketer whose aggressive batting has found success at the top of the batting order.
Not to ask
Most destructive opening batsman of all time
Aggressiveness to a new extent
Only he is the player who have best strike rate in all the format of cricket
One of the most dangerous cricketers.Had a knack of going aerial even in test cricket.
No one can match his style, truly the best. Rightly called the NAWAB(of najafgarh)
2
Mahendra Singh Dhoni

Mahendra Singh Dhoni, commonly known as MS Dhoni, is an Indian international cricketer who captained the Indian national cricket team.
He has gained numerous victories for India. Can be really attacking at times. He should be higher up on this list. A great captain too...
He is one of the match winner around the world.
He is the best finisher
He should be on number 1
3
Adam Gilchrist

Adam Gilchrist is a retired international Australian batsman and wicketkeeper. He scored centuries 33 times in his career.
Why is he no 3? And why is sachin on the list? Sachin is a defensive player. Gilly should be number 1. Though I am an Indian I say this. Sehwag always targets small second rate bowlers and he has got no class. He just use brute force. Gilly has made centuries in WC final against one of the best bowlers of the era. Sehwag looks for personal milestones but Gilly... He is the Destroyer. Sehwags a fat kid with a bat
Iery with the bat & gloves
Hits ball like an ass
He is the greatest hitter of all time

He has won Australia 2 world cup finals of his own!
Hits ball like an ass
He is the greatest hitter of all time

He has won Australia 2 world cup finals of his own!
He is the best in the world
No one can match his attitude and as well as his cricket style!
4
Shahid Afridi

Highest Strike rate. Maximum sixes. He is a great attack player.
He is the best attacking cricketers boom boom afridi
He is the best attacking cricketers
I love shahid afridi.
5
Sachin Tendulkar

Sachin Ramesh Tendulkar is a former Indian cricketer and captain, widely regarded as one of the greatest batsmen of all time.
Master blaster is the best batsman of the world. He should be at the top.
The master makes his entry here also with his attacking batting
Very good and deserved to be crowned
God needs no good cmments to prove himself
6
Chris Gayle

Are you nuts voting others.
This man has hit 175 in t20 can anybody beat that.
HE is the best hitters of all time
He should be no1
7
AB de Villiers

Abraham Benjamin de Villiers, commonly known as AB de Villiers, Mr. 360° or simply AB, is a South African cricketer.
I think Ab de should be at top 5 for his exellent batting skills. Expecialy his reverse sweep against the fast bowlers was miracle. He doesn't gone for duck until his 77 matched had he played.
AB is the most attacking player in the world and he made fastest 100 is the proof of it.
Unbeatable player...bowler can't get her weak point
Divlears latest attacking player so ab no 2
8
Lasith Malinga

He is not fair. He is chucking and getting the leading wicket taker awards. We always go against him. Bye
Lasith Malinga is best bolwer he is only person ho has trobled batsman in history and trubling ever one till date... I wish to... Meet him
Just his sling makes him so attacking
9
Matthew Hayden
Burly southpaw with big strong hands
10
Jonty Rhodes
No one can even think of matching his attacking fielding skills
It is south Africa, either Rhodes or ab
These guys redefine the game
The Contenders
11
Viv Richards
The best example of an opening batsman
The only batsman made bowlers to pee their pants and never wore a helmet. He should be no. 1.
World no1;attacking
Player
12
Rohit Sharma

Rohit Gurunath Sharma is an Indian international cricketer who plays for Mumbai in domestic cricket and captains Mumbai Indians.
He should be @ at least top Absolutely CLASS shots
Impressed by 264
In an odi highest individual score ever
He is most talented batsman.I liked hit-man.
Rock star. ROHIT
13
Wasim Akram

Wasim Akram is a Pakistani cricket commentator, coach and former cricketer, captain of Pakistan national cricket team.
Undoubtedly topmost seamer in the world
14
Virat Kohli

He is the master of off drive cut and he also name has king of the pop virat kohli
He is the most attacking in odi and t20
15
Kapil Dev
One of the greatest captains & all-rounders of all times
16
David Miller

He is one of the best pinch hitters
17
Glenn Maxwell

Glenn James Maxwell is an Australian cricketer who plays One Day International and Twenty 20 International matches for Australia.
Amazing striker of the ball. Anyone who has seen him play in the Indian Premier League season (IPL) 7 will agree with me. Here are his scores for example - 95 of 43, 89, again 95 of 43, 90 of 37 etc.
Watching a cricketer playing is boring. But not Glenn maxwell
Maxbell jab apni form me to sabse well
18 Andre Russell
19
Shikhar Dhawan

20
Sanath Jayasuriya
He is one of the greatest attacking cricketers of all time and the inventor of the modern power hitting format all back in 1996 where no one ever had any thoughts about it. Since then the tempo and pace of the ODI cricket begun to change, first 15 overs were flows of fours and sixers. He is a game changer...!
21
Ian Botham

Sir Ian Terence Botham is a former England Test cricketer and Test team captain, and current cricket commentator.
Great player with awesome batting & bowling skills
22
Ross Taylor

23
Corey Anderson

24
Mitchell Johnson

This fiercy handsome fast bowler is vvery hard to face especially with his performence in the ashes 2013
25
Suresh Raina

Impressed by 87 runs from 25 balls
PSearch List