Top 10 Batsmen of All Time (Cricket)
The Top Ten
1
Sachin Tendulkar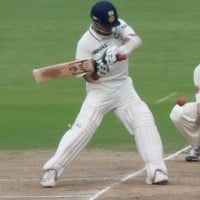 Sachin Ramesh Tendulkar is a former Indian cricketer and captain, widely regarded as one of the greatest batsmen of all time.
Tendulkar is best because he has achieved many things against the greatest bowlers in the world in his era.

Whereas bradman is mediocre because if you see ICC best bowler during his time there is no single best bowler alive on his time, all were batsman and fielding was sloppy not a world class like of today's.

When bradman played his last test with huge expectation to score only 4 runs to make his average 100, he went out for 0 runs only. On the other hand sachin has been carrying burden of billion people's and their expectation over many years along with the success to fulfill those expectations including World Cup.

LONG LIVE SACHIN... GOD OF CRICKET!
Tendulkar is the god of world cricket. Mainly, he got double hundred in odi against sa and also had the most number of records
Sachin Tendulkar is beyond a doubt the best cricketer of all time. Had he and Don Bradman had the chance to play at the same time and same conditions I don't doubt that Tendulkar would surpass Sir Don. Sachin has had to play many ODI matches while Don was almost all test cricket and that accounts for the higher average. It does not make him a superior batsman, Tendulkar is quite comparable just playing under different circumstances.

What impresses me the most is the team player aspect. Donald was a great cricket man but he also was never accused of being a team player first of all and Sachin give his all for his country and his team.
Even though Bradman's average is more than Sachin's average, he didn't face world-class fast bowlers like wasim akram, glenn mcgrath, dale steyn, lasith Malinga, brett lee and top spinners like shane warne and muttaiah muralitharan. Sachin has also shown his consistency in both ODI and Test matches, where Bradman played only test matches. Once upon a time, if Sachin's gets out in a low score, then it is concluded by fans that the team loses the match, but it's not like that when Bradman was out. He is the only player gets standing ovation in any country he plays. The fans go crazy when India loses its second wicket in test matches. He has been inspiration for billions! Long live Sachin.. !
2
Sir Donald Bradman

Sir Donald George Bradman often referred to as "The Don", was an Australian international cricketer, widely acknowledged as the greatest batsman of all time. Bradman's career Test batting average of 99.94 has been cited as the greatest achievement by any sportsman in any major sport.
If you are talking about the best batsman of all-time that is Sir Don Bradman. Granted, he played in an era where there were fewer teams than there are today, but Bradman played in an era where they played on uncovered pitches. Let's not forget the fact that players like Bradman had their careers interrupted by the Second World War. It was some time before their careers resumed.

Bradman was known for his dedication to perfecting his skills, such as the famous batting the golf ball up against the wall with a stump to sharpen his hand-eye coordination.

Bradman held a lot of batting records, such as the most double centuries and the highest score in test cricket for many years before some of these records were eventually broken. However, he still holds the record for the highest average in test cricket history. A record that many experts believe will never be broken.

When Bradman retired from test cricket in 1948 he had scored 6,996 runs in 52 tests with 29 centuries ...more
Bradman is easily the best. Averaged 99.94 over about a 20 year period! No one else comes close. If someone came along in 40 years and played almost 4 times more test cricket than Tendulkar has and made a lot more runs than him, because he played so much more, but averaged only a little over half what Tendulkar has averaged (say 30), would we say he was better than Tendulkar? I'd suggest "hell no".

It's the same as for Bradman v Tendulkar.

Averages tell the full story. Bradman averaged what, probably at least double what the next best in the world of his time averaged. Tendulkar doesn't even have a batting average as high as Jaques Kallis, who has also taken 271 test wickets, despite Sachin playing on batting roads in the sub continent all the time.

Tendulkar has also made 8 test centuries (including at least two 200+ not outs) against Bangladesh and Zimbabwe and Bradman never got to play against such inferior opposition. (63 of Bradman's 80 test innings were ...more
I don't know why people vote for Tendulkar. Sir Don stats, his skill, and his influence on the game are phenomenal. And those who say that he only played few matches (52 averaging almost 100) and Tendulkar has played over 180(average 56)have to look at Bradman's first-class record which is 28,067 runs in 234 matches at an average of 95.14 with 117 centuries, 37 double centuries, 6 triples and one quadruple (452*). While Tendulkar has scored just 22k (I think) in almost 300 matches with less than 80 centuries. Batting was much more difficult in the old era, uncovered pitches, no advanced bats, larger grounds, no technology. I mean come on, Sir Don is the greatest. Sachin is not even better than Viv Richards or Jack Hobbs.
Bradman played at those times when batsmen used no helmets and pads were like thin towel and he averaged 99.94 in those times when there were no inferior teams and pitches were bowling paradise. No doubt sachin is a great batsman but after Bradman. If someone says that bowlers at that time weren't great then just compare his average with those of his time no one even comes near. When we have to look at the class we have to look at the record not the bowlers he faced if this is the case then one can easily comment that sachin played mostly on Indian batting paradise pitches whereas bradman played on English swinging wickets
3
Brian Lara
Brian Lara had outstanding test records at the end of his career. An average of 52.88 from 131 games, along with the highest score in test history- 400. He also holds the statistic of being one of only three players (along with Bradman and Sehwag) who has passed 300 or more runs in an innings on more than one occasion. Some would say that Tendulkar's superior average and career runs, or Bradman's far greater average, could imply that they're greater players. For me, however, it is also important to remember that Bradman played only 52 tests, which is far less than 1/2 of Lara's total. When it comes to Tendulkar, even though I have the greatest respect for his achievements and the way he dealt with the immense pressure that always seemed to surround him, it is undoubtedly true that he scored a great deal of his runs on slow, flat pitches that would of certainly hindered bowlers. He also played with batsman, such as Dravid, Ganguly, Sehwag and Laxman, who often scored runs around him ...more
No one will ever begin to scratch the surface of the type of talent Brian Lara was how many batting records does Sachin
Have? Who else do you know can destroy England at his prime for 375 and then do it again when he is almost 40 and score the monumental total of 400 N. O (note the not out) Lara had a more finess refined game than Sachin, Sachin's talent was more soothed to the Asian continent stile of play on slow pitches with a lot of spin and remember how Lara destroyed Murali enough said peace
A batsman who can play for long hours but not consistent. He will play a few extremely good long innings. In between there could be a string of relatively poor scores. So while he could play some of the finest classiest innings on one hand, he would also play worse than some of his contempories.
But he is an extremely good batsmen but lack of good consistency prevents him from being the best.
Three cheers to him though
Every so often Lara would pull off the most sensational innings, including the 1st and 3rd innings of all time, (2nd is Matthew Hayden who I notice is not in the top 10). Seriously, 400 not out? 500 not out in domestic? These innings alone prove his worth as a batsmen. Bowlers around the world have always said that when he is in the zone, you could not bowl to him.
4
Ricky Ponting

The best class player in the world... He is the best batsmen of all time... You rock Ponting... Now you will be the best batsmen of all time... Compare the matches between tendulkar and ponting... Ponting is way ahead when tendulkar was in ponting's place..
He is not only a great batsman also one of the greatest winners of all time. His achievements reflect with the winning combination of the team. He was not a selfish cricketer unlike many others. I suppose Brian Lara and Ricky Ponting are the greatest crickets of their time.
He is one of the few and rare Captain and the best batsmen who is the best in playing PULL and HOOK shots in the WORLD. He led Australia to two consecutive world cup wins in 2003&2007.
He is the only captain to WHITEWASH every single test playing nation in his carrer, and I am sure that no one would break his record. RICKY THOMAS PONTING is a true cricketing LEGEND, respect him.
He is the most valuable player for the Australia as well as he is very experienced captain ever in the world cricket. I think such type of fabulous player can't be born in this era.
5
Vivian Richards
The way in which Sir Viv. plays the game shows how much he commits himself to cricket. He always seem to be one who wants nothing but to win. The way in which he scores his runs was never a concentration on personal records but to have the West Indies on top of cricket in the world. With this attitude of Sir Viv. has placed him to be in my mind the best West Indies Captain of all time who has never Lost a Test series during his captaincy. He was also deemed to be the most feared batsman ever.

Beresford Lewis.
I personally thinks that Vivian Richard was the best batsman. He played very well and was on top of all the bowlers particularly the fast bowlers, He was very talented batsman. Crowd enjoyed very much with his play all around the world. After his retirement in early 90's West Indies never went back like before. And I don't think they will ever find a batsman like him.
There is no comparison for VIV. Never before there was a cricketer and there will be never again. "Here comes the Caesar when comes such another? " Great batsmen like Bradman, Sobers and Viv Richards cannot be measured by
Runs but by their sheer performance. Words can't describe VIV.
Unlike Sachin Tendulkar Vivian could win test series. He captained 50 tests and never lost a test series. At Home or Away, he was unstoppable. He scored 100 first class test century's
6
Sir Garfield Sobers
Simply the best. If you never saw him play you missed the most talented natural classy and dedicated cricketer to ever step on the turf. What a sportsman, what talent and flair. Few players can do things that others cannot but Sobers did it batting bowling and fielding so many times that it defied belief. Greatness is an over used term but if you had to pick a single player for your side Sobers would be the automatic first choice every time.
If they played as much cricket then as they do now imagine what his recor might be. Can we truly compare players of different eras, Bowler extaordinaire, bowler extra- ordinaire batsman with that special flare only Kallis as an allrounder compares Only Bradman as a batsman surpasses. As a true cricketer the most supreme! RD.
This outstanding cricketer should be second only to Don Bradman. His 8000 runs came in 98 Test Matches. All of the batsmen above him have played in the region of 130 - 150 tests. This man is the greatest ever cricketer to grace the game.
This guy is in a class of his own. Bradman said that Sobers' 250 in Melbourne in 1972 was the best innings he ever saw. No need to say any more than that. Kallis was pretty special but Sobers is untouchable!
7
Rahul Dravid

The wall stands tall even at the age of 38. He has been called up up by the national team for odi's and t20. He didn't get opportunity since the last 4 years. He has scored more than 12000 runs in test cricket at an average of 54.58. Whenever he has made his century, India has won. Only in two occasions he has been unsuccessful.
I think Rahul dravid should be the best. Because sachin has played throughout the innings quickly but after reaching 90 s he has played slowly to reach century. What a best selfish player. If you take top ten selfish players who were looking to score for their sake sachin would be the first. But dravid is not like that, he played only for the country. Even when he reached the 90+ he batted how he batted before. Sachin played furiously because he knows whatever happens in the team there is a man named rahul dravid who will surely save the team despite of hard situations. To my concern, dravid should be the first. Please dravid lovers vote for him and your votes will make him reach the first position. He only deserved that place. Nobody can take over his place. It is real. Thanks...
He is the best player as a technique vise in a cricketing world.
The greatest unsung record of Dravid was he sawed 542 wickets while standing at non striker's end most by any batsman in the world the rescue man of India in test cricket.
The best player of test in world cricket and he is doing different roles in fielding like keeping and typical position at slip with the most no. Of catches in test cricket.
He also plays a lot with lower order in his career.
He is the best batsman in the cricketing world have ever produce just great with his defensive technique.
But he also plays aggressively to 21 ball 50 against NZ and 9 ball 36 against WI are enough to prove that he is plays aggressively in limits overs.
The Wall is great!
He should be at the first position. People please vote for Rahul Dravid. We need to spread the message.
8
Kapil Dev
World cup winning captain for an un noticed team India at that time, when west indies ruled the cricket... Such a brave al rounder, is really unfair to be ranked at 53...
Perhaps the most inspirational cricketer India ever produced...Cricket is familiar every corner of India, only after Kapil brought WC to India!
He is a great all rounder he scored 175* against zimbabwe in 1983 when was in 17 for 5 Kapil Dev smashed
16 fours and 6 sixes he have also taken wicket of John Traicos his economy rate was 2.91
The one who Hit 179 not out Against Zimbabwe to make India win is put after Kevin Pietersen. The quiz's creator is such a big fat idiot
9
Jacques Kallis

Apart from perhaps the almost unseen Barry Richards, Kallis would be South Africa's greatest ever batsman having scored over 9,700 test runs at an average of 55.46.
I can only judge on my era, and while I could easily pick sachin. Kallis was an all rounder: which makes his batting ability all the more phenomenal...cricket is a game of stats: and statistically kallis is the most complete player of all time.
If you look at the game cricket you see fielding, batting and bowling.
There is no one ever lived that can do all of it like Kallis. F you look at the most complete cricketer ever you will look at Kallis.. He is the King of cricket. Simply awesome..
Breathtaking statistics with both bat and ball. Not only one of the greatest batsman but possibly the greatest all rounder of all time. When Kallis retires, cricket will never be the same again!
10
Javed Miandad

I could challenge any one bring better 'Man of crisis' than him. Even Tendulkar and Viv Richard cannot compete him in this skill. One of the all time greatest Batsman to play spinner. Word class batsman on both form of cricket and intelligent player is his dominant attributes.
Miandad is the batsman. Who hasn't scores many runs but he makes Pakistan win. His average always above 50... He is the best inning builder and the finisher... Simply we can call him the find of 1970...
Having known the man personally whilst playing against England in the 80's I saw a man with the "eye and sharpness of an eagle" and was a fabulous stroke player off any type of bowling.
I heard he's amazing. Not from my time, but the sixer he hit with the last ball against India was AMAZING. He's the best batsman.
The Contenders
11
Kumar Sangakkara

Kumar Chokshanada Sangakkara is a cricket commentator, former cricketer and captain of the Sri Lankan national team.
This is really funny that legend sanga is in bottom of this list. go back and look at this greastst legend cricket history again
He is the top 3 highest bating runs all time in the cricket career.

Sanga and mahela who lead sri lankan team to continuously 3 times world cup semi final.

Sangakara made world record in the world which is his last world cup 2015. He played 4 counties 4x100s he is the first cricketer to score 4 continues 100s in world cup cricket history.

This greatest legend must be in top 3 batman
Sangakkara should be in the same class as Virender Sehwag/VVS Laxman group, in fact he is probably better than them. He is part of the great 600 run partnership between Mahela Jayawardene and in my book, he goes down as a legend. With crisp strokes and entertaining shots. He is a great batsman. He is also a great individual
Sanga is one the class player because he gives less chances when he bats
Also always maintain the accuracy of the batting Technics. Skill of these type of players has to be carefully monitored and evaluated withing the frame of only class and legend players without getting mixed up with the players those who hang in the scenario due to luck and chance in the sake of international cricket.
Sanga is better than others who appear in the list.. He should be in top three..
12
Sunil Gavaskar

This guy played in an era where there were no restrictions for bowlers. Today Tendulkar has the safety of bowlers being restricted to one bouncer an over. This is so unfair when you tell a bowler that he cannot bounce at a batsmen like Tendulkar more than once. It's like telling Sanath Jayasuriya that he can't come forward and hit the ball more than once in an over. Due to this rule cricket has become a batsmen s game and it's not going to help the bowlers. For this reason I feel guy's like Gavaskar, Richards and Miandad should be placed right on top.
Played for one of the weakest teams in cricket, against some of the best bowlers the game has ever seen (Lille, the West Indies speedsters, etc. ). Still has one of the best records in the game. Technical mastery is unquestioned. Considered by many batsmen to be the best, including the Don.
Gavaskar is the best to battle for in wet, grassy pitches and the unbelievable subcontinent turning tracks...
He is the one who could bat for life...Arguably the batsman with perfect technique..
My dad basically forced me to watch Sunil Gavaskar bat and he has a nice bat face, a lot of power so nearly all of them can go for 4 runs and he middles them nicely. Good player.
13
Kevin Pietersen

He is the stylish man of England's team and a dangerous batsman. He is one of those guys who can take the game away from anyone on his own.
The most talented batsman to play the game, Only if he had a bit patience.
His hands are good with the bat and is good at scoring high scores.
His only problem is keeping it consistent
He is probably England's best ODI players of all time. Good short career KP.
14
Sanath Jayasuriya
I'm sorry to see tat sanath is placed at 30th pos, I guess whoever has given this rankings are totally biased... It's been a great honour for cricket of producing a legend/game changer and he was unstoppable in his era... I think he should be at the top, I feel sorry for the guy who has given this rankings, I suggest you to look at the statistics that how much a player contributed to the team's performance rather than personal milestones...
Fastest 50, fastest 100 and fastest 150 were broken by him. Only batsmen past 13k runs to get over 300 wickets is a bonus too. I believe that he is one of the best players as he is a great player with great aggressive abilities and never gives up. He was the world of cricket, he revolutionized cricket and changed the cricketing world to make it more aggressive.
What? How I belive this.. ! Master blaster jayasuriya at 32nd? He is the greatest open batsman. Real legend but all of Indian baby cricketers ranks are higher than him. Everyone know he should be in top 5 like sachin, lara, ponting. Fastest 50, 100,150. And most famous all rounder. His bowling is better than sachin. But K. Peterson, gambir, yuvaraj, dhoni, kholi, ganguli, akmal, shewag and dravid ranks are higher. Please vote him be honnest.
He never played for Individual Records, but He always played for his Country and for the Victory of the whole team. That's why he is So Great...

All Hail Sanath Jayasuriya! You are the BEST!
15
Chris Gayle

He is the biggest hard hitter in the world. When he comes into power then no one in this planet can hit the ball as hard as gayle. He should be at top 3 and no player like Ab de villiers oe Kohli is better than him. He is the most entertaining player in this world.
He is the dangerous player and can handle the situation very nicely.
There is no chance of fielding the bullet shots of Gayle.
In my opinion chris Gayle is the best batsman in the world and he should be top 5 list's also he is the one who can change the game even in hard conditions, so he is best and will always be the best.
As long as the pitch is dull and devoid of demons...the moment the ball starts seaming even by a millimeter, his dance moves are a treat to the eyes as well as superior to those performed by a trained Kathak dancer...
16
Adam Gilchrist

Adam Gilchrist is a retired international Australian batsman and wicketkeeper. He scored centuries 33 times in his career.
Adam Gilchrist should be placed in top 5 best cricketers because he is best wicketkeeper batsman in the world with ranking number 1 and also he is the best wicketkeeper in the world with ranking number 1. And he has made the second highest opening patnership in the world with matthew hayden with overall of 5,372runs. And he has 3rd highest strike rate in odi and 2nd highest strikerate in test. This is only a little bit and there are so many records of adam gilchrist. So he should be placed in top 5 best cricketers.
Loads of Indians are in love with Dhoni claiming he is the best batsman, captain and wicketkeeper. If they knew anything about cricket they would know that Sangakarra is better but Gilchrist is the best of them all. He was so good at batting that they introduced the rule which allowed wicket keepers to bat. Its because of him that Dhoni bats today. And also Wasim Akram, Javed Mindiad and all the others of that team are way better then India's players
Gilly is the greatest wicket-keeper-batsmen in the history of cricket. Gilly is the only player to have hit 100 sixes in Test, 3 consecutive half centuries in final of world cup &Most successful keeper in ODI. He is better keeper batsmen than MS Dhoni, sangakara.
Gilchrisht you have a very powerful man in t20. Your sixes has been very powerful your sixes always out of the ground. Gilly you have the only batsman to have hit 100 sixes in test cricket. You are the most successful wicket keeper in ODI. You are better than the other wicket keeper like ab divilliers, dhoni, Sangakkara.
17
Virender Sehwag

Virender Sehwag is an Indian cricketer whose aggressive batting has found success at the top of the batting order.
Virender sehwag is the best in cricket history and holds the fastest record triple century in tests
Blaster player in world cricket no one can plays like virendra sehwag he truly rocks... Most dangerous player forever in cricket history... He will be in top 3
He injected life in test cricket... I have seen the differences in run rate when he was on the wicket and when he wasn't. team like India needs more time when it comes to bowl the opposition out but for that team needs to score quick runs... This is where sehwag is the best when it comes to score quick and massive scores... His presence on crease makes it easier for his partner to score as there is no pressure to score quick runs...
He is the most promising opening batsman in test cricket after Sunil Gavaskar the great Indian legend.
But sehwag is also the legend in world cricket who change the phase of world cricket the terrific hand-eye co-ordination is the key for his success.
In the match against SA when he is scoring 319 he scores 4 boundary in one over of ntini with no use of just and Ian bishop is saying while commentating that he is very special because he is not moving his feet he have the proper space to flow his hands and to play all of his shots.
If you are coaching to batsman you always says go close to the ball but sehwag doesn't applying it if, he is applying he will not have proper space to flow his bat that is why this player is very special.
This is all said by Ian Bishop.
18
Steven Waugh

Could pull his side out of trouble with a typical skipper's knock. One of the classiest batsmen of all time. Also scored 32 test centuries.
What a great player, never gave up, briilant stroke player, and that trademark cut shut.
Very good bat. Hit 32 test centuries
19
Inzamam-ul-Haq
He was brilliant, brilliant, and brilliant. He was the match winner, a team player, at most of his career he came to bat at crunch situation release the pressure and give victory to his country.
I think he is best batsman of the cricket. He is match winner player. He is technical very strong and man of crises, In short I think he is very complete batsman.
Inzi is the really the man of crises, and soft hands with ball connection by pull, cut & switch hitting. He is the legend cricketer. I thank in batting he stands with all levels with Tendulkar & brine lara
Idiots like Haider Ali Khan needs to be kicked out of Internet who has no other job other than spreading hate through his awful sarcasm! Bangladesh will beat Pakistan. Inshallah.
20
Sourav Ganguly

Sourav Chandidas Ganguly, affectionately known as Dada, is a former Indian cricketer and captain of the Indian national team.
He is really commendable batsman.. Best captain team India could ever get... He has been legend of all times... A captain who exactly knew how to dominate the opposition, it could be by his performance or mental games.. Today whatever team India is achieving somewhere r d other credit goes to him because he build the team and taught dem how to win on overseas, which in past no one did, after his captaincy we began to win matches overseas which was just like a dream in past. I really can't express about how inspiring figure you are for millions of people.. Just hats off.
Dada in a sense not just a cricketer but rather an epitome of inspiration who could defy all odds and rise from the ashes like phoenix...his impeccable timing unrelenting attitude infused new spirit into Indian cricket ant it is for his vision that Indian team is what it is now...he will be written in history not just as the best ever Indian captain rather as a leader...
Dada rocks... No one could match him... What a great personality... What a great captain... Simply spellbound... India's best left handed batsman..
I don't know what people think about him but I am cent % sure this guy has rocked up the cricket feilds over years and will remain as an unbiased cricketer for over years...Damn what a personality...what a tempo of batting, he has been a combo of full time boball...entertainment..He has been a staunch follower of his decisions (even when it comes to keep Steve Waugh waiting or the historical waving of his jersey in the balcony of the Mecaa...). Frnds don't forget the towering sixes that comes every time when the ball hits his massive as well as majestic bat...Really a sign of royalty...U all damn critics that is why he is called MAHARAJA...OK! Bultoos. Guys
21
Allan Border

The greatest Australian after Bradman and ponting. His 205 against new zeland is the greatest innings which a bat has ever produced
Amazing captaincy, amazing batsman.
22
Imran Khan

I am surprised to see Imran's name so low. He is one of the biggest legends of Cricket History and the whole world admits this. Can't compare with any one.
One of the greatest players in the world of cricket. No one can match with his discipline and honesty. Every body knows about his passion with the cricket
He is a intelligent cricketer. He is pioneer of swing and world cup winner.
Imran khan best captain in the world on his time. He is a great fighter.
23
Shane Watson

Shane Robert Watson is a former Australian international cricketer and a former captain, who played all formats of the game.
He is the one hero who had to fight the villains in his own team and is still battling for a long long time. This man is able to fight it all. AND he has proved time and again that he's the best in the world. Worldt20 2012 is one such proof. In few cases he fails, but one should notice that he fails when clarke is in the team. Any human can fail in such torturous environment created by clarke. But no matter how many villains surround him, he battles them all. I've never seen such a great talented player battling such hostility from his own team and his captain and from his own country citizens and media. Although he is best player by far in his team and the world, his country wants to drop him out of the team. This is the exact reason why Australia is so low in world cricket now. They have hit rock bottom. Australian cricket sucks now. They can be beaten by any team horribly. No player in the world at present works as hard as watson. He bats and bowls in tests, odis, t20, champion ...more
Shane watson, what a sinple strong player he is. Australia has won a couple of time, just because of Shane watson. Who ever made the list, probably doesn't even know cricket.
He is my favorite player in cricket
He is just too strong enough!
I love him a lot!
He is a very good smacker of the ball
You are the best watson!
What a batsman.. The star player.. Sometimes the whole team depends upon him... He Is one of the best all rounders
.
24
Hashim Amla

Hashim Mahomed Amla OIS is a former South African international cricketer who played for South Africa in all three formats.
The god of cricket, this guy can turn the game around and get a century unexpectedly. He is patient and very careful on his bat, hi is the best batsman ever
The best batsman cricketing world has ever produced so far. Showing his irony for the last 5-6 yrs. Much better than Sachin who had played 460+ games and scored 49 odi centuries and this guy 119 games and 21 centuries.
His wrists are amazing the technique of a top class batsman how on earth is Jaques Kalls above him as a batsman no way. Amla has to be in the top 10 of all time.
He is really a good batsman, He is a very calm, patient and well behaved player. Thank full that we have such good player.
25
Len Hutton
Top of all. His 364 against Australia is a classy
Great batsman of his era
PSearch List