Top 10 Best Cricket Batsmen of All Time
Cricket is a game that has been played for centuries, and over that time, there have been some truly remarkable players who have left their mark on the sport. The cricket bat is arguably the most important piece of equipment in the game, and the batsmen who wield it with skill and mastery are revered as legends of the sport. In this top ten list, we'll be taking a look at the greatest cricket batsmen of all time, who have amazed and entertained fans with their incredible talent and achievements.

When voting on this list, take into consideration a range of factors, including the players' statistics, their impact on the game, their longevity, and their ability to perform in high-pressure situations. Each player on this list has left an indelible mark on the sport, and their contributions have helped shape the way we think about cricket today. Whether you're a die-hard fan of the sport or just starting to explore its rich history, these ten players are sure to inspire and impress you with their incredible talent and skill with the bat.

The Top Ten

1 Sachin Tendulkar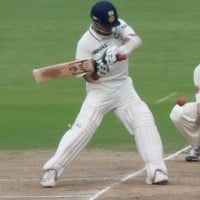 Sachin Ramesh Tendulkar is a former Indian cricketer and captain, widely regarded as one of the greatest batsmen of all time.
Tendulkar is best because he has achieved many things against the greatest bowlers in the world in his era.

Whereas bradman is mediocre because if you see ICC best bowler during his time there is no single best bowler alive on his time, all were batsman and fielding was sloppy not a world class like of today's.

When bradman played his last test with huge expectation to score only 4 runs to make his average 100, he went out for 0 runs only. On the other hand sachin has been carrying burden of billion people's and their expectation over many years along with the success to fulfill those expectations including World Cup.

LONG LIVE SACHIN... GOD OF CRICKET!
Tendulkar is the god of world cricket. Mainly, he got double hundred in odi against sa and also had the most number of records
Sachin Tendulkar is beyond a doubt the best cricketer of all time. Had he and Don Bradman had the chance to play at the same time and same conditions I don't doubt that Tendulkar would surpass Sir Don. Sachin has had to play many ODI matches while Don was almost all test cricket and that accounts for the higher average. It does not make him a superior batsman, Tendulkar is quite comparable just playing under different circumstances.

What impresses me the most is the team player aspect. Donald was a great cricket man but he also was never accused of being a team player first of all and Sachin give his all for his country and his team.
He had perfect batting style and shots. He played against best bowlers of the world under extreme pressure of billions throughout his carrier and managed to be consistent. If we consider the records he will definitely the greatest, Even if we neglect the records, then as a batsman his batting was too good, pure and perfect. No one can give their 100% at the time of pressure, but he played consistently with huge pressure on him. He is the perfect batsman of the world and the best batsman who managed the perfect balance between Test and ODI's and done the great job in both forms of the game.
2
Donald Bradman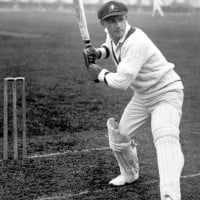 Sir Donald George Bradman often referred to as "The Don", was an Australian international cricketer, widely acknowledged as the greatest batsman of all time. Bradman's career Test batting average of 99.94 has been cited as the greatest achievement by any sportsman in any major sport.
If you are talking about the best batsman of all-time that is Sir Don Bradman. Granted, he played in an era where there were fewer teams than there are today, but Bradman played in an era where they played on uncovered pitches. Let's not forget the fact that players like Bradman had their careers interrupted by the Second World War. It was some time before their careers resumed.

Bradman was known for his dedication to perfecting his skills, such as the famous batting the golf ball up against the wall with a stump to sharpen his hand-eye coordination.

Bradman held a lot of batting records, such as the most double centuries and the highest score in test cricket for many years before some of these records were eventually broken. However, he still holds the record for the highest average in test cricket history. A record that many experts believe will never be broken.

When Bradman retired from test cricket in 1948 he had scored 6,996 runs in 52 tests with 29 centuries ...more
Bradman is easily the best. Averaged 99.94 over about a 20 year period! No one else comes close. If someone came along in 40 years and played almost 4 times more test cricket than Tendulkar has and made a lot more runs than him, because he played so much more, but averaged only a little over half what Tendulkar has averaged (say 30), would we say he was better than Tendulkar? I'd suggest "hell no".

It's the same as for Bradman v Tendulkar.

Averages tell the full story. Bradman averaged what, probably at least double what the next best in the world of his time averaged. Tendulkar doesn't even have a batting average as high as Jaques Kallis, who has also taken 271 test wickets, despite Sachin playing on batting roads in the sub continent all the time.

Tendulkar has also made 8 test centuries (including at least two 200+ not outs) against Bangladesh and Zimbabwe and Bradman never got to play against such inferior opposition. (63 of Bradman's 80 test innings were ...more
Bradman played at those times when batsmen used no helmets and pads were like thin towel and he averaged 99.94 in those times when there were no inferior teams and pitches were bowling paradise. No doubt sachin is a great batsman but after Bradman. If someone says that bowlers at that time weren't great then just compare his average with those of his time no one even comes near. When we have to look at the class we have to look at the record not the bowlers he faced if this is the case then one can easily comment that sachin played mostly on Indian batting paradise pitches whereas bradman played on English swinging wickets
I don't know why people vote for Tendulkar. Sir Don stats, his skill, and his influence on the game are phenomenal. And those who say that he only played few matches (52 averaging almost 100) and Tendulkar has played over 180(average 56)have to look at Bradman's first-class record which is 28,067 runs in 234 matches at an average of 95.14 with 117 centuries, 37 double centuries, 6 triples and one quadruple (452*). While Tendulkar has scored just 22k (I think) in almost 300 matches with less than 80 centuries. Batting was much more difficult in the old era, uncovered pitches, no advanced bats, larger grounds, no technology. I mean come on, Sir Don is the greatest. Sachin is not even better than Viv Richards or Jack Hobbs.
3
Brian Lara
Brian Lara had outstanding test records at the end of his career. An average of 52.88 from 131 games, along with the highest score in test history- 400. He also holds the statistic of being one of only three players (along with Bradman and Sehwag) who has passed 300 or more runs in an innings on more than one occasion. Some would say that Tendulkar's superior average and career runs, or Bradman's far greater average, could imply that they're greater players. For me, however, it is also important to remember that Bradman played only 52 tests, which is far less than 1/2 of Lara's total. When it comes to Tendulkar, even though I have the greatest respect for his achievements and the way he dealt with the immense pressure that always seemed to surround him, it is undoubtedly true that he scored a great deal of his runs on slow, flat pitches that would of certainly hindered bowlers. He also played with batsman, such as Dravid, Ganguly, Sehwag and Laxman, who often scored runs around him ...more
He is pure class of a batsman absolutely no one will never bat like him not even Sachin and that is a fact. He is just superb! The best of all times in the history of cricket!
Pure Class often played with a team where there were few other good batsman and had to carry the side many times. Who else have score 500 runs, 400 runs, 300 runs and 200 runs in any cricket format while they played? Many times he was cheated out as well or else his average would have definitely been higher! Simply a brilliant batsman!
A batsman who can play for long hours but not consistent. He will play a few extremely good long innings. In between there could be a string of relatively poor scores. So while he could play some of the finest classiest innings on one hand, he would also play worse than some of his contempories.
But he is an extremely good batsmen but lack of good consistency prevents him from being the best.
Three cheers to him though
4
Ricky Ponting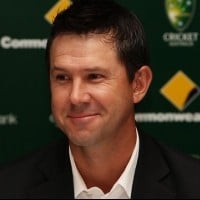 The best class player in the world... He is the best batsmen of all time... You rock Ponting... Now you will be the best batsmen of all time... Compare the matches between tendulkar and ponting... Ponting is way ahead when tendulkar was in ponting's place..
He is not only a great batsman also one of the greatest winners of all time. His achievements reflect with the winning combination of the team. He was not a selfish cricketer unlike many others. I suppose Brian Lara and Ricky Ponting are the greatest crickets of their time.
He is the most valuable player for the Australia as well as he is very experienced captain ever in the world cricket. I think such type of fabulous player can't be born in this era.
He is a biggest player in cricket history. He is a classic batsman. He is dangerous player. He is successful player. He is most emerging caption. He is god of cricket. He is a best fielder.
5
Vivian Richards
Viv Richards had such elegant skill and power combined into one. Even greats like virat kohli abd, sehwag and even the don himself said that he was a level above them. God is VIV
The way in which Sir Viv. plays the game shows how much he commits himself to cricket. He always seem to be one who wants nothing but to win. The way in which he scores his runs was never a concentration on personal records but to have the West Indies on top of cricket in the world. With this attitude of Sir Viv. has placed him to be in my mind the best West Indies Captain of all time who has never Lost a Test series during his captaincy. He was also deemed to be the most feared batsman ever.

Beresford Lewis.
I personally thinks that Vivian Richard was the best batsman. He played very well and was on top of all the bowlers particularly the fast bowlers, He was very talented batsman. Crowd enjoyed very much with his play all around the world. After his retirement in early 90's West Indies never went back like before. And I don't think they will ever find a batsman like him.
There is no comparison for VIV. Never before there was a cricketer and there will be never again. "Here comes the Caesar when comes such another? " Great batsmen like Bradman, Sobers and Viv Richards cannot be measured by
Runs but by their sheer performance. Words can't describe VIV.
6
Virat Kohli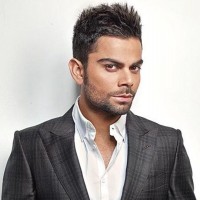 He is the future hope for India and he is the most consistent batsman
Sheer commitment, dedication, focus, passion and most importantly the LOVE for the game is so evident when Virat steps into the cricket arena every time. Anyone can feel the vibe when he is on the field. A true game changer and a dreadful batsman for the world's top bowlers. He has proved it over and over again. Great going young champ! A nation has found a new God!
He is the best youngest player in the cricket. He has taken 10 centuries in 88 matches. He is the future of next generation cricket. I will write your runs on a paper which I will write all the runs you have scored such as 1,2,3,4,6 I have a feeling that you have to teach me cricket well
Kohli has improved a lot with experience over the years. His firm belief in himself and his ability to be consistent than anyone, makes him one of the best. Kohli is never satisfied with himself when it comes to batting and always looks to improve one step more the next match, which is a rare quality.
7
Rahul Dravid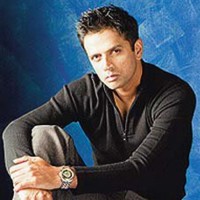 I think Rahul dravid should be the best. Because sachin has played throughout the innings quickly but after reaching 90 s he has played slowly to reach century. What a best selfish player. If you take top ten selfish players who were looking to score for their sake sachin would be the first. But dravid is not like that, he played only for the country. Even when he reached the 90+ he batted how he batted before. Sachin played furiously because he knows whatever happens in the team there is a man named rahul dravid who will surely save the team despite of hard situations. To my concern, dravid should be the first. Please dravid lovers vote for him and your votes will make him reach the first position. He only deserved that place. Nobody can take over his place. It is real. Thanks...
The wall stands tall even at the age of 38. He has been called up up by the national team for odi's and t20. He didn't get opportunity since the last 4 years. He has scored more than 12000 runs in test cricket at an average of 54.58. Whenever he has made his century, India has won. Only in two occasions he has been unsuccessful.
He is unsung hero, often goes unnoticed. Recent cricket lovers/watchers underestimate his rapid action. For any form of cricket, stability is essential. Cricket is generally a game of gentleness and classic and in the present era Rahul is classic and gentle. Even his aggressive strokes are also classic. Batsmenship should be measured only by runs and centuries, off course, his total is also high. India alone can not own Dravid and he is common to all.
He is great. He is the last classical batsmen. He is a stroke maker and artist in one. He is the wall in good form. You can call him to bat for your life
8
Garfield Sobers
Simply the best. If you never saw him play you missed the most talented natural classy and dedicated cricketer to ever step on the turf. What a sportsman, what talent and flair. Few players can do things that others cannot but Sobers did it batting bowling and fielding so many times that it defied belief. Greatness is an over used term but if you had to pick a single player for your side Sobers would be the automatic first choice every time.
This outstanding cricketer should be second only to Don Bradman. His 8000 runs came in 98 Test Matches. All of the batsmen above him have played in the region of 130 - 150 tests. This man is the greatest ever cricketer to grace the game.
This guy is in a class of his own. Bradman said that Sobers' 250 in Melbourne in 1972 was the best innings he ever saw. No need to say any more than that. Kallis was pretty special but Sobers is untouchable!
He's the best cricketer of all time he can bat and he can bowel, when ha bats he's flipped good at it.
9
Virender Sehwag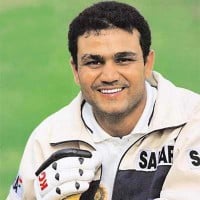 Virender Sehwag is an Indian cricketer whose aggressive batting has found success at the top of the batting order.
Virender sehwag is the best in cricket history and holds the fastest record triple century in tests
Blaster player in world cricket no one can plays like virendra sehwag he truly rocks... Most dangerous player forever in cricket history... He will be in top 3
He injected life in test cricket... I have seen the differences in run rate when he was on the wicket and when he wasn't. team like India needs more time when it comes to bowl the opposition out but for that team needs to score quick runs... This is where sehwag is the best when it comes to score quick and massive scores... His presence on crease makes it easier for his partner to score as there is no pressure to score quick runs...
He can distract you and frighten you if you are a bowler.
About someone with that much of strike rate everybody think that he would not be consistent, will also think that he cannot make higher scores. Despite of everyone's view he raised like a star with two triple centuries and one missed just by 7 runs. He can entertain you more than anyone can!
10
Kumar Sangakkara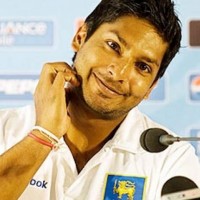 Kumar Chokshanada Sangakkara is a cricket commentator, former cricketer and captain of the Sri Lankan national team.
This is really funny that legend sanga is in bottom of this list. go back and look at this greastst legend cricket history again
He is the top 3 highest bating runs all time in the cricket career.

Sanga and mahela who lead sri lankan team to continuously 3 times world cup semi final.

Sangakara made world record in the world which is his last world cup 2015. He played 4 counties 4x100s he is the first cricketer to score 4 continues 100s in world cup cricket history.

This greatest legend must be in top 3 batman
Sangakkara should be in the same class as Virender Sehwag/VVS Laxman group, in fact he is probably better than them. He is part of the great 600 run partnership between Mahela Jayawardene and in my book, he goes down as a legend. With crisp strokes and entertaining shots. He is a great batsman. He is also a great individual
Sanga is better than others who appear in the list.. He should be in top three..
Sangakkara is the only cricketer to have got 4 consecutive centuries in a world cup and also the fastest batsman to have achieved 10000 runs. If he could have played in the Bradman era, there would have been no Bradman but sangakkara! He is the best! Even the best cricketers have told that!
The Contenders
11
Mahendra Singh Dhoni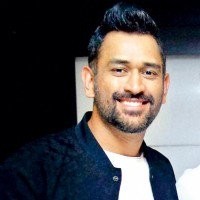 Mahendra Singh Dhoni, commonly known as MS Dhoni, is an Indian international cricketer who captained the Indian national cricket team.
Will be number 1 in an other 5 years! Great batsman! Adjusts his body so well for a ball!
His average is 51.5!
Hi
Brilliant captain... Uses his mind... Even if he fails with bat, he makes up by his captaincy...
There are many in our country who say that dhoni is too lucky. But if this the concept it means sachin scored over 30000 runs because he is lucky, yuvraj hit broad six sixes because he was lucky and gayle could not because he is unlucky. If really dhoni is too lucky india would not suffered humiliating loses against englasd and australia in test series.His winning abilities are all about his temparament and self belief. He always backs youngsters and look how ravindra jadeja has delivered. He is team man and could have easily made records. But don't you all feel a captain of indian team, pressure of 120 crores people, keeping wickets and than scoring more than 7000 runs batting at number six. This should be enough to prove his abilities. Wait for another five years and he should be the world's greatest odi player ever.
One of the best finisher in the world. A player who give respect to cricket. He is the player stands in despirate situations, always understand what India need's. I'm from London and when my friends talk with me about their nations, their successes, and then it makes able to tell them with proud India is number 1 in cricket. That's it all about.
12
Kapil Dev
World cup winning captain for an un noticed team India at that time, when west indies ruled the cricket... Such a brave al rounder, is really unfair to be ranked at 53...
The one who Hit 179 not out Against Zimbabwe to make India win is put after Kevin Pietersen. The quiz's creator is such a big fat idiot
Perhaps the most inspirational cricketer India ever produced...Cricket is familiar every corner of India, only after Kapil brought WC to India!
The man who made cricket popular in India. He set an example by turning impossible to possible.
13
Jacques Kallis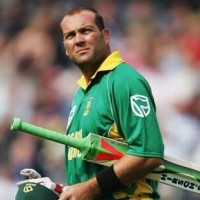 Apart from perhaps the almost unseen Barry Richards, Kallis would be South Africa's greatest ever batsman having scored over 9,700 test runs at an average of 55.46.
If you look at the game cricket you see fielding, batting and bowling.

There is no one ever lived that can do all of it like Kallis. If you look at the most complete cricketer ever you will look at Kallis.. He is the King of cricket. Simply awesome..
I can only judge on my era, and while I could easily pick sachin. Kallis was an all rounder: which makes his batting ability all the more phenomenal...cricket is a game of stats: and statistically kallis is the most complete player of all time.
Breathtaking statistics with both bat and ball. Not only one of the greatest batsman but possibly the greatest all rounder of all time. When Kallis retires, cricket will never be the same again!
14
AB de Villiers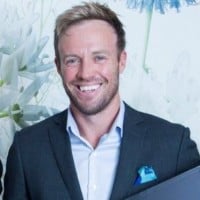 Abraham Benjamin de Villiers, commonly known as AB de Villiers, Mr. 360° or simply AB, is a South African cricketer.
For virat kohli to be 5 spaces above De villiers is ridiculous. You just have to look at the records to see that he is one of the greatest batsmen of this generation. With over 8000 test runs and over 7000 runs in one day internationals, De villiers is a golfing class ahead of Virat. Other than his astounding consistency over his career De villiers is also perhaps the most explosive batsmen seen in recent years. He showed this in the recent one day international played against the West Indies, where he scored 149 runs in less than 50 balls. Other than his batting De villiers also excels in wicket keeping. Considering all this it is clear that Virat kohli can not be compared to De Villiers, let alone be put 5 spaces above him.
In my opinion the best cricketer to play ever. His batting is an absolute treat to watch. His improvisation is unbeatable. most just know him for that but in test cricket he carries an air of serenity and calmness around him reflecting his game. An absolutely class act. As for fielding easily the best fielder in the world today. What else do you want from somebody? The best fielder best batsman across all three formats a great wicketkeeper as well. Oh did you say bowling? He has a test wicket as well. Best ever to set foot on a cricket ground
The best batsman of today's generation. He is very classy and also very dangerous batsman. For me he is the best in the world. He can do anything for his team, he can keep wickets, he can bat at the last overs and could also open the batting for his team. He is also a very good fielder. He should be rated the number 1 here at least. What a Batsman he is Just so Good!
On numerous occasions AB has brought South Africa out of a bad situation. Be it scoring runs at a strike rate of mich higher than 100 or be it saving the Test match by scoring at a strike rate of 20. He has done it all. What impresses more is that he has excelled in other sports too such as Tennis, Hockey, Rugby. He is superhuman.
15
Javed Miandad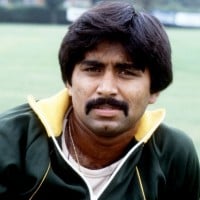 I could challenge any one bring better 'Man of crisis' than him. Even Tendulkar and Viv Richard cannot compete him in this skill. One of the all time greatest Batsman to play spinner. Word class batsman on both form of cricket and intelligent player is his dominant attributes.
Miandad is the batsman. Who hasn't scores many runs but he makes Pakistan win. His average always above 50... He is the best inning builder and the finisher... Simply we can call him the find of 1970...
Having known the man personally whilst playing against England in the 80's I saw a man with the "eye and sharpness of an eagle" and was a fabulous stroke player off any type of bowling.
Superb batmen of Pakistan. He was aggressive on pitch as well as a brilliant batsmen. He was key to Pakistan's 1992 WORLD CUP WIN!
16
Sourav Ganguly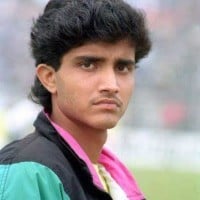 Sourav Chandidas Ganguly, affectionately known as Dada, is a former Indian cricketer and captain of the Indian national team.
Dada rocks... No one could match him... What a great personality... What a great captain... Simply spellbound... India's best left handed batsman..
He is really commendable batsman.. Best captain team India could ever get... He has been legend of all times... A captain who exactly knew how to dominate the opposition, it could be by his performance or mental games.. Today whatever team India is achieving somewhere r d other credit goes to him because he build the team and taught dem how to win on overseas, which in past no one did, after his captaincy we began to win matches overseas which was just like a dream in past. I really can't express about how inspiring figure you are for millions of people.. Just hats off.
Dada in a sense not just a cricketer but rather an epitome of inspiration who could defy all odds and rise from the ashes like phoenix...his impeccable timing unrelenting attitude infused new spirit into Indian cricket ant it is for his vision that Indian team is what it is now...he will be written in history not just as the best ever Indian captain rather as a leader...
Dada rocks... He built the India team so called men in blue... Aggressive captain ever produced... And god of off side...
17
Umar Akmal
Umar Akmal, the talent of cricket, the master to play every short along the ground, the only need is to control his temperament. If Pakistan can use him efficiently he will amaze the world. The week performance is only due to overall team performance is very low since he is in the team.
Umar Akmal is a fearless batsman and he can change the game and turn around the match in the favor for his country but, he must also learn how to play with a good temprament and how to play controlled shots otherwise, he can be the best modern batsman in the current world.
I think he is a really talented player, cricket players always have ups and downs in their careers. Also Pakistan needs to use Umar Akmal properly, at no3.
He is the best. And deserves #1 rank.. Indians are just jealous of him, no wonder they vote only for Sachin. Umar has already surpassed combined achievements of Sachin and Bradman. That too when he has hardly utilized his full potential
18
Sunil Gavaskar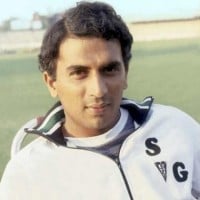 This guy played in an era where there were no restrictions for bowlers. Today Tendulkar has the safety of bowlers being restricted to one bouncer an over. This is so unfair when you tell a bowler that he cannot bounce at a batsmen like Tendulkar more than once. It's like telling Sanath Jayasuriya that he can't come forward and hit the ball more than once in an over. Due to this rule cricket has become a batsmen s game and it's not going to help the bowlers. For this reason I feel guy's like Gavaskar, Richards and Miandad should be placed right on top.
Played for one of the weakest teams in cricket, against some of the best bowlers the game has ever seen (Lille, the West Indies speedsters, etc. ). Still has one of the best records in the game. Technical mastery is unquestioned. Considered by many batsmen to be the best, including the Don.
My dad basically forced me to watch Sunil Gavaskar bat and he has a nice bat face, a lot of power so nearly all of them can go for 4 runs and he middles them nicely. Good player.
Gavaskar is the best to battle for in wet, grassy pitches and the unbelievable subcontinent turning tracks...
He is the one who could bat for life...Arguably the batsman with perfect technique..
19
Kevin Pietersen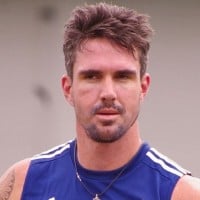 He is the stylish man of England's team and a dangerous batsman. He is one of those guys who can take the game away from anyone on his own.
The most talented batsman to play the game, Only if he had a bit patience.
He is one of the greatest batsman ever in the history of cricket.
Mike hussey is most consecutive player in the wold... No one player cannot beat him,
20
Sanath Jayasuriya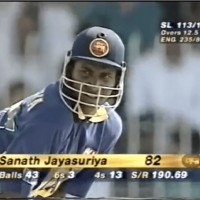 I'm sorry to see tat sanath is placed at 30th pos, I guess whoever has given this rankings are totally biased... It's been a great honour for cricket of producing a legend/game changer and he was unstoppable in his era... I think he should be at the top, I feel sorry for the guy who has given this rankings, I suggest you to look at the statistics that how much a player contributed to the team's performance rather than personal milestones...
Fastest 50, fastest 100 and fastest 150 were broken by him. Only batsmen past 13k runs to get over 300 wickets is a bonus too. I believe that he is one of the best players as he is a great player with great aggressive abilities and never gives up. He was the world of cricket, he revolutionized cricket and changed the cricketing world to make it more aggressive.
He never played for Individual Records, but He always played for his Country and for the Victory of the whole team. That's why he is So Great...

All Hail Sanath Jayasuriya! You are the BEST!
These figures are totally wrong. I think definitely the editor should be an Indian..even kindergarten one know who's Sanath and his talent. He shouldn't be on this position.. He is the best ever, no one can take that place.
21
Chris Gayle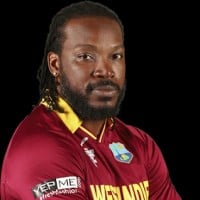 He is the biggest hard hitter in the world. When he comes into power then no one in this planet can hit the ball as hard as gayle. He should be at top 3 and no player like Ab de villiers oe Kohli is better than him. He is the most entertaining player in this world.
In my opinion chris Gayle is the best batsman in the world and he should be top 5 list's also he is the one who can change the game even in hard conditions, so he is best and will always be the best.
He is the dangerous player and can handle the situation very nicely.
There is no chance of fielding the bullet shots of Gayle.
I know him for his high strike rates and I keep him in my highest esteem HE ROCKS. My whole class tries to imitate him he is the number one batsmen in the whole universe!
22
Adam Gilchrist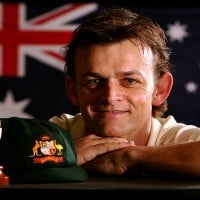 Adam Gilchrist is a retired international Australian batsman and wicketkeeper. He scored centuries 33 times in his career.
Loads of Indians are in love with Dhoni claiming he is the best batsman, captain and wicketkeeper. If they knew anything about cricket they would know that Sangakarra is better but Gilchrist is the best of them all. He was so good at batting that they introduced the rule which allowed wicket keepers to bat. Its because of him that Dhoni bats today. And also Wasim Akram, Javed Mindiad and all the others of that team are way better then India's players
Adam Gilchrist should be placed in top 5 best cricketers because he is best wicketkeeper batsman in the world with ranking number 1 and also he is the best wicketkeeper in the world with ranking number 1. And he has made the second highest opening patnership in the world with matthew hayden with overall of 5,372runs. And he has 3rd highest strike rate in odi and 2nd highest strikerate in test. This is only a little bit and there are so many records of adam gilchrist. So he should be placed in top 5 best cricketers.
Gilly is the greatest wicket-keeper-batsmen in the history of cricket. Gilly is the only player to have hit 100 sixes in Test, 3 consecutive half centuries in final of world cup &Most successful keeper in ODI. He is better keeper batsmen than MS Dhoni, sangakara.
Gilchrisht you have a very powerful man in t20. Your sixes has been very powerful your sixes always out of the ground. Gilly you have the only batsman to have hit 100 sixes in test cricket. You are the most successful wicket keeper in ODI. You are better than the other wicket keeper like ab divilliers, dhoni, Sangakkara.
23
Steven Waugh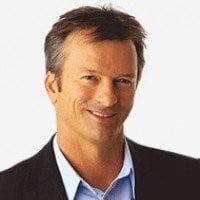 Could pull his side out of trouble with a typical skipper's knock. One of the classiest batsmen of all time. Also scored 32 test centuries.
What a great player, never gave up, briilant stroke player, and that trademark cut shut.
Very good bat. Hit 32 test centuries
24
Shahid Afridi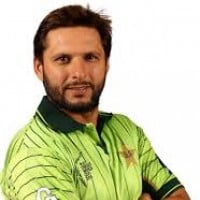 The Most Aggressive Batsman no one can achieve his mark, He is Nightmare for any Bowler. Even the Most Experience bowlers have faced his rage and got beaten up. The only way he plays cricket is get a boundary in every ball. Either get a boundary or get out... no wasting of balls and time. The record of fastest century have been broken, but can any one achieve his strike rate or hit as many six as this man we will see...
There is no player like SHAHID AFRIDI and there wont be any. He is the Most Entertaining batsmen. He Must be in TOP 3 at least with SACHIN and GAYLE.
If these 3 get in 1 team, There is no doubt the team will tear off other teams no matter how strong players may be there.
Fastest century off 37 balls, and has really proved himself in limited overs form of the game. Has shown huge success in the T20 form, and people say it is "tailor made for Afridi". Boom Boom.
Afridi should be at no. 1 due to his outstanding perfomance he has a strike rat of 114.5 third highest he has most sixes in cricket above 400 he has scored a century on just 37 balls he has hit a six of 160 meters and in first class cricket a six of 200 meters.he is second most popular batsman in cricket and has scored 32 runs in an over of odi third highest and 27 runs in an over of test second highest may allah make him no. 1.boom boom AFRIDI.
25
Inzamam-ul-Haq
He was brilliant, brilliant, and brilliant. He was the match winner, a team player, at most of his career he came to bat at crunch situation release the pressure and give victory to his country.
I think he is best batsman of the cricket. He is match winner player. He is technical very strong and man of crises, In short I think he is very complete batsman.
Inzi is the really the man of crises, and soft hands with ball connection by pull, cut & switch hitting. He is the legend cricketer. I thank in batting he stands with all levels with Tendulkar & brine lara
Idiots like Haider Ali Khan needs to be kicked out of Internet who has no other job other than spreading hate through his awful sarcasm! Bangladesh will beat Pakistan. Inshallah.
PSearch List