Best Cricketers of All Time
The Top Ten
1
Sachin Tendulkar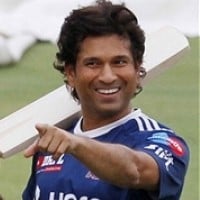 Sachin Ramesh Tendulkar is a former Indian cricketer and captain, widely regarded as one of the greatest batsmen of all time.
No doubt... Sachin is and always will be the best... Great batsmanship... He has scored a century twice... I guess... No one is a match for him... Like he is the God of Cricket... His determination is also very nice... Many times he gets out inside the 90s and also 99... One run left to score a century... But still... He never gives or shows depression or regret... He goes out of the cricket ground being the same Sachin who entered at first... For batting... And the audience are always astonished by his cool behaviour... But unfortunately... He has retired.. The God of Cricket has retired... My favourite... I feel so sad... But its ok... And yes... No one in the coming generations would ever gain what he has gained.. The youngest cricketer... The first to become old... And retire... The God of Cricket... Sachin Tendulkar...
No way although sachin is very good, he has been able to play on Indians flat wickets which are so easy to bat on and are notorious for big runs were as bradman played on uncovered pitches were the ball moved all over the place making it much more difficult with bowlers faster then those today. You cannot say sachin is better then bradman considering he had much harder conditions and yet he still averaged twice that of Sachin. Twice!
No player has come close to an average of 99.94. Not to mention the fact that Bradman had to play through a bodyline series were the bowling was far more brutal then anything sachin would have ever experienced before but bradman still averaged 60, better then sachins average. You cannot say that bradman had it easier then sachin because that is simply untrue.
Sachin means born of cricket and born of cricket is called Sachin. I have three wishes first one is I would like to become a cricketer the second wish is I would like to play with the great Sachin and the third wish is that. I want to sit in his Ferrari and that's all. I can only say that beware rest of the cricketer's the god of cricket is here
Don Bradman may have been good but think of it this way. When that guy was playing bowlers had no techineque, they just tried to hit the stumps or whatever. And he only played test matches against Australia. But Sachin, come on the guy played much more teams and faced much more bowlers. and he has bashed them all
2
Don Bradman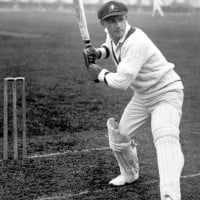 Sir Donald George Bradman often referred to as "The Don", was an Australian international cricketer, widely acknowledged as the greatest batsman of all time. Bradman's career Test batting average of 99.94 has been cited as the greatest achievement by any sportsman in any major sport.
Sir Donald Bradman, also known as The Don, is considered by most experts as the greatest batsman ever. His batting average in test cricket was a staggering 99.94, an achievement that is unmatched in any major sport. Bradmanesque is a term synonymous with exceptional excellence, not just in the world of cricket but also in other fields. He is considered as the epitome of excellence in cricket.

With a Wisden rating of 1349, the right-handed batsman is the top Test batsman ever who outranks the No.2, Sachin Tendulkar, by 349 points. The Don has 29 Test cricket centuries and 117 First Class cricket centuries to his name. His top score in Test cricket is 334. There is no other Australian, except for Ned Kelly, who has more biographies written on them.
Bradman can't be compare with any other batsmen irrespective of any era.
Nobody can compare his:

Batting average

Facing Bodyline series

One of the best Captain

Reached average of 50 with his 3rd innings, and stayed above 50 for the rest of his career

Scored 309 in one day

More runs than opponents. At the Gabba in 1947/48, Bradman scored 185, while India was bowled out for 58 and 98, so losing to Bradman by an innings

He was run out only once
Bradman was excellent despite having really only played against England mostly. He was a ruthless captain particularly on the 1948 tour to England. He wasn't in the best of health generally but what a player. He was quick on his feet and had a great drive. He also played on pitches not covered so again enough said.
Highest average by far. Played in an era with stick thin bats and minimal protection for the body including none for the head... Tendulka possibly one of the best of the modern era.. But number #1 with 29% of the votes over Bradman @ #3 with 7%? Ridiculous... Most of the voters on this site come from India?
3
Shane Warne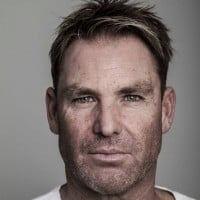 Shane Keith Warne was an Australian cricket commentator and former international cricketer who captained the Australian national team
One of the best spin bowler the world has ever seen. His performances have made Australia the best cricketing nation of the world he will be remembered as the best spin bowler ever and will be a inspiration for teen cricketers
Brilliant player no doubt and magic to watch. Pity he never scored that century but footage shows he was dismissed on a no ball. His bowling was all class.
Ha no doubt the best legspinner in the world cricket arena. The man who has bowled the Ball of the century. Undoubtedly he is the best ever spinner anyone can see!
Australian leg spinning legend whom is well known for googlies. His googly is always an unexpected customer for batsmens.
4
Vivian Richards
He never wore a helmet and played in an era of great fast bowling, when fast bowlers were not limited to 1 bouncer an over. Had a Test Batting ave. Of 50 and a strike rate of 70. An absolute fearless genius unlike the modern batmen covered in full armor.
A real champion. No helmet, chewing gum and swaggering to the crease to smash Lillee around. Talking of Lillee-why isn't the best fast bowler in history not on it? When we talk of Lillee, we are talking king of kings in fast bowling ranks.
No one dominated a very high quality bowling attack as Vivian Richards.
I see only one person who was as good against the same quality bowlers. Sunil Gavaskar
5
Shahid Afridi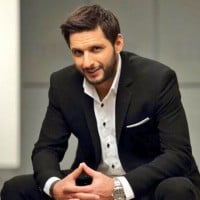 Afridi Lagging behind any other cricketer on earth is like saying the sun rises from the west instead of the east. He is not only a marvel at his skill but an excellent sportsman, gentleman and all rounder not only in all formats of the game but of his life too. The most unorthodox entry in cricket and certainly the most entertaining one.
He is the best captain of Pakistan ever I have seen. He has the world record of 100 runs of 37 balls. That's why we called him boom boom. I am the biggest fan of shahid afridi. From my childhood I like him. Shahid vai we like you.
He is the one who has hitted the longest six in the world when he was cmpetiting with South Africa. There was a golf ground beside the stadium. The ball landed on that ground that mean he hit that ball out of the stadium. It was the longest short and is still the longest six of all time. We are very happy to see this. Thank u
Great player... He still holds the record of fastest century with over 6000 runs in ODIs & over 300 wickets. He displayed a very impressive bowling performance in world cup 2011 as well.
6
Mahendra Singh Dhoni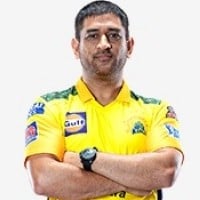 Mahendra Singh Dhoni, commonly known as MS Dhoni, is an Indian international cricketer who captained the Indian national cricket team.
This man right here..."Mahendra Singh Dhoni" was not just a player. He was the man who fulfilled the dreams of Indian Cricket and the fans of the sport. The losing streak and demand of the supporters mourning for the WC win was delivered to them in the year 2011, after 23 years under his strong and profound leadership. The major ICC Trophies and the best Asian Province trophies of cricket all rest and are presented by pride because of this man, and it's under his captaincy that India stood to be the victor of such cursing tournament. But he held his head high and led like a true leader not just a captain. The contributions with the bat to finish the matches even when the equation felt unreal, the strategy and tactical behaviour on the pitch, his underrated talent in younger years being exposed to all and in time by the end of his journey becoming a true legend is what made him the GREATEST OF ALL TIME. The G.O.A.T of Cricket.
Best Captain everrr... So many captains there were before who tried to make a difference in the team... But no one could ever take it to such a higher level than how he has... He is great... I mean come oon... He made India win the 2011 world cup anyway... Great guy... He should be somewhere in the top 5... Not ninth... Don't you think?
Alan Knott in my view was a better keeper. in fact this list is void of English players. What about Hutton or Botham? Anyway, yes, Dhoni a great player and I would agree he will be missed in test cricket. Just for the record my list would also include Keith Miller, Imran Khan and Kapel Dev. Border also should be here. I would also give Graham Gooch a gong.
Coolest captain that India had ever had.
Best wicket keeper.
Brilliant batsman who is the own er of helicopter shot.
Intelligent, handsome and simpl
E.
He is superb. He should be the captain of Indian team for the next 1000 yrs.
7
Gary Sobers
Greatest cricketer of all time by 1 million miles at least. Hit six sixes in one over. He was the greatest fielder of all time, equal with Jontey. He caught a ball well he was in the air thrue it at the stumps and hit the stumps side on and then fell on the ground. Cricketing genius. He could bowl off, leg and even fast. He opened the bowling at pace. And had a average of at least 58+.
By a mile the best ever. Amazing batsman, bowled EVERYTHING from spin, swing, seam, you name it.
Truly the best if you evaluate complete sport. Batting, bowling and fielding.
He is the greatest player of all time after don and master. Why is he no.17?
8
Virat Kohli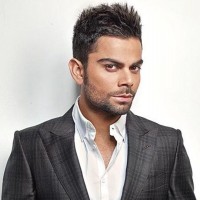 Virat Kohli Sir is just too good for other teams and was, is and will be my idol, doesn't matter if Virat sir doesn't score runs. Thanks for becoming such a good cricketer for India. I'M proud of myself because I am a Punjabi and an Indian and the best batsman and idol for me is an Indian and Punjabi
Good luck in the future Virat Kohli Sir.
He should be on top. He is made only for winning. He is even better than Sachin Tendulkar. If anyone hate him, please stop hating him because if you are hating him that means you are hating India. Only person talks about his attitude but he has that type of attitude which a person should have.
GOAT...no one just has to prove why he is, that would be an insult to the one of the greatest ever batsman across all the 3 formats, run machine, a great captain in the making, a highly consistent fitness freak, a pure match winner...who is none other than KING KOHLI...
Fabulous cricketer and captain who leads his country from front with his game and also by reply.
9
Brian Lara
He was just the best, and his record speaks for it self. He help make west indies better and got the hiestest indevidual score not once but two times, who can beat that mabe another west Indian
Lara is undoubtedly the best, his records are proof.
The best player of olden time.
If you have command sense you would know that brian is a very cricketer
10
Jacques Kallis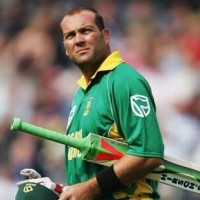 Guys don't ignore this comment but kallis is like way better than tendulkar and is the best all rounder in the world. so please we need votes. VOTE FOR KALLIS
Khan, Hadlee, Sobers, Miller, Botham, Dev also all good choices... Probably Pollock as well but I personally agree that this bloke Kallis is awesome.
He is such a marvelous player. I think no player can bat like him. We canot see a best batsmen after him
Jacques Kallis, the best all-rounder of all time.
The Contenders
11 Sir Frank Worrell
12
Imran Khan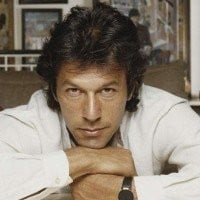 Don't forget he was voted as sexiest man alive by an Autralian magazine.
Invisible and the truth.
Imran Khan king of kings
Definitely among top 5.
13
Glenn McGrath
Class. Perfect technique and menacing pace at times. He could also hit that 5 cent piece on the same spot every ball. Wonderful player.
Glenn McGrath, the most intelligent bowler ever.
Great fast bowler
14
Adam Gilchrist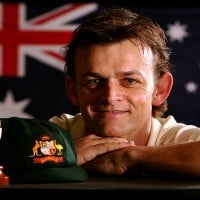 Adam Gilchrist is a retired international Australian batsman and wicketkeeper. He scored centuries 33 times in his career.
Adam Gilchrist is known as the best wicket-keeper batsman of all time. He has the highest strike rate in all the three formats. He is also the most impressive cricketer ever. His each and every shot is unforgettable. He is the best ever.
Adam gilchrist all ways is my favourite he should be in a much better position then sachin. A much better player
Adam gilchrist in no.14. Bad, bad very bad. You don't know anything about cricket. He should be number 1 no doubt
Gilly not in top 5? You're sick!
15 Sir Isaac Vivian Alexander Richards
16
AB de Villiers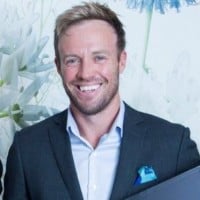 Abraham Benjamin de Villiers, commonly known as AB de Villiers, Mr. 360° or simply AB, is a South African cricketer.
Mr. 360 the wizard of cricket and mostly the rule changer for cricket
How can you guys forget?!
AB de Villiers is the boss then Sachin Tendulkar..he is the best cricketer
Ab de Villiers the great
17
Muttiah Muralitharan
Remember little thing... Murali's last mach... Sachin or don can't preform well in their last maces.. But this legend got 8 wickets in last mach.. Murali is not just cricketer.. He is icon.. As tamil boy he ia the icon of sri lankan sinhala and tamil friendship..
Sri lankan off spinning legend whom holds the record of most number of wickets in cricket. He is well known for his doosra
Are chuckers allowed in this list? I assume it to be yes because of the world's best ever chuckers presence in this list...
The best bowler ever
18
Steve Waugh
Brilliant player and did much for cricket here. A wonderful skipper as well.
The greatest aussies captain who lead aussies for triumphs at 1999.
19
Sunil Gavaskar
He is the best cricket player of all time. Against the west indies, he showed that no one can frustrate him. He was known as little master, because he was 5'6" and and an amazing batsman.
Sunil Manohar Gavaskar was an Indian opener, a great captain. He was the best opener of 70, S.
Before my time really but agree he was great.
Most overrated player
20
Kapil Dev
Please be serious, must be at 4th position over Stupid Dale Steyn and Stupid Shahid Afridi and Stupid Shakib al hasan and shane watson etc.
Made India win their first World Cup. Is there any more doubt?
21
Virender Sehwag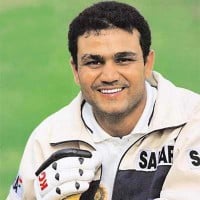 Virender Sehwag is an Indian cricketer whose aggressive batting has found success at the top of the batting order.
This man opened up the doors for the likes of Gautam Gambhir, Yuvraj Singh, MS Dhoni and Raina, in the sense that Indians were no longer seen for their submissive and slow batting but rather coming out with a bang with full aggression. More than his stats, he will always be remembered as the best entertainer of his times.
An excellent batsmen at the top of the order. The greatest explosive batsmen that I have known, good and attentive in the field. Virender sehwag is an outstanding cricketer all-round.
The best opener of Indian cricket team. Combination of 26 alphabets can't explain Viru.
He is a great batsman
22
Ricky Ponting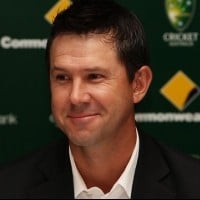 The greatest because he made heaps of runs and competed with sachin while being a captain. Sachin was never a good captain. He wilts under pressure. He scores when all is well. Ponting made century is world cup final. Sachin can never handle pressure.
Ponting was brilliant but so was Greg Chappell whom he compares to. I would think Steve Waugh also alongside him. I liked Waugh as a skipper better. Ponting greatly missed though. For the record I think Border to be the best skipper since Bradman.
19! Really are you even following cricket guys? He is definitely one of the best if not the best cricketers of all time in terms of all the aspects you can think of! It would be real injustice if he is not ranked up in the top 5
He is the all time greatest all round cricketer of all time in terms of skills, intelligence and wits. No one can match the prowess Ponting posses.
23
Allan Border
The best skipper we have ever had. You would be wise to consider him the very best in many ways. He is a real champion. His cut shots were excellent and he was a great spinner as well.
24 Curtly Ambrose
25
Clive Lloyd
West Indian opening legend. The greatest captain and legend cricket had ever seen.
PSearch List