Top 10 Greatest Indian Cricket Players
Here is the list of top Indian players of all time.

The Top Ten

1 Sachin Tendulkar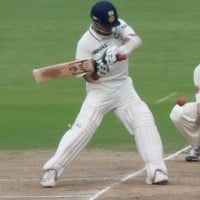 Sachin Ramesh Tendulkar is a former Indian cricketer and captain, widely regarded as one of the greatest batsmen of all time.
No doubt he is the king of Indian Cricket. He was the solo entertainer during his first few years until Dhoni and other new players started entering in to the cricket team. He amazed people of all ages. Entire matches depended on his batting. Now you have multiple options of players, Dhoni, Kohli, Sharma, Yuvraj...
I think Sachin Tendulkar made over 100 centuries and scored more than 1708 runs and he is a good bowler in cricket. He has taken 5 wickets twice on the Australian Stadium Pert. He is my one of the favorite player.
He is the best. He is the manager, director and producer of Cricker. Got it!
He is the right hand of Sir Don Bradman. His shots are same like Sir Don Bradman. He is always cool. He had many strength problems but he never gave up till he holds the World Cup Trophy, his dream was just to hold the World Cup. For chasing his dream he became the best cricketer also.
Abhimanyu Vaykar
2
Mahendra Singh Dhoni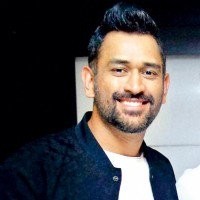 Mahendra Singh Dhoni, commonly known as MS Dhoni, is an Indian international cricketer who captained the Indian national cricket team.
MAHENDRA SINGH DHONI.

He's the one of the best player in the world after he took over Indian team slowly he changed the Indian cricketers maindsaid and confidence levels.
Last time cricket if the star and legend player one person not score the run for the team rest of the players will collapse and no one will score then Indian team will lose the game. MOST OF THE GAME.
But now the sutiation is not like those time star or legend don't disturb the other players performances.

If star player not performing well other player comes up with more confidence and scoring runs for the Indian team and make team win the games. NOW INDIAN TEAM WINS MOST OF THE GAME.

THANK YOU and I salute to you
Mr. Dhoni. Make a efforts to build the strongest Indian team.
More than only a batsman & a wicket-keeper! He's the mastermind of winning any match. I don't think there is anyone else other than MSD who has a better understanding of ongoing game. No doubts, he has degraded his batting strength for the team by coming down the order. But when it comes to batting, there is no comparison in running between the wickets and the power he has in his magical hands, which can scare any bowler in this world, no matter how dangerous he is in front of others. Love you MSD... from the day you hit 183*, your highest score, on my birthday to save India against defeat from Sri Lanka.
Long live Dhoni... And long live his captaincy... Because he is the only captain who can lead the Indian team to glory... He is a true legend...
What Dhoni has achieved for India no one else has done it. On an individual talent level, Sachin is the best player but as a complete player Dhoni is the best. Dhoni is leader and he has own every type of championship (world cup, 20/20 world cup, etc.) Sachin has done well for himself but he could never handle the pressure of the leadership. Dhoni has excelled at that. in my humble opinion I rate the best player as a complete player. The second in my opinion is Kapil Dev and third is Sachin
3
Virat Kohli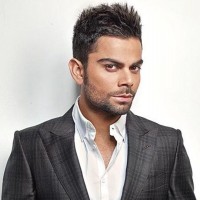 An awesome player nobody can beat him

He is the only batsman to score 5 centuries in a row

He is the fastest to hit 13 hundreds

He scored 1000 runs the fastest

He is the next Sachin tendulkar

He is an awesome player. Nobody can beat him. He is too handsome. He is the next sachin tendulkar. Virat is the best & HE will be the best captain in future. Nothing more to say.

Classy player and is a rather vicious hitter and slams his shots with supreme power and speed. He will for sure be a cricket legend later in his career
He is the best and a wonderful cricketer he make team India to a best team in the world. No anyone beat him and no anyone bowler face him. Really he was our second Sachin Tendulkar. When he play all batters and bowlers are down. He make records and beat everyone in this earth. Virat Kohli is the only player who beat all records in one time. And he's 1st 200 runs make him a Indian Best Cricketer...
To all those who say that Kohli is better than Sachin.
Sachin played against tougher bowlers. The pitch was tougher too. Nowadays the pitch are batsmen friendly and bowlers are not even 50% good as the bowlers of Sachin's era. When Sachin played even 250 is a big total in ODI. Sachin still piled up runs. Kohli do not have challenge. So, don't compare God with King.
He is the best cricketer. He is the best fielder, in my opinion he is the best. He is the best batsman all over the world. I love his style of batting. He is much better than Abe devilers, David Warner, Chris Gayle or other batsmen in the world. He is the best captain too and I think he will be much better than Sachin Tendulkar in a few days. I am proud of him
4
Kapil Dev
The best all rounder and truly best in al the areas , batting ,bowling and fielding and only Ian Bothom could match him in batting and bowling but not in fielding.
Kapil Dev is regarded as one of the greatest all-rounders in the history of cricket. Because Kapil Dev the only player in the world of cricket to have taken more than 400 wickets (total wickets434) and scored more than 5000 runs in Tests which made him one of the greatest cricketers in history Kapil Dev is the Best All-rounder in the world.
I think Kapil should at least be second on this list. I think this because
A.He won India the 1983 world cup facing the best cricket team of all time. (The early! 980s West Indian team)
B. He is the allrounder with the most records and could have made more if Azhar did not have him retire
C. At that time most of the Indian bowlers were spinners, so the pitches in India were mostly for spinners, so he was not able to reach his full bowling potential because of this.
D. Kapil Dev batted at number 7! If he batted up the order he would have more records and more time to bat winning more matches for India.
He is the first reason why Indians started watching cricket! He is the first legend and is most under rated now due to the different times! He won World Cup When there were no ad revenues no glamour no technology. Truly legend!
5
Sourav Ganguly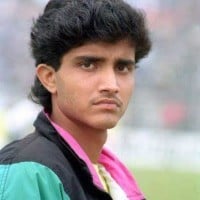 Sourav Chandidas Ganguly, affectionately known as Dada, is a former Indian cricketer and captain of the Indian national team.
Apart from being one of the all time greatest batsman in the world, It was DADA who made Indian Team to Team India. He brought passion for winning the matches in the Team. His contribution to Indian Cricket is the most. He made the Team India what we see today. He brought Passion, Aggression, Hunger, Wit in the team.

His legacy will stay forever in the minds of all the cricket lovers in India and abroad as well.
A) winning habits are created only after persistent attempts to transform, so in my mind he is by far the most impactful cricketer in indian cricket history. Someone who transformed Indian cricket for good.
b) He was among the all time one day greats and among India's finest in Tests too (taking into consideration his weakness against short pitch, lean patches et cetera).
c) Someone who spotted, inspired and groomed India's next gen talents and leaders
He is the one who brought back the self believe in Indian cricket. He tought how to win. There are lot of controversies surrounding him, but its for sure that he is the one that changed Indian cricket. A lot if players playing in the current team wad taken up by him. Even MS Dhoni. So lets not forget the great man. The true gem of indain cricket. The game changer. We love you dada...
He was a great captain and one of the best batsman of India. He had brought Indian team to an another level by his captaincy. He is the reason behind many good cricketers of Indian team including Yuvraj, Dhoni etc.
6
Virender Sehwag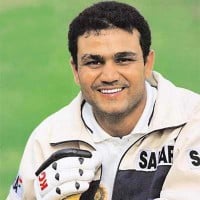 Virender Sehwag is an Indian cricketer whose aggressive batting has found success at the top of the batting order.
SEHWAG is a great legend player who plays fearlessly and has many unbeatable records like 2 triple centuries and 5 double centuries in test with career strike rate of over 80 averaging 50 in tests which is a miracle milestone he achieved. In Onedays he scored 219 which is highest and in career has 8500 runs at strike rate of over 100 averaging 35.
He is a great player India is blessed with.
YOU can ask many great bowlers about how destructive sehwag is.
For me If sachin is number 1 in cricket then SEHWAG comes in NO 2.
When he stands on the pitch awaiting the delivery, everybody has their heart skipping beats.
He is a devastator for opponent.. When he keeps going no one can stop him and history shows whenever he hits a century the chances of win rate is more for India
We don't watch live cricket when Sehwag is not playing. His old highlights are more entertaining than live match without Sehwag.
7
Yuvraj Singh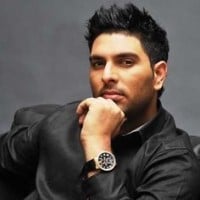 He is the most aggressive batsmen that the world has ever seen. The cricket ball must be honoured by his bat. His pledge to fight cancer was a remainder of his strong will power
A man of his character will never be seen again, man behind India's biggest achievements, ability to deliver under extreme conditions.
He is powerful batsman in indian team and he was best make to won for important situations and maintain our team to won...
Success doesn't mean climbing too high when you are fit, but it lies in escaping a well when one fall into it and Yuvi is the perfect example for that.
8
Sunil Gavaskar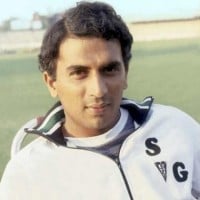 I think we should change the title to "Favourite Indian Cricket Player", too much bias for my liking. Some of these players are good but they aren't that good. Did they have the face one of the best bowling line-ups? (West Indies) No they didn't. Vote for the best, not your favourite player...

The top 5 should be Tendulkar, Gavaskar, Dev, Dravid, Kumble, once that's done then you can work out the appropriate order.
Humble yet a performer but he did not ever was high headed like Virat Kohli. That was the beauty about Gavaskar. Long live the champ!
The very most selfish player who only played for his personal records.
One of the best the greatest batsman of his era.
9
Rohit Sharma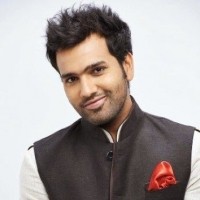 Rohit Gurunath Sharma is an Indian international cricketer who plays for Mumbai in domestic cricket and captains Mumbai Indians.
He is best classical player than anyone else.. In almost all the time he don't fails to give a good score for his team.. No one can beat him.. I like him very much after the god (sachin)..
Nobody else in cricket's history can be compared with Ro-Hitman Sharma when it comes to hit the ball with an brilliant time..
He's a genius on pitch during batting.
Excellent and wise cricketer.
Except yuvi no one else in Indian cricket could as easily loft the ball beyond the boundary like Hitman.
I like his batting this one who made 264 runs against Sri Lanka and 215 or something against Australia can any one will be able to make this? no one can! I am challenging all the cricket players! This is rohit sharma RO-HIT!
The only cricketer to score 2 double centuries...great style of batting and magnificent fielding...he is a complete man and a complete cricketer with a broad smile and lovely face making the audience bound to watch his game...I just love him he is the best!
10
Rahul Dravid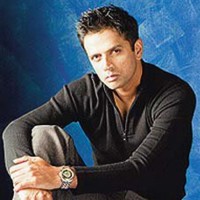 Test cricket is being considered as the real cricket as it tests not only your technical skills as a batsman but also your mental abilities. I don't know why he is at number 11 in the list.Dhoni/Ganguly is top in the list because they got good team who performed well for them.If you can see record of dravid as captain its pretty good.Under his captaincy India recorded 17th consecutive wins in one -days by chasing. Most important is he is the most respected cricketer and that's why he is at NCA and not on any profitable profiles in BCCI.
Many legends during 99-2000s have their picture in Indian cricket museum. And the wall behind them is special. He is the success story behind every other one's success. The glue to Indian batting order. The thread that keeps batting intact. Marvelous jewel in Big 5. Dravid, Sachin, Ganguly, Laxman and Kumble
The impeccable wall, a strong foundation in batting line-up. Much profound as a team-player and devoted team member. His potential as a true player could never be harnessed by the team. Deserves much greater accolades and appreciation...
Sachin was the best batsman ever, but Dravid was the best team player. He was there to support when someone else was shining and will take the charge when no one is shining.
The Contenders
11
Anil Kumble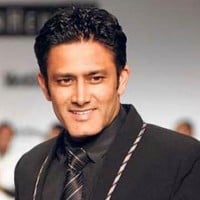 One big match winning player for India and would have been the same or more famous if he would have played for any other side.
Definitely a greatest spin bowler and most under rated player. Only player in India to take all ten wickets in an inning.
An outstanding personality of Indian cricket history on and off the field. 100% dedication and professional player.
Awesomeness! Team India's lucky to have him coaching! Royal challengers Bangalore forever!
12
V.V.S. Laxman
Finest middle order batsmen India ever had in the team. Classy batting is his style
Technical cricket player in world. Back bone of the Indian test cricket
Classic player with great ambitions and will be one of the most elegant players of India
His style is incomparable and even Sachin is said to have learnt some shots from him
13
Suresh Raina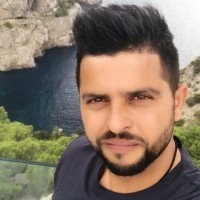 He is the only indian cricketer to make centuries in all formats of international cricket. He is a future captain for india and raina dhoni partnership is better than the best
Suresh Kumar Raina is the best player and best fielder. In every season in Ipl he secured above 400 runs. He is a only player to play all the matches. Dhoni is the best friend for Raina. He played very well for Gujarat lions. This team is the top of the list in Ipl. He is the first batsman who secured above 3800 runs in Ipl. He is the best captain for the gujarat lions.No one can beat raina as a fielder and batsman. He is the top batsman in twenty-twentys.
Selfless cricketer. Sincere Team Player. Charismatic on field.
Best in attacking and counter attacking batting. Appreciates everyone immensely
He is an awesome and energetic player. He has scored the most number of runs in ipl. A very cool and calm person. One of India's emerging talents.
14
Gautam Gambhir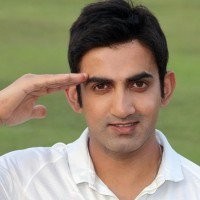 Gautam Gambhir is an Indian politician and former cricketer, who has played all formats of the game.
You are the real champion. You can be the role model of young cricketers. You are the second wall of India.
Unlucky You! got chances when you were failing and lost place after became dependable.
He is my idol and one of the best Indian cricketer. He should be the captain of India
He always sets an example.
I want Gambhir to make a comeback in Indian Cricket Team.
15
Shikhar Dhawan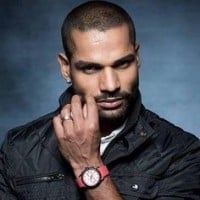 He is a powerful hitter! One of the great Indian openers!
Power shots of shikhar I can see. Powerful sixes
His celebration style after taking a catch is the best...
He is the best player and he should be number 4 or 5. Change it RIGHT NOW
16
Hardik Pandya
Best ever cricket player in India..
He is the best cricketer
He is a very best player
He is awesome player
17 B.S. Chandrasekhar
18
Ravichandran Ashwin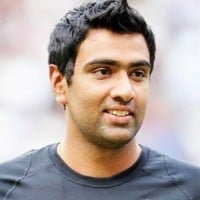 Right now the number one test bowler and is rapidly taking wickets. So he should be in the top ten.
You are true I can see sir! Very intelligent cricketer.
He is also effective in bowling as virat in batting...
Our plus point... opposite minus point
19
Bhuvneshwar Kumar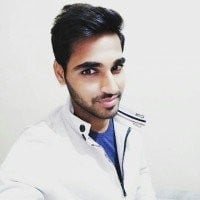 He is best bowler in team India.
Best bowler I seen... ! He is future legend... !
Yes... he is future legend
Best blower in world
20
M. Azharuddin
He is really classic player, with great athletic, he is second step of india who made India be great position..
He is a real inventor of Helicopter shot... And specialised in flick shot..
World best player ever seen.!
Very stylist bats man
21 Ravi Shastri
22
Jasprit Bumrah
Jasprit Bumrah is an outstanding bowler, so I think that this position is not adequate for him...
Idiots...
Bhuvneshwar Kumar has never made even David Warner Duck-Out, but Jasprit Bumrah has made Chris Gayle out by 5 Runs.
Bumrah Dismissed Gayle by 5 Runs... Did The Bhuvneshwar Kumar Chump ever do something like that?
Jasprit bumrah is a jerk!
23
Ravindra Jadeja
He is an amazing spinner and batsman.
He is a best all rounder
He is the sir of cricket
You are the great
24
K.L. Rahul
Kl rahul is the best player and he is the future of indian team .Love you sir keep it up
Very nice player and very awesome..
Very nice cricket player
I'm impressed her bat
25
Harbhajan Singh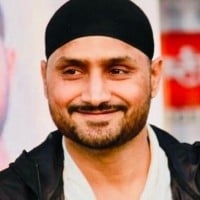 Harbhajan Singh is a Member of Parliament, Rajya Sabha and a former Indian cricketer and cricket commentator.
Best Off-spinner who has 400 wickets and has a secret weapon called Doosra. Rick Ponting is his bunny and he can win games by bat too. He also scored some test centuries.
Good player of team
Best spinner of all time
His batting is awesome
PSearch List