Greatest Sri Lankan Cricketers
This List includes the Greatest Sri Lankan Cricket Players: Batsmen, Bowlers, Fielders, Wicket-keepers & All-Rounders.

The Top Ten

1 Sanath Jayasuriya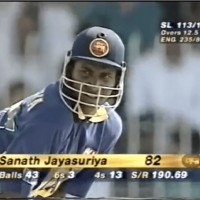 Sanath Jayasuriya: the Match Winner, the Master Blaster, the Little Dynamite, the King of Hard Hitting, the Emperor of Sixers and the Great Sri Lankan Patriot! He is an inspiration to all those who play Cricket. He is my Idol. He is my Inspiration. He has broken more than ONE HUNDRED Batting, Bowling & Fielding World Records! He is the Greatest Sri lankan ever Born. We Love you SANA!
The Greatest Sri Lankan Cricketer ever Born! The Master Blaster, The Emperor of Sixers... No Cricketer in the History of the Game has Influenced & changed the Sport like the way he did...

Great Player, Patriot & Sri Lankan. He is the Greatest!
Sanath is the best ever. It's because of him that SL won 1996 world cup. He came as a bowler and but turned into batsman. Also one of greatest all-rounder. Despite being an Indian I would rate him ahead of Tendulkar in odi. It was he and kaluwitharana who change the style of opening in cricket. Earlier batsmen use to start slowly and use to hit hard only after 15 overs. Now it's the opposite. It's these 2 who invented such style.
He's not only the Greatest Sri Lankan cricketer, but he's the Greatest cricketer of the whole World!
2
Kumar Sangakkara

Kumar Chokshanada Sangakkara is a cricket commentator, former cricketer and captain of the Sri Lankan national team.
The Best Batsman in the world and that the world has ever seen and will ever see, for a legend of a man like him, records don't cut it, he went past others and had a higher batting average than all cricketers when he was only a batsman, and also as a wicket-keeper was the best in that form of the game also with the most dismissals in ODI, though its not only what's done on the field but off the field he was a true and purely a gentleman in his kind with helping his society and the world around him through charitable organizations and in other ways. He surely will be missed and will go in the books as the best batsman the face of cricket has ever seen since the day he came into international cricket in 2000 to the present and forever.
How can he be even in the Top 20? He can't even satisfy his own wife! How many of you know that Sanga is having his own life with other women while Yehali is also having her own life with other women and hence a Lesbian!
He is their best batsman, their best ever wicketkeeper, saved or won more matches for Sri Lanka than anyone else in tests, a fine captain leading Sri Lanka to finals of T20 and ODI world cups... He simply is their best cricketer ever..
He is a hero of Sri Lankan cricket. And we have gotten to this level is because of the platform they have laid.
3
Muttiah Muralitharan

So full of zest did Muttiah Murlitharan appear when he took his 709th test wicket to break the all-time record in his native Kandy in 2007, that no one would have betted confidently against his becoming the first man to take 1, 000.
He is the leading wicket taker in the world. The one Sri Lankan which is known worldwide for good reasons. An incredible player.
Undoubtedly his contribution to Sri Lankan cricket is enormous, and will remain one of the greatest cricketers the world has ever seen.
Greatest match winner sri lanka has ever produced.
Sri Lanka would not win many matches if he was not there from 1995 to 2011.
4
Lasith Malinga

Best bowler Sri Lanka will ever see, world accepted player as a simple, honest mubai Indians were lucky to have him & always smiling, Sri Lanka cricket, selectors, board thought the years played foul by him, but he was able always to to prove, his talent with the cricket ball. Hope he will be used in a wise manner for future cricket, bowlers.
Known as Slinga Malinga he has scored 4 wickets in a row he is one of the best Sri Lankan cricketers
Best of all bowlers I personally think he should be number 1
He is a REALLY good player I was so sad when he retired
5
Tillakaratne Dilshan

Sanath Jayasuriya is the Greatest, Muttiah Muralitharan & Romesh Kaluwitharana are the co-2nd Greatest & Tillakaratne Dilshan deserves nothing less than the 3rd Greatest!

Unlike bastards like Sangakkara who plays cricket for personal records, Tillakaratne Dilshan plays for the victory of the whole Motherland. He is an Amazing Batsman, Great Bowler and an Incredible Fielder! For me he is the Greatest All-Rounder since Sanath Jayasuriya!
He is the 4th greatest after, sanath, sanga and mahela. His agresive style has always been admired by all sri lankans. His new opening partner, Kushal perera, is almost as dashing, no wonder people have started to think that dilshan, the old boy and kushal, the youngster, are bound to be like kaluwitharana and jayasuriya, like in the 90's. Flashy starts! Another era for sri lanka!
In a Fast Speed, He'll become Sri Lanka's Greatest Batsman in History, even better than Jayasuriya. Chandimal is on track of beating him because dilshan's power is low
Tillakaratne Dilshan means Hard work and dedication. He is a great lesson for youngsters. Started from the bottom and he is in the top now.
6
Mahela Jayawardene

The most important part of Sri lanka cricket in the post world cup era. Not only being a fantastic batsmen did he contribute to cricket in Sri Lanka, he was inded the smartest cricket brain ever produced by Sri Lanka. The Jayawardene impact on Sri Lanka cricket is clearly illustrated by the fact that Sri Lanka continued to loose games after he retired in 2014 even though the team had Sangakkara, who himself was a legend of a batsmen. Mahela was the craftsman behind many fabulous accomplishments of Sri Lankan Cricket in the modern era
You've gotta love Sanath, Muttiah, Aravida and amongst them stands this man as well! Someone on whom Sri Lankan cricket could always rely on! Great batsman, great captain and above all, a great human being! He has been there for Sri Lankan cricket when they needed his service the most! He'll always be one of the greatest players of not only Sri Lanka, but also Cricketing history! Hail the master!
YOU ARE THE BEST CAPTAIN. Great Batsman in three forms of matches. We wish you make many world records, and we would like to see youe ability and strenghth on next world cup
One of the best Lankan batsman ever.He is one of the most elegant and stylish players in batting with his drives along the ground and the inside out and sweep and cuts.A great role model to young cricketers.
7
Nuwan Kulasekara
He is a innocent but very talented and also he has a brave heart is always give 100% to the while he bowling, batting, fielding he is under rated player but he is the number 1 odi bowler once and he is also one of the greatest swing bowler after vass
In sri lanka's Bowlers, Lasith Malinga comes in First Place, Rangana Herath in Second Place and Nuwan Kulasekara deserves nothing else than the Third Place
Favorite bowler
most innocent player in sri lanka❤😍his smile😍
8
Aravinda de Silva

Don't count the numbers and records at first place please. Contesting for the best batsman followings to be considered.

1. Match winning ability
2. Ability on handling the presure
3. Ability of handling the match situation
4. Number of shots can play with full confidence.
5. Strike rate, batting average, number of tons scored
6. Counterattack can put against the bowlers.
7. Natural talent.

Considering the above Aravinda De Silva is the most prolific and accomplished batsman and accordingly he is deserved to be the best sri lankan batsman country has ever produced
This guy was a cold blooded killer. This from an Indian, Sanath was fire at the top, but he was hit and miss. If sanath succumbed, as sure as death De silva would walk out and set things in motion. Watching him bat was spooky. For a while you don't notice him, you feel what's going on is insignificant in terms of the bigger narrative. And then 10 overs later, you pay attention and realize he has ten shots for every ball bowled at him.
I faintly remember him batting during my childhood and boy, could he bat! As far as I remembere no Srilankan batsman ever caused so much fury, fear and frustration as Arvinda did... All right Sanga, Mahela are there.. But they just don't give the same feeling... Sanath was more like a bomb... If he played, you'd know from the first ball you can't win... But Arvinda... He almost played best always.. And was a, mastermind in planning his innnings.. All hail!
It's difficult to compare nowadays cricket with 90s nowadays cricketers get more matches than those days. For me aravinda de silva is the best we ever had, besides sri lanka only won one World Cup and who's behind that glory
9
Dinesh Chandimal

He has done so many sakifyses for the saik of the team and the sprit of the game and for the pride of Sri Lankat. He never plays for Indivijuwal records. He always plays for the country. He is a Great Batsman, Fielder & Wicketkeeper. He is a true Champ behind the 2014 T20 World Cap. He is that Good. I will Rank him 2nd Greatest ever behind only to Sanath Jayasuriya. Come on Dinesh Chandimal. Oyata Budu Saranai!
He always show the true sportsmanship during the play. Great player who like to give his best to the country. But being captain in an early stage of the career made him stressed and in-consistence.
"He is a great cricketer in Sri Lanka. Dinesh is better than Malinga as the T20 cricket captain in Sri Lanka. Oneday he wiil be the greatest cricketer in our country. 'All The Best! and I Love you.' "
I mean he is so good at batting in test especially his 164 against India in 2015!
10
Rangana Herath
He is best bowler in the world
Great left arm spinner
Most underrated player from sri Lanka. kept a low profile.
very much like iqbal quasim..
Rangana should be right up there with Murali on the ten best Sri Lankan cricketers and int the World's top ten spin bowlers
The Contenders
11
Marvan Atapattu

For me there are 3 Opening pairs who changed the world and Marvan is in one of them:

1st: Sanath Jayasuriya & Romesh Kaluwitharana
2nd: Sanath Jayasuriya & Marvan Atapattu
3rd: Sanath Jayasuriya & Tillakaratne Dilshan

Go Sri Lanka!
His Style is Unique & Beautiful to watch... The Drives, The Cuts, The Pulls are textbook accurate! The Best Batsman after Sanath Jayasuriya.
Marvan scored 8529 ODI runs... He & Sanath destroyed all the bowling attacks back then... A very few knows the fact that he was also known as 'Marlon Kandamantu'
I think he is the best one at all.
12
Romesh Kaluwitharana

Sanath Jayasuriya is the Greatest, but Romesh Kaluwitharana deserves nothing less than the 2nd Greatest!

Along with Sanath, Kalu revolutionized One Day International batting with his aggressive tactics during the 1996 Cricket World Cup. It's always a massive compliment to someone to say they changed the game, and their storming Batting in the 1996 World Cup changed everyone's thinking about how to start innings!

And Man! He was & he will always be the Greatest Wicket-keeper ever to play the Game!
Little Kalu! You are the Greatest Wicket-keeper of All-time! There will never be a keeper better than you. You are the Best because you are the Backbone of the team behind the Wicket. SANA & KALU: The Greatest Batting Pair in the History of the Game!
Great opening wicketKeeper batsman
13
Angelo Mathews

Certainly deserves to be higher up. Was an absolute beast in the 3 peak years of his career.
He is a great cricketer in Sri Lanka
Good captain super man
Angelo Mattews is an awesome allrounder in Sri Lanka.
14
Ajantha Mendis

The creater of Carrom Ball and T20 specialist spiner
15
Chaminda Vaas

Simply the best and most consistent fast bowler than Sri Lanka has ever had. Any country would be proud to include him in their list of best cricketers!
There is no other bowler as consistent and genuine as he is. He was not only a great bowler but an exceptionally reliable all rounder that gave his all with the bat and ball.
The best ever Sri Lankan fast bowler chaminda vaas is the best Sri Lankan bowler after Muralitharan
If u can find a better pacer than him, then u are telling a lie. The best pacer in this whole earth!
16
Pulasthi Gunaratne

His stats & figures says it all! He has scored 36 runs & capruted 27 wickeds in one day internationals. Top score of 15 (not out) best bowling of 4 for 44 and has taken 3 catches also! A Great player!
Once Sachin Tendulkar peed in his ball-guard and pants when Pulasthi came running all the way from the boundary line!
Pulasthi is the Best Fat Bowler after Chaminda Vaas & Nuwan Soysa! He is a wonderful bowler who is lightning fast! 150 kmh-1 is a simple thing for him!
In my book Pulasthi can even hit 158-161 kmph if he practices hard.
17
Roshan Mahanama

The best sri Lankan fielder.
18
Arjuna Ranatunga

Captain cool absolutely... love his way of captaincy in 1996 WC which change srilanka cricket.. also his brave innings against Pakistan at pindi test with one hand winning the game for srilanka and also giving confidence to murli during his bowling in Australia
He should have been rated higher than this...One of best captains in the history of the game.
He is really great captain and he brought his team from low stage to higher stage.
Pride of Sri lankan cricket. Stood up to racist Australian in their own country, saved Muralis Career.
19
Asanka Gurusinha

He cannot touch Sanath Jayasuriya's Caliber but was an Awesome Player in the 96' World Cup winning team. He was a big factor and played major roles in the win. Was the best 1-down batsman when Sanath or Kalu was dismissed. Asanka did all his best to win the World Cup. What a great player, had to vote for him.

You will never find a better team than the 96' World Cup Winning team.
Sanath Jayasuriya, Romesh Kaluwitharana, Asanka Gurusinha, Aravinda de Silva, Arjuna Ranatunga, Hashan Tillakaratne, Roshan Mahanama, Upul Chandana, Kumar Dharmasena, Chaminda Vaas, Marvan Atapattu, Ravindra Pushpakumara, Pramodya Wickramasinghe & Muttiah Muralitharan.
The Golden Era of Sri Lankan Cricket!
20
Upul Tharanga
Tharanga is the best batsman of lankan side and better than kohli and tendulkar
Tharanga be open open batmen
Super open batmen
Now he is only for best in srilanka
21
Nuwan Zoysa

Ara Zoysa!
Standing 6'4" he is often regarded among Malcolm Marshall, Andy Roberts, Michael Holding, Colin Croft, Courtney Walsh, Curtly Ambrose & Joel Garner as one of the 8 most lethal fast bowlers of all time!
The Gentle Giant! He was an Incredibly talented Cricketer...
22
Kusal Perera
He is the best opener after Sanath Jayasuriya
One of the best...
Awseome and very fun to watch.
He is also like sangakara
23
Upul Chandana

One of the Best Fielders ever! He is among the Greatest fielders Sri Lanka ever produced like Roshan Mahanama, Sanath, TM Dilshan, Mahela & Kaluwitharana the Best Wicketkeeper in the world!
Best fielder along with Roshan Mahanama!
24
Thilan Samaraweera

He is the best Sri Lankan test batsman after magela and sanga he got appointed to the test team of the year 2009 as a batsman. He ranked no 7 in icc test rankings 2009 and scored 1500 runs in that year. He got injured in Lahore attack and became the man of the series vs NZ from the very first series after he got recovered. Still holds the best second highest average by any Sri Lankan test batsman with the average of around 49
25
Farveez Maharoof
One of the best all rounders Sri Lankan has produced , he was not given ample chance to prove his self .
Good All rounder after Angelo Mathews, he should be n Team for ODI & T20
Best all rounder.
Good all rounder like Andrew Flindoff
PSearch List