Best NFL Quarterbacks of 2013
The Top Ten
1
Peyton Manning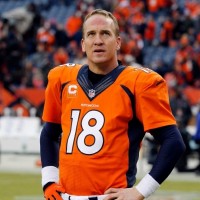 Peyton Williams Manning is a former American football quarterback who played 18 seasons in the National Football League for the Indianapolis Colts and Denver Broncos.
Look peyton Manning is my favorite player period and I'm not saying this cause he my favorite player cause statistics prove it look at this year this man already have 1100 something yard he's the best ever
I was horrified when he went to Denver last season as I disliked him the most out of all the NFL Quarterbacks but to my surprise he played his best season ever. He was very good before but now is great. Elway is still number one of all time.
This year he was the best quarter back easy he got at the top of the stats by far and he's going to the Super Bowl. But not as good as Tom Brady. But this year Peyton is better all the way.
He Is the most talented Quarterback by far. And Will be. Until the future tells us different. He broke Tom's Record. he's the best.
2
Tom Brady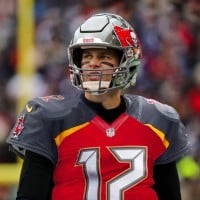 Thomas Edward Patrick Brady, Jr., is an American football quarterback for the Tampa Bay Buccaneers of the National Football League. Brady is known for being the only quarterback in history to win 7 Super Bowls, and is often considered one of the best quarterbacks of all time. Brady is also frequently ...read more.
Brady might not have peytons stats but he's great at doing one thing, going out week after week and winning no matter the situation no matter whos around him tom brady is the best in the league at winning football games
I think tom Brady was the best because he was
Making good throws and he just didn't have very good receivers and still went to the AFC championship of 2013-2014
He has been in the super bowl 5 times. He is going to be a first ballot hall of famer. In my opinion, he is the greatest quarterback of all time.
He is a great and future hall of fame quarterback with an outstanding determination and amazing arm
3
Drew Brees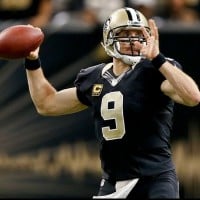 Drew Christopher Brees is an American football quarterback for the New Orleans Saints of the National Football League. He is the only player to have back to back to back 5,000 yards in three seasons straight. Brees also has the all time best completion percentage with 66.95%.
Drew brees is the best quarter back I mean peyton manning come on seriously I mean he is good because he isn't that great he can throw good throws and be there for his team but I wouldn't consider him the best and then tom brady no no way he is ok too he isn't really a top player he is not one of the greatest quarterbacks a lot of people just know him for maybe long passes good play but he is not an all star player, the best quarterback and this is a fact is drew brees is has a great mind knows what to do how to play know when to set up make good plays do good with his teamates I think of drew brees as a legen quarterback his throws are always on the spot he knows what he's doing I think he is the star player he is my quarterback
We'll Peyton manning is an extremely good quarterback and so is Drew Brees. But has Tom Brady Or Peyton manning have over 5,000 yard season for 4 years in a row. No so Drew is the BEST!
I think Drew Bees has a chance at going to the super bowl and the Panthers maybe first in there division by records but the Saints are better
How many touchdown passes and throwing yards does this guy have to get before being ranked #1
4
Aaron Rodgers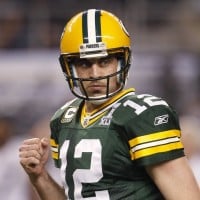 Aaron Charles Rodgers is an American football quarterback for the Green Bay Packers of the National Football League.
Aaron Rodgers should be on top of this list. He should have been 1st pick but 49ers made a horrible mistake by choosing Alex Smith. Rodgers has the most accurate throws ever. He leads Packers to many victories. I believe he is better than Peyton Manning. Although Peyton Manning is good, Aaron Rodgers is better. Rodgers is a future Hall of Fame.
Aaron Rodgers came into the league as a highly-toted rookie who backed up Brett Favre. When Brett Favre wanted to return to the Packers after he retired, the Packers rejected. They chose Aaron Rodgers over one of the best quarterbacks in NFL history. Just think about that.
Rodgers is a much better QB than he is give credit for. He averages 34 passing attempts per game and throws an Interception every 57.9 attempts. By way of comparison, Manning throws an INT every 38.5 attempts. He should be closer to the top of this list.
Aaron Rodgers is an elite weapon in Packers offense. He is clutch and not to mention the MVP. Rodgers can make another Super Bowl run this year.
5
Russell Wilson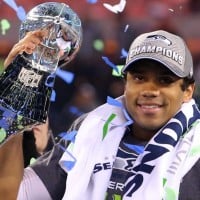 Russell Carrington Wilson is an American football quarterback for the Denver Broncos, and formerly for the Seattle Seahawks of the National Football League.
He a natural, no doubt about it. I like his athleticism, arm strength, and poise. I have never seen him looking desperate or rushed. Even when he's on the run he's calm and has his eyes downfield. He's already a Super Bowl champion in year #2. As long as he is with the Seahawks they will have stability on offense. You can't put a price tag on that. I'm not even a hawks fan
His team holds the best record in the nfl for the 2013 season, he has the record for the most wins in his first two years, he is tied for the most td passes in the first two years and at this point is still undefeated at home!
Did Russell have the best defense in nfl history on his team, yes but still had more TD's thown in the first 2 years than any other quarterback except I believe Peyton Manning
Have you ever seen him have a bad game? Flustered? Upset? Anything but professional? I didn't think so.
6
Colin Kaepernick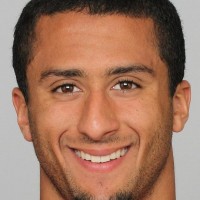 Colin Rand Kaepernick (born November 3, 1987) is an American football quarterback who is currently a free agent. Kaepernick played college football at the University of Nevada, where he was named the Western Athletic Conference (WAC) Offensive Player of the Year twice. After graduating, he was selected ...read more.
I think kaepernick is the best in my opinion because I love him but I think the whole chart is exactly correct I think
I hate the 49'ers but Colin is a great quarterback.
They are going to make it to the super bowl
This year with Colin kaepernick!
He's a good for a new QB in the NFL and he's not scared to take a hit I like
7
Joe Flacco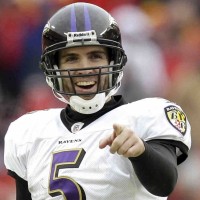 Joseph Vincent Flacco is an American football quarterback for the New York Jets of the National Football League.
I don't really understand why some people try to insist that this guy as a good QB. He makes too many mistakes and doesn't score enough for it to be worth it. 19 TDs/22 INT, 73.1 passer rating last year.
I think he is the awesome quarterback I have ever seen
8
Cam Newton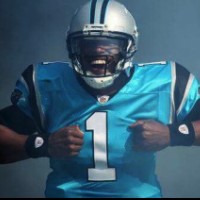 Cameron Jerrell Newton is an American football quarterback for the Carolina Panthers of the National Football League. He had previously played with the Carolina Panthers from 2011 to 2019, and for the New England Patriots in 2020. In November 2021, he signed with his old team, the Carolina Panthers.
Can newton can run he can pass short and towards the middle but he can work on his deep pass to the end zone and he get sacked because of his oline but yeah he Is aw awesome aQB
He can do it all run, bomb the ball, and make a short pass, they don't call him superman for nothing
Cam newton the real superman
9
Andrew Luck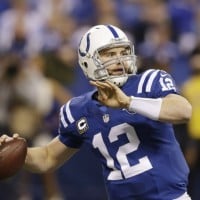 Andrew Austen Luck is a former American football quarterback who played his entire career for the Indianapolis Colts of the National Football League.
He is from Stanford kids, he is pretty darn good. BETTER THAN GRIFFIN I.

Here are my top ten quarterbacks of 2013/2014. IT IS ONLY FOR THIS YEAR!
1. peyton manning- going to superbowl no doubt about it
2. cam newton- led them to playoffs =, in my opinion, 40% chance of winning first game in playoffs
2. russel Wilson- heck of a year, he looks really good for a youngster, Jets should grab him because geno and mark sanchez suck
4. Alex Smith- this team could make the afc championship 55% sure, THIS TEAM CANNOT WIN SUPERBOWL THOUGH because they just got smith and can get BETTER, if I were coach, I would grab boston college runningback or clowne on South Carolina
5. Tom brady- hate the patriots but seem ok, not going to win the afc game or superbowl though in my opinion which hopefully happens
6. Colin kaepernick- he has heck of game yo
7. Andrew luck-he has game and in this year to-14 years, he will have one or two superbowl rings, could even be three, in my ...more
He's amazing for only a second year. Last year he had the best Rookie Season I've ever seen, and still this year he manages to surprise me. First playoff game and he manages to pull a 45-44 win over the Chiefs after a 28 point deficit, the second biggest comeback in NFL history. In my opinion, he deserves the number 1 spot.
This guy is making a good comeback with the colts and maybe not this year but next season they might get a chance at the super bowl
Andrew Luck is just getting started. He's led his team to more 4th quarter comebacks then anyway else in the league. Future hall of famer. Go Colts!
10
Matt Ryan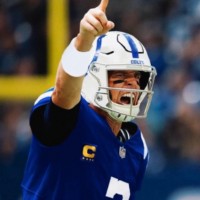 Matthew Thomas "Matt" Ryan, nicknamed "Matty Ice," is an American football quarterback for the Atlanta Falcons of the National Football League.
He just makes a lot of plays. Strong arm and smart with the football. He is usually a league leader in passing yards and TDs. He has not exactly had great defensive play from his teammates really ever. I think that is why he's had such little playoff success. Eventually he will catch a break and get to the Superbowl I think. I really like him and I'm not even a fan of the Falcons.
The Contenders
11
Robert Griffin III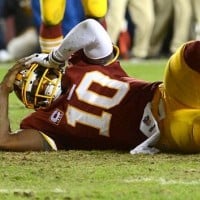 Robert Lee Griffin III, nicknamed RG3, is an American football quarterback for the Baltimore Ravens of the National Football League.
He should have never got he rookie of the year award that should of went to Wilson and luck not griffen and luck ohhh yeah he also won a superbowl on his rookie year
This guy should not be on here he is not good
12
Jay Cutler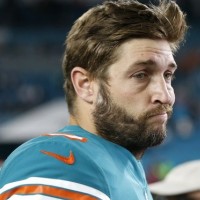 Jay Christopher Cutler is a retired American football quarterback that of the National Football League. Cutler played 11 seasons in the NFL (2006-2016). During his announcement that Cutler declared retirement, he announced plans to be a television sportscaster for the FOX Network.
Not better than aaron horrible qb shows off to other qbs by throwing a touchdown to marshall just he is horrible
Good arm, and better then aaron rodgers
He is better that a lot of people think
13
Ben Rothlisberger
Can carry the team on his shoulders week after week, year after year.
Ben is awesome and flacco sucks
Only quarterback that looks down the field instead of running
He can throw a ball down field
14
Philip Rivers
I live in San diego and even though the Chargers didn't get to the playoffs he got off to a great start in the season
I admit that I'm charger fan but he deserves this spot because he is in the top ten QB ratings at 3rd and 6th in the passing yards
Just look at his stats he is better than 15
15
Nick Foles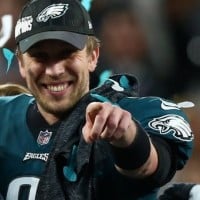 Nicholas Edward Foles is an American football quarterback for the Chicago Bears of the National Football League. He was named MVP of Super Bowl LII.
The greatest 2nd year an NFL QB ever had: 3rd highest QBR of all time, to lead the league; 3rd highest yds/attempt of all time, to lead the league; the BEST td to int ratio of all time; 64% completion pct; 8-2 as a starter. Who did better than that? Peyton? Maybe, probably not. Who else? Nobody!
Vick is pretty good but he did something that people won't forget... He ruined his reputation
Nick foles was a way better quarter back than vick he should be in top 10 with his armstrengt
Should be at spot number 1
16
Tony Romo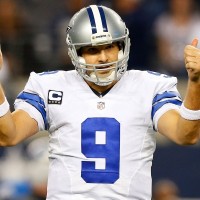 Antonio Ramiro Romo is an American football television analyst and former quarterback who played 14 seasons with the Dallas Cowboys of the National Football League.
The guy plays with more heart than any qb today. He's been dragging the worst defense to victories for years. One game for him has more excitement than Tom Brady's entire career. He's so beat up now Cowboys will be fortunate if he finishes next season. He is a combo of Farve and Tarkington, just a no quit guy
Still wasting his talent on the cowboys most definitely a top 10 Eli manning sucks ass
Clutch Man of 2013, no FEAR!
17
Eli Manning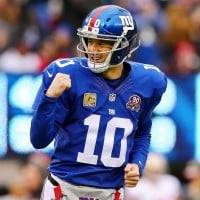 Elisha Nelson "Eli" Manning is a former American football quarterback who played his entire career for the New York Giants of the National Football League. He is the younger brother of former NFL quarterback Peyton Manning.
He's just the best two time super bowl chapion baby and that victor cruz
Eli manning is the best
Eli is number 1
18
Michael Vick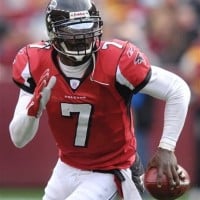 Michael Dwayne Vick (born June 26, 1980) is a former American football quarterback who played 13 seasons in the National Football League, primarily with the Atlanta Falcons and the Philadelphia Eagles. He played college football at Virginia Tech and was selected by the Falcons as the first overall pick in the 2001 NFL Draft. During his six years with the Falcons, Vick was regarded as having transformed the quarterback position with his rushing abilities and was named to three Pro Bowls. He holds the record for the most career rushing yards by a quarterback (6,109) and the most rushing yards by a quarterback in a season (1,039). ...read more.
Michael Vick has the speed and arm strength
19
Alex Smith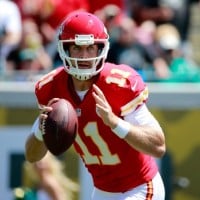 Alexander Douglas Smith is an American football quarterback for the Washington Redskins of the National Football League.
He is so stinkin good! Him and the chiefs are going to the playoffs and going to win allthe playoff games and go to the superbowl
20
Matthew Stafford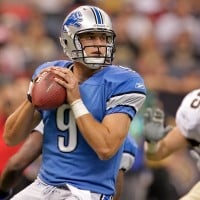 John Matthew Stafford is an American football quarterback for the Los Angeles Rams of the National Football League. The #1 overall pick in 2009 selected by The Detroit Lions, Stafford has a critical acclaim in his stats. Stafford is the fastest player in NFL history to reach 30,000 passing yards. In 2016, he also broke the record for most comebacks in a season with eight. Stafford maybe one of the better Lions Quarterbacks in recent memory, but his record on the road against winning teams may haunt him with the 5-46 record. He also one of two veteran active quarterbacks to have never won a playoff game the other being Andy Dalton. In 2021, he was traded to the Los Angeles Rams.
I.. I can't GREAT weapons in megatron and bush great stats TERRIBLE performance
WHY isn't HE IN THE TOP 10 Stafford is great I would put him on 7
I would place him up there with Peyton, Tom, and Drew.
21
Andy Dalton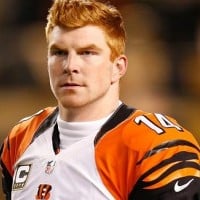 Andrew Gregory Dalton is an American football quarterback for the Dallas Cowboys of the National Football League.
Just because
22
Mark Sanchez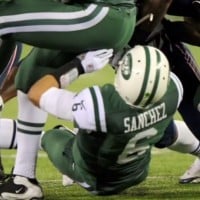 He is horrendous on the eagles
23
Geno Smith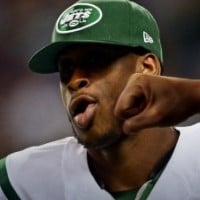 Eugene Cyril Smith III, better known as Geno Smith, is an American football quarterback for the San Diego Chargers of the National Football League.
You should of put Geno at number 1 because he is just plain out beast speed, strength, and awareness
He also stinks but is at least better than mark but not by alittle
24
Ryan Tannehill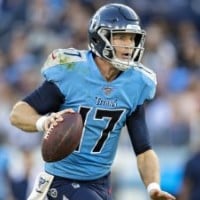 Ryan Timothy Tannehill III is an American football quarterback for the Tennessee Titans of the National Football League. He previously played for the Miami Dolphins from 2012 to 2018.
He's better than THEM (look up)
25 Matt Flynn
PSearch List