Top 10 Best Los Angeles Chargers Players Going Into the 2020 Season
This season will mark a transition for the Chargers in more ways than one. They're moving into their new stadium with the Rams and they will have a changing of the guard at quarterback. The Phillip Rivers era is no more. I don't expect this team to contend for playoffs but there's still a lot of likable talent on this team
The Top Ten
Joey Bosa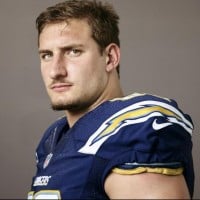 Bosa is the best player on the Chargers. He improved further last year with a PFF grade of 89.6. Last year he had very similar numbers to his 2017 season and if he can stay healthy The sky is really the limit for him in 2020. Keeping him on the team should be a top priority for the Chargers - Randomator
Keenan Allen

Keenan Alexander Allen is an American football wide receiver for the San Diego Chargers of the National Football League.
To me he's their best weapon on offense yet still feels underrated compared to around the league. He's been a beast the past few years earning 3 straight pro bowl bids he's had over 1,190 receiving yards and 6 touchdowns I'm sure he'll become to Taylor just like Sammy Watkins was in Buffalo - Randomator
Derwin James

Derwin James had a solid Rookie season with 105 tackles 3.5 sacks and 3 interceptions. Then he missed almost all of last year with a stress fracture and wasn't ever 100%. Now in his 3rd year I expect to see similar numbers to his 2018 Season. He'll once again have a huge presence on that Defense - Randomator
Derwin James is a beast. - DarkStorm
Austin Ekeler
With Melvin Gordon gone Ekeler is now the top Running back on the depth chart he had 557 yards rushing and 993 yards receiving. He's a double edge sword of sorts. He can rush and receive making him all the more dangerous. - Randomator
Chris Harris Jr.

Christopher Harris Jr. is an American football cornerback for the Denver Broncos of the National Football League.
Chris Harris is a huge addition for LA. He's been a monster ever since his rookie season and he's been named to The Hall of Fame's 2010's all decade team. While he is near the end of his prime this is a guy who'll have immediate impact - Randomator
Melvin Ingram

Melvin Ingram is an American football linebacker for the San Diego Chargers of the National Football League.
Ingram like Bosa is capable of making big plays. He's a bit overshadowed by Bosa but he's dangerous in his own way. Missed a few games here and there last year but still had 48 tackles and 7 sacks. Definitely a disruptive force he's made 3 consecutive Pro Bowls so there's a lot to like about him. If he's healthy he can dominate. - Randomator
Bryan Bulaga
I have no idea as to exactly why Green Bay chose to let Bulaga walk, but the LA Chargers certainly got a steal. $10 million a year for arguably the best tackle on the market is a relatively small price to pay. Match-ups against the quality defensive lines of the Chiefs or Broncos will be made at least a little more manageable with Bulaga. There's also his O line coach James Campen who was in Green Bay from 2007-2018 he can develop O lines and he's familiar with Bulaga which helps a lot. - Randomator
When healthy, he is an elite right tackle. - PackFan2005
Casey Hayward

Hayward has been one of the more reliable Chargers players. Last year he managed to still be productive losing guys like Derwin James and Adrian Phillips stings. He had a bit of a down year on paper but to be fair he had to go up against guys like Deandre Hopkins and Sammy Watkins - Randomator
Tyrod Taylor

To me he's a solid QB. I expect him to start over Justin Herbert unless an injury decimates his season. It's been a few years but he was a serviceable QB in Buffalo he might be a little rusty but once he gets back into the swing of the starting gig he's got some talent around him to thrive. - Randomator
Hunter Henry

He missed the entire 2018 season but last year he made up for it with 652 yards and 5 touchdowns. One of Phillip Rivers favorite weapons and for good reason. He's almost underrated in a sense. If he can stay healthy he could be higher on the list - Randomator
BAdd New Item