Top 10 Best African Soccer Players of All Time
The greatest African soccer players from Gyan to Essien.

The Top Ten

1 Didier Drogba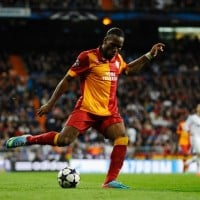 Didier Yves Drogba Tébily is an Ivorian professional footballer who plays as a striker for Canadian Major League Soccer club Montreal Impact.
As strong as any forward to have played the game, Drogba is a mountain of a man to match his his personality and appetite for goals.
However, the former Le Mans, Guingamp and Marseille striker isn't all about power and hustle, he has the technique and finishing ability to match any other goalscorer the game has ever seen.
Two Premier League titles and a brace of FA Cups have come in his six years at Stamford Bridge and the way he's knocking them in this season, who's to say he wont have added to that tally come May?
Samuel eto'o, I respect him very much. He was a very solid player and made a name for himself at barca. But Drogba, he did start playing football for a club very late and showed the world what he is able to do so fast that today he is a name all football fans have heard of. Absolutely incredible, this guy. He wins the ball in the air so easily, and threatens every goalkeeper. If only he was 10 years younger...
Most decorated African player if you combine personal and collective achievements; has not reached the heights of Samuel Eto'o but has not sunk to his depths either. All in all, he just about edges the Cameroonian out.
You've got to love Didier. I'm an Arsenal fan and I have to admit that he is a quality player, best thing to come out of Africa since George Weah.
2
Samuel Eto'o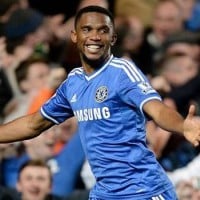 Samuel Eto'o Fils is a Cameroonian professional footballer who plays as a striker for Turkish club Antalyaspor.
His tenacity and skill have made him one of this generation's finest strikers.
Eto'o scored more than 100 goals in five seasons with Barcelona, and his early goal in last season's Champions League final win over Manchester United made him only the second player to have ever scored in two separate Champions League finals.
He was a member of the Cameroon national team that memorably won gold at the 2000 Olympic Games in Sydney, and also featured in two World Cups and five Africa Cup of Nations tournaments.
Samuel Eto'o is the best African Soccer player of all time. there is no debate about it.
And please stop publishing this kind of stupidity...you really put drogba before Eto'o? really?
In a real top ten drogba doesn't event come before Georges Wear...
Eto'o had speed, good strength, jumped high, good heading ability, finesse, dribbling, ball control, high stamina, he is just amazing a complete forward and deserves the number 1 spot.
When we talk of Eto'o we refer to a striker with great ball vision, speed, positioning, sense of the game and above all...finishing. He is the greatest finisher of his time
3
Jay-Jay Okocha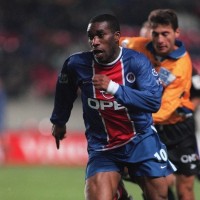 So good, they named him twice is the famous quote about the talismanic Nigerian who arrived at the Reebok seemingly in his twilight. But he was a revelation in four years with Bolton.

The Africa Cup of Nations (1994) and Olympics gold medallist (1996) with Nigeria helped the Potters avoid relegation, took them to their final in nine years - the League Cup Final in 2004 which they lost to Middlesbrough - and into Europe for the first time in their history.
Just because he didn't play for big teams does not mean he's not the best, no African player is as gifted as him with the ball, he's skills are just too good for him to be in number 3
All time Africa's best
He won almost everything he taught both Ronaldo's and Ronaldinho
4
George Weah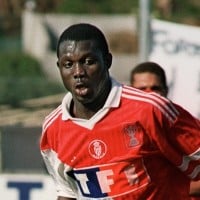 Remarkable man who has enjoyed just as exciting a career on the pitch as he has experienced off it. Weah is a character who rates as our top African player of all time, not just by virtue of the strength of his personality, but because he had real talent on it.
By his own admission, he was a criminal and gang member in his youth but football got him out of his country - in 1995 he was voted world footballer of the year while with Paris Saint-Germain, he also ended up living in New York and commuting to training sessions in Monaco by Concorde. Such was the life of Weah.
World, European and African Player of the Year in his time, Weah scored goals at every club he went to and won league titles in France and Italy with PSG and AC Milan respectively.
And when his career ended, such was his popularity in his native Liberia that he ran (unsuccessfully) for President. Quite a character, certainly a fine player and easily our No 2.
I'm very much disappointed to see King George M. Weah, Liberia elect-president rank at 4th place.
This is a player who won all awards in a single season is was graded as one of the greatest living player
You might have just started studying football history, no man from Africa came closer to George weah accomplishment in the game of football.
He is Africa's number one.. Anytime, anywhere and any place. George Weah is a remarkable legend.
5
Yaya Toure
Nice skill such as passing, shooting from a far distance, great vision and absolutely nice personality..his playing style make me want to plays football more and more! Support Yaya!
How can it not be Yaya Toure? This guy is an athletic freak.
He is supposed to be the no. Midfielder in Africa
From Manchester City... Best African player of 2013...
6
Mohamed Aboutrika
Greatest player in Egypt!
Best player in the world
Simply he is a legend
You can't find better
7
Emmanuel Adebayor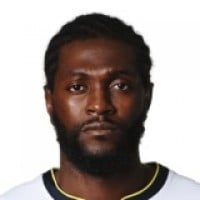 Sheyi Emmanuel Adebayor is a Togolese professional footballer who plays as a forward for Premier League club Crystal Palace.
He the most good player
His my favor player
Strong in the air
8
Michael Essien
Don't pigeon-hole Essien, admittedly best known for being a box-to-box midfielder - he can score goals, too - see his memorable strikes against Barcelona in the Champions League last season and another stunner against Blackburn.
The Bison was, for a time, the most expensive African player of all time until Emmanuel Adebayor's move to Manchester City last year and the two-times French Ligue 1 winner with Lyon became a Premier League champion with Chelsea in 2005
He's a great player who scores goal like a mind-blowing laser!
He's really good and I'm really glad that he is coming to panathinaikos
9
Abedi Pele
Abedi Pele was way ahead of his time----If had become great during the internet era, the question of who is Africa's best wouldn't have been in doubt. Those of us who saw him play were wowed---his deft touches, flair and unimpeachable vision in the game of football is unrivaled on the continent. Abedi Ayew was both effective and efficient--he was a middle field general like no other in Africa's football---Abedi only scored important goals---and all were taken from the top drawer of world class football. Indeed, it is laughable to see Drogba ahead of him on this list because in terms of pure football ability, Didier is not worthy to untie his shoes. The only African players to come close to Pele is Raber Madjer and Opong Weah. Like Abedi, Madjer was an offensive genius who combined speed, flair and power to create a beautiful moment in football. Well, let the debate continue, but to me, there is no doubt that Abedi Ayew Pele is Africa's number one football player of all-time!
His name is Pele, that must make him pretty good.
10
Kevin-Prince Boateng
He ios plain hot! Laugh out loud
He is a talented player.
The Contenders
11
Rabah Madjer
He was the best of the best never ever Africa had a player as he was no one can what he did for the club or country, best skills, best goals, best f kicks, best passes, dribbling you can say he is the best African player of all times I hope you will agree, thanks to all
12
Roger Milla
It was all about the dance, the smile and the goals as the then 37-year-old lit up the World Cup in 1990 as the Indomitable Lions almost went all the way to the final during a memorable tournament run - courtesy of Milla's goals.
Even his name is entertaining - Albert Roger Mooh Milla was voted one of the 125 greatest living football players in 2004 by the Pele but many young football fans around the world showed their own appreciation of Milla when, after scoring a goal, they'd run up to the corner flag and do that dance.
Roger miller, is still the best striker Cameroon has ever had till date. He scored goals for his country when his team needed one. He was a perfect finisher, flawless and made his Country and Africa proud. He is a true legend
I was not born when he was playing but I watched clips of him and he was really talented. Cameroon needs him
13
Asamoah Gyan
I vote him the best at his time. First reason, he is fearless, yes we can type if a star. Humble, humble, humble.
Isn't this the guy who missed the penalty against Uruguay in the world cup. Ghana's best play.
An amazing player, has great finishes and fantastic ball control.
Superb player who is great in the air and one of the best on the Ghanian national team.
14
Sofiane Feghouli
The best Arab footballer
Feghouli is amazing
The best Arab player!
15
Nwankwo Kanu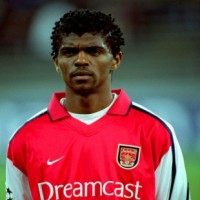 Sensational in his days. had an exciting career with Ajax before moving to Arsenal. He lead Nigeria to win the U17 world cup and in 1996 scored the wining goal against Brazil (who had the likes of Bebeto and Dunga) and Nigeria won the Olympic gold in football,
Please take your time and make Research about Kanu Nwankwo...he should be in the ranks of 3rd to 5th
16
Demba Ba
One of the best finished.
17
Marc-Vivien Foé
Helped Cameroon to reach confederation cup, he died in the field.
18
Siphiwe Tshabalala
Just look at his goal at the World Cup to see what a player can do for his country. He had the entire country cheering him on!
A skillfull player who does not loose the ball easily on the field of play and I can still imagine his world cup goal.
19
Mohamed Salah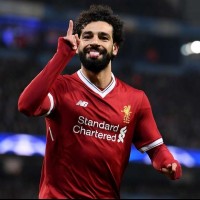 Mohamed Salah Hamed Mahrous Ghaly (born June 15, 1992) is an Egyptian professional footballer who plays as a forward for Premier League club Liverpool and captains the Egypt national team.
He is the best player in Egypt! Not Mohamed Aboutrika (Mohamed Aboutrika is still good though)
Salah is The best player if you compare with Messy
I think he is good
He is the best
20
Hossam Hassan
Evergreen goalscorer, hero, legend, recored breaker - just some of the words you need to describe Hassan who amassed 169 caps for Egypt, and scored 69 goals, both of which remain national records.
He will be remembered by many after appearing for his country at the 1990 World Cup, where they were unlucky to be eliminated after two draws and the narrow 1-0 defeat to England after Mark Wright's headed goal sent them out.
Best striker ever, Did not take his rights as a legend in Europe because of playing locally, just a hint he played only one and half year in Europe scoring super ha trick at celtic in Europa league!
The most overrated african footballer and the legendary striker 9 and the most african player scored international goals
21
Kalusha Bwalya
I Watched this great son of southern African soccer for most of his long career he was a marvel to watch. His record for Zambia speaks for its self in the modern game to appear 140 times for your country and netting 100 goals most of which were of the highest quality. Kalu you where with a magical left foot.
The best footballer ever seen take quality and positive free kicks, any free kick for Great Kali was already counted a goal. He is such a great player of all times.
The bets in the entire Southern Africa region. He scored very remarkable goals for Chipolopolo...
and the most capped appearing 141 and scoring 100 goals is no mean achievement but great one indeed.
Great Kalusha Bwalya the only African player to have to played in psv along side romalia. He is the best southern African has ever produced.. And competes the like of abede pele, Roger Miller and ashidi akin
22
Riyad Mahrez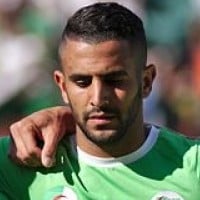 Riyad Mahrez is a professional footballer who plays for English club Leicester City and the Algerian national team as a winger.
Very talented player! He is one of the greatest, Why? Because he made Leicester city, an unknown English team shine and win the EPL with merit against the greatest teams such as Manchester united, Liverpool and Arsenal.
Best player of all time
My favorite player
He is the best
23
Peter Ndlovu
Joined Coventry city at 21 years and went to be a star in the English premier league, single hand managed to push Zimbabwe FIFA rankings to its highest ever.
24
Sadio Mané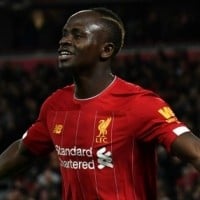 Sadio Mané one of the best young African player at this moment. His strength, dribbling terrorize a lot of defense in EPL. As he make a history in his first Premier league season by beating the record of the faster hat trick in England premier league history. He is a new legend of African, and Senegalese football, with his talented he have a lot more to show the world. The Senegalese 23 years old is one of the best in Premier league.
He decent ash
25 Mahmoud El Khatib
PSearch List