Best Soccer Strikers
The Top Ten
1
Ronaldo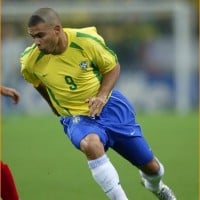 Ronaldo Luís Nazário de Lima, commonly known as Ronaldo, is a Brazilian business owner, president of La Liga club Real Valladolid, and a retired professional footballer who played as a striker. Popularly dubbed in Portuguese O Fenômeno ("The Phenomenon"), he is widely considered one of the greatest ...read more.
enough said. He's at the top and he's the only one who needs my vote. He was so ridiculously good that even in 2005-6 when he was way past his prime, Pro Evo and Football Manager still gave him stats that made him still up there with the best in the world. Look at that awesome goal he scored against Japan in 06 World Cup when everyone thought he was too overweight and finished the commentator just says spellbound: "Ah! Well, with accuracy like that you don't have to move!"
I suppose part of his incredible talent was his ability to change the way he played after he got so badly injured, so that though he lost a lot of pace, he made up for it in other areas like positioning, so that he still remained a really excellent player and prolific goalscorer, someone you still desperately needed on your team for results. I like how one of his Real teammates put it: "He was excellent when I was there, so only God knows how good he was at Barcelona" (before his awful knee injuries).
The ...more
Ronaldo made me start watching football. The greatest striker of all time. Dude could do everything and was like a magician. Unfortunately injuries derailed his career, even then he made a comeback and went on to win the Worldcup and played for another decade. R9 forever!
Players like Messi, C Ronaldo, Pele or Maradona would get to touch the ball well over 20 times in a match. They would get numerous deliveries of the ball. Other players surrounding them would involve them in the game. Subsequently, such players would get to score one or two goals per match. However, when R9 played for real Madrid sometimes he would not get to touch the ball for 20 minutes or more. In an entire match he would get to touch the ball only a few times. On the top of that he never got to play a full match, all the time he was at Real Madrid. Therefore, he had to make every touch with the ball count. And boy wasn't he the the most skillful player on the planet to do that! During many matches he would get to touch the ball only two or three during an entire match and he always succeeded to convert at least one of these few touches with the ball into at least a goal. Just imagine players like Messi, C Ronaldo, Pele or Maradona getting to touch the ball only a mere few times in ...more
-He revolutionized the dribbling techniques and a lot of them are still used to this day.

-His explosiveness is legendary, which he unfortunately lost after his knee injury in 2000 but despite this managed to climb back and become the best player in the world by winning another ballon d'or.

-He is the player that made the number 9 to be associated with center forward.

-He inspired an entire generation of footballers and is idolized by many great players of today, Zlatan Ibrahimovic for example.

-He has been the top scorer of the FIFA world cup for a long time.

-I believe that if it hadn't been for his injuries he would have won more ballon d'or trophies than Messi and C Ronaldo combined.
2
Lionel Messi

Lionel Andrés "Leo" Messi is an Argentine professional footballer who plays as a forward for Spanish club Barcelona. He is also known as one of the greatest football players of all time. He was born in Rosario, Argentina on June 24th, 1987.
Kidding right? Messi #3 and stupid Torres and C. Ronaldo Ahead of him. He is the best that ever was. Best right now and the greatest there can be. He is top of his game, beaten everyone and has proved he is better than everyone in scoring and is also the best while assisting. He is superb, entertaining and is fun to watch.
Messi enjoys playing you can see it in his face when he scores! He enjoys playing more than any other player and he is fast, faster than the legendary Diego Maradona, he is the best player right now, but I wont dare call him the best to have ever played football either!
What Lionel Messi is definitely the best striker in the world even the best player in the world and Fernando Torres first you got to be kidding me. Cristiano Ronaldo in second place in front of Messi what all Cristiano Ronaldo all he does is dive hoping the ref call it for a foul
Messi has been the best football player in 2009,2010. He's priceless, no one even tries to buy him from Barca. And he's not 25 yet! Beat that Torres :p
Oh wait you're too old and worth a (useless) 50 million poundsno one even tries to buy him from Barca. And he's not 25 yet! Beat that Torres :p
Oh wait you're too old and worth a (useless) 50 million pounds
3
Fernando Torres

Fernando José Torres Sanz is a Spanish professional footballer who plays as a striker for La Liga club Atlético Madrid, on loan from Serie A club Milan.
He's been great from the start became part of Athletica Madrid at 17 and became captain of the same team at 19... He became the most expensive spanish player in the premier league when Chelsea bought him if that's not proof he's talented I don't know what is.. For me he will always be one of the greats
Torres to me is like the best striker in the world. Just look at all he has done for Liverpool he has scored up to almost a hundred or even a hundred goals for them. And he is the highest goal scorer in Chelsea, he has scored in most matches he has played in.
Go Fernando Torres! We are always with you. Please don't leave Chelsea. We Know you are gonna fire soon. The day is not far when you'll be scoring hat-tricks for the club. Also, your assists are too good. You play for the club. Chelsea Rocks! Blue Is The Colour.
Fernando Torres is still the best. It is said that Robert Lewandowski is a good player but he is not as he just get one on one to goalkeeper and then scores. Torres is better than Robert Lewandowski and everybody on the planet
4
Diego Maradona

Diego Armando Maradona (October 30, 1960 - November 25, 2020) was an Argentine professional footballer. Widely regarded as one of the greatest players in the history of the sport, he was one of the two joint winners of the FIFA Player of the 20th Century award. Maradona was given the nickname "El Pibe ...read more.
Devine skill, speed & passing ability.
Wins highest cups throughout the carrier without any outstanding supporting player.
Such achievements with average skilled team mates of club & national side simply implied why he is the greatest.
Maradona wasn't a striker. Don't you know it? At least an image of the player Diego and not the coach.
No one on the list can tie his boots.
20? What why is Torres second.
5
Cristiano Ronaldo

Cristiano Ronaldo dos Santos Aveiro is a Portuguese professional footballer who plays as a forward for Italian club Juventus and the Portugal national team.
WOW! Is all I can say. I'm Mexican and I'm not stupid enough to put Javier "Chicharito" Hernandez above Cristiano. I can understand having Lionel Messi above him but Chicharito. Chicharito is not even in the same level as CR7. When I tought this list couldn't get any stupider I saw who was in first. Cristiano Ronaldo has the whole package you want from a striker he has long shots, headers, jukes, speed, and ball control. Fernando Torres can't even be on this list. I think Fernando Torres is one of the most rubbish players in football. Who ever chooses Torres over Messi and CR7 must not know anything about football.
Come on! Do I really have to give an explanation. Cristiano is at least the top three of this era. Are you kidding me putting Fernando Torres in first place, for a second I thought I was on the list of strikers the miss the unmissable. If you don't believe me search up his miss against Man.U.
Christiano ronaldo is one of the best players in the world and he is the only one who scored a 45 yards goal with Man Utd you think that Messi and other strikers had done this before?
I almost cried while laughing by the fact that Torres is at the top of the list... What were you people thinking about?
6
Wayne Rooney

Wayne Mark Rooney is an English professional footballer who plays for and captains both Manchester United and the England national team.
Wayne rooney is the best player in the world. He has more stamina than Ronaldo, Messi or fernando. He runs like a bull. His kicks are just like bullets. For I say rooney is better than all other players. His heads are better than anyone else
WR is one of the best strikers ever known. Great composure and accuracy. By the way, I just wanted to make stuff clear. Haikn Suker was naturally a striker. So was Messi. So don't be a retard and copare them to Ronaldo. He was a winger for most of his career and is starting to play a bit forward very recently.
Wayne Rooney is the best striker because he is in Manchester United and because is a great passer, the best game maker in the team and y shoots most of the time far away from the goal and some of them have been goals. and he is much better than Ferndando Torres
Fernando torres on top of the list... Really he has scored I don't know 5 goals for chelsea and he has been there for a year when rooney has scored 115goals in his first 236 starts that pure LEGEND
7
Didier Drogba

Didier Yves Drogba Tébily is an Ivorian professional footballer who plays as a striker for Canadian Major League Soccer club Montreal Impact.
He has a special talent, no striker have, his strength and ball control are unbelievable. What I love most of him is his confidence and always eager to win. I wish you to kiss African cup of nation you deserve it. Symbol of Africa
He has very powerful shots, most of the shots and goals are from long range. He is also have the speed, skill and more. Besides that, he is scary for the defender midfield, defenders and especially, keeper
A physical monster and has a commanding presence on the field.. Such a deadly finisher with amazing technique and nowadays has been assisting goals as well.. A perfect guy to have up front
Its disgraceful to say he is not the best in the world at holding up the ball and breaking the net with his strikes

P.S. torres way too high and Messi should be second with drogba 1st
8
Zlatan Ibrahimovic

Zlatan Ibrahimović is a Swedish professional footballer who plays for an Italian club AC Milan and the Sweden national team for which he is captain.
You want a guy who is absolutely clinical in front of goal, can score out-of-the-world goals and dribble past you as if you were not there? Well then, it's gotta be Zlatan. The best all-out striker in world football over the last few years, this guy is nothing short of a beast.
He is a magician. He creates new moves. He is very strong. If he could use his aerial power in front of goal he would have had no match. Still his crazy moves make him the best of the best.
Nobody can do what zlatan can. He's extremely versatile. He's got amazing physique, good technique for his size, speed, acrobacy and a lot of force behind his shooting.

He is currently the best player.
Absolutely amazing and cannot seem to understand why he is 7th.. and why suarez is 11th. They are the best in the world right now and deserve to be one and two respectively
9
Neymar

Neymar da Silva Santos Júnior, commonly known as Neymar or Neymar Jr., is a Brazilian professional footballer who plays for Spanish club FC Barcelona and the Brazil national team as a forward or winger, and is also the captain of the national team. ...read more.
Neymar plays amazing. I love the way he dribble, attacks, tackles people and shoots. He's simply amazing... !
Neymar plays awesome his dribbling skills can easily make fool of any defender
Standing against him
Best dribbler across the world ever
He should be first more than 50 goals
10
Pele

Edson Arantes do Nascimento, known as "Pelé", is a Brazilian former professional footballer who played as a forward. In 1999 he was named Athlete of the Century by the International Olympic Committee and was included in the Time list of the 100 most important people of the 20th century. In 2000, Pelé ...read more.
Pele in 10th I guess a lot of the votes on this are made of teenagers who have been following football for the last ten years. He was even before my time but with a little research people would know why this guy is such a fuss in the football world LEGEND
This is a crazy question.
Needless to say, PELE is GOD KING of soccer for all time and unrepeatable.
They can't realize, please refer to some his clips during Santos and national Brazil team.
I may love Torres, but let's admit it, when Pele's on the field, he's unstoppable. He was and still is, in my opinion, the only player who was born to make football the phenomenon it is now.
Pelé is magic. He won 3 World Cups in 1958, 1962, and 1970. The man won his first World Cup at 17 years old. He scored 77 goals in 92 international appearances. He had 541 league goals and a total of 1281 goals in 1363 games. The Black Pearl will never be forgotten.
The Contenders
11
Luis Suarez

Luis Alberto Suárez Díaz is a Uruguayan professional footballer who plays for Spanish club Barcelona and the Uruguay national team as a striker.
Luis Suarez is a man who wont stop till he scores! He is my favorite player on and off the field he is truly a goal scoring machine that unlike other players has a great willing passion for his club and country! First Ajax, then Liverpool, Now Barcelona, Later Legend!
Luis suarez is a very good soccer player.
And 2011 he won the copa america. Now he plays for liverpool. When he plays in the field he plays very good he defends and makes goals and that is a good soccer player
He's clearly the best striker in the world right now. Look at what he's done for Barcelona in just his first season
Luis Suarez is the Greatest Uruguay & Liverpool Striker. He is Hand Moments Very Beautiful.
12
Thierry Henry

Thierry Daniel Henry is a French professional football coach and former player. He is the second assistant coach of the Belgium national team.
345 club goals 228 goals for Arsenal in 376 appearances 396 in total and possibly more. Both France and Arsenals record goalscorers. and that is just the stats he could play with fierce speed and flare and ran the whole length of a pitch to score a goal at least twice. And that goal against Manchester United in 2001. And that back heel nutmeg goal on October 2nd 2004 in the invincible season. Legend at Arsenal and Barcelona. And much more to talk about. He is so underrated. At least the best Premiere league striker. A football icon!
For me.. Thierry Henry is the best and the greatest striker ever played in football.. Legendary.. He scores from everywhere, he scores great free kicks and even scored from from a corner.. The most complete foward ever.. And when he scores he does it amazingly... That's why he have to number 1.
Oh god, how is the king himself behind didier drogba? Henry was the best striker in the world when he was at his peak. He is the greatest legend. Why else would Wegner bring him back for a season? All we have now is Giroud after Van Persie left. We need him back, even in his age
Thierry Henry has a tremendous amount of skill he was one of the fastest strikers in french football history and he is a star player for the New York Red Bulls he also holds the record for most goals for France and is a living legend.
13
Ronaldinho

Ronaldo de Assis Moreira (born 21 March 1980), commonly known as Ronaldinho Gaúcho or simply Ronaldinho, is a Brazilian former professional footballer and current ambassador for Barcelona. He played mostly as an attacking midfielder, but was also deployed as a winger. Often considered one of the best ...read more.
What?! Are you kidding me?! He is a 2 time FIFA player of the year award
winner. Sure he messed up a bit in milan but if you see his performance now in
Brazilian league, you would surely want him to be in the top 10.
He is god gifted player and will be always on number 1..
I want to see drogba torres C. Ronaldo and ronaldhino as forwards in one team
My favorite. He might have done better but unfortunately... I like his free kick skills,dribbling,ball control and back kick
He's the best in the whole world
14
Arjen Robben

Why is he 19? he should be he better that all most eveyone he was the one to make bayern munich the best he is the second messi but all little better lets admit it he should be second place not 19. face the facts he is kinda better thatn messi, and fyi messi got a red card for assaluting a referee and went to jail because he did not pay taxes. just because he is star does not mean he is the boss! open your eyes people! this pisses me off. this a load of fish! arjen ROBBEN IS THE BEST!
He is so good at soccer
He is a right mid
Awesome player
15
Robert Lewandowski

Robert Lewandowski is a Polish professional footballer who plays as a striker for German club Bayern Munich, and captains the Poland national team.
Best in the world.
Lewy is the best ST. Not messi
Superb player,very deadly
pure class
16
Robin van Persie

Dutch footballer from Rotterdam born on August 6 1983. Currently plays for the Turkish club Fenerbahçe S.K and The Netherlands national football team as the number 11. Robin Van Persie is known for playing for Arsenal and Manchester United, though his most notable goal was his header against Spain ...read more.
Robin is not only a great striker, but also very complete, he works hard, and can pass dribble score. Above that he is an outstanding captain.

And comparing him with other great footballers, he is not in the best team.

Therefor he is my favorite. Dennis Bergkamp has been my favorite.
RVP has some of the best finishing in football today! And he has a better strike rate than even Messi for 2011. Only some players in arsenal pull his votes back because arsenal hasn't won cups yet.
This guy is my favorite player. He is amazing! Robin van Persie jumped over a defender and scored! He should at least be #5 for he is the "Flying Dutchman. "
Best player ever. Another great Dutchman for Manchester United.25 goals this season a very great achievement. The first Barclays Premier League Trophy for him.
17
Karim Benzema

Karim Mostafa Benzema is a French professional footballer of Algerian descent who plays for Spanish club Real Madrid and the France national team as a striker.
Great sticker fast great a finishing headers and volleys but all round hero
Seriously?! This guy should be in top 10!
KARIM BENZEMA GO TO JUVE! PLEASE..

BY, JUVENTINI Indonesia
18
Kaka

Ricardo Izecson dos Santos Leite, commonly known as Kaká or Ricardo Kaká, is a Brazilian professional footballer who plays as an attacking midfielder for Orlando City SC in Major League Soccer and the Brazil national team.
My fovorite pplayer ever forza milan hala madrid blue is the color (also a chelsea fan)
Kaka plays for ac millan. That is cool.
I LIKE KAKA VERY MUCH BECAUSE HE CAN PLAY IN ALL POSITIONS. IN FORWARD AND ALSO HE IS A GREAT PLAYMAKER FROM ALL OVER THE WORLD. I THINK THAT HE IS THE BEST PLAYER FOREVER AND HE WILL REMAIN BEST... GO FORWARD KAKA...
19
Gerd Muller

At least 1 goal in each national game he played. Don't think anyone else did that till today. Also still record holder in German ladder for the most goal scored in the ladder and back in his day there where 4 games less a season than today.
He scored 68 goals in 62 international appearances, and had fantastic dribbling ability.
Bit of a joke list if Muller is 51
The best ever!
20
Miroslav Klose

Miroslav Josef Klose is a German professional footballer who last played as a striker for Serie A club Lazio.
Klose is by far the best striker I have seen. His enormous hunger for goal is the symbol of a great player. As a fan of this great game, I can never forget his goal scoring abilities.
The most fantastic striker in this world
I think he will never stop trying to be the most fantastic striker in this world!
Good luck Klose, I will always support you!
He has scored 14 goals for his national team which places him 2nd after Ronaldo
The best! Not a penalty taker and he is a great sportsman. For ever a legend!
21
Ruud van Nistelrooy
What is he doing here? He is one of the best ever. He is one of the most prolific striker. Can score from nothing. Also he has done well in all the leagues he has played in. Has been top scorer in Dutch league, premier league, Spanish league and even champions league. I've never seen anyone who is more consistent in front of goal. He deserves to be in top 5.
He is a player with many adjectives like agility and best offensive characteristics. He is well prepared to score goals and scoring goal is so easy for him.
I believe him because of his impressive playing in Manchester united. He was mvp of man united in those days or maybe mvp in the world.
The deadliest finisher of all time is languishing at number 18. RVN is the best finisher. He is an ace in the box. Should be in the top 5.
He is the most consistent player ever. At United, he had 200+ games and 150 goals. Who has a record like that?! Ruud!
22
Sergio Aguero

Sergio Leonel "Kun" Agüero is an Argentine professional footballer who plays as a striker for English club Manchester City and the Argentina national team.
He should be in the top 10. He helped win the premier league trophy against QPR.
Should be in the top 10 with suarez both him and luis are better than torres
Very smart and a piece taker
Best in the world Right now
23
Alfredo di Stéfano
The only winner of Super Ballon d'Or, awarded in 25th anniversary of the tophy to the most voted player of these years (although Cruyff and Platini had 3 awards Di Stefano had selected more votes).
THIS IS ENOUGH FOR ONE OF THE MOST LEGENDARY FOOTBALL PLAYERS OF ALL TIMES (some older experts of 60s-70s-80s compare him only to Pele).
24
Raul Gonzalez

Raúl González Blanco, known as Raúl, is a retired Spanish footballer who played as a striker. Raúl is considered one of the most important players in the history of Real Madrid and regarded as one of the greatest Spanish players of all-time.
Angel del real madrid
The best player in the history of real madrid
Are you crazy?!?
He is the best by far.
Hakan Sukur, Donovan? Come on be serious... please.
25
David Villa

David Villa Sánchez is a Spanish professional footballer who plays as a striker and also serves as captain for New York City FC in Major League Soccer.
What is Torres doing at number 3, I mean really? I like him as a player but he has not played well since he moved to Chelsea, and his accomplishments as a striker are far less than Villa or Raul, so he is not even the best in Spain. Something is seriously wrong with this list.
I think that Neymar. Jr is the best but Villa gets like no credit and he does a lot of work. So, he definitely deserves to be in the top 10.
I think Drogba is the best, but villa should be in top ten... Easy!
David villa is simply great
PSearch List