Top 10 Portuguese Football (Soccer) Players of All Time
The Top Ten
1
Cristiano Ronaldo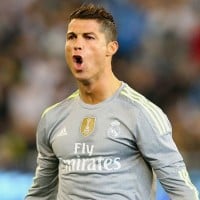 Cristiano Ronaldo dos Santos Aveiro (born 5 February 1985) is a Portuguese professional footballer who plays as a forward for Serie A club Juventus and captains the Portugal national team.
C. Ronaldo's the best there is.
He's passionate about what he does and he does it the best. He's skills are incomparable to those of modern football players. Some might say he's just selfish but doing what he does best without the help of teammates and providing teammates with quality passes is not what should be called selfish. He's magnificent and a complete football player and most of all he's a true footballing icon and the one that can never be forgotten. A true legend.
He
's able to create and score from both wings, and through the middle. Despite his selfish tag, he makes his teammates better an they play on another level when he's on the pitch. He's tempered his use of the stepovers and trick, which allows them to work more effectively and saves him energy for the amazing counterattacking urges he does down the flanks.
CR7 is without doubt the most hard working and dedicated footballer of all time. Due to his hard work CR7 has become the world's best player for three years. His stats for Real Madrid are mind blowing he has scored over 30 goals than he has played games. He strongest attributes are in the air, and pace. Eusebio and Luis Figo are one of the greatest players ever, but they don't come close to CR7
Well he is the complete forward he can do everything with the ball he scores hell of a lot of goals for a winger, he also won the Ballon d'Or once! But maybye his 2nd in a couple of days! Which I think will happen he will surely go down as one of the greatest players that have played football if not the greatest!
2
Eusébio

Eusébio da Silva Ferreira was a Portuguese footballer who played as a striker. Eusébio is considered by many as one of the greatest footballers of all time. During his professional career, he scored 733 goals in 745 matches.
Everyone who thinks Ronaldo should be voted as the best Portugese football player of all time, are part of the mind numbingly stupidly narcissistic selfie generation who doesn't even measure up to the last two heel studs of Eusebio's boot. Just compare Eusebio's performance in the big stages...the world club...he shined brightest when it mattered..Ronaldo sucked at every world cup he has played becasue he is just gas and plays for attention...a symptom of this seflie generation...Eusebio's legacy is on a world level whereas Ronaldo's is limited to a glitsy media pumped local club level...
While Ronaldo is highly skilled, I doubt many enjoy being his teammate. This current EC was just an insight into Ronaldo the person. Watch old footage of Eusebio, learn about his team play and maturity as a person and the vote will be simple.
You guys are joking. Eusebio is the greatest ever portuguese player. Only one even deserving to be mentioned in the same sentence with him when we're discussing " best portuguese player in the world is luis figo
I am grateful to have seen him play. And to get an autograph in a Madrid hotel lobby the night of the 1982 World Cup final. And Sir Bobby Moore's, as they were standing together.
3
Luis Figo

Luís Filipe Madeira Caeiro Figo, (born 4 November 1972) is a Portuguese retired professional footballer who played as a midfielder for Sporting CP, Barcelona, Real Madrid and Inter Milan. He won 127 caps for the Portugal national team, a record at the time but later broken by Cristiano Ronaldo. He ...read more.
There is no other that has it all - endless talent, class, tact, maturity, dedication (for the game, family, his nation). Not a sore loser when he doesn't win. No wonder he gets along with Messi and so many other greats. You won't find him crying like a baby like Ronaldo. But mostly... did I say INCREDIBLY TALENTED.
Figo put the F in fantastic. His skill with the ball is nearly flawless. His dedication and determination is just incredible. He is not just one of the best portugese players of all time he is one of the best football players of all time
Gave a masterclass against England when Portugal came from behind to beat them in a fabuluous match. He was spraying balls all over the pitch, finding his team mates with some amazing passes.
Greatest skills I have ever seen. So much precision. Greatest footballer in the world by far.
4
Rui Costa
Rui costa's technique, vision and passing made him one of the best midfielders portugal ever produced.
A Symbol and idol for all Portuguese soccer players
Great technic and very intelligent player...
Waw best midfielder I have seen
5
Nani
Nani is my idol, he is underrated, my favorite player to watch. I only say he is underrated due to the fact he has been compared to Ronaldo. If Ronaldo was not to be playing in the same Era has Nani I have no doubt Nani would have been seen as a better Portuguese soccer player comparably. At the peak of his health and top of his form he is one of the greatest players in portuguese history.
Should be higher up its out of order putting him ninth come on
I have never seen a player better
When he is healthy
6
Ricardo Carvalho
The best defender in the world!
7
Ricardo Quaresma
Better than Cristiano Ronaldo when he was at his prime
If he could be more relax, We would see him in first 3
Best skills for Portugal in all time
Ricardo Quaresma amazing football player We Love You Q7
8
Pepe
Pepe is actually a dirty fouler neymar is better than him obviously, please vote thumbs up for this
Pepe raw. I went to an international game and he was the only player who signed autographs.
Pepe Soares... amazing talent in 1920s. Died of food poisoning at age 23.
The best defender in the world
9
Paulo Futre
In my opinion he is the best atletico madrid's best player ever
One of the best FC Porto, and of course Portuguese, players I've seen. Great techique
He should be number 3! Cristiano Ronaldo? He sucks
10 Deco
The Contenders
11
Andre Gomes
He is best player in the world I don't know who is Cristiano Ronaldo and why he is in the top spot
Barcelona legend
12
Joao Moutinho

Great player. A pure engine in the field and 5* passing skills.
Has a great shot
13 Vitor Baia
14
Pauleta
What a goal scorer he was. 47 international goals! Just a natural finisher
Great player, Portugeuse legend! My idol.
Formely Top goal scorer for the selecao second only to Ronaldo
15
Fernando Peyroteo
Fernando Peyroteo was a great goalgetter born in Angola.
He played for Sporting L. and according to official stats he's the most prolific scorer in football history (544 goals in 344 official matches, RSSSF, the highest goalscoring rate of players with more than 300 matches).
But he career was in the 40s, a time without international tournaments.
He also preferred to remain in his country instead of playing abroad as he had the chance to do so.
Fernando Peyroteo is the most prolific scorer in football history (players with more 300 goals). His succesful career in the 1940s is a little known due to the WWII.
He was the National team coach in the 1960s (Eusebio had the best teacher to learn scoring).
The best goalscorer in the history of football. Score an average of almost 2 goals per game. But no one remembers him because he played in the 40's, in the age of World War, and when there's no T.V. , World Cup, Champions League...
No doubt portugals best scorer with 635 goals in 393 games compared to Eusebio's 638 goals in 614 games giving Peyroteu 1.62 goal medium per game amazing compared to Eusebio's 1.04
16
Fernando Chalana
I don't think that Chalana was the best, best he was great. He could get past an opponnent whithout dribling (literally speaking). He should be in the Top 5
Chalana is one of the first modern wingers
17
Maniche
Best portuguese midfielder with great stamina and power capable of scoring goals.
18
Nuno Gomes
He is the Best True Center Forward Portugal Ever Had. Portugal has good players in every position, but he is the only Portuguese player that is a center forward that is great at heading, receiving passes and finishing.
Nuno Gomes always score in decisive matchs. He is the most recognisable striker of Portugal with great heading and shooting capacity, and a good pace with nice movement off the ball.
Nuno Gomes is our best striker in 90/2000, scored so many important goals in different big tournements (U20 World Cup 1995, Atlanta Olympic 1996, Euro 2000, 2004, 2008, World Cup 2006).
Nuno Gomes the only Portuguese striker who relishes the big matches!
19
Fernando Couto
Couldn't have put that better myself
Much better than Pepe.
20
Coluna
He was another one of the greats! He played with Eusébio and was from the Portugese Colony of Mozambique too! He has been overlooked.
21
Fernando Gomes
Fernando Mendes Soares Gomes is a great striker in the history of FC Porto, where he played between 1974-1980 and 1982-1989. His nickname, "Bi-bota", was given after the two European Golden Boot awards he received, in 1983 and 1985 as top scorer of all European Championships.
Gomes retired with Portuguese League totals of 404 matches and 320 goals.
His tally in official games are 425 including him in the best 100 in football history.
Great scorer.
22
Nene
He's passionate about what he does and he does it the best. He's skills are incomparable to those of modern football players. Some might say he's just selfish but doing what he does best without the help of teammates and providing teammates with quality passes is not what should be called selfish. He's magnificent and a complete football player and most of all he's a true footballing icon and the one that can never be forgotten. A true legend.
23 Paulo Sousa
24
Fábio Coentrão
Coentrao best defender amazing speed and rocket shots
25
João Vieira Pinto
One of the best would have succeeded in any country was the only good player in bad benfica teams what he did to sporting was the best game by anyone
Best Benfica player over the 90ths, was great in the national team during the Euro 2000
PSearch List