Top Ten Most Overrated Football (Soccer) Players of All-Time
The Top Ten
1
Radamel Falcao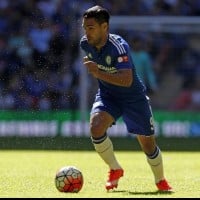 Radamel Falcao García Zárate, also known as Radamel Falcao, or simply Falcao, is a Colombian professional footballer who plays as a striker for English club Chelsea on loan from French club Monaco, and captain of the Colombia national team.
Is Falcao really should be on top of this list? Benzema is much worst
Worthless of a player
2
Cristiano Ronaldo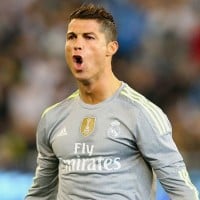 Cristiano Ronaldo dos Santos Aveiro (born 5 February 1985) is a Portuguese professional footballer who plays as a forward for Serie A club Juventus and captains the Portugal national team.
Don't get me wrong. He has been a fantastic goal scorer for a huge part of his long and successful career, but comparing him with Messi and calling him the GOAT makes him highly overrated. Statistically, he is more or less equal to Messi in terms of goal-scoring stats, but in playmaking and other attacking roles, he is a huge flop. The UCL is the only tournament in which he can be considered successful, internationally he is a flop. Only major achievements are not as great as they sound, such as winning the Euro (without playing the final and being just another player on the team) and being the international top scorer (but flopped in the World Cup and stat padded against European minnows in WC and Euro qualifiers).
He is the most overrated because he is compared to Messi, 9 years they played in the same league
Messi finished above him 7 times over the 9 years I would say he played in a better squad.
Messi won La Liga player of the year 8 times compared to his 1
if Messi missed his next 503 shots he would still have a better conversation rate
Messi is better @ passing the ball, running with the ball, better vision. better @ free kicks etc
if you take penalties out of their goal totals they have the same amount of career goals, however Messi has played 150 games less 3 season.
Messi already has more assists having played 150 less games.
Bleh. Hate him. He always says how good he thinks he is and it's very annoying since it's not true. The only thing he can do is model, which is just stand there and look at a camera. Even that doesn't work out well for him because.. Well aren't models supposed to be hot?
Lol he is ranked 3 now he used to be 4 now 3 while messi is the best only people who team got whooped by him hate haters gonna hate messi don't care!
3
Mario Balotelli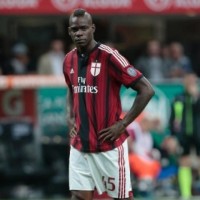 People talk about balotelli as if he's a world class striker, when he isn't near the same level of world class strikers such as messi, aguero, Suarez, Ronaldo, ibrahimovic, cavani, henry, lewandowski, van nistelrooy, etc
A player so much potential but totally wasted.Bad attitude,no discipline and awful temperament.
4
Shinji Kagawa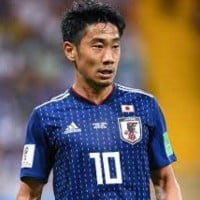 5
Paulinho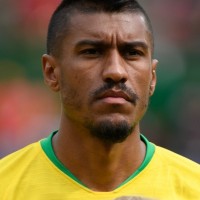 6
Lionel Messi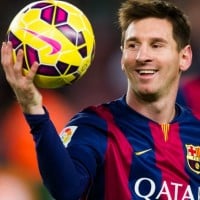 Lionel Andrés "Leo" Messi (born 24 June 1987) is an Argentine professional footballer who plays as a forward for Spanish club Barcelona. He is also known as one of the greatest football players of all time. He was born in Rosario, Argentina on June 24th, 1987.
To that idiot that said messi is underrated, he is currently the second highest rated player for soccer, gets paid 40 million euros, and is a fraud, doesn't help his team, but insults it, cries, and not to mention always flops. Ronaldo scores more goals this year, got a national trophy for a terrible team (portugal) and brought real madrid on the top of la liga
To that fan Real Madrid are are only better in finals then Barca but in friendly etc Barca are better against Madrid and Messi dropped to 7 uses to be 6 but Ronaldo did not drop dumbass your only stating the obvious with your inaccurate information stop giving bad information!
People say he is the best player in the world but he can't win anything with his country who have talented players, whereas ronaldo has won the Euro cup in a terrible team. He got caught taking drugs so he could get taller and the FFA? did nothing whatsoever to punish him.
Messy is a good player but it's not like I hate him but I don't like him because he doesn't pay his taxes
7
Edin Džeko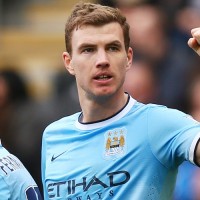 8
Iker Casillas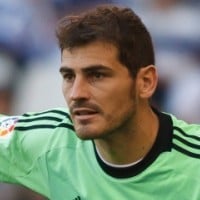 Iker Casillas Fernández is a Spanish retired professional footballer who played as a goalkeeper. Popularly dubbed "San Iker" for his ability to produce spectacular saves, Casillas is widely regarded to be one of the greatest goalkeepers of all time.
He is so good, one bad season, off the team, onto some junky Portuguese team and called worst ever, and then there is messi, still a legend for his mess ups
Iker Casillas is nowhere near as good as Neuer, Ter Stegen, De Gea and he just isn't as good as everyone says he is
9
Paul Pogba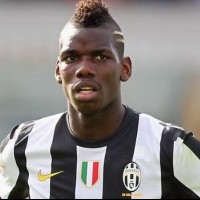 Paul Labile Pogba is a French professional footballer who plays for Premier League club Manchester United and the France national team.
Since he moved to United, he's stopped playing like he used to. However many people still think he's the best CM in the world. It's not that he's bad, he's still a good player but overrated
He has done nothing at man utd, overpriced overhyped and overrated.
Just keeps up to all the trends, is really crap on the pitch
All sizzle, no steak.
10
Neymar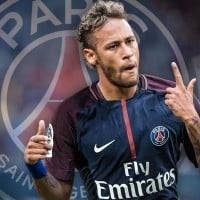 Neymar da Silva Santos Júnior, born 5 February 1992, commonly known as Neymar or Neymar Jr., is a Brazilian professional footballer who plays for Ligue 1 club Paris Saint Germain (PSG) and the Brazil national team as a forward or winger, and is also the captain of the national team. Neymar was born on 5th February 1992 in Sao Paulo of Brazil. He started playing international matches at the age of 17. Neymar salary is 9.18 million Euro. As a result, his net worth is about $75 million.
Constant diving, crying and overshooting the gigantic 7.5m x 2.5m goal posts. Makes no effort to build muscle and his underdeveloped body is constantly out due to injury / lack of testosterone. For $44 MILLION / Year, he should have had the decency to either quit or earn a World Cup to Brazil.
Plays like a child, talks like a child, behaves like a child. Not a man, not a professional soccer player. Always lucky to be surrounded by excellent players who win trophies for him.
No work ethic whatsoever, gets paid money to freestyle on the pitch. why don't just get the F2 freestylers instead of him as they would actually work hard?
And the Oscar goes to... Tommy Wiseau!
Neymar Jr. isn't even a good actor, let alone, a decent player.
The Contenders
11
Giovani dos Santos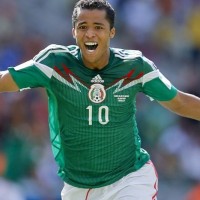 12
Javier Hernandez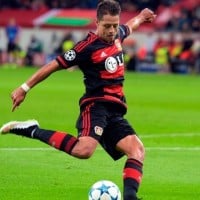 Javier Hernández Balcázar is a Mexican professional footballer who plays as a forward for German club Bayer Leverkusen and the Mexico national team.
Well this list sucks. Top scorer in national Mexican team. Top scorer in Man U and really good season in Real Madrid. I mean he's not Messi or Ronaldo. But he is a hell of a player in the area. Oh and he is top scorer in Bayern Leverkusen. Mexican players usually aren't that great you know. And I'm not intending to offend anyone. But it's true..
13
Steven Gerrard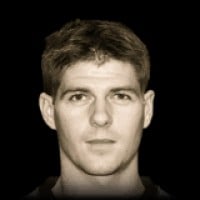 Steven George Gerrard (born 30 May 1980) is an English professional football manager and former Liverpool player who currently manages Scottish Premiership club Rangers.
He's the poor man's version of Paul Scholes, has no work ethic. Stoke had let to let him score just so that he wouldn't cry as much in his final game. He slipped when it mattered the most and lost the title because he sucks. He spent more time procrastinating rather than actually doing work. he only stayed at Liverpool because the fans probably would've killed him if he left to go to Chelsea when h almost did.
He never delivered playing international soccer and only once at the big stage. He's massively overrated.
I think gerrard and lampard are the most overrated footballers of all time.
No discipline to his game. Liverpool were always better without him - FACT
14
Kevin De Bruyne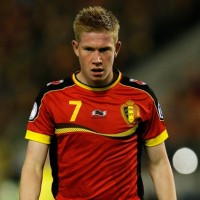 Kevin De Bruyne (born 28 June 1991) is a Belgian professional footballer who plays as an attacking midfielder for English Premier League club Manchester City and the Belgium national team.
Good but no where near
Gets too much credit
15
Gerard Pique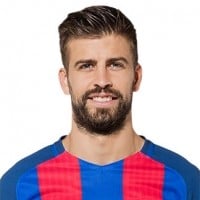 Gerard Piqué Bernabéu is a Spanish professional footballer who plays as a centre-back for FC Barcelona and the Spain national team.
16
Karim Benzema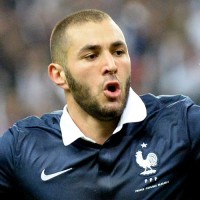 Karim Mostafa Benzema is a French professional footballer of Algerian descent who plays for Spanish club Real Madrid and the France national team as a striker.
Benzema isn't as good as everybody thinks he is. How he stayed at the club when better strikers such as Higuain and Morata were getting disposed. Even Mariano Diaz is better than him. Put Giroud or Crouch at Madrid, they would score the same amount, if not more than Benzema.
17
Philippe Coutinho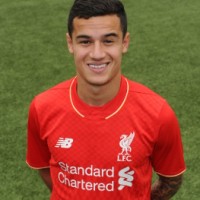 Philippe Coutinho Correia, known as Philippe Coutinho, or simply Coutinho, is a Brazilian professional footballer who plays for FC Barcelona and the Brazil national team as an attacking midfielder or winger.
Got 3 goals 2014/15 and got 3 goals 2015/16 season. Totally overrated.
This guy just disappeared into thin air.
18
David Beckham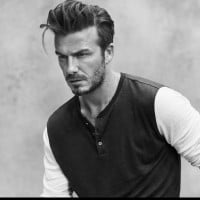 David Robert Joseph Beckham is (born 2 May 1975) is an English former professional footballer, the current president & co-owner of Inter Miami CF and co-owner of Salford City.. He played for Manchester United, Preston North End, Real Madrid, Milan, LA Galaxy, Paris Saint-Germain and the England national team, for which he held the appearance record for an outfield player until 2016. He is the first English player to win league titles in four countries: England, Spain, the United States and France. He retired in May 2013 after a 20-year career, during which he won 19 major trophies.
Easily the most overrated player ever. He was garbage and never nowhere near the level of messi, C.ronaldo, maradona, Pele, zidane, ronaldinho, ronaldo, figo, henry, neymar, robben, Robert etc etc etc
How Who is Paul pogba, pele and Messi more overrated then beckham?
Crap that's all I can say
19
Olivier Giroud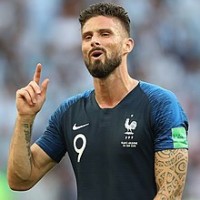 This guy is comes to the field to show off his beard.
20
Pelé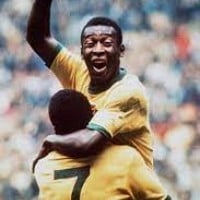 Edson Arantes do Nascimento, known as "Pelé", was a Brazilian professional footballer who played as a forward. In 1999 he was named Athlete of the Century by the International Olympic Committee and was included in the Time list of the 100 most important people of the 20th century. In 2000, Pelé was voted World Player of the Century by the International Federation of Football History & Statistics (IFFHS), and was one of the two joint winners of the FIFA Player of the Century.
The most overrated player of all time. He called Messi a footballer with one skill. He said that Becks he is afraid of him. He also once said that if Messi needs to be compared to him, he asked him to score above 1000 goals and win 3 World Cups. He didn't actually score 1200 goals. Most of them were unofficial. He scored only some 750 goals. And those were scored because he is surrounded by brilliant players and had weak opponents. That's also the reason why he won 3 World Cups. But Messi plays against difficult teams and is surrounded by weak players. Messi leads his team singlehandedly. that's why he didn't win any world cup. If he had the players who Pelé had, then Messi would have won 4 World Cups and would have scored above 1000 goals officially.
Pele isn't better than the ones such as Maradona, Cruyff, Zidane, Ronaldo Fenomeno, Ronaldinho, Kaka, Messi, and Cristiano Ronaldo. He scored 1283 goals in his whole career because friendlies were counted, not to mention he played at Santos most of the time. All those names could regularly score at least 60 goals a season (maybe except Zidane, Kaka, and Ronaldinho because they are midfielders) if they play for Santos.
HOW IN THE WORLD are Messi, C.Ronaldo, R9, and Pele on this list they are the best players of all time
Pele was surrounded by great players, which made his life very easy.
21
Lúcio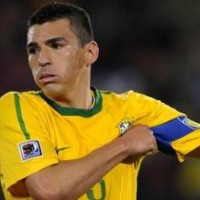 22
Ivan Rakitic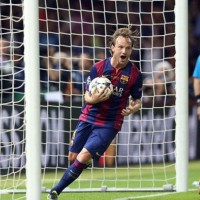 Ivan Rakitić is a Croatian professional footballer who plays as a central or attacking midfielder for Spanish club FC Barcelona and the Croatia national team.
23
Wayne Rooney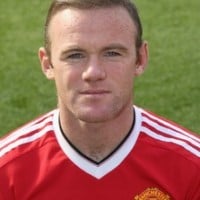 Wayne Mark Rooney is an English professional footballer who plays for and captains both Manchester United and the England national team.
Rooney is VERY overrated in my opinion, not on the same level as strikers like Messi, Ronaldo, Lewandowski, Cavani, Ibrahimovic, Benzema etc etc etc
24
Sergio Ramos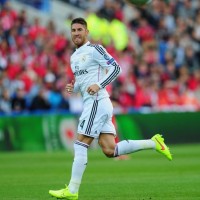 Sergio Ramos García is a Spanish professional footballer who plays for Real Madrid and the Spain national football team.
Mean an rude on and off pitch
A danger to our sport.
25
Diego Maradona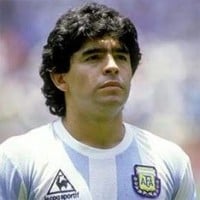 Diego Armando Maradona (October 30, 1960 - November 25, 2020) was an Argentine professional footballer. Widely regarded as one of the greatest players in the history of the sport, he was one of the two joint winners of the FIFA Player of the 20th Century award. Maradona was given the nickname "El Pibe de Oro" ("The Golden Boy"). He was known for the "Goal of the Century" and the "Hand of God" goal. He died of cardiac arrest on November 25, 2020 at the age of 60
Most people know him because he scored the Hand Of God goal in the world cup final
LOL
Crack or cocaine
PSearch List