Top 10 Youngsters of the European Football 2012-2013 Season
This is basically my personal list of the impressive young footballers in the 2012/2013 season. The player must be 23 or younger to enter this list.

The Top Ten

1 Eden Hazard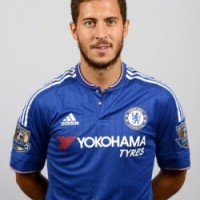 Eden Michael Hazard, born January 7th, 1991, is a Belgian professional footballer who plays for Real Madrid CF and the Belgium national team.
Questions were asked before he joined Chelsea of whether or not he can perform against the physical approach of most English clubs. The Belgian superstar is not blessed with massive physique, but he is definitely blessed with above massive talent. Eden Hazard has flourished in the EPL, and added that little bit of flair that Chelsea needed. The numbers don't lie Eden has a staggering 19 assists and 8 goals so far this season contributing to 28 Chelsea goals.
Random vote for the person in first everybody do that!
But I'm not kidding when I say that this guys a pretty incredible player
Hazard for forever in chelsea who is a magician respect him
No doubt. But in chelsea Juan Mata is better with 19 goals and 35 assists
2
Marco Reus

Marco Reus is a German professional footballer who plays as an attacking midfielder, winger or striker for German Bundesliga club Borussia Dortmund and the Germany national team.
The German international superstar is enjoying a stellar debut season with Dortmund. He signed in the summer 17 million euro fee, that seemed a bit too high for him. Halfway through the season we can see that Marco is worth double or maybe even triple that amount. He has been brilliant for Borussia scoring 15 goals, one of them a wonderful volley against madrid at the Bernabeu. Reus also has 8 assists to his name.
Reus is better of than hazard since he dependable, believable, good dribbler and one the best controllers. Furthermore he's got good finishing power and great player maker whom you can trust when inside opponent's box. In fact he should be contentending with Messi &Ronaldo.
Marco reus is unbelievable he is to talented to be 3rd reus and lewandowski demolished real Madrid last Wednesday and murinioh spoke about Marco reus and explained that his defenders were amazed by his talent Marco reus is way better than Shaarawy and Eden hazard come on! I think reus should be voted 1st
Best youngster ever and best wing in the world he will emulate cristiano
3
Neymar

Neymar da Silva Santos Júnior, commonly known as Neymar or Neymar Jr., is a Brazilian professional footballer who plays for Spanish club FC Barcelona and the Brazil national team as a forward or winger, and is also the captain of the national team. ...read more.
Are you crazy!
Don't say he is overrated because player of the confederations cup says it all. Neymar is soon in barcelona so watch how he humiliates ramos, pepe and many other good players.
He is crazy with the rainbow flick and his hair
Neymar is meant to be the best youngest player
Neymar on 11th it does n't make sense at all he should be in the top 3.
4
Gareth Bale

Gareth Frank Bale is a Welsh professional footballer who plays as a winger for Spanish club Real Madrid and the Wales national team.
We were all wondering, when that time will come when Gareth Bale fulfills his potential. Believe it or not the time is now. Bale has been monsterous throughout this campaign for Spurs scoring and making goals for fun. He can simply do things very few people can, sometimes a one man show this season. His performances against Lyon and Aston Villa show us what the guy is all about. On his day Gareth Bale can single handedly win his team a match.
Unlike other players who play along world known players, Bale single handed made totenham a competitive team in Erope. This new season Bale will be playing along players such as Ronaldo, Isco, Benzema, Marcelo, etc, I'm sure he will be considered not only one of the best young players of the world, but he will be recognized as one of the most important players of all time.
He is the best player in the Premier League at the moment. Won Young Player and Best Player of the year which is why he should be top of this list
Hell yeah also his ears being pinned back really that just makes him look hotter
5
Stephan El-Shaarawy
Milan's little pharaoh has been outstanding this season. He was denied any real opportunities to break into the first team prior to this season, but when he had the chance, boy did he take it. EL92, as Milan fans call him, is currently the team's top scorer this season with 19 goals and also has 6 assists to his name this campaign; However, the most astonishing aspect about this prodigy is that he is just 20 years of age.
He is a multitalent player, please don't go away from Milan
He is one of the future of ac milan
He's best player

El is best
6
Oscar
The young Brazilian playmaker was an extremely anonymous player for most European fans last season, but the kid has made a name for himself in a very short amount of time. He signed for Chelsea from Brazilian giants Internacional for a 20 million pound fee. He has scored 9 goals and assisted just as many so far this season. The 21 year old has also shown us that he has a knack of scoring outrageous goals, as seen against Juventus and Shakhtar in particular.
The best young Brazilian
Best midfilder in world at current time
Natural no. 10
7
Isco

Francisco Román Alarcón Suárez, commonly known as Isco, is a Spanish professional footballer who plays as an attacking midfielder for Real Madrid.
Malaga's young Spanish playmaker is having a remarkable 2012-13 season. The youngster has been said to highly resemble Barca superstar Andres Iniesta. Isco has scored 10 goals and assisted 6 so far this season. He has also made his Spanish international debut in midfield, which at the tender age of 2 is a huge achievement in itself.
What an amazing playmaker an iniesta in the making.
Isco welcome to manchester!
8
David de Gea

David de Gea Quintana is a Spanish professional footballer who plays as a goalkeeper for English club Manchester United and the Spain national team.
One of the best young goalkeepers in the world, alongside Manuel Neur. Star for Manchester United last season, displaying remarkable & athletic saves using not only his hands, but also his legs, head,...well practically any body part. Has amazing dribbling skills too!
He is one of the young superstars now.. And soon enough biggest goalkeeper in the world.
The Best Current keeper
9
Mario Gotze

Mario Götze is a German footballer who plays as an attacking midfielder for Borussia Dortmund and the Germany national team.
The 2nd Dortmund youngster to make the list. Mario Gotze has been an outstanding performer this season for club and the German national team. Gotze has a strong 14 goals and 8 assists for his club so far this season. He has also been a regular starter for the German national team.
He has proven his skills and assets in the toughest of situations, unlike players like Neymar who haven't performed well in tougher matches. For some people Gotze might be the next messi, and for some the next Ronaldo. However he will remain an amazing talent.
Definitely one of the most talented players on the planet and will get even better as he continues. He's on his way to Bayern Munich, which, in my opinion, is the best club in the world at the moment.
I think he is really tenanted player won't get a game at Bayern
10
Jack Wilshere

Jack Andrew Garry Wilshere is an English professional footballer who plays as a midfielder for Bournemouth, on loan from Arsenal, and the England national team.
Arsenal legend in the making. Jack Wilshere suffered a horrendous injury in the late stages of last season, which indicated that he won't be able to play up to his standards when recovers. The shocking thing about it is, he improved! That alone shows the determination of this young man.
Wilshire has a great impact on the arsenal squad. He lifts the team forward with his desire to push forward and has vision that no one else his age can compare with. His the next greatest legend for england and will soon captain them to a world cup trophy.
The is the next big thing of world football...
The Contenders
11
Luis Suarez

Luis Alberto Suárez Díaz is a Uruguayan professional footballer who plays for Spanish club Barcelona and the Uruguay national team as a striker.
A class player and is a crucial part of the Barcelona team.
Suarez is awesome. Vampires don't die.
Suarez rules english football
A great player to the game
12
Aaron Ramsey

Aaron James Ramsey is a Welsh professional footballer who plays as a midfielder for Premier League club Arsenal and the Wales national team.
Ramsey as hepl aresnal winn the FA cup
13
Mario Balotelli

Balotelli looked like an absolute monster in 2012 Euros, which gave us the impression that he was going to spring into life at Manchester City; However, it did not work out at all, and in the winter Super Mario signed for Milan. He sent an instant impact scoring 4 goals in his first 4 Milan games.
I don't know why he's not in top 5... He's arguably one of the best.
14
Paul Pogba

Paul Labile Pogba is a French professional footballer who plays for Premier League club Manchester United and the France national team.
Pogba win the Hyundai young player Award in 2014 FIFA world cup.
Future balloon d'or winner- guaranteed
Speed are superb... And love him..
The next zidan in juventus
15
Raphael Varane

Raphaël Xavier Varane is a French professional footballer who plays as a centre-back for Spanish club Real Madrid and the France national team.He previously played for French club Lens and, ahead of the 2010–11 season, began training with the senior team and appeared on the bench in several league ...read more.
The only defender on the list, Raphael Varane has been a solid part of Real Madrid's defensive structure this season. 2 years ago presumably no one in the football world knew who this guy was, but he has done a good job in making a name for himself. He has also scored two goals this season, both of them against Real Madrid's bitter rivals Barcelona, which will definitely endear him to Madrid fans hearts.
16
Marco Verratti

Marco Verratti is an Italian professional footballer who plays as a central midfielder for French club Paris Saint Germain in Ligue 1 and the Italian national football team.
17
Alex Oxlade-Chamberlain

18
Luka Modric

Luka Modrić is a Croatian footballer who plays for Spanish club Real Madrid and the Croatia national team.
Luka modric is the best youngest player he is suppose to be at the top five... He is even one of the creative player in laliga
19
Adnan Januzaj
The guy is so great
20
Philippe Coutinho

Philippe Coutinho Correia, known as Philippe Coutinho, or simply Coutinho, is a Brazilian professional footballer who plays for FC Barcelona and the Brazil national team as an attacking midfielder or winger.
The little boy is being astonishing last season. What a player we think he should be number one
Coutinho is only 24 and what about woodbern he is 16 he is youngest
One more season in Liverpool and je will be top 5 for sure!
21
Robert Lewandowski

Robert Lewandowski is a Polish professional footballer who plays as a striker for German club Bayern Munich, and captains the Poland national team.
22
Thibaut Courtois

Thibaut Nicolas Marc Courtois is a Belgian professional footballer who plays for English club Chelsea and the Belgium national team as a goalkeeper.
23
James Rodriguez
He should be top 5
6 goals in the world cup, Messi neymar and Ronaldo played more games than him
24 Matija Nastasic
25 Giovani dos Santos
PSearch List