Top 10 Best Themed Lands at Walt Disney World and Universal Orlando
Part of what makes a theme park great is having lots of interesting areas or "lands" to explore. A land is like its own little world within a park, usually having a central theme which the attractions in it are based around. A well-designed land lets you step into another place and provides a unique experience. Both the Walt Disney World Resort and the Universal Orlando Resort have lots of fun and well-themed lands across their parks, from fantastical and cartoonish lands like Fantasyland, to ultra-detailed and realistic lands such as Asia and Africa. It's a big part of what separates these parks from your regular ol' amusement parks. With that said, some lands stick out a bit more than others and this list features those that I think stand out the most.

Without further ado, let's look at some of the best lands Disney and Universal have to offer!

The Top Ten

1 The Wizarding World of Harry Potter - Diagon Alley (Universal Studios Florida)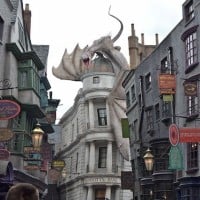 After the success of the Wizarding World of Harry Potter, Universal decided to do a major expansion of the land. The new area of the Wizarding World would be based off the fictional street, Diagon Alley, and include a brand new attraction as well as the Hogwarts Express, which would connect both parks. Topping the Hogsmeade area at Islands of Adventure doesn't seem like an easy feat to accomplish, but Universal Creative managed to do it with the spectacular Diagon Alley. Right off the bat, the theming is outstanding, even more so than Hogsmeade, there is so much detail in every corner of the land and so much to look at that it's astounding. The main ride, Harry Potter and the Escape from Gringotts is fun of course, but you don't need to ride it to have a great time in this land. However, the queue is definitely worth a look even if you don't plan to ride it, as it's probably the best queue you'll find anywhere. Aside from that, there are live performances throughout the day, including ...more
This was the first place that we went to as soon as we got to Florida on an overnight flight, on which I didn't sleep at all. The rides were amazing, and we visited all of the little shops and there was a play
Harry Potter has always looked the most visually appealing.
2
The Wizarding World of Harry Potter - Hogsmeade (Islands of Adventure)

An incredible theme park experience, The Wizarding World of Harry Potter at Islands of Adventure recreates the Hogsmeade village and is filled with lots to see and do. Just walking into the land is kind of a magical experience in itself, seeing snow on all the rooftops and Hogwarts castle in the distance, it really does a good job at transporting you into the world of Harry Potter. Hogsmeade is of course home to one of the greatest and most technologically advanced rides of all time, Harry Potter and the Forbidden Journey. Aside from the main attraction though, there's other things to do in this land as well, such as Ollivander's wand shop, Flight of the Hippogriff, and if you have a park hopper, the Hogwarts Express. On top of that, there's the Butterbeer cart, Honeydukes Sweetshop, and The Three Broomsticks restaurant for if you're feeling hungry or thirsty in this land. There is also live entertainment from time to time. If you don't feel like doing any attractions, you can look ...more
3
Frontierland (Magic Kingdom)

If I had to pick my favorite land at the WDW resort, it would have to be Frontierland, not only because it's home to my favorite ride, Splash Mountain, but also because it has such a warm Disney vibe. If you take away the crowds, everything about it is so relaxing, from the music, to the lighting at night, you just get a good feeling walking through this land. The Old West theming is great and has that classic Disney charm. For real though, having Splash Mountain guarantees it a good spot on this list, but this land is also home to Big Thunder Mountain Railroad, Tom Sawyer Island, and the Country Bear Jamboree. This land is also a great spot to watch parades or pick up a turkey leg (if you're into those). I love all the sights, sounds, and smells of this land and I could probably spend hours here. I like watching the Riverboat go by and watching people go down Splash Mountain, not to mention, the Walt Disney World Railroad stops in this land and goes through Splash Mountain, which is ...more
4
Asia (Disney's Animal Kingdom)

If I had to pick the park with the most impressive lands as a whole, it would definitely have to be Animal Kingdom. The whole park is full of incredible theming and details, with Asia being a prime example. The land is set in a fictional village by the name of Anandapur and is not based off of one particular country, but rather a mixture of different Asian countries such as India and Mongolia. What sticks out the most to me about this land (as well as Africa) is how it really doesn't feel like a theme park land but instead like an actual village. Everything from the architecture to the boats along the river edge makes you feel like you're in another country and not in the middle of Florida. At times, you might even catch a sitar player along with other live entertainers. This land is of course home to Expedition Everest, but rather than simply being a fun ride, it adds to the overall atmosphere of the land and you can catch some really great views of it in certain locations. It is ...more
5
Africa (Disney's Animal Kingdom)

Like Asia, Africa is a phenomenally well-themed land that makes you forget you're in a theme park. The setting for this land is the fictional east-African port village of Harambe and features a marketplace with African-inspired food and beverages. The design of the town is incredible and feels so authentic that you'll believe you're actually in Africa. At the heart of Africa is Kilimanjaro Safaris, where you'll get to see all kinds of African animals up close, such as crocodiles and giraffes. In addition to the Safari, there are more animals you can see in Africa on the Gorilla Falls Exploration Trail. This land is also home to the Festival of the Lion King show, which is in my opinion one of the best shows at the resort. It also features lots of live entertainment that includes Tam Tam drummers, acrobats, and African-style dancers. This land is always so full of energy every time I visit, and the sights and sounds of the land really put you into another place. One of my favorite ...more
6
World Showcase (Epcot)

World Showcase is pretty different from the other "lands" featured on this list in that it's one of only two main areas of the Epcot park that is less of a traditional theme park land and more a showcase of various countries. There are attractions in World Showcase to be sure, but it first and foremost serves as a representation of different cultures. There are currently 11 countries featured in World Showcase, with each country having its own pavilion. The pavilions are Mexico, Norway, China, Germany, Italy, The American Adventure, Japan, Morocco, France, United Kingdom, and Canada. There is space for some more countries and it would be fun to get another one in there, but what we have now is still great. Not only do each of the pavilions feature cuisine, architecture, and entertainment of that particular country, the cast members in World Showcase are all native to those countries which is really cool. Just walking through it without doing any attractions is an enjoyable experience ...more
7
Sunset Boulevard (Disney's Hollywood Studios)

I don't think many people will disagree with me when I say that Hollywood Studios is the weakest of the Disney parks. I know they've got Star Wars Land and other stuff coming in the future, but at the time of writing this, it's really kind of a mess with not very much to do. However, the park does have one major highlight, that being the entire Sunset Boulevard area. Not only is it home to the two best attractions in the park, it has an amazing atmosphere that perfectly captures the classic Hollywood feel. From the music to the World War II references and memorabilia, the late 30s-early 40s setting is made clear all throughout the land, making it feel like you're walking into a different time period. The focal point of Sunset Boulevard is the Hollywood Tower Hotel, which is at the very end of the strip. With the rows of palm trees leading up to the tower at the end, it makes for a great and iconic shot. This land is even better at night, with the bright neon lights and the lit-up ...more
8
Tomorrowland (Magic Kingdom)

Aside from Fantasyland, Tomorrowland is arguably the most famous of Disney's themed lands, maybe even the most famous theme park land in general. It just has this vibe to it that resonates with people and "feels like Disney" once you step into it. The future is always something that has interested audiences and of all the lands in the Magic Kingdom, this one definitely sticks out the most in terms of flashiness. Originally designed as a portrayal of the future, it is now more of a "future that never was." The sci-fi approach keeps the land from feeling completely outdated as it would if it tried to keep up with changing times. Tomorrowland is home to Buzz Lightyear's Space Ranger Spin, Astro Orbiter, Monster's Inc. Laugh Floor, The Carousel of Progress, The Peoplemover, and of course, Space Mountain. Unfortunately, it's also home to two of the worst attractions on property, Stitch and the Tomorrowland Speedway (that stupid dance party is a potential third). That aside, the good ...more
In my opinion, it's overrated.
My favorite land!
9
Adventureland (Magic Kingdom)

In contrast to the realistic lands of Disney's Animal Kingdom, Adventureland is more of a fantasy jungle setting that features exotic elements from around the globe. It's a bit of a mishmash of different tropical settings ranging from Polynesia to the Caribbean, with a bit of the Middle East thrown in as well. Throughout the land, these various settings are emphasized by the architecture and music, which can be said for the attractions within the land as well. Particularly noteworthy is the 19th-century Spanish architecture where Pirates of the Caribbean is housed, which creates an atmosphere for both the land and the ride. Aside from the architecture and music, Adventureland also features lots of lush vegetation to further enhance the jungle setting. The only real downside to this land is The Magic Carpets of Aladdin, which just feels out of place to me and kind of ruins the atmosphere. Aside from that though, the land as a whole has this imaginative explorer vibe to it that with the ...more
10
Pandora - The World of Avatar (Disney's Animal Kingdom

This should be way up. Have you seen this in the night! It's so realistic.
The Contenders
11 Main Street U.S.A. (Magic Kingdom)
12
Nintendo World (Islands of Adventure)
This land will open soon in Japan and Orlando. I can't wait!
13
Marvel Super Hero Island (Islands of Adventure)

Featuring beloved superhero characters and one of the greatest dark rides of all time, Marvel Super Hero Island takes on a 90s comic book style and makes you feel like you've stepped into the pages of a comic book. The architecture in particular helps create the comic-book feel in the coloration and amplified angles. This is probably the most energetic of the "Islands" at IoA, from the loud music to the bright colors and roars of the Hulk coaster, it's a high-energy, action-packed land that gets you pumped up as you walk through it. This land features two of the best rides at the resort, The Incredible Hulk Coaster and The Amazing Adventures of Spider-Man. The other rides in the land are pretty mediocre, but having two big hits in one land isn't too shabby. Some might say this area looks a bit cheap, especially in comparison to the heavily detailed Harry Potter lands, and some aspects of it is, but for the most part I like the simpler comic-book vibe. Overall, not one of the best ...more
14
Toon Lagoon (Islands of Adventure)

Based off of the Sunday comic strip and classic cartoon characters such as Popeye and Betty Boop, Toon Lagoon is a brightly colored and whimsical land that puts you straight into the Sunday Funnies. The name of the land is no joke, you will be soaked to the bones after experiencing the attractions in this land. These soakers are the daring Dudley Do-Rights Ripsaw Falls, based off of the segment from the Rocky and Bullwinkle Show, and Popeye and Bluto's Bilge-Rat Barges, a raft ride that is 100% guaranteed to leave you drenched. I can't deny that this land feels a little cheap in comparison to the other lands in the park, but I still enjoy it. I like all the sight gags that are in this land such as Marmaduke, and I also like how the toons interact with each other. The whole Popeye area looks really good as well and you can catch some great views of the park on the ship. Overall, the theming and atmosphere is fun and it's got some good sight gags as well as two really great water rides. ...more
15 Liberty Square (Magic Kingdom)
BAdd New Item