Best Windows Password Recovery Software
The Top Ten
1
PCUnlocker
PCUnlocker can help you reset lost Windows passwords on Windows 8/7/Vista/XP/2003/2000, unlock user accounts which are disabled, locked out or expired. It can also reset forgotten passwords for Active Directory user accounts. It supports password resetting for Windows 8 Microsoft account. It works with all computers, including EFI/UEFI-based tablet.
It helped me get back into my surface pro. Thanks a million!
It works like a charm!
Visit Website
2
Ophcrack
Ophcrack is one of the best and top rated password recovery tools for Windows. Ophcrack is fast and easy to use even for a user with basic Windows skills. It works well with Windows 7/Vista/XP and does not require any installation. The only downside of this tool is that you need to download the Live CD ISO (496MB for 7/Vista and 415MB XP) and it doesn't support Active Directory password recovery for domain controllers.
Visit Website
3
Offline NT Password & Registry Editor
This is one of the fastest password recovery tools for Windows. You need to burn the ISO image to a CD before passwords can be reset. The only disadvantage with Offline NT is that the interface is similar to command prompt and might not find it easy to use.
Visit Website
4
LCP
LCP is yet another free password recovery software tool for Windows. Like Cain & Abel, LCP is a standard Windows program you download from LCPSoft's website and install inside of Windows, meaning you'll need access to a user account on the computer.

LCP can be a little intimidating to those new to Windows password recovery tools so some prior knowledge is very helpful to avoid even bigger problems with your PC.
5
Kon-Boot
Kon-Boot is yet another free Windows password reset program, much like Offline NT password and Registry Editor. Just burn the program to a disc, boot to it, and you're off. Unfortunately, Kon-Boot does not work with 64-bit versions of Windows.
6
John the Ripper
John The Ripper is a fast password cracker based on dictionary attack with a wordlist currently available for many flavors of Unix (11 are officially supported, not counting different architectures), Windows, DOS, BeOS, and OpenVMS. Its primary purpose is to detect weak Unix passwords. Besides several crypt (3) password hash types most commonly found on various Unix flavors, supported out of the box are Kerberos AFS and Windows NT/2000/XP/2003 LM hashes, plus several more with contributed patches.
7
ERD Commander
ERD Commander is part of the Microsoft Diagnostics and Recovery Toolset (DaRT), which can help you quickly troubleshoot and repair computer that will not boot. Locksmith is one of the useful utilities inside ERD Commander bootable CD, which allows you to hack Windows XP login password easily.
8
L0phtCrack
L0phtCrack can crack almost all common passwords in seconds. More advanced passwords with numbers and characters takes longer. The main purpose of the LCP program is user account passwords auditing and recovery in Windows NT/2000/XP/7.
9
iSeePassword Recovery Pro
ISeePassword Recovery Pro is a newly developed program that can be used to reset login password on Windows 10. It has a great user interface and it is only 3 clicks away to fully reset local account password on any Windows computer. It also supports laptops made by Dell, HP, Lenovo, Toshiba, Acer, Asus, Samsung.
I've used iseepassword windows password recovery pro tool to reset my win 10 admin password successfully!

Highly recommend!
10
Windows Password Key
If you have trouble to recover Windows password then you should try a different approach. There are quite a few of them available Windows Password Recovery on the internet but we suggest using the one called, Windows Password Key. Most importantly, you won't experience any sort of data loss, as it works only to reset your password and keeps your data safe where it should be.
The Contenders
11 PassCue for Windows
12 Lazesoft Recover My Password
13
PassGeeker for Windows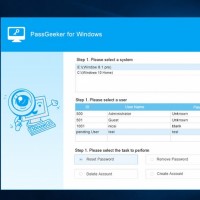 14 UnlockGo - Windows Password Recovery
BAdd New Item