Top 10 Best Wrestlemania 37 Matches
Wrestlemania 37 will be best remembered for the return of a live audience. I respect the fact they were able to continue the show in a rain delay situation. With that said, let's take a look at how things played out in this year's show.

The Top Ten

1 Bianca Belair vs Sasha Banks (Smackdown Women's Championship)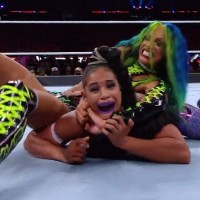 What makes this match significant Technically speaking. This match headlined night 1 with two African Americans featured. Sasha Banks and Bianca Belair both got great pops from the crowd. It was anybody's guess who came out on top. Both competitors gave it their absolute best. Felt predictable somewhat, but then again Sasha Banks has yet to win on the grandest stage despite putting in great showings in defeat. It's hard to believe that the boss is 0-6. If you keep score this is the polar opposite of what the Undertakers' streak meant. This might be their new trademark if this catches on.
The main event of Night 1 of WrestleMania 37. The two women made history as the first black females to main event WrestleMania so definitely a cool moment for the two of them. The match itself was great and the fans in the arena we're very excited for it.
I watched this one and it was super fun. Both of them have so much talent. Belair was so talented, winning that match exceptionally, and it's great to see two black women doing such a important event
I absolutely loved this match! This match was so groundbreaking for women's wrestling and wrestling as a whole, and I know it'll be remembered for a long, long time.
2
Roman Reigns vs Daniel Bryan vs Edge (WWE Universal Championship)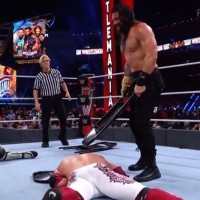 The thing with this match is... they really focused in on Jey Uso who ended up being the biggest difference in this match towards the end. Every man in this match punished each other real good. At one point locking in the Bell lock by both Bryan and Edge. A ton of chair shots were taken here too, and what a humiliating end to get beat by a move you made famous with Christian. Good match, I am reminded why Roman Reigns is one of the worst draws ever.
An amazing match, all three men delivered and gave all they had. I honestly had no idea who would win. This is the best match of the show for my personal taste as the buildup for this match was by far the best out of all other matches.
3
Cesaro vs Seth Rollins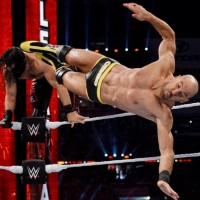 Can we finally push Cesaro back to the world title picture? Seriously, he made it all count against one of the best today. How fitting both members of the Bar won their matches towards the top end in their showing of outcomes.
Everyone expected these two to have one of the best in-ring matches of the night and they certainly delivered, this was a very entertaining match. Cesaro even broke his swing record swinging Rollins 23 times.
4
Sheamus vs Riddle (United States Championship)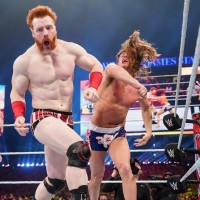 Who knew this mid-card title match would be lit. Riddle pulling off a great arsenal of moves on the Celtic warrior who looked like the one of old. Sheamus wins with one of the most brutal brogue kicks ever.
This match was action packed. There we're a few botches, like Sheamus' brogue kick hitting Riddle square in the mouth, but all in all, a brutal fight.
5
Bobby Lashley vs Drew Mcintyre (WWE Championship)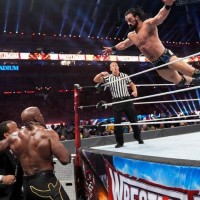 Wrestlemania started on a high note putting one of their major titles on immediately. Two big main just punishing one another back and forth. Eventually, MVP's distraction did the trick for Lashley to retain the title against a gamed challenger.
Lashley vs McIntyre kicked off Night 1 of WrestleMania 37 in what was a great match. Can't wait to see what's next for the Almighty.
6
Bad Bunny and Damian Priest vs The Miz and John Morrison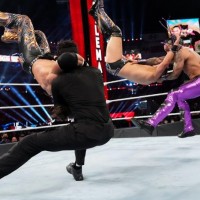 I gotta be honest... this was one of the better showings from a profiled celebrity getting in the ring. Bad Bunny pulled out some stunning moves even the Miz could not believe. He ended up carrying the match and easily taking home the best tag match of the night in his victory.
Celebrity matches have the reputation of being bad, but Bad Bunny killed it in this match. News outlets said he trained for months for his match and it showed, he even performed a Canadian Destroyer on John Morrison!
7
Kevin Owens vs Sami Zayn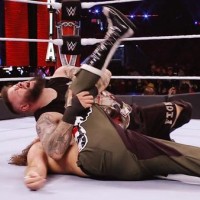 These two have had way better matches together. It was fine for what it was don't get me wrong. Kevin Owens manages to prevail and giving the audience the satisfaction of a stunner to Logan paul I'll take that to end this note on a match with very little build to it.
Very good match, Owens and Zayn have great chemistry. The whole Logan Paul stuff was whatever for me, but he took that stunner from Owens like a champ and sold it better than wrestlers do nowadays, so respect.
The best match of the second night that didn't use any weapons. They faced each other many times before, and this was one of their best battles among their matches.
8
Rhea Ripley vs Asuka (Raw Women's Championship)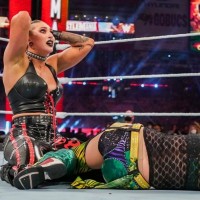 Not Rhea's finest showing, but carrying the torch to the young talent was good to see. In what looks to be the established new era moving forward. Asuka did what was necessary. This can be said about a much better women's title match in comparison.
There was no buildup whatsoever for this match, but these two women kicked ass in the ring. A great debut for Rhea Ripley.
9
Braun Strowman vs Shane McMahon (Steel Cage Match)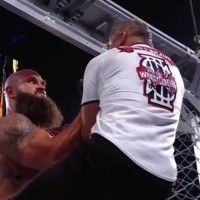 This was second ever steel cage match in the show's history and it was great, Braun Strowman destroyed Shane McMahon as expected and it had cool moment like Strowman ripping off a piece of the cage with his bare hands.
An okay cage match with two notable spots. One of them being Braun ripping part the upper part of the cage. Followed up with a sick Shance bump to win the match. Not even Elias or Jaxson Ryker could stop this monster among Men.
10
Nia Jax and Shayna Baszler vs Natalya and Tamina (Women's Tag Team Championship)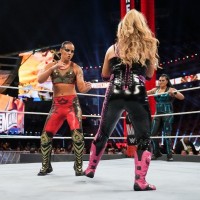 A very sloppy showing from Nia Jax here not gonna lie. Although the finish to the match was perfect for how the heel team was able to retain thanks to Shayna swooping in via submission barely makes it on the better matches mainly for at least there were no botched entrances. Nor 7 footers dominating presence, and or weird finishes combined might of the lesser of the show had packed.
Natalya is still here?
The Contenders
11
Big E vs Apollo Crews (Nigerian Drum Match for the Intercontinental Championship)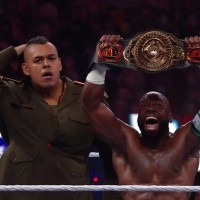 That was a good match. I wasn't sure what this stipulation was all about, but it worked. I also did not expect Apollo to have backup at the end.
BAdd New Item